Naga
Naga
is the largest and one of the most important cities in the
Bicol
region, being its center of almost everything. It is the capital of the province of
Camarines Sur
, and is the core of the organized
Metropolitan Naga
.
Understand
Naga City was known as
Nueva Caceres
and was one of the major cities during the Spanish rule in the Philippines. Naga City is also home to the seat of the Archdiocese of Caceres, one of the oldest dioceses in the Philippines. Naga City is also the center of devotion to the Our Lady of Peñafrancia which is one of the largest Marian devotions in Asia. Naga City is the economic, commercial, trade, tourism, medical, technological, religious, cultural, industrial, educational, financial, and social center of the
Bicol
Region. It is also Camarines Sur's most populous city. It is also the regional center of trade, commerce, and industry, as it is home to large international companies, high-rise hotels, and condominiums. Known as the Convention City of Southern Luzon, Naga City is also the cultural center of Bicol Region because of large convention centers, and most cultural food, festivals, and poetry are located in the city, as well as the second largest coliseum in the Philippines, the Jesse M. Robredo Coliseum.
Get in
By plane
Naga Airport
The plane to and from
Manila
to Naga City takes about one hour. Airline companies that provide this service are
Philippine Airlines
and
Cebu Pacific
.
From the airport you need to walk 400 m to the main highway, where you can take a 30-minute Jeepney or bus ride to get to downtown Naga City. The fare is .
By train
Naga Station

address: PNR Road

Philippine National Railways (PNR) has one daily local train to Legazpi, and seven departures to Tagkawayan in Quezon.
By car
Naga is 445 km by road from Manila.
By bus
Naga City has a good bus station, also the largest and busiest in the region. There are stalls selling local food and there are signs that direct you to bays serving buses that headed for a certain destination: e.g. to Manila, to Daet.
There are buses that travel to Naga City from Metro
Manila
via
Lucena
and the journey takes 8-10 hours.
By minivan
There are minivans which go to/from
Legazpi City
in two hours and cost .
Daet
two hours . Tabaco city two hours .
By ferry
To get to
Virac
in the Catanduanes Island you take a minivan from the Naga van terminal to Tabaco city (2 hours, ). A fast ferry departs
Tabaco port
every day at noon. The ferry takes 1.5 hours and the fare is .
Get around
Navigating Naga City is easy by car. Public transportation is provided by pedi-cabs, jeepneys and tricycles (three wheel motorcycles). Transport by taxis is now available.

See
Churches and monasteries
Naga Metropolitan CathedralThe oldest cathedral in southern Luzon. It was built in 1573, and was inaugurated in 1575. It is also the cathedral of the Archdiocese of Caceres.

Peñafrancia ShrineThe original home of Our Lady of Peñafrancia for two centuries. It was established in 1750.

Peñafrancia Basilica MinoreEstablished in 1985, it is the new home of Our Lady of Peñafrancia where the Traslacion starts when her image is led into procession around the city streets then brought to the cathedral.

San Francisco ChurchEstablished in 1578, it is the first church in the region built by the Franciscan Friars. The surrender of the Spanish forces to the Bikol revolutionaries Elias Angeles and Felix Plazo took place here on September 18, 1896. The church was reduced to rubble by the heavy bombing of Naga in World War II, and the church remained in ruins until the present new edifice was constructed.

St. Jude Churches in del Rosario

Carmelite Church and MonasteryResidence of Carmelite nuns in the Bicol region.

Holy Rosary Minor Seminary and MuseumOldest seminary in the Bicol Region, it houses the old paraphernalia, and items used by the old Catholic Church, including the documents of Our Lady of Peñafrancia's verified devotion, and coronation.

Holy Rosary Major Seminary and ChurchThe largest seminary in the Bicol Region.

Immaculate Conception Church

Caritas Mariae Church in Pacol

Christ the King Church

address: Ateneo de Naga University

Holy Cross Parish Church

address: Barangay Tabuco
Natural attractions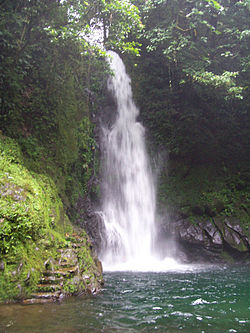 Mount IsarogA dormant volcano and a national park open for trekking and mountain biking.

Malabsay FallsA waterfall near Mt. Isarog. It can be accessible through hiking in the Panicuason trail or through the Stonehouse Gardens Resort.

Nabontolan FallsRests within the protected area of Mt. Isarog National Park and accessible through the Panicuason trail, this waterfall offers a breathtaking refuge from the busy city life and allows one to commune with nature. It is seldom visited by mountain climbers, hikers and picnic-goers because of its rough trail.

Naga City Ecology ParkAn ecological park located in Brgy. San Felipe, at the foot of Mount Isarog. It is a five-hectare sprawl of tropical greenery, the park showcases various exotic plants, palms, an eco-walk maze, topiary garden, an orchid and mini-forest. Walkways, lawns, and pavilions provides for family picnics, stroll, and undisturbed appreciation of nature's beauty.

Panicuason Hot Springs ResortHot springs attraction in the city. Located at the bottom of a forest river ravine accessible via a private road, this resort is smack at the center of the teeming rain forest of Mt. Isarog. The resort is a sight to behold, a virtual jungle paradise of ancient trees and giant ferns minus the wild animals. The resort is composed of several natural pools with temperatures ranging from a cold 20°C to a steaming 39°C. Frequented by local and international visitors, it has also been featured on national TV shows.
Resorts
Haciendas de Naga, is a Master-Planned Resort Community designed by renowned green development architect, Felino Palafox, Jr.
Spring Valley Garden Resort, is a sprawling resort at the outer slope of Mount Isarog and derives its name from natural springs that feed its four swimming pools with fresh freely flowing water.
Peñafrancia Resort, is one of the oldest resorts in the city. Since its development in 1970, it has maintained its services and reputation in the city as one of the first resorts in Naga.
Stonehouse Garden Resort, is a resort at the very slope of Mount Isarog. The resort is jump-off to the Panicuason Trail, which leads to Malabsay and Nabontolan Falls, and to Mt. Isarog.
Rock Garden Resort is a resort in Brgy. Carolina.
Casa Ofelia Resort is a resort in Brgy. Carolina.
Kayumanggi Resort a resort in Brgy. Pacol.
Ramashinta Resort and Spa is a resort in Brgy. San Felipe.
Historical landmarks
Calle Via Gainza, now Peñafrancia Avenue, was first known as Via Gainza in honor of Bishop Francisco Gainza, O.P. (1863–1879), the 25th and considered as the greatest Spanish bishop of the See of Caceres.
Calle Real, now Elias Angeles Street, was one of the earliest streets in Spanish Nueva Caceres laid out at the close of the 16th century. The street figured as a historic backdrop to the events of September 1898, which established the Filipino revolutionary government headed by Elias Angeles.
Calle de Legazpi at the western portion of Panganiban Drive, was established in 1839 after the Naga River was straightened as a short cut from Calle Real to the new western bank of the river.
Casa Real site on General Luna Street. The Casa Real, the government building of Nueva Caceres, was established at this location in 1588.
Casa Tribunal site on Elias Angeles Street was the original site of the Casa Tribunal or "common house" which provided free rooms to travelers until 1839.
Casino Español site at the corner Elias Angeles and Arana Street, was the location of Casino Español, a spacious building of piedra china and wood that served as the social and recreational center of the male Spanish population of Nueva Caceres and neighboring towns.
House of Tomas Prieto site at the corner Panganiban Drive and Peñafrancia Avenue was the home of the Bicolano martyr, Tomas Prieto, who was executed on January 4, 1897 at the Bagumbayan Field in Manila together with ten others, collectively known as the "Bicol Martyrs."
The Naga City Police Station on Barlin Street was the site of the Cuartel General of the Guardia Civil in Camarines that was constructed in 1870, but was razed by fire caused by faulty electrical wiring.
Puente de Naga, now Lt. Delfin Rosales Bridge, the massively designed concrete bridge was constructed in 1847 and was known as Puente de Naga, and until the 1920s when the bridge was renamed in honor of Bicolano Jose Maria Panganiban. It was renamed again in 1989, to honor Lt. Delfin C. Rosales in World War II, during the battle for Naga in April 1945.
Monuments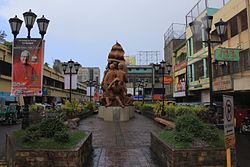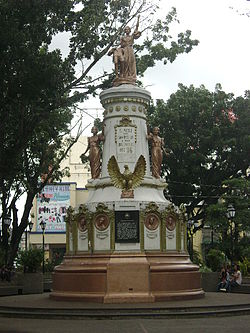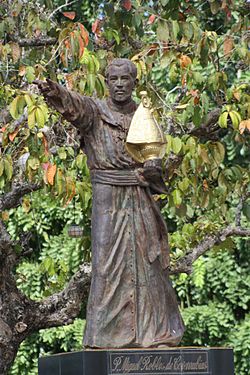 Plaza Miguel Robles de Covarrubias is a monument in the plaza of Our Lady of Peñafrancia Shrine, the old home of Our Lady of Peñafrancia. It was constructed, along with the stage, to commemorate the 300 Years of love and devotion to the Our Lady of Peñafrancia, the patroness of Bicolandia. It also depicts of how Fr. Miguel Robles de Covarrubias brought Ina to the Bicolanos.
Plaza de Nueva Caceres, also known as the Oragon Monument, is a monument constructed by the local government of Naga City to commemorate Naga City's long history, and its charter anniversaries. The monument depicts Nueva Caceres during the Spanish Period. The yearly foundation day of Nueva Caceres is held in the monument.
Plaza Rizal is the oldest plaza and monument in Naga City. It is the centerpiece of the Rizal Park which was the former park of the old Camarines Sur Provincial Capitol. It has Jose Rizal and some angels in the monument. Majority of trade fairs held in the city are sometimes done in the plaza. The plaza is also adjacent to the Plaza Quezon.
Plaza Quezon is the largest plaza in Naga City. It is where the Regional Civic Parade, Voyadores Festival, Military Parade are done in September during the festivities of Our Lady of Peñafrancia. It is also where international artists and showbiz caravans are held when visiting the city.
Plaza Barlin is the only monument constructed to commemorate Bishop Jorge Barlin, the first Filipino bishop, which was from Baao, Camarines Sur.
Plaza Quince Martires is the monument located at the very heart of Naga's Central Business District I. It commemorates the martyrdom of 15 people from Naga who oppose Spanish Regime. It was on January 4, 1897 or barely 5 days after the National Hero –Dr. Jose P. Rizal – was executed when the 11 prisoners from Bicol were also executed on the same field in Bagumabayan (now Luneta). The four others had either died in prison as a result of torture or while in exile in the island of Fernando Poo (or Fernando Pó), off the coast of Africa. The monument was built on November 29, 1926 during the American occupancy.
Jose Maria Panganiban Monument in Naga Central School I is a monument dedicated to the Bicolano hero Jose Maria Panganiban, who was an active member of the La Solidaridad Propaganda movement during the waning days of Spanish Colonial Rule.
Jesse Robredo Monument in his burial site at Eternal Gardens Naga City located at Balatas Road where the Peñafrancia Basilica Minore is located and near to the monument. It is a commemorative monument to honor the late Jesse Robredo who was Naga City Mayor from 1988 to 2009. He was a great example of good governance in the country.
Infantil de la Milagrosa Monument in front of the Universidad de Santa Isabel is a historic monument built by the Daughters of Charity that is the management of the Universidad de Santa Isabel and is a major component of Catholic life. The monument commemorates the thanksgiving of the nuns after World War II in which that they were saved from the impending danger.
Sto. Niño Monument is a monument located inside the Parish of the Immaculate Conception. It is a monument unveiled by the Archdiocese of Caceres to commemorate the patronage of Santo Niño in the Archdiocese, being centered in the parish.
The thanksgiving of the nuns after World War II in which that they were saved from the impending danger.
Museums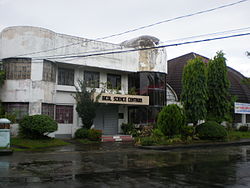 The Holy Rosary Minor Seminary Museum showcases Bicol's ancient relics and artifacts like burial jars, ancient china wares,rare stones and ritual objects. The museum also features local church history where old Church vestiges and sacred objects are displayed.
The Penafrañcia Museum contains sacred vestiges related to Marian devotion to Our Lady of Peñafrancia.
The University of Nueva Caceres Museum is one of the oldest museums outside Manila and recognized by the International Association of Museum. It houses historical artifacts of the ancient Bikol, its people and culture.
Bicol Science and Technology Centrum is a science museum established in 1993 in partnership with the Department of Science and Technology to cater to the science and technology education for the young, professionals, teachers andenthusiasts alike. It features an exhibit of interactive gadgets, a skywatch gallery, a sci-cubby hole for the kids, an audio-visual room and a cybercafé for internet users.
The Naga City Art Gallery, established by the Salingoy Art Group in partnership with the Naga City government, houses traditional and contemporary art works of Bicolano artists.
The Mariel Daculoo's Art Gallery, was established by American friar named Fr. Kris B. Amador in 2014 in partnership with the 555 yuna foundation, Their gallery are more about ancient, nature, etc.
Do
Naga City Civic Center Swimming pool fee per person. Cottages .
Wakeboarding at Camarines Sur Watersports Complex (CWC)
The Panicuason Hot Springs, in Barangay Panicuason, is a 15-minute drive up Mt. Isarog's slopes. There are about five pools with different temperatures, which are surrounded by lush foliage of a tropical rainforest.
Buy
Shopping malls and supermarkets
address: Ninoy and Cory Avenue cor. Carnation Street, Triangulo, CBD II, Naga City

LCC Central Mall & LCC Express Marts

address: Felix Plazo Street, Sabang, Naga City

Puregold Supermarkets.There are now 2 Puregold supermarkets in Naga city.

E Mall & Robinsons Supermarket.

Super Metro Gaisano Supermarket

address: Bacalsos Nat Hwy

Robinsons Place NagaThe largest mall in the Bicol Region

address: Ilias Angeles Street

Winwin Mall Naga. Roxas Avenue, Naga City.
Vistamall Naga. Del Rosario, Natl Hwy, Naga City.
Yashano Mall Naga. (soon to open).
Eat
Local culinary is known as Bicolano food. Coconut milk is the most important ingredient to be added during the cooking. Mains can be pork, seafood or poultry. Flavor will be hot from chili, sweet and sour to savoury enriched by coconut milk base. Most famous amongst the Bicolanos' menu is Bicol Express, which consists of pork and intestine slow-cooked in coconut milk, vinegar and some spices. Common Filipino menus also can be found quite easily. They include dishes like pork adobo, silog (fried rice in garlic), milkfish (bangus) and longganisa (pork sausages). The taste of the longganisa is sweet, quite similar to Ilocano's longganisa.
Fast food chains such as
KFC
,
McDonalds
,
Bigg's Diner
and a lot more serve food at mid-range prices.
Budget
JollibeeHas breakfast from 7AM-11AM.
Mid-range
Splurge
Caby's Cabana
,
Yellow Cab
, or the culinary center,
The Cereza
which houses fine dining foreign-themed restaurants such as
Grissini Ristorante
,
El Cabareta Grande
,
Biringyan Francois
, and the
Milky Way
.
Drink
Several bars can be found along Magsaysay Avenue.

Sleep
Budget
Sampaguita Tourist Inn 1

phone: +63 54 4732158

address: Panganiban Drive

Fan/a.c. single/double rooms with own bathroom and cable TV. Good clean budget place. Free wifi ground floor.

Golden Leaf Hotel

phone: +63 54 472-6507

address: Misericordia Street

Fan single/double with own bathroom and cable TV.

Sunny View Hotel

phone: +63 54 4738771

address: Panganiban Drive

Single/double AC/fan rooms with own bathroom.

Sampaguita Tourist Inn 3

phone: +63 54 4728627

address: Kayanga Road off Magsaysay Avenue

Fan/ac single/double rooms with own bathroom and cable TV. Free wifi ground floor.

Matt Tourist Inn

phone: +63 54 8111654

address: 32 Panganiban Drive

Fan single/double room with own bathroom, cable TV, free wifi.

Aritocrat Hotel

phone: +63 54 47388332

address: Elias Angeles Street

Fan economy twin room with common bathroom.

Sampaguita Tourist Inn 2

phone: +63 54 4738896

address: Riverside

Fan/ac single/double rooms with own bathroom, cable TV, free wifi on ground floor.

phone: +63 999 464 2695

address: Mayon Avenue corner Bonifacio Street

alAll rooms are air conditioned with free wifi, flat screen cable TV and hot water. Also has a swimming pool.
Mid-range
Villa Caceres Hotel

phone: +63 2 250-8118

address: 48 Magsaysay Ave

This hotel is very nice. The hotel has its own 24-hour restaurant with room service. Air-conditioning, cable TV, pool, spa are available. The internet charge is per minute. There is a free shuttle to the airport.

Avenue Plaza Hotel

phone: +63 54 473-9999

address: Magsaysay Ave

This hotel has more facilities than most hotels in Camarines Sur. It has gym, sauna and function rooms.
Splurge
Connect
Internet cafesAll over Naga.
Stay healthy
Bicol Medical Center. DOH Hospital. BMC Road Naga city. phone +63 54-4723434.
Social Hygiene Clinic. City Health office. City hall Compound. free STD/HIV testing.
Cope
Bureau of Immigration Naga Office. 2nd Floor. Phonecian Building. Panganiban Drive. Corner of Isarog Street.
Go next
As the capital and center of Camarines Sur, Naga City serves as the hub for other cities and municipalities in the province. The Central Bus Terminal offers one the means to get to other areas of Camarines Sur. One may take buses or filcabs. Buses make frequent stops to every town they pass through to pick up passengers. Filcabs are vans whose original seats are removed and refitted to accommodate more passengers. They are usually faster way to get to your destination but they have a practice of filling up all the seats before they leave.
Buses from Naga City to Manila normally start from 5:30 AM. Ask to be routed through Pasay City or nearby EDSA for more convenient travel to downtown Manila.