Nagaland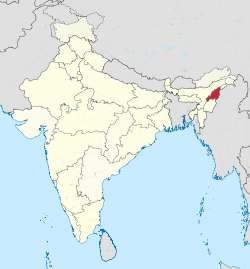 Nagaland
is one of the
northeastern states
of
India
. It is bordered by
Manipur
in the south,
Assam
in the west and north,
Arunachal Pradesh
in the northeast, and
Myanmar
(Burma) in the east.
Cities
— the gateway to the region

Other destinations
(Ntangki National Park) — a wildlife park located in the Perren district. Home to several endangered species as well as other mammals and birds. Among them are the golden langur, white-breasted kingfisher, python and sloth bear

Understand
There are sixteen main tribes in Nagaland, all having their own languages and customs.
The north part of the state is mountainous and traditional farming and mining are practiced.
The region used to be known for fiercely independent tribes and violence, but the state is largely settled these days.
Get in
Fly into Dimapur (DMU) or take the fast train from Guwahati which leaves daily at 0630; connect to a share taxi in front of the Dimapur railway station (₹200) and reach Kohima by lunchtime. Direct buses also run daily between Guwahati and Kohima.
The back door into the state is from Sonali in Assam to Mon in the far north east in Nagaland. The advantage here is that Sonali is connected by rail and can be reached overnight and those going far north avoid backtracking, the bus to Mon leaves at 12:00AM from Sonali.

Entry formalities
Foreign nationals no longer need a Restricted Area Permit. If flying in, you should register with police at the airport, but even this is not strictly required.
In remote areas registering with police (or even phoning and letting them know you've arrived) is advisable.

Get around
There are no rail connections in Nagaland so bus/jeep travel is basically your only option unless you are flying.
Be aware road conditions can be terrible in some parts of the state and landslides are relatively common; enquire locally about the current conditions of specific routes.
Kickstart Adventures offers motorcycle tours in North East India. This adventure motorbike tour covers the states of Assam, Meghalaya, Nagaland, and Arunachal Pradesh, giving a traveller to visit to not only popular places but also rural parts of the region to experience first-hand of tribal cultures and traditions. The firm conducts tours all round the year.
See
Kohima, the state capital, houses the largest crucifix in Asia.
Eat
A typical Naga table consists of a meat dish, a boiled vegetable dish or two, rice and a chutney (
tathu
). Nagas tend to prefer boiled edible organic leaves. Some common dishes are:
"fermented bamboo shoot" (made from the tender shoot of the bamboo tree) with fish and pork.
axone (soya bean boiled, fermented and either smoked or sun dried) with smoked pork and beef. Smoked meat is produced by keeping the meat above the fire or hanging on the wall of the kitchen for 2 weeks or longer; it can last for a year.
Anishiis fermented yam leaves made into patties and smoked over the fire or sun dried.
Naga food tends to be spicy (chillies). There are different varieties of chillies in Nagaland, the strongest being
bhut jolokia
, thought to be the world's hottest chilli until 2011. The ginger used in the Naga cuisine is spicy, aromatic and is different from the common ginger. The garlic and ginger leaves are also used in cooking with meat.
Another popular dish is a soupy dish which is had with cold rice, made mostly when one feels under the weather or has a migraine, called by different names by the different Naga tribes.
Drink
Consumption of alcohol is prohibited in the state.

Stay safe
As of 4 August, 2015, two of the three organizations that have been fighting for an independent and enlarged Nagaland have made peace with the Indian government. However, a third guerrilla organization continues to fight, and was responsible for an attack in Manipur in June, 2015 that killed 18 Indian soldiers. Check for current conditions before travelling to or within Nagaland.
Opium abuse is still an issue in some remote villages near the Myanmar border and can result in unprovoked violence against tourists, seek local advice, a local guide and don't visit remote villages alone.