Nagano (prefecture)
Nagano Prefecture
(長野県
Nagano-ken
) is located at the center of
Japan
. It is surrounded by 8 prefectures. (Niigata, Toyama, Aichi, Gifu, Shizuoka, Yamanashi, Gunma, Saitama)
Understand
The population of Nagano is 2,214,356.

Cities
— the prefectural capital and site of the 1998 Winter Olympics
— north of Matsumoto and famous for Daio Wasabi Farm, views of the surrounding alpine landscape and the incredible number of museums and galleries
— just south of Nagano City, on the middle reaches of the Chikuma River, surrounded by mountains
— featuring one of Japan's most beloved castles and lots of wasabi
- Resort town with a large lake and access to the Yatsugatake Mountain Range
Other destinations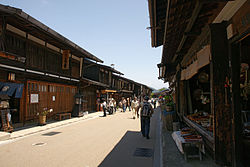 — Popular winter area with 7 major ski resorts
— Home to Shiga Kogen, Japan's largest ski resort
— Famous mountain resort and a popular summer getaway
— The scenic villages of Magome and Tsumago
— Museums, temples, chestnut confections, hot springs and lots of cultural events and festivals
— Ryokans, Japanese atmosphere, and snowbathing monkeys.
Get in
See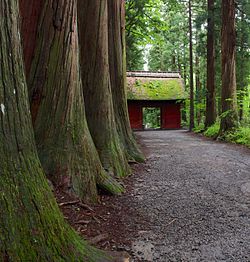 Join the pilgrims praying at Zenkoji Temple (Nagano)
Marvel at the beautiful Matsumoto Castle (Matsumoto)
Walk the Nakasendo Trail or visit any of the individual post stations (Shiojiri, Kiso, Nakatsugawa)
See art and learn more about the famous artist, Katsushika Hokusai (Obuse)
Trek from the lower to the middle and the upper shrines of Togakushi Shrine (Nagano)
Watch monkeys play and snack in their own hot spring (Yamanouchi)
Do
There are many mountains in Nagano, so in winter there are many places to ski and do snowboarding. There are also many campsites and onsen, in easy to access locations.
Go see the Japanese Macaques in Jigokudani yaenkoen, you'll be able to get really near to them. Watch out as they can be a bit aggressive! Take the limited express metro to Yudanaka from Nagano, there'll be buses that take you there.
In 1998, Winter Olympics took place in Nagano.
Eat
In culinary terms, Nagano is best known for its soba (buckwheat noodles), known as Shinano soba (信濃そば) or Shinshū soba (信州そば), with those from Togakushi (a region of Nagano City) considered by some the best in Japan. Miso (fermented bean paste), a staple of the Japanese diet is also a famous Nagano product. Among foods characteristic to the region are oyaki, small grilled doughballs filled with vegetables or meat, and on the unusual side, basashi (raw horse meat) and inago (locusts).
Apples are one of the special products of Nagano. The taste of Nagano apples is sweet and juicy. The yield of apples in Nagano is the second largest in Japan.

Go next