Nagi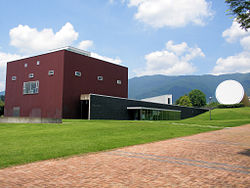 Nagi
(奈義町) is a town in
Okayama Prefecture
,
Japan
.
Get in
There are no train stations in Nagi, but it can easily be reached by taking a
Chutetsu Bus
from
Tsuyama
. The bus station is across the street from Tsuyama Station with buses departing hourly for Nagi.
See
phone: +81 86-836-5811

The Nagi Museum of Contemporary Art (Nagi MOCA) is a world-class museum of modern art in which the entire museum was constructed for and around the art within.

Bodai-jiBodaiji Temple is most known for its gigantic 900 year old gingko tree. It's circumference is 12 meters. It's the kind of site that can really make a person feel small. It's especially beautiful in the fall when the leaves turn yellow. The actual temple building is rather small and nondescript, but those with an appreciation of nature should be quite at peace here.

phone: +81 86-836-3977

A museum that features 16 million year old Vicarya fossils excavated from Nagi. It also has information about other fossils and archaeology.
Do
Yokozen Kabuki

phone: +81 86-836-3034

A local form of kabuki theater meaning "On the side of the mountain" (山の横 yama no yoko), it has existed continuously for hundreds of years.
Eat
Okayama is one of only a few prefectures in Japan to raise its own black pigs, with the brand being Okayama black pigs (おかやま黒豚). Although the prefecture is credited in the name, Nagi is in fact the only place in the prefecture that raises these pigs. They've been raised here since the Meiji Period.

Sleep
phone: +81 86-836-8080

The cottages can also be rented during the daytime. Those wishing to use the cottages as overnight accommodations must make a reservation 6 months in advance.

phone: +81 86-836-8041

A villa with Japanese-style rooms.
Go next