Nagoya (Indonesia)
Nagoya
, also known as
Lubuk Baja
, is the main town of the island of
Batam
in the
Riau Islands
of
Indonesia
.
Understand
Nagoya is located on Batam Island's northern peninsula. The local government would like Batam Center to become the center to governmental offices, business and commerce. However, private enterprise has voted for Nagoya. Nagoya is the city center where you can find most hotels, food or entertainment.
It is important to not confuse this city with Nagoya, Japan - they are different places in different areas of the world.

Get in
By boat
The closest ferry terminal is at
Harbour Bay
(Jodoh), a short drive from central Nagoya, with frequent services on
Horizon Fast Ferry
from
Singapore
's HarbourFront terminal. Visa on arrival is available. The old ferry terminal at Batu Ampar is now closed.
By car
Nagoya is well linked by road. During peak traffic periods, it takes about an hour to drive from Nagoya to Batam's furthest places, such as
Tanjung Uncang
or
Nongsapuri
.
Get around

Taxi to Sekupang costs Rp 12.000 per person if you are sharing, Rp 40.000 if chartered. Going to Harbour Bay ferry terminal is about Rp 15.000.

See

Nagoya Hill is the biggest mall in Batam and is home to the Matahari department store. You can catch a movie at the Studio 21 cineplex here for Rp 45.000.(weekdays only) Rp.55.000. (Weekends)
Batam City Square (BCS) is one of the more crowded malls in Batam. You can catch a movie there for Rp.20.000,-. The mall also has karaoke, lounge, Timezone arcade, bowling and slot machines.
Temple of Da Bo Gong (大伯公廟) is located between Nagoya Hill and BCS. You can see a lot of sculptures of gods and goddesses.
Wihara Budhi Bhakti - Located at Jl Pembangunan Windsor.
Baitussyakur Mosque - Located at Jl Imam Bonjol, near to Hotel Harmoni.
Ocarina is the newly developed theme park. They have a beach, mini theme park, and a new water park. You can also see Shio sculptures along the way. It is about 15 minutes from Batam Centre harbour.

Do
Do what all seem to do: hang out at Nagoya Hill Shopping Mall.

Buy

For clothing check out Batam City Square / Nagoya Hill Mall. Sporting equipment is dominated by golf equipment, which can be found in a large sporting store in Nagoya. Tourist from Singapore love to shop for local products from Hypermart in Nagoya Hill Mall and Mega Mall. Some favorite grabs includes LAYERS /LAMOIST BATAM Style kue lapis, keropok gonggong (crackers), Indomie (local instant noodles), and cheap tidbits. Some local shops usually accept Singapore Dollars, because of Batam being very close to Singapore geographically. In any case you need extra cash to shop, you can still exchange your currency at the local money changers which offer competitive rates, or you may use a credit card.

Eat
Budget
Nagoya has many outdoor food courts called
pujasera
, akin to Singapore's hawker centres.
Nagoya Food Court, opposite Hotel Sahid Rashinta. Nagoya's largest with 400 seats. Try 888 Seafood Tofu Claypot, Pork Knuckle, Tom Yum soup or New Hai San Seafood 新海汕海鲜 (Tel:+62-811-77-9656) steamed orbfish (清蒸白鲳).
Pujasera A1, near Lucky Plaza. Has a wide variety of Indonesian and Chinese food, including another branch of New Hai San.
Pujasera Sindo Happy, at the intersection of Jalan Iman Bonjol and Jalan Windsor.
Sederhana Restaurant, in Windsor Central Block B No.1 Nagoya Batam. With specific Padang cuisine.
There's a variety of local food stalls located on the left side of Nagoya Hill entrance where you can find
sate
,
ayam panggang
and
ikan bakar
.
Mid-range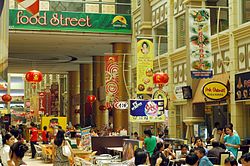 If you'd like local food with air-con and perhaps a little more hygiene, head to the food court in any shopping mall. Nagoya Hill's
Food Street
, in particular, is large, cheap, tasty and always packed.
Ayam Penyet Ria, Nagoya Hill and elsewhere. Famous for their ayam penyet "smashed" fried chicken, but also does good gado-gado and other Indonesian favorites.
Bakso Lapangan Tembak Senayan, in BCS Mall, Nagoya Hill and Mega Mall.

Dapoer Kampoeng

address: Nagoya Hill

Sundanese eatery serving up nasi timbel (rice in banana leaf) with fried chicken, fish etc and lip-smackingly fiery sambal. Sets from Rp. 25,000.
Splurge
You can find excellent Western food in downtown Nagoya Entertainment District outlets, such as Red Cock, Bistro and Lucy's Oarhouse.
Drink
The Nagoya Entertainment District is Batam's most notorious den of sleazy nightlife.

Sleep
Hotel Prima Asia

phone: +62 778-429607, +62 778-429608, +62 778-429609

address: Nagoya 2000 No. 09-10, Lubuk Baja (Nagoya), Pulau Batam 29432

Located behind Centerpoint, it offers acceptable rooms with hot shower and TV, though a few have only wall views. It's a good deal if your budget is really tight

phone: +62 778-459888

address: Jl. Imam Bonjol, Lubuk Baja (Nagoya), Pulau Batam 29432

A total of 131 rooms and suites. It is located next to the largest, brand new hypermarket and shopping center in Batam – Nagoya Hill Shopping Centre. The rooms are stuffed with modern amenities such as refrigerator and mini bar, IDD, private bath and shower, soft touch and master bedside control panel for central AC, TV, radio, lighting, in-house video. Other facilities include a bar & lounge, coffee shop and big screen sport café. Well known among modern executives and golfers.

Planet Holiday Hotel & Residence

phone: +62 778-433555, +62 778-433666

address: Jalan Raja Haji - Sei Jodoh

This is a typical Indonesian Chinese-run highrange hotel. This hotel has a lot of facilities including swimming pool, pubs, fitness club, bank and restaurants. Breakfast included.

Holiday Hotel

phone: +62 778-458616

address: Jl. Iman Bonjol Blok B No. 1 Lubuk Baja (Nagoya), Pulau Batam 29432

This is a typical Indonesian Chinese-run midrange hotel. It's not gorgeous, but it's the best value of its kind. The staffs seem ambivalent to give any discount, even though the room occupancy rate is low. Breakfast included and check out time is 13:00.

phone: +62 778-426789

address: A8 City Plaza, Lubuk Baja (Nagoya), Pulau Batam 29432

This Singapore Dollar friendly 3 star hotel is only steps away from the Nagoya's shopping malls and food courts (pujasera). All 110 rooms are fully carpeted, tastefully furnished with soft color and attached sound proof bathroom. The hotel has great modern lobby, spacious rooms but no swimming pool.

phone: +62 778-426888

address: Jl. Imam Bonjol, No. 1, Lubuk Baja (Nagoya), Pulau Batam 29432

This 4 star business-class hotel with good location offers 273 rooms and suites. Used to be known as Mandarin Regency Hotel and ever housed one of the better known casinos in Batam island, it's quite a grand hotel but a little dated. Nevertheless, it's served by a good team of friendly and helpful staffs. The hotel business is not as good as it used to be since the casino ban in Feb 2005. There's a restaurant, health centre, swimming pool, pub, karaoke Lounge and saloon. Check out time is 12:00.

Regina Inn

phone: +62 778-425290

address: Kompleks Inti Sakti Bl A/4 Lubuk Baja (Nagoya), Pulau Batam 29432

Uninspiring, unexciting, this budget option can be pretty grimy. Rooms are very basic.

Sari Jaya Hotel

phone: +62 778-451338

address: Kompleks Bumi Indah, Lubuk Baja (Nagoya), Pulau Batam 29432

This hotel has seen better days. Renovation works are still ongoing and will only finish around end of Aug '07. It has big and spacious rooms, offers standard TV, hot water and breakfast. However, there are some hairline cracks observed on the wall in the room. Daily renovation works end about 17:00 and it's not really worth the price unless having a perennial 20%-off special. Check out time is 13:00.

phone: +62 778 459 308

address: Jl. Imam Bonjol Nagoya

phone: +62 778 458888

address: Jl. Teuku Umar No.1, Nagoya - Batam 29432

phone: +62 778 452888

address: Komplek Panorama Nagoya - Batam Island 29432

phone: +62 778 459 109

address: Jalan Raja Ali Haji, Kempleks Boulevard No CC 11-18, Nagoya, Batam Island, Indonesia

En-suite rooms with Internet. Spa, gym, restaurant.

Sentosa Hotel

phone: +62 778 452345, +62 778 452330

address: Jalan Raja Ali Haji

Hotel is located in the town area, just 5 minutes from Harbourbay Ferry terminal. It is also near Nagoya Hill Shopping Mall and famous food places like Puti Bungsu Nasi Padang restaurant. Facilities includes massage center, karaoke, pool table, beauty salon, restaurant cafe and swimming pool. The swimming pool is one of the favorite for locals during weekends. Value for money because the rooms are big for the price offered.