Nahariyya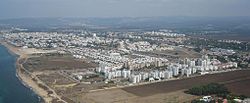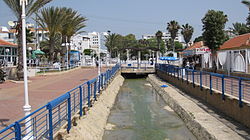 Nahariyya
(
Hebrew
: נַהֲרִיָּה, also transliterated
Nahariya
, occasionally
Naharia
) is a small city with a population of 50,000 in the
Western Galilee
in the north of
Israel
.
Understand
Nahariyya was founded in 1934 by German Jews fleeing Nazi oppression.

Get in
By train
Nahariya railway stationThis station forms the northern terminus of the coastal railway line with service to Haifa, Tel Aviv and Jerusalem.
By bus
Buses run from
Haifa
and
Akko
(Nateev Express route numbers 271, 272). The Central Bus Station is not far from the railway station.
Get around

Even though the city is rather small, its sights are spread widely. So, you might want to hire a taxi depending on where you will want to go.

See
The boardwalk is quaint and well kept. Follow the main street, HaGa'aton, to the sea, and enjoy walking or bicycle riding along the board walk.
Statue Park in Medatech

phone: +972 4 9855000

address: Derech HaAtsma'ut , Nahariya

Dozens of statues by artists from around the country.

Water Tower

phone: +972 4 9511214

address: 12 Jabotinsky St.

One of Nahariya's symbols, it was established in 1936, 27-meter-tall tower that provided water to the city among other things. The lower floor has a small gallery with exchange exhibits by local artists.

phone: +972 4 9926819

address: 34 Lohamei HaGeta'ot St, Nahariya

Local artists gallery with exchanged exhibits.

phone: +972 4 9821516

address: Gdud 21 St. Nahariya

Nahariya's museum that tells the story of the city through a permanent exhibit & archive.

phone: +972 4 9517491

address: 8 Ben Gaon St. Nahariya
Do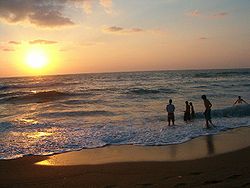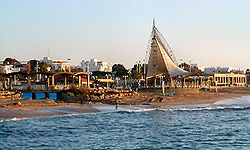 Enjoy relaxing by the beach at the public beaches.

Nahariya Carriage Rides

phone: +972 4 9879882

address: 26 HaGaaton Blvd

Take a carriage ride around Nahariya for a unique perspective of the city.

Nahariya Small City Train

address: 29 HaGaaton Blvd

mostly for kids/youth and families.

phone: +972 4 9511503

address: 5 HaMa'apilim st.

Sail from Nahariya to Akhziv Islands, Rosh Haniqra, and Acre. Dive shipwrecks, the Akhziv canyon, and Rosh Haniqra grottoes.

Dance Israeli Folk Dancing

address: Nahariya's boardwalk

Marina Sea Fishing

address: 5 HaMa'apilim st.

Horse ride and cycling

phone: +972 4 9923005

address: 2 Yitshak Sadeh, Nahariya

Roller Skating Park

address: Nahariya's boardwalk

Over an area of approximately 18 acres, includes hockey court. Just make sure to bring your own skates.

August Music Festival

address: Nahariya's boardwalk

For the whole month, free concerts with the popular Israeli singers/bands.

Fun Park

address: HaAliya st. Nahariya

For small children till age 8.
Buy
phone: +972 4 9929977

address: 2 Irit St. Nahariya

Also has 5 movie theaters

phone: +972 4 9525501

address: 1 Ben Tzvi St. Nahariya
Eat
Pinguin Restaurant

address: Hagaaton Boulevard

An institution in Nahariya, Pinguin has been run by the same family since it opened in 1940. Seating is outside in front, where the entrance is flanked by two person-sized penguin sculptures, or inside the restaurant. Pleasant atmosphere. Pizza, Italian entrees, toasted sandwiches, sandwiches, meat entrees. Pinguin also has a catering garden, which can be rented for special occasions.

phone: +972 4 9512074

address: 17 Yitzhak sadeh
Drink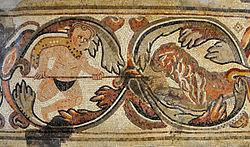 The B.K. PUB

phone: +972 4 9924334

address: 2 HaGaaton Blvd. Nahariya

Nahariya's oldest pub, since 1981, with rock music in the background.

phone: +972 4 9523489

address: Nahariya's North Industrial Area

Mega dance bar with special events.

The CowPub with live Israeli concerts usually on Saturdays and Thursdays at 21:30
Sleep
Go next