Naheland
Naheland
lies in
Rhineland-Palatinate
defined by the river Nahe which originates in
Saarland
and flows into the
Rhine
at
Bingen
.
Cities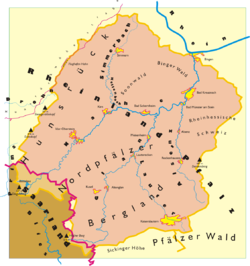 Understand
It is border to the north by the
Hunsrück
to the east by
Rhenish Hesse
and to the south by the
Pfalz
. It lies in the districts of Bad Kreuznach and Birkenfeld.
See
Do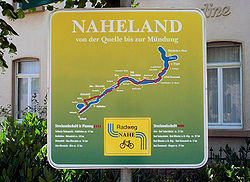 Soonwaldsteig 83 km from Kirn to Bingen.
Vitaltouren - 10 circular marked ways
Cycling
Drink
The Nahe is a quality wine region, the main wines being Riesling, Müller-Thurgau and Dornfelder.