Nairobi
Nairobi
, a city of nearly four million, is the capital and largest city in
Kenya
.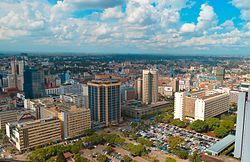 Understand
This city on the Nairobi River is not only the largest and fastest growing in Kenya but one of the largest in Africa.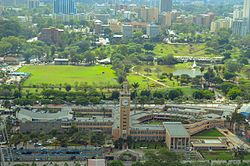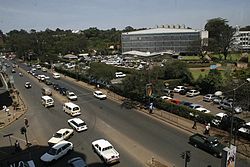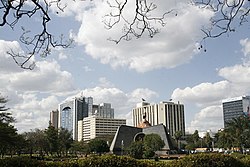 History
The word Nairobi is derived from a water hole known in Maasai as Enkare Nyorobi, which means "cool waters". Nairobi, which had been a swamp area, was founded in 1899 as a railway camp for the Uganda Railway. By 1905, the city had become the capital of Kenya (then the British East Africa Protectorate), supplanting
Mombasa
and
Machakos
, the previous capitals. With the spread of plagues in the early 1900s, the town was burnt down and had to be rebuilt. Having a railway helped it to grow rapidly, becoming the second largest city in Kenya behind Mombasa. Nairobi also grew due to administration and tourism businesses (mostly big game hunting).
The British presence led to the creation of big hotels primarily for the British hunters. After independence, some descendants of the British settlers remained in Nairobi and obtained Kenyan citizenship, and today form Kenya's white community. Nairobi has an East Indian community, who are the descendants of the labourers who built the railway and the merchants who set up shop during colonial times. After independence, Nairobi airport became the principal entrance point to Kenya and it still is today, although it has lost some of its importance to Mombasa.
Get in
For general information about visas and vaccinations, etc., see the
Kenya
article.
By plane
JKIA Jomo Kenyatta International AirportNairobi's main airport, and one of Africa's largest hubs. The main terminal building was destroyed by fire in 2013. Terminal 1A is the reconstructed section, and is linked to Terminal 1C by walkways both airside and landside. Terminal 1A has a small food court upstairs airside, and there is a Nairobi Java House between the two terminals airside. Terminal 1C has very little except for 10 small shops all selling the same souvenirs. Terminal 1A has a two small shops with a better selection of duty-free and souvenirs. There are Ecobank and Stanbic bank ATMs at the airport. Neither charges a fee.

Wilson Airport11 km (7 mi) south from the city's centre, handles some domestic flights and general aviation.
Airlines
Kenya Airways
(KQ) is the national airline of Kenya, and one of the largest and most reputable airlines in Africa, provides extensive connections from international cities including, London, Amsterdam, Dubai, Mumbai, Bangkok, Hong Kong, Johannesburg, Accra and a host of other countries around the world. The carrier started flying direct from Nairobi to
New York JFK
from October 2018, with a 15-hour flight time.
Other major commercial airlines to serve NBO include: Air Arabia, Air Mauritius, Lufthansa, British Airways, Brussels Airlines, China southern airlines, Egypt Air, Emirates, Ethiopian Airlines, Etihad Airways, Kenya Airways, KLM Royal Dutch, Oman Air, Qatar Airways, Saudi Arabian Airlines, South African Airways, RwandAir, Swiss International Airlines and Turkish Airlines.
Transfers
If taking a taxi from JKIA, use a reputable taxi. Many are waiting outside to give you conveyance, and the cost should be very near Ksh 2,000 to the city centre; Westlands or places more west or north will be more. There is an official KAA taxi desk just after you exit the customs area, where you can buy a fixed-price voucher, and they will escort you to a taxi. When taking a taxi to your accommodation, do not be inveigled into taking their recommendation for accommodation. Uber costs from Ksh 1000 from airport to downtown.
Airport Bus To or from the centre, Airport Bus #34 for Ksh 70. You get the bus from the international airport, or from in front of the Ambassador Hotel on Moi Avenue in the city centre. 6AM-8PM.
There is no official taxi desk at Wilson, and each airline operates out of its own terminal. It may be difficult to arrange a reputable taxi on arrival, but there are plenty at the kerb.
By train
Nairobi has become much more accessible by rail.
Kenya Railways
has opened a railway linking Nairobi and
Mombasa
, reducing travel time between the two cities to 5/6 hours. The express train leaves daily at 2:20PM, a slower service leaves at 8AM, stopping at more intermediate stations. Tickets cost Ksh 1000 for 2nd class and Ksh 3,000 for 1st. The difference between the first and third class is just the size of seats. The new terminal, is 10 km southwest of the city centre. A connecting local train runs at 6AM from the old . However, as the new train is very popular it is recommended to buy tickets a few days beforehand.
Nairobi to Mombasa
: Departures 8AM and 2:20PM, Arrival: 1:55PM and 7:20PM and -
Mombasa to Nairobi
: Departure 7:15AM and 3:15PM, Arrival: 1:05PM and 8:14PM
Schedule and prices
. One of those trains goes express with no intermediate stops, while the other does a number of stops on the way. The price for both is the same.
The old metre-gauge railway run by
Rift Valley Railways
remains, however with no passenger service.
By bus
Nairobi is the centre of Kenya's (mostly reliable) bus system. There are many bus companies operating to and from the country's different cities.
By matatu
Matatus (14-18 seater minibuses) and shuttles (6 seater cars) are convenient, inexpensive (and often the only) modes of public transport for connecting Nairobi with towns and tourist destinations in the Rift Valley and Central Highlands such as Naivasha, Nyeri, Nanyuki, Isiolo, and Thika. Matatus can be obtained from the River Road area. Extreme caution should be exercised in this area because petty theft is a major concern and valuables such as mobile phones and wallets should not be prominently displayed here, particularly after dark and even while in the matatu (see safety section below). The best method of connecting to a matatu is to arrange for a taxi to drop you off and pick you up directly at the location of the matatu that you are boarding or alighting from. If you're boarding a matatu from Nairobi, tell the taxi driver your destination and they will drop you off at the correct location. If you are being picked up, then tell the taxi driver the location you're coming from as well as the matatu company that you are using (your ticket should have the operator's name). It is best to arrange for a taxi from the hotel you're staying at. The price is dependent on the distance of travel.
from/to Naivasha (Ksh 200-300) 1½ hr
from/to Nanyuki (Ksh 450) 3 hr
Prestige Shuttle, Dubois Road, has 10-seat vans going from Nairobi to and from Nakuru and Kisumu. Ksh 450/1000.
North Rift Shuttle behind the Afya Centre has 10-seat vans going from Nairobi to and from Eldoret. from Ksh 700.
By boat
Entry into Nairobi by boat is not possible, however one could certainly arrive in Kenya by boat via Mombasa or Lamu, proceeding by road, air or rail to Nairobi. Immigration should be processed at the port facility.
Get around
Be careful getting around Nairobi. Traffic is very bad like any other major city, but if you use common sense and a local or guide you should be able to get where you want.
By hired car
Hiring a car is convenient as it allows you the freedom to explore Nairobi at your own pace. Most rental companies in Nairobi offer self-drive and chauffeured options respectively. You will find that a large fleet of cars available for hire are Japanese: Toyota, Nissan or Mitsubishi. You can hire both automatic and manual transmission. All rental cars are right-hand drive. Hiring a vehicle with a driver or chauffeur is advisable due to the generally lower standards of driving, average to poor road conditions and the overall cost effectiveness of not having to pay a deposit on hiring a vehicle which is the case with a self drive vehicle.
Car rental prices vary but as of April 2015 the going rates were as follows:
# Saloon car, e.g. Toyota Axio NZE, Toyota Fielder, Nissan Wingroad: (4 seater, under 1800cc, FWD) Ksh 4,000 per day.
# 4X4 compact car, e.g. Toyota RAV4, Nissan Xtrail, Suzuki Vitara: (4 seater, 4X4 2500cc. AWD) Ksh 8,000 per day.
# Large 4X4, e.g. Toyota Prado, Mitsubishi Pajero: (4X4 luxury, Jeep 3500cc, AWD): Ksh 16,000 per day.
# 7 seater minivans, e.g. Toyota Voxy or Alphard: (7 seater, 2500cc, FWD): Ksh 10,000 per day.
# Safari vans, e.g. customised Toyota Hiace with a pop out roof: (8 Seater, 2500cc, 4WD): Ksh 10,000 per day
# Safari Jeep, e.g. customised Toyota Land Cruiser J70 jeep with a pop-out roof: (8 seater, 3500cc, 4WD): Ksh 14,000 per day.
The car rental rates are often determined by the number of days and estimated mileage per day. Some car hire companies will give you a rate that is 50% cheaper but either give you a contract with a clause limiting you to visit the specific locations, an old car or require a hefty deposit. The rates are cheaper if you are hiring the car for a week, a month or are looking for a lease. Most car rental rates include unlimited mileage, PSV comprehensive insurance, theft and damage waivers.
The Driver and fuel are charged separately with some companies requiring that you hire a driver if you are taking a large 4X4/4WD (e.g. a Toyota Prado, Land Cruiser j70, Range Rover, Land Cruiser VX, Land Rover discovery). The cost of a driver is Ksh 2500 per day inclusive of meals and accommodation (April 2015).
Although a good number of local car hire companies are reliable, you should either take photos of the car before the hire, or carefully note the dents or scratches on the car and agree. In addition, carefully read the rental contract to check for rules on insurance liabilities in case of accident or theft of the vehicle.
Here are some reliable car hire companies in Kenya:
#
Kenya Finest Tours & Safaris
offers reliable transport services especially for landcruiser 4x4 and Nissan Safari Vans.
#
Nairobi Car Hire
offer good services for 4x4 and other categories of cars.
#
Central Car Hire
are a reliable, trustworthy and helpful rental company based in Nairobi. Two-wheel drive and four-wheel drive vehicles are available and are well maintained.
#
Nairobi Car Hire Services
provided by Hire N' Drive Kenya Limited who are very flexible with their rental terms and reliable. They accept credit card payment online with a very credible refund processing system. They also have a wide fleet of cars available at all major airports in Nairobi, Mombasa, Kisumu, Nakuru and Eldoret.
#
Elite Car Rental Kenya
although their offices are located in Kikuyu Town, they are a reliable car rental company and have been in operation since the mid-1990s.
# Avis Rental the local representative of the global business. Services are dependable with a variety of self drive vehicle options.
#
Shoor Kenya - Car Hire
which offer safari and saloon vehicle hire including drivers at highly reasonable pricing.
#
Hertz Car Hire
are also represented in Kenya and offer pick up and drop off at the international airport in Nairobi.
For ease of navigation around town and to the outskirts, it is advisable to use the Google Map. The navigation guide can be combined with other useful apps such as to help you get a better experience. For ease of search and navigation to secure parking lots, you can use
Parking Finder Kenya
, a smartphone app which is downloadable from
Google Play Store
. The app enables drivers to search and pre-book for parking, with details of location, charges per hour, features of the preferred parking lot, and the number of reservable parking spaces.
By taxi
Taxis are neither very cheap nor prevalent. Prices should always be negotiated before the trip, and paid afterwards (only cash is accepted, often with limited change available). This can be tricky as it requires you to be knowledgeable on the market rate price of the ride you wish to take. Typically, taxis can be found parked around hotels, malls, and tourist areas. The taxis tend to be marked with a yellow line on each side. Your best bet is to ask a local or enquire at your hotel.
The shuttle services
Uber
,
Bolt (formerly Taxify)
,
Little
,
Mondo Ride
,
MaraMoja
have become the hired car provider of choice among Nairobi's large expatriate population due to its convenience, cost competitiveness, and higher quality of service when compared to other taxi providers.
If you want a pre-arranged taxi with consistent pricing, you can try
Davina Cabs
. They have cab service in Mombasa, Nairobi, Kisumu and have an office in Eldoret.
By bus (matatu)
Matatus (public minibuses/commuter buses) are generally used for travelling between downtown Nairobi and the suburbs. Matatus vary in size, between the van sized 14-seat matatus and the larger 50-seat buses. While generally safe, matatus are involved in a high number of accidents every year. Matatus are often overcrowded with more people than seatbelts and therefore can be dangerous if involved in accidents. Because there are no licensing requirements, matatus are often poorly driven, with drivers passing on curbs, speeding, or passing in oncoming lanes while cars are oncoming. On each bus is a conductor who will hang out of the matatu and call out a price (usually Ksh 10-40) and location the matatu is driving. The government banned the 14-seat matatus inside Nairobi to reduce traffic and accidents in town. The best choice is probably the City Hoppa bus service and the revived Kenya Bus Service. Beware of traffic jams on the major highways, not only in the rush hours.
Nairobi Commuter Rail Service
There is a commuter rail service from the Central Nairobi Railway Station going to Syokimau Railway Station. Syokimau Railway station is where you take trains going to Mombasa.
Trains departures from the downtown Nairobi railway station going to Syokimau are at 6:40AM and 7:40AM and noon and 5:50PM and 7:50PM. From Syokimau there is a train 20 minutes after the train gets in from Mombasa. the trip takes 30 minutes. A one-way ticket costs Ksh50.
There is also a commuter train from Nairobi to Kahawa which departs Nairobi at 7:40AM, and from Kahawa back to Nairobi at 9AM.
They are also going to build a 6.5-km railway line from Syokimau to Nairobi Airport.
By foot
Walking around Nairobi is fairly easy since the city is small and places are easy to get to. However, there are some areas within the city where tourists should not go, and walking around at night should be minimised. Thugs are rampant in many areas. The city centre may be considered safe by some to venture on foot, but it can't be considered a pleasant experience. Expect to be approached by beggars, touts, etc.
By road
Car hire from the airport is possible, and fairly painless with prices in line with other African countries. In the recent past Nairobi had a severe car-jacking problem, but because of increased police check-points it is marginally safer these days. Travelling during the day reduces your chances of getting car-jacked as most car-jackings occur after dark, but even so, carjacking can still happen at any time of day, even with a strong police presence. However, watch out for undisciplined drivers, as they take little regard for safety.
See
Nairobi is known as the safari capital of Africa, however the city has still managed to keep up with modernization. Unlike other cities, Nairobi is surrounded by 113 km² (70 mi²) of plains, cliffs and forest that makes up the city's Nairobi National Park. The city is filled with many things to do during the day and the night. Tourists can have their pick from numerous safaris (wildlife, cultural, sport, adventure, scenic and specialist), ecotourism tours, restaurants, culture, shopping and entertainment. While in Nairobi, tourists can also engage in numerous sports from golf, rugby, athletics, polo, horse-racing, cricket and football (soccer).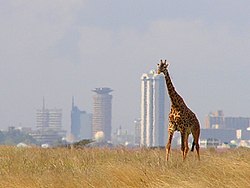 Nairobi National ParkThis is home to large herds of zebra, wildebeest, buffalo, giraffe, lion, cheetah, hippo, and birdlife (over 400 species). Here you can also go on the Nairobi Safari Walk, an educational centre to make people aware of wildlife and habitat conservation. Also in the park is the Nairobi Animal Orphanage.

phone: +254 736 919321

They take in orphaned elephants from all over Kenya, and keep them until they are able to survive in the wild. Visiting hours are daily at 11AM, so you should aim to arrive about 10 minutes before that time. You will be admitted and the elephants will be fed in two groups for around an hour. After than there is a brief time to shop and look around, and it closes again around 12:30PM. If you are willing to sponsor an elephant for USD50, you can make an appointment to see your elephant put to bed at around 5PM. These brief visiting times are to ensure that the elephants are not overly exposed to humans.

Giraffe CentreThe Centre breeds the endangered Rothschild Giraffe and has conservation/education programmes for Kenyan children. It also has many warthogs and leopard tortoise. You can feed the giraffe, and get close enough to touch them.

Kenyatta International Conference Centre (KICC)The best place to get that far ranging view over the sprawling, congested metropolis that is Nairobi. You can go up to the saucer-shaped top of the conference centre's round viewing tower and depending on smog and fog, you might be able to see as far as the slums and the national park.

US Embassy Memorial SiteIn 1998 a blast rocked downtown Nairobi. A truck had exploded next to the US Embassy building, reducing it to rubble and killing 212 people some on staff, most bystanders. On the same day, the US embassy in Dar Es Salaam, Tanzania, was also subject to a similar terrorist attack. 21 people have been charged with the crime, including Osama Bin Laden. The former embassy site today contains a memorial that can be visited.

Jamia MosqueWhile Jamia Mosque is tucked away in between other buildings there are striking views to be glimpsed of its intricate structure from many different angles. Easily the most impressive religious structure in the capital, the interior is off-limits to non believers

Westlands by nightVisit the bustling and hip Westlands district, which has turned into the new nightlife centre of Nairobi. Many restaurants and bars line the busy Woodvale Grove and Mpaka Road. A visit to 'Tree house' club is a must if you are looking for a spacious one and crowd outnumbered with expats, rather than the otherwise congested natives dominated ones. Traffic can become hectic, well into the early hours. Security is generally tight and the action spills out from packed clubs into the street.

phone: +254 20 762 2034

address: United Nations Ave

Sitting between the Karura Forest and the US Embassy, it houses international organisations such as the UN Environmental Programme, UN-HABITAT and is the basis of all UN operations in Africa. Africa's first completely carbon- and water-neutral building was opened here in 2011. Guided tours allow tourists to see the major buildings and gifts from member states and walk along a nearby nature trail, while learning about the history and work of the UN.
Museums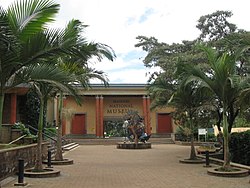 phone: +254 20 3742131

address: Museum Hill

Where visitors can learn about Nairobi, its history and culture. The museum was founded in 1910.

National Railway MuseumVisitors can learn more about the history of Kenya's railways and the Kenya/Uganda railway. It also houses some of the engines and rolling stock from the country's colonial period.

phone: +254 20 216566

address: P.O.Box 40658-00100

This is a museum housing only special exhibits, so the featured artwork is always changing.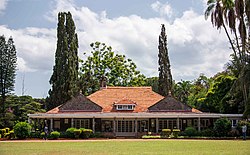 phone: +254 20 8002139

address: P.O. Box 40658-00100

Based on Karen Blixen's book Out of Africa. Her house is now the home of the museum. You have to be accompanied by a guide to visit the house, but you can walk around the gardens on your own. If you're not into the movie, and don't know the history of the house, then it may not be worth your while taking the hour or so it takes, and the price of admission. The house has little remaining original furnishings, but there are some of the props used in the movie here (although the movie wasn't filmed here - it was create on a set). It is on the outskirts of Nairobi (in the suburbs of Karen) and a taxi or bus can get you to the museum. It's not too far from the Elephant Orphanage and the Giraffe Centre, so these attractions can easily be combined in a single trip.

phone: +254 20 891391

address: Langata/Forest Edge Road

Portrays Kenya's culture. Visitors can see exhibits of traditional Kenyan homes, artifacts, dances, music, and song.
Parks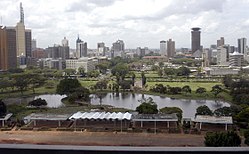 address: Langata Road

Built in remembrance of the struggle for independence, which Kenya was granted in 1963. The monument is a 24-m (79 ft) high triumphal column supporting a pair of clasped hands and the dove of peace, high over a statue of freedom fighter raising the flag. The monument is surround by fountains and lush-landscaped gardens.

Arboretum ParkVery nice park to walk and to relax from the hectic town. Because of entrance fee you will not be molested by beggars, sellers, etc.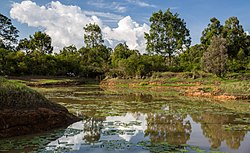 Karura Foresthas an area of 1 063 ha, making it largest of three main gazetted forest in Nairobi. The others are Ngong Forest and Ololua Forest. One of the best forest parks to walk, run, ride, picnic in the city center. It is relative safe, well marked and a very nice place to relax and enjoy nature. The River Cafe is a good place to rest from walk there.

City ParkThe city park is a good place to spend leisure time without any disturbance within an indigenous forest and with lots of sykes monkeys. They are trustful and come close due to being fed by visitors frequently. As they expect food from the visitors they get moody if you have nothing. On weekends and national holidays the park becomes very lively. There are some nature trails, but not really safe for foreign tourists. Another highlight of the City Park is the vegetables and fruits market in one corner of the park near Lumuru Road. Avoid going into the forest when it is dark. It is not safe. The park is not a must go destination, but worth to visit if you have extra time. Entry to the park is free.
Around Nairobi
Ol Donyo Sabuk National ParkCentred on a 2,146m (7,141 ft) mountain, this is mountain forests and plains, with a large population of Buffalo. It also serves as a refuge for Colobus monkeys, bushbuck, duiker, leopard, and a large variety of bird species. Another attraction is to climb the Kilimambogo mountain. A good starting point is the Ol Donyo Sapuk Resort where you can find a guide too. It is a 9-km hike to the top of the 2,145m-high mountain which takes about 3 hours with pit-stops at the observation area with a scenic 180-degree view as well as Macmillan's burial site.

Tana RiverWhite water rafting throughout cataracts, which leads to the 14 falls, can be done here. The rafting trip also includes a full BBQ lunch.

phone: +254 729 290894

A beautiful tea farm, about 40 minutes away from the city centre of Nairobi. The farm house is set within beautiful gardens surrounded by acres of tea and indigenous forest - home to the colobus monkey and plenty of other wildlife.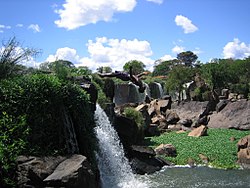 14 Falls at Thika14 Falls are 55 km from Nairobi, close to the Ol Donyo Sabuk National Park, near the town of Thika, one of the biggest suppliers of pineapples in Kenya. You will see the expansive plantations on your way to the falls. 14 small streams merge to form the big waterfall at the foot of the Kilima Mbogo Hills. These streams are part of the Athi River. At first glance the falls are magnificent; however, the river is strongly polluted by industrial waste and a foul chemical smell and reams of rubbish strewn across all the rocks really ruin the experience. At Thika are the Thika and Chania Falls close to the Blue Post Hotel . That's interesting too for a stop to or from the 14 falls. Also worth a visit are the Mau-Mau caves in which allegedly Maumau fighters hid during the independence battles between Thika and Mangu, about 6 km from Thika

Kitangela GlassIn this imaginative place, beautiful art objects are made of recycled glass and exhibited in a lovely garden, In a shop different types of glassware are on sale. Guided presentations take place every 30 min.

Kereita Forest zip lineAt the Kereita Forest near Kiambu along the Nairobi-Nakuru highway is East-Africa's longest zip line tour, offering over 2.4km of flight across the lush.

The Anti-Gravity Hill (Kituluni Hill)One of the strangest natural phenomena along the Kenyan Rift Valley is the point that the native Kamba mysteriously call "anti-gravity." Young men gesticulate on the street to demonstrate the "miracle" to visitors for a small fee. They put a plastic bottle filled with water on the asphalt, which apparently rolls uphill. If you ask them if they gave the bottle a nudge, they empty the contents onto the street. The water flows slowly uphill – apparently. Those blindly taking a few steps would swear they are going downhill. But the way undoubtedly goes up.

Swara Plains ConservancySwara Plains is a fenced sanctuary where Zebras, Giraffes, Ostriches, Monkeys and many other "non raptor" animals can be observed. Here you can go for a walk or ride a bike something that is almost everywhere prohibited in the national parks but is fun for children.

Olorgesailie pre-historic siteWorld renown as "world's largest stone-tool factory". Part of the Smithsonian Human Origins global locations. The site has camping spots and nice bandas-huts for rent, as well shower and WC facilities. If you're up for it, you can hike Mt Olorgesailie, but it's an all day event.

Lake MagadiSalt lake with hot springs for SPA, soda ash and salt production and many flamingos

Hells Gate National ParkA nice alternative to the more traditional Safari. Given the absence of dangerous animals, it is possible to visit this park on foot or by bike. The landscapes are very impressive, especially the descent into the canyon. All with the presence of different animals, zebras, wildebeests, buffaloes, warthogs, and several endemic species of birds and insects.
Do
phone: +254 20 555770

A former warehouse turned arts centre - this has also happened in Nairobi and this spot allows you to get a glimpse of what contemporary Kenyan artists are up to, including exhibitions, performances and discussions.

Kazuri Beads shopStarted in 1977 the workshop of beads is adjacent to Karen Blixen's Museum. It was started by an English woman to provide sustainable income to poor Kenyan women. Has beautiful jewellery created of clay brought from the areas surrounding Mt. Kenya.

Oloo's Children Center (OCC)

phone: +1 616 987-1106

address: Kibera

Lend a hand at the volunteer-operated school, take a tour of Kibera, and have a cup of tea with the OCC Founder. The founder of the school lives in Kibera and works to provide children in need with education and meals.

Try excellent foodNairobi has a great variety of international food. For more information see the Eat section.

NightlifeGo dancing and be apart of Nairobi's excellent nightlife. For more information see the Drinking-section.

Ice-skatingGo ice-skating at Panari.

Village MarketVisit Village Market and Sherlocks.

address: Slip Rd

Go to the Maasai market and buy keepsakes. On Saturday the market is at Nairobi High Court parking lot, village market on Friday, The Junction on Thursday, Capital Centre on Wednesday. Prepare to haggle and as a guide, pay about half to two-thirds of the asking price.

Visit the slumDo something different visit Kibera, the slums of Nairobi. Guided walks are arranged by Kiberatours.

Hiking: there are several goodhiking places near Nairobi too, e.g. in the Chyulu Hills or Ngong Hills. The Ngong Forest Reserve is 25 km south west of Nairobi. Its a popular walking and picnicking venue. The walk is inbetween Ngong and Corner Baridi (Kiserian) and takes about 4 to 5 hours. In Ngong is a station where you have to pay the park entry fee and who likes also for a guide. There is only one way to go and you hardly can get lost. But also organized hiking tours are offered. Other nice places for hiking are the Mount Longonot National Park and the Menengai Crater, a massive shield volcano with one of the biggest calderas in the world, in the Great Rift Valley, Kenya. It is the largest volcano caldera in Kenya and the second largest volcano caldera in Africa
The Ngong Racecourse (Horse Flat-Racing takes place 3 Sundays a month, and is a great way to spend an afternoon).
Buy
Money
This may also be a good place to repeat the warning about safety. Pickpockets are rampant in Nairobi and have been known to keep an eye on people getting cash from a machine. It is best to carry cash in a hidden pouch rather than a wallet. Men should not carry their wallets in their back pockets, and women should not carry their purses to the side or behind them, particularly in busy locations.
Shopping
For local curios and souvenirs, the most easily accessible and tourist-friendly is the
Maasai Market
, held on Fridays at the Village Market, an upmarket, open concept shopping centre near the United Nations and American Embassy complexes.
Bargaining
is necessary, and one should probably not spend more than Ksh 1000 on one item, except in extraordinary circumstances.
For slightly better prices, visit the Tuesday market in town, just down from the Norfolk hotel. This market is less secure, but is larger and offers more variety and opportunity for bargaining.
Biashara Street, downtown, is the spot for textiles. Make sure you pick up at least one
kikoi or kikoy
(a traditional wrap for Swahili men, predominantly at the coast).
Shopping malls
Safari
Nairobi is the capital of safaris in Kenya. There are tour operators from budget to world class all over the city. Yet it is not easy find the best fitting. Here are some options.
Eat
Budget
K and A Coffee house and Cafeteria

phone: +254 20 222870

address: Koinange Street

Sausage roll Ksh 90. Chips Ksh 100. Tea Ksh 50. Coffee Ksh 60. Cakes. Pies. A nice clean place to eat in downtown. Open since the mid-1990s.

Roast HouseIn the city centre facing the matatu station on Tom Mboya Rd. Regular local prices with more selection, excellent food, friendly service. Very busy at lunchtime.

HabeshaNear Yaya centre- great Ethiopian food for around USD5-6, although they serve Nescafé coffee rather than the traditional Ethiopian freshly-roasted beans.

Smart VillageSouthwest of Habesha on Elgeyo Marakwet gives an authentic Ethiopian eating experience, with fewer expats than the more-popular Habesha.

Red SeaAn authentic Ethiopian restaurant located on the top floor of China Centre on Ngong Road near the Chinese embassy. Meals cost around Ksh 500 and the food is excellent, with nice traditional coffee ceremony.
Mid-range
Nairobi has a fantastic array of mid-range eateries.
Abyssinia Exotic Ethiopian Restaurant

phone: +254 725 3515 1515

address: Muguga Green, Off Brookside Grove, Off Waiyaki Way

A delicious Ethiopian restaurant.

Java HouseWith quite a few locations, including The Junction, ABC Place, and close to the United Nations, features a western coffee house menu, from bagels to burritos, with excellent coffees and milkshakes, and a full breakfast menu. Another popular coffee house is Dormans.

TrattoriaAn Italian restaurant. Do not expect anything decent when it comes to the mains (all around Ksh 700). However, there is a fabulous and extensive dessert menu, including crepes, tiramisu, souffle, and a coffee granita with fresh cream (Ksh 250-500).

MotherlandAn authentic Ethiopian restaurant with great and affordable food (typical of Ethiopian restaurants in Nairobi!)

phone: +254 20 445-0653

address: Woodvale Grove, Westlands

Popular bar and restaurant with a laid-back Latin theme. Renowned for their sizzling fajitas, steaks and seafood dishes. Reasonably priced. The kitchen is open daily from noon until late.

Village Market Food CourtHas an array of different ethnic cuisines, including Thai, Italian, Chinese and German, as well as a Mongolian Barbecue. Good prices as well. Venture further into Village Market to find a good Japanese restaurant as well, though with slightly steeper prices. There are also food courts at other malls in the city.
Nairobi has a wide range of Indian restaurants that speaks to the significant South Asian community in Kenya. The city also offers other restaurants specializing in different European and Asian cuisine.
Common fast food restaurants include
Steers
,
Debonairs
,
Wimpy
,
Galito's
, local favourite,
Kenchic
among others.
In addition, there are several local restaurants that cater to local cuisine like sukuma wiki (green spinach-like vegetable, 'Kale' in English), ugali (corn bread, ground maize flour and made to a tasty white bread/porridge form), nyama choma (literally: meat roast), chapati and other specialities.
Splurge
The CarnivoreJust outside the city, close to the Uhuru Gardens along Lang'Ata road, it is a luxury restaurant famous for its meats. In 2006, the restaurant was listed as one of the top 50 restaurants in the world. Once seated, different masaai grilled meats will be carried around on sticks and carved to your plate at request. Very expensive by Kenyan standards, beware of additional taxes and catering levies. Reservations might be a good idea, ask at your hotel.

FurusatoLocated in Westlands, has fantastic Japanese food. For a price.

The Lord ErrolPast Village Market and into Runda, is said to have very good food, and is popular with the expat crowd.

MoonflowerOn State House hill at the Palacina hotel, a very upmarket bistro fusion grill restaurant in a lovely outdoor setting. Fantastic food.

Pango BrasserieAt the Fairview Hotel it features upmarket French and continental dishes. Dinner begins in an underground stone wine cellar where the chef will send out complimentary tasters while you sip a bottle of wine of your choice.

Alan Bobbe's BistroA venerable, legendary restaurant now located on Rhapta Road (near St. Marys School). Founded in 1962, the restaurant features French haute-cuisine at about a third of what you would pay in Paris!

address: 909,James Gichuru Road

Many Kenyan dishes, but also many dishes from other African countries
Drink
address: Moi Avenue

New Florida Clubs (F1)The New Florida, locally known as Madhouse or Madi, is in the heart of Nairobi on Koinange Street.

Pango (F3):

phone: +254 20 229-036

Commerce House, 1st Floor. The latest addition to the Florida Group.
Double Inn: Also out in Karen, they show rugby/cricket games and it's always full of expats and white Kenyans. The place to get hammered.

phone: +254 737 776677

address: ABC Place

Amazing seafood and spectacular decor a must visit.

Shooters & Dips Cocktail Lounge

phone: +254 787 637948

address: 4372-00506

Handpicked music by the DJ. The bar offers a varied food menu along with a long list of signature cocktails, fine wines and liquors.

phone: +254 722 309947

address: ABC Place

An upmarket modern cocktail and tapas bar. A delicious tapas and bitings menu, and the best cocktails and high end spirits array in Nairobi. All major imported and local wine and beers are available chilled to perfection. A popular hangout for expats, well to do locals and local business leaders. Ample parking and good security make this one of Nairobi's more popular spots.

phone: +254 722 309947

address: Junction Mall

The pub specializes in steaks, a wide range of cocktails, local and imported beers, high end spirits and shooters and a superb wine list. Furnished in beautiful woodwork, leather seating, and with images of colonial Nairobi, it is located in the secure Junction Mall which has ample parking, good security and central location. Doubles up as a popular sports bar on the weekends with multiple screens. A popular expat hangout. A great balcony from which one can sip a cocktail while watching life pass by. Food prices from US$10-15, and all major credit cards are accepted.

Club Soundd

phone: +254 722 571382

Gipsy

phone: +254 20 4440964

address: opposite Barclays, Bank Westland

phone: +254 20 374 9870

Klub House 2 (K2)

address: Baricho Road

Industrial Area is home to K2 Klubhouse.

Choices

phone: +254 20 550 629

address: Majestic House, Moi Avenue

Great place to watch Formula 1.

Black DiamondMany expats and travellers and has a cover band that plays very good music. A lot of ladies of the night here, always after the expats.

phone: +254 20-4450653

Its an expats' favourite on Thursdays nights. The live band on Saturdays attracts a good cosmopolitan crowd. Bar snacks available throughout the night.

Apple BeesLocated downtown and a branch in Parklands, next to the local Police Station.

Annie Oakley'sNext to Milimani Backpackers, has pool tables, a descent menu, and a big screen with cable TV. another expats' favorite hangout.

CockpitLangata Road not just popular with Wilson Airport pilots

BarrelsStripclub. Watch out for police raids

Red Tape:Westlands, Mpaka Road, Bishan Plaza,

Little Temple night club and bar

address: Tom Mboya Street

One of the few gay night clubs in Nairobi. A beer from Ksh 200. Soft drink from Ksh 150.
Sleep
Budget
The area around Tom Mboya Street & River Road has a lot of low cost hotels. Budget accommodation in Nairobi is from Ksh 1000 for a single room.

address: Mokoyeti West Rd, Langata

Wildebeest Camp has moved from its original location to Mokoyeti West Rd in Langata. It is a beautiful, clean camp with dorms, camp sites, permanent tents, and higher-end rooms. The common area has a comfortable TV room and a reasonably priced restaurant with an outdoor patio. What you get for your money is great breakfast is included, WiFi is extremely fast. The obvious downside is that it is very far from the city centre -- though that makes it easier to visit other sites like the Giraffe Center, Elephant Orphanage, and Nairobi National Park.

Milimani Backpackers & Safari Centre

address: Oldeani Crescent

During the day it's a safe 15-20 minute walk to the city center. It has internet, WiFi, hot showers, and bar. They offer dorms, doubles, singles, twins, camping space, permanent tents, and cabins. Milimani also offers safaris and other trips.

New Kenya Lodge

address: River Rd at Latema Rd

This cheap not so clean place in the city center attracts people from all around the world. The onsite office can arrange safaris for US$100 a day, and they often offer a few nights of free accommodation if you book one. Sometimes has hot water. 3 beds per dorm. or single rooms. The best priced dorms in Nairobi.

phone: +254-721-816603

address: Milimani Road

Six-person dorm. This backpackers is near downtown Nairobi 15 min walk. Free Wi-Fi.

phone: +254-20-8833475

address: Marula road off Karen road

Camping/dorm bed. Has free Wi-Fi.

Destiny Hotel

phone: +254 20 22531236

address: Duruma Road

Single room with own hot water bathroom nice hotel but not safe outside the hotel at night.

Hotel Princess

phone: +254 20 22114640

address: 20 Tom Mboya street

Single/double rooms with own bathroom.

Jungle Junction Backpackers

phone: +254 722-752865

address: Amboseli Road Lavington.

Camping, dorm beds, room with own bathroom. Warm showers, fast internet, good kitchen, laundry service. Also kitchen for cooking own food available as well as common room. Workshop for overland vehicles on site.

phone: +254 20-2142600

address: Junction of Tom Mboya and Ronald Ngala streets

Big single or double rooms with own hot water bathroom. Cable TV. Right in downtown near airport bus 34.

New Swanga Hotel

phone: +254 20-213827

address: Corner of Duruma Road & Accra Road

Comfortable room with own bathroom. Flat-screen TV and free Wi-Fi.

Mercury Hotel

phone: +254 20-2212504

address: Tom Mboya Street

Double room with own bathroom.

Evamay Lodge

phone: +254 20-2216218

address: River Road at the Junction with Duruma Road.

Double room with own bathroom and TV.

Eureka Highrise Hotel

phone: +254 20-2247459

address: Tom Mboya Street

Single/double room with own bathroom and TV.

Nawas Hotel

phone: +254 20-243148

address: Firestation Ln off Latema Road

Single/double room with own bathroom.
Mid-range
Splurge
Stay safe

Nairobi has a reputation for thievery. Beware of snatch and grab, con artists, or groups of people following you. Scams are elaborate and can involve up to 10 or more people working together. The best advice for a tourist is to stay in the city centre, know where you are at all times, and pretend you know where you're going (even if you don't). If you find yourself in an unfamiliar area your best bet is to find a taxi (although you will probably pay dearly if the driver suspects a panicked westerner!) Don't carry large quantities of money or passports on the street, and assume that anyone trying to engage you is up to no good or trying to sell you something. If one stays smart and plays safe, without going around much after dark, Nairobi can be a safe place to stay. Most locals are honest people who will happily help you if you approach them. The areas where you have to take special care are: Globe roundabout, Archives, Ambassadeur, Muthurwa Market, around Nation Centre, Landies road, Nyamakima, Kirinyaga road, Uhuru
Kenyans are proud people and there is not a lot of begging like you find in some other countries. Some opportunistic people will hang around shopping centres and beg, but they will generally accept a simple 'sorry' and leave you alone if you do not give. Many of these 'beggars' are middle-class kids or adults who have realised they can profit from exploiting white guilt, and should not be encouraged. If you are ever lucky enough to visit a slum as a local (not on some perverse tourist safari) you will discover the poorest of the poor do not even beg.
Outside of tourist and expat communities, young children will become excited at the sight of a white person and may come running towards you to try to shake your hand while yelling out 'mzungu' (white person) or 'how are you?'. Older kids are more reserved, and you should be wary of kids who are older than 9 or 10 who are trying to distract or get close to you.
Slums should be avoided by tourists as you will attract a lot of attention which can quickly turn into a dangerous situation.
Apart from the inner city centre, Nairobi dies out at night. Streets are mostly empty. Do not walk alone after nightfall. Always use taxis. The areas north and east of River Road should be avoided, especially if you're not a local!
Biashara Street is a safe shopping street due to the presence of 10-15 Maasai guards. A place to avoid as a tourist is the City Market; you could end up paying a much higher price than on Biashara Street.
If you are in a matatu and moving slowly through traffic, particularly after dark, you should keep your window closed if your valuables are in reach to prevent people snatching them from the outside (there are thieves who walk through traffic looking for such opportunities). Mobile phones and wallets should be securely kept and not displayed prominently during calls or cash transactions in the River Road area, particularly after dark.
Eastleigh (known as 'little Mogadishu') is an area near the city centre that is decaying due to years of neglect by the government (including the police). It is predominantly populated by Somalian migrants and refugees, and most Kenyans will not go there for fear of their safety. Tourists would be wise to avoid it day and night.
There have been several grenade attacks in the city for which Al-Shabaab have claimed responsibility. These are likely to be ongoing while the Kenyan army has a presence in Somalia. They are random and often fatal, and one should be wary and report any suspicious behaviour. Associated with the terrorist threat, you can expect to pass through security checkpoints with armed guards at most attractions, shopping malls and even on the streets. You can expect (at times) to have to have your bags searched, and car checked.

Stay healthy
It is recommended that before tourists come to Nairobi, that they should be vaccinated well in advance (6 weeks) of their trip. The most common recommended vaccines for people traveling to Africa are Tetanus, Diphtheria, Polio, Typhoid, Hepatitis A, Hepatitis B, Yellow Fever, Rabies and Meningitis.

Food and beverages

Be careful with the food that you eat outside the more upscale establishments. Before eating, make sure that the food is freshly and thoroughly cooked and served hot. Also avoid seafood, except at upmarket restaurants and hotels, and make sure that your fruits and vegetables have been properly washed in clean water. The safest fruits to eat are bananas and papayas.
Do not drink tap water or brush your teeth with it. Only use bottled or canned drinks (especially popular brands). Also, do not use ice as it may also be contaminated water, and remember that alcohol does not sterilize a drink. The general rule of thumb is, the more high end an establishment is, the greater the safety of the food and drink within.

Insects

In Africa you are going to be exposed to yellow fever, dengue fever, other viral diseases, sleeping sickness, filariasis and malaria, although none of these diseases is a concern in Nairobi. When insects are biting you should cover up and wear long-sleeved shirts and trousers, socks and pyjamas especially when night falls. It is best to use an insect repellent that contains DEET on your exposed skin and clothing. As for mosquito nets, it is best to use a permethrin-impregnated net along with an insecticide such a pyrethrum coils or an electric mosquito killer during the night. And remember to spray your hotel room every evening.

Heat and sun

Make sure to drink plenty of fluids (not coffee, alcohol or strong tea) to avoid dehydration. To know if you well hydrated, you body would always produce plenty of clear urine. The average temperature is around 25°C (maximum might reach 30°C) throughout the year. People coming from Asian countries like India will not have much problem with the weather, in fact it would definitely seem pleasant all along the year. For people who are from cold countries it takes them three weeks to become accustomed to the heat. Try to avoid plenty of physical exertion and try to stay in the shade and keep cool as much as possible. Increase the amount of salt intake in your food and water. Also, apply a lot of high factor sunscreen, avoid direct sunlight, and try to wear a hat and shady clothing.

Connect
There are very many internet cafés around Nairobi, but connection speeds and computers are not always super fast, but still you will manage to open your email, probably even use a webcam or watch YouTube. Prices are usually at ranges from Ksh 0.5/minute to Ksh 1/minute, usually with a minimum fee of Ksh 5-20. The more expensive internet cafés are rarely better and the best ones charge Ksh 1/minute with discounts for using the internet for longer. Most of the good cafés are found in Norwich Union which has quite a number just opposite Hilton Hotel next to Nandos while the expensive ones are found in malls in Westlands. Although it may be more appropriate for tourists to use the ones in Westlands since they are usually less crowded and are more exclusive but not necessarily faster or better in terms of equipment.
Free wireless internet is available at Java House restaurants and Doorman's coffee shops in the city and malls. Some bars like Havana in Westlands also offer free wifi. The internet cafe in Sarit Centre also has wireless internet available at a good speed and a reasonable price.
Mobile phones are ubiquitous in Kenya with fairly good coverage from all providers Safaricom, Airtel and Telkom that extends to most populated parts of the country. Safaricom has the best national coverage especially if you are using 4G data. The phone system is GSM 900 and 3G-4G 2100 (Asian and European standard) on Safaricom, Airtel and Telkom Phones and SIM cards are available at many locations throughout Nairobi and the country including at the airport. Phone prices are very competitive and priced for average income Kenyans. A basic phone may be obtained new from an independent dealer for ~Ksh 2000. A vast majority of people use pre-paid phones with scratch-card top-ups available at a huge number of merchants across the country. Phones are sold "unlocked" by outlets for use on any network. Safaricom though does sell a number of phones locked to its network. Much business is conducted via mobile phone, so possession of one for even a relatively short stay in the country can be beneficial. Rates are extremely affordable with in-country calls at around Ksh 3 per minute. Overseas calls cost around Ksh 5 per minute to the United States (~USD$0.06/minute) and Ksh 3 per minute to India on the Airtel network.
3G data service is available in most coverage areas on Safaricom and is of a fairly high standard. The other networks have 3G in major population areas and EDGE/GPRS everywhere else. If you have a smart phone you should buy a data pack (200mb, 500mb or 1.5gb) or your credit will go down very fast.
Airtel and Telekom have lower prices for calls and data.

Cope
Smoking is against the law out on the streets in the city center (the downtown grid area with numerous skyscrapers). There are certain smoking zones, and outside of the city center it becomes much easier to find locations where it is acceptable. However, a general rule would be to not smoke along the side of any roads or streets with pedestrians and/or vehicles. Be observant and take your cues from other smokers - if there are no smokers or cigarette butts on the ground, it is likely a non-smoking location.
Embassies & High Commissions
phone: +254 20 4277100

address: Riverside Dr

phone: +254 20 2726851

address: Woodlands Rd

Cyprus

phone: +254 20 2220881

address: International House 6th Floor, Mama Ngina St

phone: +254 20 2122859

address: Mama Ngina St

phone: +254 20 4441248

address: 24 Othaya Rd off Gitanga Rd, Kileleshwa

Eritrea

phone: +254 20 4441248

address: 2F New Rehema House, Rhapta Rd

Ethiopia

phone: +254 20 2732054

address: State House Ave

phone: +254 20-3750721-4

address: Eden Square, Block 3, 6th floor, Greenway Rd off Westlands Rd

phone: +254 20 4262000

address: 113 Riverside Drive, Ludwig Krapf House

phone: +254 20 340722

address: 13F Nation Tower, Kimathi St

phone: +254 20 714-196

address: Menengai Road, Upper Hill P.O.Box 48868

phone: +254 20 2898000

address: Mara Rd, Upper Hill

Republic of Korea

phone: +254 20 2220000

address: 15F Anniversary Towers, University Way

Spain

phone: +254 20 2720222

address: CBA Building, 3rd floor, Mara & Ragati Road, Upper Hill

phone: +254 20 3864116

address: Lenana Rd, Kilimani

phone: +254 20 7121321

phone: +254 20 2710076

address: State House Ave

United Kingdom of Great Britain and Northern Ireland

phone: +254 20 2844000

address: Upper Hill Rd

phone: +254 20 363-6000

address: UN Ave
Go next