Naju
Naju
(나주,羅州) is a city in
South Jeolla
,
South Korea
.
Understand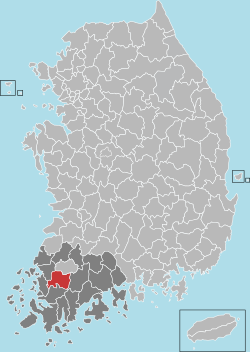 Naju is the capital city of Naju county.
Get in
You can get in by bus, train or plane.
By bus
There are several daily express buses from
Seoul
. The trip takes about 4 hours. From
Gwangju
, the express buses run every 30 minutes or so and lasts 45 minutes. You can also take various city buses, like the 180 that runs every 5-10 minutes and several of the 160 routes go to Naju as well.
By train
By train, the fastest route is the KTX. From Seoul it takes just under 3 hours. You can also take a slower, cheaper train. There are over a dozen leaving from Seoul every day. Almost all trains that go on to
Mokpo
will make a stop in Naju.
By plane
Gwangju
has the nearest airport. From there you can catch the 180. Or a taxi from Gwangju will cost you between ₩25,000 to ₩50,000 (depending on the time of day and your haggling skills).
Get around
Taxis are really cheap. You can get anywhere in Naju for under ₩7,000 won. Or you can take the 160 bus for ₩1,000 won. It goes to all points of interest across Naju.

See
Naju MaryThere's a small church near downtown Naju. The woman who runs is to suffer from stigmata. In the church there's a statue of the Virgin Mary that cries blood and secrets oil. It's being investigated by the Vatican. They hold daily services and sometimes overnight mountain vigils.

The city gatesThere are two beautiful traditional gates in the city, the South Gate and the North Gate. The South Gate is actually used as a roundabout in the city centre, you can't miss it!

Naju Pear MuseumSpend an hour at the Naju Pear Museum.
Do
If you want to get a driver's licence in South Jeolla, you have to do it in Naju (specifically in Yeongsanpo).

Buy
Every five days, the five day market rolls into Naju. Haggle with the old women for their fruits, vegetables, and various unrecognizable seafoods.

Eat
Naju is known across the country for its pear called the Naju pear. It's very large with the consistency of an apple and the taste of a pear. Very refreshing in the summer.
Yeongsanpo, an area of Naju, is famous for its fermented skate fish. Try it at your own risk.

Drink
BauzenThe best bar in Naju is near Chosun University. It's called Bauzen and is frequented by local students who are very curious to talk to foreigners. Please behave though, the owners will use any excuse to get the foreigners out. Also, you are expected to order a food dish. Besides that, it's actually worth a night out!
Sleep
There are tons of love motels in every area of Naju. Some are less sketchy than others.

Go next