Nakhchivan (region)
Nakhchivan
is an exclave of
Azerbaijan
, which borders
Turkey
to the northwest,
Armenia
to the north and east, and
Iran
to the south.
Cities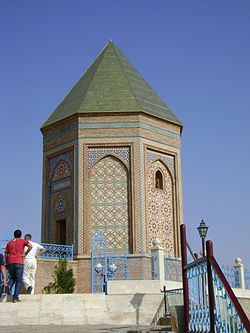 , Babek Rayon (district)
, Julfa Rayon (district)
, Kangarli Rayon (district)
city
, Ordubad Rayon (district)
, Sadarak Rayon (district)
, Shahbuz Rayon (district)
, Sharur Rayon (district)
Understand

Nakhchivan is separated from the rest of Azerbaijan by Armenia, with which Azerbaijan is still at war. The region is not a major tourist destination.
The Tourist information Centre, in the brown domed building (historically a madrasa) opposite the Tabriz Hotel, can offer advice on what to see and gives free guides and maps. The helpful staff can speak Azeri, Russian, and English.

Talk
Get in
By plane
The best way to get to Nakhchivan is to fly to Nakhchivan International Airport
NAJ
. Alternatively from Baku to Yevlakh (Jevlach, Yevlax) Airport (YLV), just outside the enclave's capital; Azal operates a shuttle service, heavily subsidized by the Azeri government. From Jevlach you can also fly to Moscow with Samara airlines. If you are arriving from Baku there is a passport check for foreigners. If you are foreign you will be asked for the purpose of your visit. This is a very controlled state, so journalists and those representing NGOs are not welcome with open arms.
Airfare prices are different for foreigners than for Azeris. You can book a flight on the AZAL (Azerbaijan Airlines) website in English, azal.az, by using your credit card.
Foreign rates:

Nakchivan/Baku and vice versa = 70 manat (04/2019)
Nakchivan/Ganja = 39 manat (03/2011). As of October 2019, this route seems to be no longer operational.

There are buses and taxis to the city, which is 3 km away. Minibuses depart from the tiny bus station in front of the airport, just across the parking lot. City buses do have numbers written on them and stop relatively frequent. Fare is 0.30 Manat for travel in town, almost all of them will stop at the long distance bus terminal (Avtovagzal) in the north of town, where one can catch also minibuses to other parts ot the enclave. Check the signs in the windshield which show the major stops of the bus.
Alternative airport with connections to Ankara is at Erzurum (ERZ), 250 kilometres west of Nakhchivan.
===By train===
There is twice-weekly train service between Nakhchivan and the Iranian cities of Tabriz and Tehran. It's also possible to travel to the border crossing at Jolfa, which sees daily trains from Tabriz, and cross the border independently.

By car
Local cabs can be hired on arrival but will likely inflate prices. If you are headed to Nakchivan, having a local receive you will smooth over any unplanned border hassles. Taxi rates are linked to fuel costs. In Nakchivan it's about US $0.75/liter.

Nakchivan Taxi can be contacted to arrange for a local taxi to pick you up at a border crossing or airport. Day trips can also be arranged. English is spoken.
By bus

The exclave has a short border with Turkey in Sədərək which allows an easy link to the city of Iğdır. There are several buses per day starting from or passing through Iğdır bus station (150 min pure driving time). The border is open 10 hours a day and that border guards are very corrupt – and even corruption aside, the extensive security, customs and immigration checks on both sides are likely to last two hours or more.

By foot
You can enter Nakhchivan on foot from the Iranian town of Jolfa, crossing the bridge across the Aras River. The border crossing is on the northern side of Ashura Square in the Iranian border town of Jolfa. Walk right to the end of the pedestrian street into the Iranian immigration building and present your passport. Following a baggage and passport check, cross the bridge on foot (around 3 minutes' walk) to the Azerbaijani side. Here you should present your passport and a print out of your eVisa to the officer in the small booth. He/she will direct you to the immigration building where you will have your visa and bags checked (make sure to have a prescription for medicines) and photo taken. The immigration officials on both sides are very friendly and helpful with some speaking English. The crossing should take around 45 minutes if there are no problems.
Taxi to Nakhchivan City outside the immigration building:
Private taxi: 15 manat (12/2017)
Shared taxi: 3 manat per person (12/2017)
Minibus to Nakhchivan City: 1 manat from the bus terminal in the center of town (04/2019) 10 minutes walk from the immigration building.
Get around

The best way to get around is by cab. There is a fixed price system when you travel within the city. It costs US$1-2 (3 Manat) to travel between any two points within the city. If you want to travel outside of the city, you have to bargain with the cab drivers. A half day taxi outside the city with multiple sights should cost around 60-70 Manat. The highest price you will be charged (traveling from Sederek to Ordubad) is no more than US$50.
It is easy to catch minibuses to every village in Nakhchivan from the main bus station (Avtovagzal) in Nakhchican City. The fare is always 1 Manat, no matter where you go. If you don't find the bus with your destination, you can ask around . Drivers as well as other passengers are extremely helpful and will go out of their way to help you find the right minibus for you, sometimes by calling an English speaking friend who will translate for you. For example if you want to visit Alinca Qalasi, it is best to take the bus to Qazanci, which will pass by the entrance to the castle and the tiny museum (both free). You can tell the driver where you are going so he knows where to stop.
There are hourly minibuses from Nakhchivan to Culfa which will also drop you near the border control post near the Iranian border. The Bus driver will ask the passangers when he drives into Culfa, where they want to be dropped off. The actual bus terminal is about 10 to 15 minutes walk from the the immigration building.

See
South of Nakhchivan City
AlinjagalaThe number one highlight of Nakhchivan. An ancient citadel in the mountains with impressive views. To access the citadel you need to climb the stairs up from the road which takes around 30-45 minutes, but it is all worth it once you get to the top. At the top there is complete silence and most of the time you will have the place all to yourself.

Asebi keifSacrificial grounds, believed to be holy by locals, in a canyon. Also next to the site is a cave.

Sheikh Khorasan TombAn ancient tomb in the mountains. Nearby to Alinjagala.

Ilam DagThe mountain that Christians believe Noah's Ark crashed into on the way to Mount Ararat. Clear views of the mountain can be seen on the way to Alinjagala and the Iranian border.
North of Nakhchivan city:
Duzdag CaveActually an old salt mine from Soviet days that has been converted into a treatment centre and a hotel.

Batabat LakeA scenic lake surrounded by rolling grassy hills and mountains, around 40 minutes from Nakhchivan City on the Armenian border.

Garabaghlar MausoleumAn ancient mausoleum tower in the town of Garabaghlar, 30km north of Nakhchivan City.
Do

It is possible to see the highlights of Nakhchivan in one day by hiring a taxi for the morning to see the sights outside of the city (Alinjagala, Sheikh Khorasan Tomb, and Asebi Keif), and then exploring the sights of Nakhchivan city in the afternoon and evening.

Eat

Qutab, dolma (naxcivanski dolma), bozartma, xash and many more.

Drink

Wine growing in Nakhchivan is an ancient tradition, in the Araz valley and foothills. Very hot summers and long warm autumn make it possible to grow such highly saccharine grapes as bayan-shiraz, tebrizi, shirazi. Wines such as "Nakhchivan" "Shahbuz", "Abrakunis", "Aznaburk" are of reasonable quality and very popular.

Sleep
Nakhchivan City
Hotel Sahin

address: Nizami street

Hotel Tabriz

phone: +994 36 255-56760

address: Azadliq avenue

5 star hotel in central location. Double room for 140 Manat per night. Restaurant on the top floor has impressive views over the city and surroundings.

Hotel Tehran

Hotel Togrud

Hotel Ukraina

phone: +994 36 545 53 83

Otel Avtovagzal

phone: +99460 204 00 32

It is probably the cheapest hotel in town and a good location if you plan on moving on the next day to either Turkey or Iran. Price for a comfortable big room is about 35 Manat. If you have an Azeri friend to help you, you might be able to bargain it down to 25 Manat without breakfast. (September 2019: normal price is 25 manat without breakfast, 35 with breakfast, no need to bargain it's a fixed price, not much English spoken there, but they are nice and helpful).
Stay safe
Being an important trade center, with manifold connections to
Iran
and
Turkey
, Nakhchivan city is after
Baku
the most cosmopolitan city in Azerbaijan, and this is reflected also in the availability of accommodation.
Beware of officials when taking photographs. Rumor has it, even taking pictures in the direction of the Armenian border could get your camera confiscated.
Go next
Iran: You can cross on foot to the Iranian border town of Jolfa and then on to other cities. You must have a visa as there is no visa on arrival at Jolfa.
Turkey
Baku or Ganja: to get to Azerbaijan proper you need to fly. There are usually 3 flights to Baku per day, but because this is the only way to get to other parts of the country, flights can be booked out days in advance (sometimes up to 5). Flights are operated by AZAL and can only be booked in person in the office near the theatre in Nakhchivan City, or online on azal.az. Flights for foreigners to Baku cost 70 Manat.
There are occasional international flights to Turkey and Russia.