Nakhodka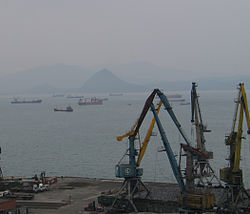 Nakhodka
(
Russian
: Нахо́дка,
nah-KHOHT-kuh
) is a port city in
Primorsky Krai
. Its name means 'discovery' in Russian.
Understand
Russia
designated the city a "free economic zone," a variation on
China
's very successful Special Economic Zones, which could attract large-scale foreign investment. It is location of the port Vostochniy, the largest port in Russian Far East, and an oil-terminal for
Sakhalin
projects.
Get in
By train
Direct trains come from
Khabarovsk
every other day in cold season. In hot season they arrive daily. Don't be confused if the destination in your ticket would be read as 'Tikho'okeanskaya' (Тихоокеанская) because it's the main railway station. The station 'Nakhodka' is up north and serves commuter purposes mostly.
Elektrichkas bound for
Vladivostok
and Partizansk depart 3 times a day: in the morning, at midday and in the evening.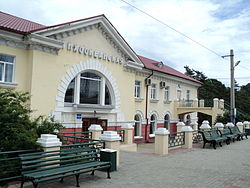 By plane
From the airport "Knevichi" at the town
Artyom
north of Vladivostok one can order a taxi for per trip that takes 3 hours.
Public buses leave Artom's bus stop at the right hand of the airport square.
By bus
Bus station is in the city's center near the railway station Barkhatnaya (Бархатная).
Taking a bus to the capital Vladivostok is possible every 40 min and the time of travel lasts 4 hours. Bus #601 (Nakhodka-
Ussuriysk
) with a stop in Artyom goes three times a day.
Get around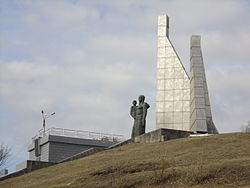 The city spreads along the harbor for more than 40 km. The central street is Nakhodkinsky Prospekt that goes along the shoreline.
Common public transport in Nakhodka is taxi and public buses. Taxi usually charge for a period of time: 15 min, 30 min, 1 hour ().
See
phone: +7 4236 65-53-90

address: 6, Vladivostokskaya St

The museum has two exhibition rooms, a children's museum, a "museum on rollers", an art salon, and a music hall.

'Art stil' salon

phone: +7 4236 641-315

address: 16, Malinovskogo st

Art.
Drink
Dolina Lubvi

phone: +7 423 625-99-95

address: 51, Nakhodkinskiy Prospekt

Night club.

Chamelion

phone: +7 423 662-11-09

address: 2a, Sportivnaya St

Night club.

Imperia

phone: +7 423 625-60-71

address: 22, Leninskaya st

Night club.
Sleep
Nakhodka is amongst the most frequented cities in Russian Far East and there is over 40 hotels and more is under construction. You can pick a hotel in the city or get out to rest at the numerous bases along the sea.
Budget
Economy class
Xuan Yuan Hotel

phone: +7 4236 64-09-84

address: 32, Malinovskogo St

A hotel in Chinese-style.

Pyramid Hotel

phone: +742366 5-77-60

address: 2, Vladivostokskaya St
Splurge
Hotel Gorizont

address: 1, Sportivnaya St

The most luxurious hotel in the city.

phone: +7 42366 59910

address: 27, Pogranichnaya St

Hotel Nadezhda

phone: +7 4236 698595

address: 3, Administrativny gorodok

phone: +7 4236 63-49-63

address: 44a, Nakhodkinsky Prospekt
Go next
Lisiy Island.
Brother and Sister Hills.