Nakhon Phanom
Nakhon Phanom
(นครพนม) is a city and province in
Isaan
.
Understand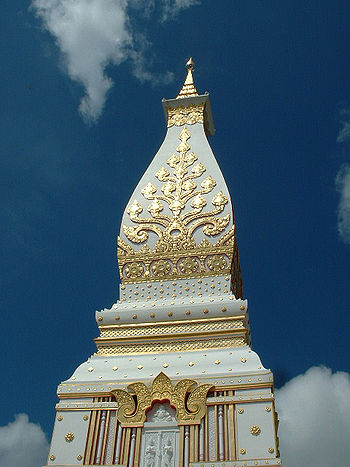 Nakhon Phanom is in the northeastern region of Thailand, approximately 734 km northeast of Bangkok and 378 km southwest of Hanoi, Vietnam. It borders Lao PDR's Khamoun Province,
Tha Khaek
District. Nakhon Phanom was the site of a US base during the Vietnam War, housing the 56th Air Commando Wing, based at Nakhon Phanom Royal Thai Air Force Base. Its mission was search and rescue and interdiction of the Ho Chi Minh Trails in Laos 48 km to the east.
The city has a beautiful landscape, with the Mekong River running adjacent to the city, marking the current border between Thailand and Laos.
The population of Nakhon Phanom is a diverse mix of Thais, Thai-Vietnamese, Lao, Thai-Lao, Thai-Chinese, and perhaps a few Thai-Indians. The main languages spoken are Thai, Isaan, and Vietnamese, Isaan being the most popular of them. The primary culture and language is Lao, as Isaan was part of Laos until the late 19th century. Ho Chi Minh resided in a small village between the city center and the air base to the west during the late-1920s and early-1930s. A new museum has been constructed there, his home is preserved and is open to the public, and it draws many Vietnamese tourists.
Although a small town, Nakhon Phanom is famous for its centuries-old temples and beautiful landscape. The city has a reserved and traditional Lao Isaan culture. A traveller may well find the residents of the city very hospitable and kind. The surrounding villages have many tribal cultures unique to Isaan and Laos.
Get in
By plane
Nok Air
operates flights to Nakhon Phanom (KOP), as does
Thai Air Asia
. From the airport to town is about 20 km.
A meter taxi from the airport to the city is approximately 200 Baht (30 Baht flagfall, then 10 Baht per Km - trip is about 18 Km). "Limousine" shuttle van tickets are 100 Baht per person.
From Laos
Friendship Bridge III between Thailand and Laos is now open. It is around 10 km north of town and the Thai-Laos International Bus runs between Nakhon Phanom bus station and Thakhek from 08:00 to 17:30 eight times daily (every 60 - 90 minutes). It is not possible to cross the bridge on foot. Note: you need baht for the bus from Nakhon Phanom to Thakhek. Kip or USD are not accepted. Allow about 1.5 hours for the customs rituals on both side of the bridge. Visa on arrival available on the Laos side. If you enter Thailand from Laos, most nationalities get a 30 day visa exempt entry. But note that since 31st December 2016, foreigners entering Thailand under the Visa exception scheme are permitted to enter Thailand at a land border crossing only
twice in a calendar year
.
By train
The closest railway stations are about four hours away, in
Ubon
,
Udon
, or
Nong Khai
.
By road
Two of the most common means of getting to Nakhon Phanom from Bangkok are by road in private tour buses or government-operated tour buses. These buses start from the central North and Northeastern Bus Terminal (
Mo Chit
) in
Bangkok
. The fare for bus travel ranges from 300-850 baht, depending on the type of bus. A more convenient and popular bus is operated by the Transport Authority of Thailand. These VIP air conditioned buses operate under the label 99 or 999. These buses are 24-seaters, with seats as comfortable as seats in the business class of an aeroplane. A toilet is also available inside the bus. The distance between Nakhon Phanom and Bangkok is approximately 740 km. This is about an 11-hour journey. Although it seems long, a bus travelling out of Mo Chit at 19:15 arrives at Nakhon Phanom around 06:30. Buses leaving from Nakhon Phanom to Bangkok at 18:00 arrive at around 05:30.
Get around
The most convenient way to get around the city is via the famous three wheelers of the northeast, more commonly referred to as "skylabs". There are also buses and vans running to other provinces throughout the day, easily accessible from the central bus terminal or in front of the local market.

See
Fire BoatsCommunities from the province build large scaffolding out of bamboo, which they put on boats and float down the river in the annual fire boat festival. Tin cans are filled with kerosene and stuffed with rags, then arranged on the scaffolding to form images of temples, the king, dragons, etc. At night the boats float down the Mekong for the appreciation of spectators. Held one night a year, at the end of Buddhist Lent (Jul-Oct).

Ho Chi Minh HouseUncle Ho lived here for a time.

Old City Jail Museum

Old Governor's MansionContains a wide array of historical photographs, including topics such as the fire boats and royal visits to the province. Descriptions are primarily in Thai, often accompanied by limited English translations. Also contained in the building is an English language lending library, open to the public. The library was established by the volunteer teachers from WorldTeach 2009-10, and continues to grow with new contributions.

Phra That Phanom Temple

That Phanom FestivalIn February of each year, a festival is hosted in That Phanom to commemorate the rebuilding of the Wat That Phanom. The city draws thousands of Thai and Lao tourists from the surrounding areas, and the generally sleepy town is packed with people, markets, and food stalls. Worth attending if you happen to be in the area.
Buy
Nakhon Phanom is famous for its
silk fabric
and silver ornaments. Most of the manufacturing is done on handmade looms in the local villages in traditional Lao-style. The silver is manufactured and crafted both within Isaan and Laos.
Thai-Lao Open-Border MarketHundreds of Lao cross the river to shop and sell at this biweekly market. It's mostly the same stuff found in other Thai markets, but a few of the Lao traders in front of the temple sell roots, honey, mushrooms, bats, wild animals, orchids, and other forest products.
Eat
Nakhon Phanom has some of the best sticky rice and grilled chicken with papaya salad in the country. This local food is most popular among tourists travelling to Nakhon Phanom.
There are not too many restaurants open in the centre of town at night. A couple may be found along Bamrungmueng Rd, to the left as you face the direction of the river. Menus are totally in Thai, and English is not spoken.
If you are stuck for a meal, order "pat pak ruam" (fried mixed vegetables), and add the word "gai" (for chicken), "moo" (for pork), or "gung" (for shrimp). "Cow soo-eye" is steamed rice. Will give you a tasty and filling feed for around 150 baht, including a large bottle of beer.
Snack type stalls are also available from about 16:00 on Fuangnakom St, which is at right angles to Bamrungmueng Rd. It is an afternoon/night market,and the road is closed off for the duration. You can buy snacks of fried insects if your taste inclines to this.
Khun Kaew Steak Corner

address: 137 Sunthornvijit Rd

Good food by a Thai lady who lived in the West for a while.
Sleep
Menamkong Grand View Hotel

phone: +66 42 513564-70

address: 527 Soonthornvijitra Rd

Nakhon Phanom River View Hotel

address: 9, Nakhon Phanom-That Phanom Rd

122 rooms of four types: suite, river view, superior and standard. All have air-con, hot water, shower, TV with international channels, minibar, safe deposit box. Swimming pool and bar. Has a nice restaurant/bar with decent selection of wines, beers, spirits, and great food. Free Wi-Fi.

Windsor Hotel

phone: +66 42 511946

address: 272 Bamrung Muang Rd

Older, but clean.
Go next
There are 8 buses daily between 08:00 and 17:30 (workdays) / 17:00 (weekends) leaving every 60-90 minutes. The price is THB 70 / 18000 kips during the week and THB 80 / 20000 kips during the weekend.
Mukdahan, Sakhon Nakhon or Bueng Kan in Thailand.