Namib-Naukluft National Park
Namib-Naukluft National Park
spans a large area along the coast of
Namibia
. Its southern part is in the
ǁKaras
region, its northern part in
Erongo
, and the main part is in
Hardap
. The western part of it, the
Namib Sand Sea
, is listed as a
UNESCO World Heritage Site
.
Understand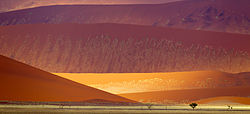 The Namib-Naukluft is one of the oldest protected areas in Namibia, having been established in 1907. The park today covers a huge area of nearly 50,000 km². It is
Africa
's largest and the world's 4th largest nature reserve.
History
Landscape
Flora and fauna
Climate
Fees and permits
Except for using the public roads that cross it you need a permit to enter the park. You can buy it only at an office of Namibia Wildlife Resorts. There are offices in Windhoek (corner of Bismarck Street and Sam Nujoma Avenue) and Swakopmund (Uhland Street). Withing the park there are offices at Sesriem and at the Naukluft Camp, both listed below.
;Entrance fee
It costs 80 N$ per person (Namibians 30 N$, neighboring countries' residents 60 N$), children u16 free, and 10 N$ per car to enter the park. "Entering" means turning off from any C or D road in the park onto an unnumbered road, or using any D road towards Gobabeb. There are clearly visible plinths on any turnoff that requires a permit.
;Camping fee
If you stay over at one of the small camp sites in the park you also need a permit. Prices are higher than on private camp sites.

See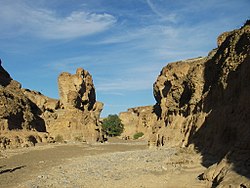 GobabebGobabeb is an environmental research center for desert conditions. The center holds an annual open day on which you will be shown around. If you miss that one you might still contact them to ask if you are welcome

Dune 45This 170-m-high star sand dune is around 45 km from Sesriem on the way to Sossusvlei. That is not the reason for its name, though, as all large dunes in Namibia have numbers, starting with Dune 1 at the coast.

SossusvleiA clay pan produced by deposits of the Tsauchab River. After good rainy seasons there is water in the pan. The Dead Vlei is in walking distance, that is a pan that is no longer reached by the river. It features centuries old dead tree trunks which are a spectacular sight. Both pans are surrounded by some of the biggest sand dunes in the world. For photographers sunrise or sunset are the best times to visit.

Sesriem CanyonA canyon that was used during the times of the Dorsland Trek
Do
Hiking trails: There are hundreds of scenic hikes in this park, and every accommodation recommends a few of them. Three of the best-known trails start off at the Naukluft Camp listed below where you will also get a simple map. The three-hour and the one-day hike require no special preparation. There is also an 8-day hike (with a shortcut after 4 days) for which you will need a special permit, a doctor's letter, and an booking confirmation from Namibia Wildlife Resorts.
Buy
Getting supplies in the park can be difficult. It is a very sparsely populated area. You'll find petrol stations and/or general dealers here:
RietoogThis settlement has a general dealer.

SolitaireThis settlement has a petrol station and a general dealer, as well as a restaurant, a bakery, a car repair shop, and a motel.

SesriemThis spot has a petrol station and a campsite which runs a small shop and a bar. There is also an office of Namibia Wildlife Resorts where you can buy a park permit.
Sleep
Lodging
Camping
;Within the National Park
There are many camp sites in the park, some so small that only one group can stay over. You need a permit to drive to them as well as a permit to stay overnight. With the exception of the sites listed here, you will only find a long-drop toilet and a few refuse bins there, but no water or electricity.
The larger sites with more infrastructure are:
Naukluft Camp

phone: 063

Beautiful campsite under old trees in a natural setting on a creek that often carries a little water. Water and light available but no power sockets. There are rock pools uphill (30 min walk) that have water throughout the dry season. The site is frequently raided by baboons; lock all food in the car. There is also an office of Namibia Wildlife Resorts where you can buy a park permit.
;Outside the National Park
On the edge of the park there are several private camp sites:
BuellsportTwo camp sites, one for exclusive use around the ruins of the , and one of top of a mountain. Many hiking trails, meticulously signposted, maintained, and documented on paper handouts. Chains, staircases, and handrails on the more difficult sections. Several rock pools are an hour's walk away20 minutes if you have a 4x4 that can drive some of the way.

Tsauchab River CampReception with swimming pool and bar and an astonishing collection of metal sculptures which is worth a visit even if you don't stay over. The camp sites are further away, at and . Each camp site has their own general worker and is well-maintained. The worker alights candles after dark so that you can still find your way to the ablution facilities. The establishment managed to brand itself as 'best campsite in Namibia', and while this is certainly arguable it keeps the place comparatively busy. If you want a spot of your choice, come at lunch rather than at sunset, or book in advance.