Nan
Nan
(น่าน) is a town in the remote valley of the Nan River in the
Northern River Valleys
region of
Northern Thailand
, bordering
Laos
. The area is heavily forested with arable land used mainly for agriculture. It is an ancient city steeped in history with its long association with the Lanna Thai culture and the Sukhothai kingdom.
Understand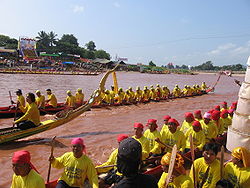 Little-known Nan goes back to the depths of the history of
Thailand
. For centuries it was an separate, autonomous kingdom with few relationships with the outside world. The name Nan is also used in Thailand as a name given to annoying, buck-toothed, moon-faced children.
There are many evidence of prehistoric habitation, but it wasn't until several small
meuang
united to form Nanthaburi on the Nan river in the mid-14th century - contemporary with the creation of Luang Prabang and the Lan Xang (Million Elephants) kingdom in
Laos
- that the city became a power to be taken into account. Associated with the mighty Sukhothai kingdom, the
meuang
took the title Wara Nakhon and played a significant part in the development of early Thai nationalism.
By the end of the 14th century Nan was one of the nine northern Thai-Lao principalities that comprised Lan Na Thai (now Lanna) and the city state flourished throughout the 15th century under the name Chiang Klang (Middle City), a reference to its position roughly midway between
Chiang Mai
(New City) and Chiang Thong (
Golden City
, which is today's Luang Prabang.
The Burmese took control of the kingdom in 1558 and deported many of the inhabitants to
Burma
as slaves; the city was completely deserted until western Thailand was retaken from the Burmese in 1786. The local dynasty then regained local sovereignty and it remained semi-autonomous until 1931 when Nan finally accepted the full dominion of
Bangkok
.
Parts of the old city wall and several early wat dating from the Lanna period can be seen in contemporary Nan. The city of Nan's wats are distinctive: some temple structures show Lanna influence, while others belong to the Tai Lü language, a legacy brought from Xishuangbanna in
China
, where the Tai Lüs came from.
Orientation
The city spreads out along around 4 km, between the airport at the north end of town and the bus station at the south end, but its historical and commercial centre is more compact. Its area follows roughly a north-south orientation, along the right bank of the River Nan. The two main axes of the town, more or less parallel, are Sumonthewarat Rd (the easternmost and the closest to the river) and the Mahayot Rd. The city's main monuments are located at the junction of the three parallel axes: Pha Kong Rd (west), Mahayot Rd (middle), and Sumonthewarat Rd (east) and Suriyapong Rd which is perpendicular to them. As for the main shops, they can be found along the Sumonthewarat Rd and its perpendicular, Anantaworattidet Rd.
In the town, three bridges connect the right bank to the left bank of the River Nan: the southernmost, the
Sriboonruang Bridge
, the middle one, the
Pattana Paknue Bridge
, under which are held the boat races, and the northernmost, the
Nakorn Nan Pattana Bridge
.
Tourist Information Centre

address: Pha Kong Rd
Get in
Nan is connected by plane and by bus to the rest of the country.
By plane
Nan Airport
(NNT) is at the north end of town, on the road to Pua-Thung Chang-Thai-Laos border (Rte 1080), about 1.5 km from downtown.
Nok Air connects Nan to Don Mueang Airport (DMK), Bangkok.
By train
The train station serving Nan is Den Chai in Phrae Province. From the train station, take a songthaew parked in front of the station to Phrae bus station, about 30 min. Then catch a bus to Nan. There is also bus service directly to Nan from Den Chai. But you need to go to Den Chai bus station to take the bus.
By bus
The
main bus station
(Baw Kaw Saw) is at the south edge of town, at the end of a road perpendicular (turn left when arriving from Bangkok) to Wiangsa/Phrae/Bangkok Rd.
From Bangkok: Buses to/from Bangkok take from 10-13 hours, according to the type of bus.
From Chiang Mai: 6-7 hours
From Chiang Rai: 5-6 hours at 09:30 from the old bus station in Chiang Rai, 164 baht.
From Phitsanulok: 5 hours at 11:00 and 16:30
From Phrae: 2 hours
Get around

Transportation in Nan is terrible. A traveller reported arriving at the bus station at 20:30 and finding no songthaews, tuk-tuks or taxis available (Mar 2015). That resulted in a 3-km hike to the guesthouse.
By motorbike
Hill Tribe House

phone: +66 81 4724131

address: 430/1 Sumondhevaraj Rd

Do "Nan Sightseeing Tour-Riding and Camping Tour". You can also rent a motorbike, although they only have 125 cc bikes.

Ultimate Adventure

address: 77/1-2 Mahawong Rd

Rents out Honda Dreams, 110 cc (250 baht/day), Kawasaki D-Trackers, 125 cc (500 baht/day) and Kawasaki KlX 250 cc (800 baht/day). All bikes are new.
See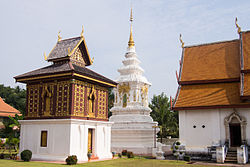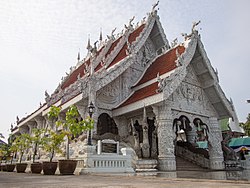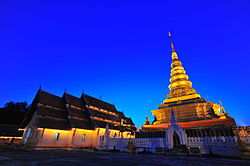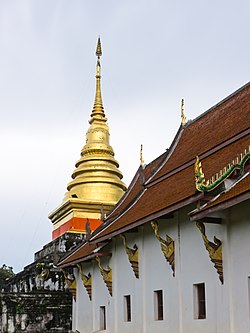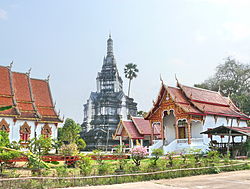 According to the
Bangkok Post
, the top two attractions are Doi Samer Dao and Wat Phumin, a temple with many local art masterpieces.
Pha Chu, or Pha Cheot ChuA cliff in Si Nan National Park (อุทยานแห่งชาติศรีน่าน) which covers extensive forested and mountainous areas. A national flag pole has a lanyard running all the way down to the foot of the hill, the longest in the country.

Thung ChangH'Mong, Lua, Khamu and Thai Lue ethnic minorities villages. Caves, including Tham Pha Pueng, the deepest cave in Thailand. Doi Pha Phueng, limestone mountain peak. Tad Mok waterfall (trek) and Phukham waterfall. Wat Thueng Phueng temple, with a Buddha of the fourteenth century. Mani Phruek botanical garden and hill tribes.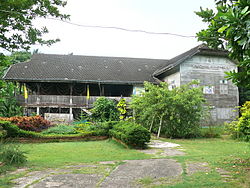 King of Nan's Teak House

phone: +66 54 710605

address: Mahaprom Rd

Built in 1866 of golden teak and reconstructed in 1941, this large house is now the residence of "Chao Sompradhana Na Nan". It exhibits heritage antiques such as ancient weapons, war elephant ivory and photographs by King Rama V. Contact the owner for visits.

Chao Fongkham HouseThis is a large, rambling teak house in classic northern Thai style set in a beautiful garden. Chao Fongkham was a descendant of Chao Anantaworarithidej, the 62nd Lord of Nan and the father of the last two lords. The oldest parts of the house show planks cleaved by axe and knife, before large saws were available in Nan. At the time it was built, about 150 years ago, such large teak houses were reserved for nobility. It is probably the best preserved such noble house in the province. It was built in the area of Nan now occupied by the military camp, and was moved to its current site, on a quiet soi behind Wat Pragert, by Chao Fongkham's parents, about 100 years ago. It is now occupied by Chao Fongkham's children.

Nan Art GalleryHas many exhibition halls with temporary exhibition and souvenir shops. It can be reached by local songthaew (one that goes to Tha Wang Pha).

Nan National MuseumIn the original palace of the last two feudal lords of Nan. The building was constructed in 1903 by Phra Chao Suriyapnong Phalidet, the penultimate Lord of Nan, to replace his former wooden residence. After the death of the Chao Maha Brahma Surathada, the last Lord of Nan, his heirs donated this palace to the government in 1931 in order to be used as the provincial hall. The museum was inaugurated in 1973 after the new provincial hall had been erected. Thanks to renovations, it is one of Thailand's most up-to-date provincial museums. Unlike many of them it also has English labels for many items on display.
The ground level is divided into six exhibition rooms with ethnological exhibits dealing with the various ethnic groups found in the province, including northern Thais, Thai Lü, Htin, Khamu, Mabri, Hmong, and Mien. Silver work, textiles, folk utensils, and tribal costumes can be found on display. Exhibits on Nan history, archaeology, local architecture, royal regalia, weapons, ceramics, and religious art are shown on the second floor, divided into two sections. The first is the main hall which used to be the throne hall of the feudal lord. The second consists of the rooms in the north and south wings.
The museum exhibits a wide collection of Buddha images which includes some rare Lanna styles as well as the floppy-eared local styles. Usually made from wood, these standing images are in the "calling for rain" posture (with hands at the sides, pointing down) and they show an obvious Luang Prabang influence.
Also on display on the 2nd floor is a rare black (or more accurately reddish-brown) elephant tusk said to have been offered to a Nan king over 300 years ago by the Khün lord of Chiang Tung (Kengtung). Held aloft by a wooden Garuda (mythical bird) sculpture, the tusk measures 97 cm long and 47 cm in circumference.
Books on Thai art and archaeology are sold in a building adjacent to the museum.

The Old WallConstructed in 1885 by Chao Anantavorarittidet, Nan's ruler, the wall was built in place of an old log wall destroyed by flood in 1817. Remnants of the wall, around 400 m of the original 3,600 m, can be seen at the junction of Mahawong Rd and Rob Muang Rd, at the southwest end of town.
Events
Namatsakan Phrathat Beng Sakat Fair (งานนมัสการพระธาตุเบ็งสกัด) is organized on the full night of the 4th northern lunar month (around January).
Hok Peng Waisa Mahathat Chae Haeng Fair (งานประเพณี "หกเป็งไหว้สามหาธาตุแช่แห้ง") takes place on the full moon night of the 6th northern lunar month or the 4th central lunar month (around the end of February–March). Sky rockets are fired as an offering to the Buddha.
Namatsakan Phrathat Khao Noi Fair (งานประเพณีนมัสการพระธาตุเขาน้อย) takes place on the full moon night of the 8th northern lunar month or the 6th central lunar month (around May). In the festival, there is a ceremony paying respect to Phrathat Khao Noi and sky rockets are fired as an offering to the Buddha.
Namatsakan Song Nam Phrachao Thongthip Fair (งานประเพณีนมัสการสรงน้ำพระเจ้าทองทิพย์) at Wat Suan Tan during the Songkran festival on 12–15 April.
Tan Kuai Salak, Hae Khua Tan or Khrua Than Festival (งานตานก๋วยสลาก หรืองานแห่คัวตาน หรือ ครัวทาน) Than Salak or Kuai Salak is an ancient tradition created in the Buddha's time. For the northern people, it is considered as a major local merit making ceremony possessing local uniqueness. Monks are invited to receive the offerings by drawing lots.
Temples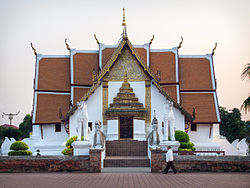 Wai Phrathat FestivalNan is a town in the Lanna kingdom where Buddhism spread for a long period of time. Within the ancient city, both in Nan and in Pua Disrict, are wats on the hills. Every year, festivals paying respect to the important phrathats are organised as follows:
Namatsakan Phrathat Beng Sakat Fair (งานนมัสการพระธาตุเบ็งสกัด) is organised on the full night of the 4th northern lunar month (around January).
Hok Peng Waisa Mahathat Chae Haen Fair (งานประเพณีหกเป็งไหว้สามหาธาตุแช่แห้) takes place on the full moon night of the 6th northern lunar month or the 4th central lunar month (end-February-March). Rockets are fired as an offering to the Buddha.
Namatsakan Phrathat Khao Noi Fair (งานประเพณีนมัสการพระธาตุเขาน้อย) takes place on the full moon night of the 8th northern lunar month or the 6th central lunar month (around May). In the festival, there is a ceremony paying respect to Phrathat Khao Noi and rockets are fired as an offering to the Buddha.
Tan Kuai Salak, Hae Khua Tan or Khrua Than Festival (งานตานก๋วยสลาก หรืองานแห่คัวตาน หรือ ครัวทาน) Than Salak or Kuai Salak is an ancient tradition created in the Buddha's time. For the northern people, it is considered as a major local merit-making ceremony possessing local uniqueness. Monks are invited to receive the offerings by drawing lots.
Namatsakan Song Nam Phrachao Thongthip Fair (งานประเพณีนมัสการสรงน้ำพระเจ้าทองทิพย์) at Wat Suan Tan during the Songkran festival on 12–15 April.
Wat PhuminThe city of Nan's most famous wat is renowned for its cruciform ubosoth (or bot) which was constructed in 1596 and restored during the reign of Chao Ananta Vora Ritthi Det (1867-1875). It is the only temple built as if it were on the back of two immense snakes (or Nagas). Each of the four entrances is approached via a small corridor topped by a finely decorated point-shaped structure (underlining the royal origin of the temple) equipped with smoothly carved doors, with Chinese demon guards in the east, flowers in the north, and forest life motifs in the Lanna-style in the west and south. The wat's interior is impressive. It is also a good example of Thai Lue architecture. Well preserved murals of great value illustrating the Khattana Kumara (Jataka) on the north wall and the Nimi Jatakas on the west wall, as well as scenes of the local life of the time when they were painted by Thai Lue artists during the restoration of the temple at the end of the 19th century. Europeans are depicted in a reference to the arrival of the French, to whom the east of the Nan Valley area was yielded in 1893.
Wat Phaya WatAn ancient religious site, it has rectangular chedi base on which Buddha states are placed around the chedi structure. Combined artistic influences of Lanna, Lan Chang, and native Nan can be detected.
Wat Chang Kham WoravihanIts main features are the sculpted upper halves of elephants adorning around the chedi, a Sukhothai influence.
Wat Nong BuaBuilt by Thai Lu craftsmen who had early migrated from southern China. Apart from the viharn which is adorned with elaborate carvings, there are also wall murals painted by Thai Lu artists some one hundred years ago.
Wat Phrathat Beng SakatThe main Buddha image is in the local style residing on the so-called Chukkachi base. The back of the Buddha image is decorated with a mirror in accordance with the Thai Lue belief.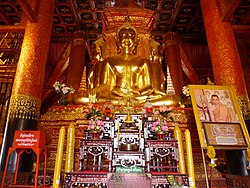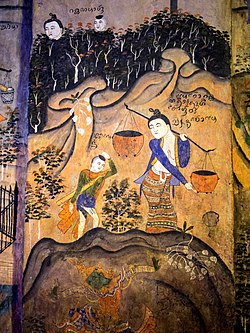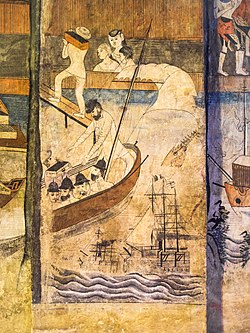 Wat Hua KhuangThis small wat comprises a distinctive Lanna / Lan Xang-style stupa with four Buddha niches, a wooden hàw trai, now used as a kùti (monk cell), and a noteworthy bòt with a Luang Prabang-style carved wooden veranda. A carved wooden ceiling and a huge naga altar can be found inside. Stylistic cues suggest this may be one of the city's oldest wats though the temple's founding date is unknown.

Wat Min MuangIts ubosoth's exterior is embellished with elegant bas-relief stucco while its interior is adorned with mural paintings depicting Nan people's way of life, painted by present-day local artists. The Holy City Pillar is enshrined in the four-sided Thai styled pavilion in front of the ubosoth. This pillar is 3 m high, stands on a carved gilded wooden base and is topped with a four-faced Brahma, representing the four virtues on Buddhism. It is an ancient Thai totem that is still very significant. The city pillars were probably erected as a ritual centre for agrarian fertility rites in ancient Thai towns and kingdoms, in the heart of the old cities and just next to the seat of power of a king or a chief.

Wat Phaya PhuThis wat was built during the reign of Pra Chao Phukheng and is about six centuries old. There is a big chedi behind the vihara where are enshrined two ancient Buddha images. The vihara's door are carved with image of mythical giant guards.

Wat Phra That Chae HaengThis temple dates from 1355, built in the reign of Pray Kan Muang. It is the most sacred wat in Nan Province. It's set in a square-walled enclosure on top of a hill with a view of Nan and the valley. The Thai Lue influenced bôt features a triple-tiered roof with carved wooden eaves and dragon reliefs over the doors. A gilded Lanna-style stupa sits on a large square base next to the bôt with sides 22.5 m long; the entire stupa is 55.5 m high.

Wat Phra That Chang Kham

address: Pha Kong Rd

After Wat Phra That Chae Haeng, this wat is the second-most important temple in the city. The main viharn, reconstructed in 1458, has a huge seated Buddha image and faint murals. Also in the viharn is a set of Lanna-period scrolls inscribed (in Lanna script) not only with the usual Buddhist scriptures but also with the history, law and astrology of the time. A thammdat (a dhamma seat used by monks when teaching) sits to one side. The magnificent stupa behind the viharn dates from the 14th century, probably around the same time the temple was founded, It features 24 elephant supports similar to those seen in Sukhothai and Si Satchanalai. Next to the stupa is a small, insignificant bôt from the same era. Wat Phra That Chang Kham is also known for having the largest hàw trai (Tripitaka library) in Thailand, now empty.

Wat Phra That Khao NoiThe hill is 250 m high. The recent temple buildings are nothing special but from the top of the hill, easily accessed by a road, one can see, side by side with a giant Buddha statue, Nan.

Wat Suan TanSupposedly established in 1456, the Wat Suan Tan (Palm Grove Monastery) is an interesting stupa of the 15th century (40 m high) which combines Hindu/Khmer style motives (stupa in form of prang) and, surmounting it, a Sukhothai-style motive in the shape of a lotus bud, modified in its current form in 1914. The heavily restored viharn contains the Phra Chao Thong Thipun, out of early Sukhothai-style bronze seated Buddha in Bhûmisparsha-Mudrâ. It measures 4.1 m and may have been ordered by the Chiang Mai sovereign Tilokaraj following his conquest of Nan in 1449.
Buy
Banks with ATMs can be found all over town, notably at Sumonthewarat Rd, Anantaworrattidet Rd and Sumon Thevarat Rd.
Department stores
D Best Super Store

phone: +66 54 757161

address: 42/3 Suriyapong Rd

With a small cinema.

Nara Department Store

address: 400/1 Sumon Dhevaraj Rd

Nara Hyper Mark

phone: +66 54 711102

address: 155 Sumon Dhevaraj Rd,

The biggest department store in town with a parking lot.

Tesco Lotus

phone: +66 54 743131

address: 320 Moo 4, Yantarakitkosol Rd

Department store.
Handicrafts
Good buys include local textiles, especially the Thai Lu weaving styles. Typical Thai Lu fabrics feature red and black designs on white cotton in floral, geometric and animal designs and also indigo and red on white. The
lai naam lai
(flowing-water design) shows stepped patterns representing streams, rivers and waterfalls. Other excellent quality textiles are the local Hmong appliqué and the Mien embroidery. Thin grass-and-bamboo baskets and mats and Hmong silverware are also available.
Nan is noted for making
musical instruments
which include the
saloh (สะล้อ)
, a violin-like instrument, and the
sung (ซึง)
, similar to a guitar. They are used in bands which can still be heard in certain restaurants.
Silverware, wood carving and hilltribe handicraft
The leading agricultural produce is the Som Si Thong (golden orange) (ส้มสีทอง) which are of the same species as oranges of the central region. Because of climatic differences, the local version is golden-skinned and more aromatic. They are in season in December.
phone: +66 14 72434

address: 436 Sumonthewarat Rd

Jaangtrakoon

address: Sumonthewarat Rd

Mainly clothes for sale here.

Lan Nan Som Noek

address: 347/7 Sumonthewarat Rd

Pongparn

phone: +66 54 75733 or +66 15 955777

address: 10/4 Suriyapong
Other
Easyintersoft

address: 345/8 Sumonthewarat Rd

Software and computer hardware.

Kodak

address: 347/4 Sumonthewarat Rd

Processing, passport photos, batteries.
Eat
Budget
Fresh Noodles stall

address: 90/3 Anantaworarittidet Rd

Thai food.

Jan Paa Lap Pet

address: 57 Sumonthewarat Rd

Thai (Isaan) food.

Night Market

address: Pha Kong Rd

Thai food. Many stalls, among which, the first one on the right side heading towards the Wat Suan Tan, serves up good value. Still on the right-hand side, but further on closer to the wat, is Luang's stall. He's a charming man who speaks French, as the sign, Ici on parle français indicates.

No name

address: Mahayot Rd

Thai food. Very good gai yang (grilled chicken), and som tam (papaya salad).

Ratchaphatsadu MarketFor take-away dishes (chicken or fish BBQ, Thai curries) and fresh fruit.

Tanaya Kitchen

address: 75/23-24 Anantaworarittidet Rd

Thai, Chinese, vegetarian food. English menu.

Yota Vegetarian Restaurant

address: Mahawong Rd

Thai food.
Mid-range
Boat Restaurant

address: 21/1 Suan Tan Rd

Western and Thai food and ice cream. English menu.

Dhevee Coffee Shop

address: 466 Sumonthewarat Rd

Western and Thai food. English menu.

DoReMiKorean BBQ. Musical show from 19:30.

phone: +66 54 722778

address: 15/7 ถนนสมุนเทวราช Sumon Thevarat Rd

Steaks, pizza, barbecue. Serves only Western food. An unlikely find in this small provincial town. Will deliver orders over 300 baht.

Poom 3Western, Thai and Chinese food. English menu.

Suan Isan

address: Sumonthewarat Rd

Thai food.
Drink
Drugstore

address: 347/6 Sumonthewarat Rd

The best wine cellar in Nan, many vintages from the end-1980s to beginning of the 1990s. French wines for moderate prices.
Sleep
Budget
phone: +66 54 710893

address: 25/7 Rat Amnuay Rd

Run by a friendly Thai family with a German son-in-law, in a quiet part of town outside the centre. Call ahead for free pickup from bus station or airport. Has bicycles for rent for 30-50 baht (regular) and 80-100 baht (mountain bike). Free Wi-Fi.

Ampron Guesthouse

phone: +66 54 772291

address: 42/4 Sumonthewarat Rd

phone: +66 54 771849

address: 57/15 Mahaphrom Rd

Friendly, clean and quiet budget accommodation at a good location. There is a full time information desk for local sights and the staff is very helpful when asking about places to go. Free Wi-Fi.

P.K. Guest House

phone: +66 54 771999

address: 33/12 Premprajarat Rd

Sabai Dee Guest House

phone: +66 83 8681982

address: Chao Fa Rd, Soi Aryawung 2
Mid-range
Fahthanin Hotel

phone: +66 54 757321-4

address: 303/5 Anantaworarittidet Rd

Grand Mansion Hotel

phone: +66 54 750510

address: Mahayot Rd

UBC cable TV.

phone: +66 54 710284

address: Sumon Dhevaraj Rd, Nai Wiang

Cable TV. Bike rental, 50 baht; motorbike rental, 200 baht.
Splurge
Connect
Internet cafésMany in town for around 20 baht/hour.
Cope
phone: +66 54 710138, +66 54 771620

address: 1 Vorawichai Rd

phone: +66 54 710216

address: 20/1 Suriyapong Rd
Go next