Nanaimo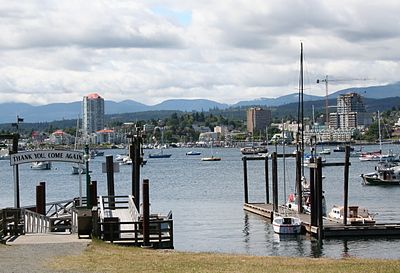 Nanaimo
is the central hub city of
Vancouver Island
in
BC
,
Canada
. It is the second largest city on the island and has the second biggest harbour. In many ways it is the smaller cousin of
Victoria
. Like much of Vancouver Island it has moved from being primarily an industrial town to a tourist city that attracts a large number of retirees from the rest of Canada.
Understand
The Indigenous peoples of the area that is now known as Nanaimo are the Snuneymuxw. An anglicised spelling and pronunciation of that word gave the city its current name.
The first Europeans to find Nanaimo Bay were those of the 1791 Spanish voyage of Juan Carrasco, under the command of Francisco de Eliza. They gave it the name Bocas de Winthuysen.
Nanaimo began as a trading post in the early 19th century. In 1849, the Snuneymuxw chief Ki-et-sa-kun ("Coal Tyee") informed the Hudson's Bay Company of coal in the area. Exploration proved there was plenty of it in the area and Nanaimo became chiefly known for the export of coal. In 1853 the company built the Nanaimo Bastion, which has been preserved and is a popular tourist destination in the downtown area. Coal mines were established in the Nanaimo harbour area.
The gassy qualities of the coal which made it valuable also made it dangerous. The 1887 Nanaimo Mine Explosion killed 150 miners and was described as the largest man-made explosion until the Halifax Explosion. Another 100 men died in another explosion the next year.
An internment camp for Ukrainian detainees, many of them local, was set up at a provincial jail in Nanaimo from September 1914 to September 1915.
In the 1940s, lumber supplanted coal as the main business although Minetown Days are still celebrated in the neighbouring community of Lantzville.

Chinatowns
Nanaimo has had a succession of four distinct Chinatowns. The first, founded during the gold rush years of the 1860s, was the third largest in British Columbia. In 1884, because of mounting racial tensions related to the Dunsmuir coal company's hiring of Chinese strikebreakers, the company helped move Chinatown outside the city limits. In 1908, when two Chinese entrepreneurs bought the site and tried to raise rents, in response, and with the help of 4,000 shareholders from across Canada, the community combined forces and bought the site for the third Chinatown at a new location, focused on Pine Street. That third Chinatown, by then mostly derelict, burned down on 30 September 1960. A fourth Chinatown, also called Lower Chinatown or "new town", boomed for a while in the 1920s on Machleary Street.

Climate
Like much of coastal British Columbia, Nanaimo experiences a temperate climate with mild, rainy winters and cool, dry summers. Nanaimo is usually shielded by the mountains of central Vancouver Island, so that summers are unusually dry for its latitude and location—though summer drying as a trend is found in the immediate lee of the coastal ranges as far north as Skagway, Alaska.
Heavy snowfall does occasionally occur during winter, but the mean maximum cover is only 0.2 metres (7.9 in).

Get in
By boat
Most travellers to Nanaimo will arrive from
Vancouver
.
BC Ferries
operates car ferries to Nanaimo from Tsawwassen (South of
Vancouver
) to Duke Point in Nanaimo, and from
Horseshoe Bay
to Departure Bay. These ferries run about every 2 hours and the Horseshoe Bay route is by far the more scenic. The ferry ride is approximately 1 hour 40 minutes long. It costs about $47 for a car and $15 per person each way for the ferry. Reservations are never required, but recommended for vehicles during peak travel times. There is a $20 charge for reservations.
The Departure Bay ferry terminal is served by
Nanaimo Regional Transit
to Nanaimo.
Greyhound Canada
(+1-800-661-8747) operates a coach service from
Vancouver
that meets the Horseshoe Bay to Departure Bay Ferry. The cost is $22 plus ferry fare and is timed to meet every ferry departure.
By plane
Seair
and
Harbour Air
operate float plane service from downtown Vancouver and Richmond (YVR) into Downtown Nanaimo. Seair flys the De Havilland Beaver and the Cessna Caravan and operates from a terminal near the Departure Bay ferry terminal. Harbour Air operates the De Havilland Otter and operates from a larger terminal on the downtown waterfront. Harbour Air services operate hourly from about 7AM to 6PM and Seair operates less frequently. The cost is about $55. Seair flights using Beavers are small planes heavily used by business travellers so reservations are recommended. From May through September,
Kenmore Air
also offers daily scheduled seaplane service from Seattle to Nanaimo.
phone: +1 250-924-2157

address: 3350 Spitfire Rd., Cassidy

Air Canada Express operates air service from the Vancouver and Calgary airports to the Nanaimo airport. The cost to add this onto an Air Canada flight into Vancouver or Calgary is often minimal. Westjet also operates flights from Calgary to Nanaimo. The Nanaimo airport is about 20km from downtown Nanaimo.
By car
Travellers may also come to Nanaimo from
Victoria
. It is about a 90 minute drive from Victoria.
By bus
There are inter-city bus services serving Vancouver Island including Nanaimo. See
link
.
Get around

There is a transit system in Nanaimo, but it is not particularly convenient for getting around much of the city. If you plan on using it, make sure you know the schedule. Otherwise you can spend a long time waiting at a bus stop.
If arranged ahead of time, cars can be rented at the downtown harbour, Departure Bay ferry terminal or the Nanaimo airport.

See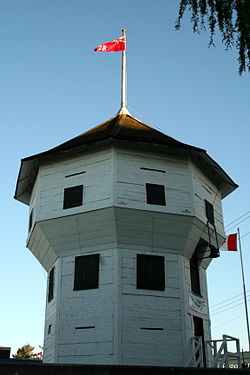 Bathtub Racing - An annual race of bathtubs that have been converted into boats and race through the harbour of Nanaimo
Swy-a-lana Lagoon Park Swy-a-lana is a saltwater lagoon that makes use of the tide's natural ebb and flow, creating a home for marine life. An arched foot bridge crosses the lagoon, leading to Maffeo Sutton Park, where you'll find a sandlot playground, a fishing pier, picnic tables, benches and grass fields. Both Swy-a-lana and Maffeo Sutton Parks offer commanding views of the waterfront, Gulf Islands, and coastal mountains.
Nanaimo seawall a pedestrian walkway that winds along the waterfront from Cameron Island to the Nanaimo Yacht Club. Visitors especially enjoy the section of the seawall near the Bastion, where craft shops and restaurants dot the path.

The BastionThe Bastion, built in 1853 as an original Hudson's Bay Company outpost is now a museum that gives great insight into the way of life a century ago. Historic cannons are fired daily at noon throughout the summer. Admission is by donation.

Pioneer Plaza -- at the foot of Bastion Street, you'll find markers for a self-guided walking tour of the downtown core.

address: 100 Museum Way in the heart of downtown

Covers Nanaimo's history & modern day contributions to Canada's West Coast in the 1,486 sq m (16,000 sq ft) museum in the Vancouver Island Conference Centre. Stroll through time in the main gallery to get a sense of what life was like for Nanaimo's earliest settlers & hear stories of the Snuneymuxw First Nation. Feel what it was like below the surface in the replica Coal Mine exhibit. The museum's feature exhibits change three times a year and exhibit everything from vintage undergarments to shellfish to the history of radio in Canada.

Nanaimo Dragonboat FestivalAn annual 3-day event held in Maffeo Sutton Park. Over 70 teams and 1,400 participants take part in this annual event.

Departure Bay BeachThere is a small park for the kids just south of the main beach. Dedicated swimming area during summer months.
Do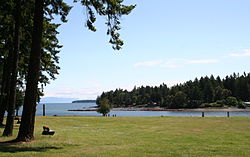 Bungy Jumping, TreeGo and ZiplinesAt WildPlay Element Park (formerly known as the Bungy Zone). (About 10 km south of town) North America's first permanent legal bungy jumping site. TreeGo aerial tree course $20-40, bungy jumping $100.

Camping/Hiking on Newcastle IslandNewcastle Island Provincial Marine Park offers spectacular trails through beautiful forests and along its wild coastline. The island used to dig coles in the back days, and many historical places are left to see as well. A 10-minute ferry ride from downtown.

Scuba divingNanaimo has world famous cold water scuba diving.

Nanaimo River
Buy

Nanaimo is the largest city that can be easily accessed by most of Vancouver Island. As leaving the Island to do shopping is expensive and time consuming, Nanaimo has become the shopping centre for Vancouver Island. According to a 1990 Time Magazine article, it has more square meters of retail space per capital than any other city in North America. Much of this shopping is in the large number of malls and big box retailers on the outskirts of the city. However, most of the interesting shops are in the downtown core.

Eat
The Green Olive

phone: +1 250 716-0030

address: 150 Skinner St

All dishes are made to serve 4-6 people, and as a result, makes this place the most affordable gourmet restaurant for groups, with entrees averaging $22.

phone: +1 250 753-5411

address: 47 Skinner St

A Mexican restaurant in a bright pink building on the hill in downtown Nanaimo. Excellent food $10-15 for an entree.
A number of good inexpensive Vietnamese restaurants are in Nanaimo. And a fine Vietnamese sandwich shop is a block away from Malaspina College.
Acme is a more modern restaurant lots of fun and awesome food!
Discovery Room is a secret fine dining restaurant hold inside of Vancouver Island University (known as Malaspina University-College)

La Famiglia Ristorante Italiano

phone: +1 250 591-1321

address: #1-321 Wesley St

Open for lunch and dinner, seven days a week. They provide a casual lunch, offering panini, soup, salads, and pastas. Dinners are served in a candle lit setting, with traditional Italian favourites such as veal parmigiana and chicken cacciatore.
Drink
address: 150 Skinner St

Has excellent drink specials every day, 20 beers on tap, as well as live music on weekends. It's huge, has a dozen flat panel TVs, aesthetically pleasing, and the menu is excellent because it shares a kitchen with a gourmet dining restaurant, The Green Olive.

address: 200 Commercial St

Organic raw vegan foods in downtown Nanaimo. In a city with very limited selection and high food prices this might be an option you want to explore.
Sleep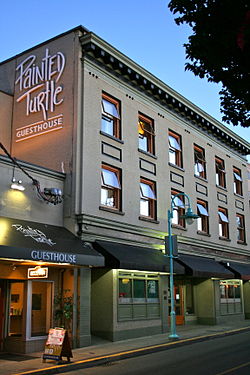 Go next
Nanaimo is a hub city for the island, as such it provides good access to a number of locations on the island.
Ladysmith
, along the Trans-Canada Highway to the southeast, is a picturesque tourist town.
It is about a 3-hour drive to
Tofino
and Long Beach Unit of Pacific Rim National Park.
North of Nanaimo is
Campbell River
,
Telegraph Cove
and
Port Hardy
.
The beaches of the
Parksville-Qualicum Beach
region are a short 20-minute drive from Nanaimo. This region also includes
Coombs
, offering some wonderful rustic and exotic shopping and this is where you find the goats on the roof. It's a favourite spot for locals and an excellent stop for tourists. It's about a 30-minute drive from Nanaimo.