Nandi Hills
Nandi Hills
is a hill station in
Karnataka
State,
India
.
Understand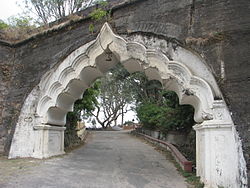 This range of Nandi on the craggy hills (the highest peak being 1500m) holds the shimmering Amrita Sarovar Lake and offers walks of sylvan beauty. A popular health resort today, it was also the place Tipu Sultan and assorted royalty retired when they sought to escape the din of battle and the heat of the plains.
The hills are located about 60 km east of
Bangalore
and about 1500m above sea level. The deviation road at Oordagere on the Bangalore-Tumkur Road can reach it. On the top of the hill, there are temples dedicated to Sri Ugra Narasimha and Sri Yoga Narasimha. On the lower hill there is a temple dedicated to Sri Bhoga Narasimha. There is a Traveler's Bungalow and a Kalyana Mantap on the top of the hill and a Forest Lodge and Taluk Board T.B. at the foot of the hill.
A flight of 1,175 steps leads from the base of the hills to the top. On top was Tipu Sultan's summer retreat and the remains of Tipu's fort bear this out. Tipu's Drop, a 600 metre high cliff face, where prisoners were hurled down the precipice, is an awe-inspiring sight.
Sir Mark Cubbon made this his summer residence when he was Commissioner of Bangalore. Mahatma Gandhi, Pandit Jawaharlal Nehru, Queen Elizabeth II were among the other dignitaries who enjoyed their stay here. More recently, former prime minister Rajiv Gandhi and the SAARC delegates chose this spot for a retreat after their international deliberations.
You can visit this place at any time of the year. In the rainy season it is extremely wet on the hill. A summer visit will make you spell bound. It's best if you are on top of the hill before sunrise. The wind, fog and clouds that blow towards you in the morning is just amazing. To be on top of the hill by 5:30AM, you need to leave Bangalore at around 4AM. If you are not sure about the route, leave even earlier.
Get in
Fastest and most convenient journey - by car/ bike or Rikshaw There is a motorable road to the top of the hill. Beware there is only one road to the top. You can expect vehicles coming from the other side as well. Around 40 curves to be negotiated before you reach the entry gate where entry tickets (₹5/- per head) are issued. Two wheelers are not allowed beyond this point and go to a separate parking zone, whilst four-wheelers are allowed to proceed. You can choose to climb up thru steps and be in the midst of natures lap savouring many different things such as old temple, a very large open tank, Tippus rock and Hanuman Temple, etc.
The hills are on the airport route. After Devanhalli, you need to take a left (there is a sign board having a left arrow for Nandi Hills at that turn) and keep going straight.
From Hebbal flyover take NH7 and take a left diversion (about 10km after passing by BIAL airport flyover) with a signboard in English "Nandi Hills 22 km". There is another left just before it but that leads to a factory. Around 7 km after the BIAL flyover towards Nandi hill across the highway, you can see a fort / birth place of Tippu Sultan.
More adventurous but also safe - Bangalore to Nandi Hills by Bus All buses leave from Bangalore's central bus station "Bangalore Majestic" or "Kempegowda Bus Station (KBS)". As this is a local bus, tickets (charge around 46/- per head) are sold directly in the bus. You can book the seats from ticket counter at Majestic with ₹200/- per head. That ensures your seat, nothing else.
In the morning and evening there are direct buses. The KSRTC bus to the top leaves at 8:30AM from platform 13 (it varies, but it will be near to that). Returning direct buses from the Hills to Bangalore leave at 2:30PM, 4:15PM and 5PM. But the timings are not strictly followed. Bus might arrive earlier even.
If you miss the direct bus to the top of Nandi Hills, there is a 2nd possibility to reach the hills by public transport: Go to Chikballapur(charge around 42/- per head) and from there with a private bus to the Nandi Hills. The buses leave every half an hour and it takes about 2 hours to reach the hill.
Take the bus to Chikballapur from platform 11. After about 1 hour you will reach Chikballapur (The station is announced by the bus driver, but it is hard to understand. So better make sure that you check on the right side if you see the bus station sign for Chikballapur.)
From Chikballapur there are frequent mini buses to the top. The journey is about half an hour.
There are no buses in afternoon (12PM-4 PM) from Bangalore so make sure that you arrive before time.
If you do stay the night, there are no buses from Nandi hills heading directly to Bangalore until the afternoon. But, many buses run to Chikballapur throughout the morning, and buses leave constantly from there to Bangalore.

Get around

There is a bus from Bangalore at 7am as well.

See
BrahmashramIt is said that Sage Ramakrishna Paramhamsa meditated here. It's a cool cave.

ChikballapurSri M.Visveswaraya done his school Days in this place. And Also visit SSS Temple (Sri Shirdi Sai Baba, Sri Subramanya, Sri Shanimahaathma Temple), H.S. Garden, Chikballapur.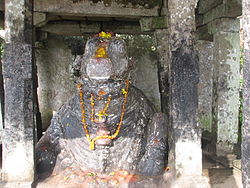 MuddenahalliThe home town of Sri M. Visveswaraya, the architect of modern Karnataka. Muddenahalli is just a few kilometres away from Nandi Hills. The house of this genius is now a museum.

NandiAt the foot of Nandi Hills is this place with "Bhoganandishwaraswamy Temple", it is a wonderful place.

Paapagni MuttThe Panchanandikshtra. 3 km from Chikballapur.

RiversThe rivers Pennar, Palar and Arkavati originate from these hills. Most of the sources have dried up.

TemplesThere are temples dedicated to Sri Bhoga Narasimha, Sri Ugra Narasimha and Sri Yoga Narasimha.

Tipu's DropThe place from which Tipu threw his condemned prisoners.

Tipu's Summer ResidenceA beautiful palace on top of this hill. This palace is not open to public.
Do
Check out the vineyards, grapes and cracked mustard seeds if you are lucky you can see them on the roads where the farmers spread them so that your car can thrash them. Also look out for cracks in the fort wall, which allow you to go outside and get some spectacular views of the plains below, eagles soaring at eye level. However, be careful as the terrain falls steeply down and a fall will certainly crack most of our body.
CyclingLot of bicycling clubs in Bangalore are into weekend cycling trips. High endurance levels are required to cycle uphill.

ParaglidingAs at any paragliding site, keep the basics in mind and the time of the year and day and your flying skill in mind. Nandi hills is a fantastic place to fly from. Plenty of flat land all around the hills. Please look out for power lines when selecting a field for landing. There is usually a designated landing field.

TrekkingPlenty of trekking opportunities around the region, including a wild trek on the backside of the hill.
Buy
Entry fee is ₹5 per person (make sure you buy the ticket, where the bus arrives).
There's a ticket for ₹60 for parking car and ₹15 for two-wheelers.
Grapes on the way.
If you are travelling using a motorized vehicle and get a flat tyre, a Puncture repair shop is at base of Nandi Hills. His contact number is 98809 27002.
Eat
ChatsVisit Pappu's Paanipuri Chat Centre, Basavanagudi Road, Chikballapur. (A must Visit)

Club CabanaIt is a beautiful resort with water sports and a good bar.

Hotel RanjithaThis hotel is on the top of the hill and the only one present. There is nothing special about the food.

Hotel Sandarshini

address: Chikballapur

Hotel Shantisagar

address: Chikballapur

on the main Bangalore-Hyderabad highway NH-7 (B.B.Road).

Hotel Sowmya (Lodge & Restaurant)

address: Chikballapur

on the main Bangalore-Hyderabad highway NH-7 (B.B.Road).

Hotel Truptisagaron the main Bangalore-Hyderabad highway NH-7 (B.B.Road).

UP Punjabi Dahba
Drink
Hotel Mayura

Hotel Mayura Pine TopHotel Mayura Pine Top has a good Bar and Restaurant. It is clean and there is no need to carry drinking water as mineral water bottles available. Lipton vending machines are also present.
Sleep
For accommodation at the T.B., contact the Executive Engineer, Public Works Department, Tumkur.
There are well-furnished bungalows for lodging and good catering establishments. For reservation of accommodation, the Director of Horticulture, Lalbagh, Bangalore- 2.
Hotel Mayura Pine Top, managed by KSTDC. Tel: 91 - 08156 - 250906. No phone booking, booking on first come first served basis. Only three rooms. The rooms are not very clean with moldy walls, hairy pillowcases, stained sheets. There are very bright lights outside each room that shine in all night. But, the view can not be beat.
Hotel Shantisagar - (Lodge & Restaurant) in Chikballapur on the main Bangalore-Hyderabad highway NH-7 (B.B.Road),
Hotel Sowmya - (Lodge & Restaurant) in Chikballapur on the main Bangalore-Hyderabad highway NH-7 (B.B.Road),
Mayura Deluxe Lodge-B.B.Road Chickballapur Mob:8050327731 Room service is available. Rooms are average.

Silveroak farmNear the Nandi village itself.
Stay safe
Be careful and do not approach the monkeys and stray dogs on the hill. Avoid feeding monkeys and stray dogs.
Do not leave the windows or doors of your car open, even if you are sitting inside. Monkeys can get inside and steal your food. Do not keep food in a manner visible to outside.
Bring packaged food since options to eat at the top of the hill are limited.
Try to return before sun set. It gets dark pretty quickly after the sun set and driving in the dark can be quite risky. There are sharp turns and steep sides without fence.
Go next

The entry and exit times are now limited to 6 am to 6 pm to avoid crimes.