Nantes
Nantes
(Breton:
Naoned
) is the capital of the north-western
French
region of
Pays de la Loire
. That said, Nantes has strong historical connections with the adjoining region of
Brittany
, and is the historical capital of the region (though not its official capital since the days of Napoleon).
The tiny Canadian town of Nantes (
Québec
) near
Lac-Mégantic
is named after Nantes and is a
twin town
.
Understand
Nantes was once an important port located 50 km up the Loire River. It grew rich on the slave trade with Africa and the West Indies. Nantes is also famous for being the home of the science fiction writer Jules Verne.
Several well known districts in Nantes:
: This is the centre of the city and everybody will be able to direct you here. Near here you will find la Place Royale, le Quai de la Fosse, la rue Crébillon (famous for its posh shops)
: Old Nantes, with many restaurants and known for foreign food. There are also many bars.
: Famous for its market.
: A pedestrian shopping district close to Bouffay.
: An island in the river Erdre close to the city centre (reach it from Tram line 2). The entire island is a Japanese garden and is a pleasant place to relax.
: Semi pedestrian street at the junction of la place Royale and la place Graslin, where the main clothes shops are situated. Pour ceux qui ne compte pas leur argent (for those who do not count their money).
: Bars and prostitutes on the week-end. Used to be called by locals Quai de la fesse (Quay of Buttocks).
Butte St-Anne: West of the place du Commerce, in the quartier de Chantenay. Old buildings and a view on the former port.
: A nice place to get a drink. Lots of bars and restaurants.
Climate
Rain here is frequent, and beware if it's sunny because brief but fierce tempests have been known to appear unexpectedly. Always carry an umbrella or raincoat when going out. Winters are typically mild.
Get in
By plane
There is an international airport in the south of Nantes,
Nantes Atlantique AirportFrom here, there are regular connections to France, UK and the rest of Europe. There are domestic flights in France with Easyjet (Nice and Lille), Air France (Paris Charles de Gaulle), HOP! (Lille, Lyon, Marseille, Montpellier, Nice, Paris Orly and Strasbourg), and Twin Jet (Nancy). There are also flights to the UK with British Airways (London Heathrow), Ryanair (Edinburgh), and Easyjet (London Gatwick and London Luton).
There are three ways to get to the airport from the centre of the town.
By bus (TAN AIR) which runs from the center of Nantes (Commerce) taking 20 minutes, or from the Nantes station taking 30 minutes (€7.50).
From Commerce take tram line 3 in the direction Neustrie
# from the terminus station "Neustrie", take the Aeroport Bus which terminates at Nantes Atlantique airport. This will take around 35 minutes.
# get off at the tram stop "Pirmil", then take bus line 98 to the stop "Aéroport". This will also take around 35 minutes plus a two minute walk
The last two methods just require the regular TAN ticket valid for an hour and will cost you €1.50 (or less if you already have a day ticket etc.)
Also, all tram stations have a very clear tram and bus map and you will easily be able to see these methods to get to the airport.
It is easy to find the Aeroport Bus stop at the airport, but if you are not familiar with the area, it is very difficult to find the stop for the number 98 bus at the airport. To reach Bus 98, cross the railroad tracks and walk through the P1 Sud parking lot to Rue Charles Lindbergh. It is just a five-minute walk from the terminal, but there are no signs pointing the way. The Aeroport Bus departs every 20 minutes, but Bus 98 departs every 30-60 minutes.
By train
Nantes is just over 2 hours (depending on the number of stops) by TGV from
Paris
passing through
Le Mans
and
Angers
. Trains run regularly throughout the day. There are also direct connections from
Nantes to
Charles de Gaulle Airport
and to
Lille
(stopping at
Disneyland Resort Paris
) which bypass Paris.
It is also possible to go to
SNCF information: 3635
Gare de NantesThe railways station has two exits usually referred to as "gare nord" and "gare sud".
Exit North: tramway to the city centre.
Exit South: pedestrian access to Nantes International Convention Centre, car rentals.
By car
Car hire is available on many websites if you are travelling to Nantes.
By bus
The TAN public transport system links Nantes to several nearby burgs, as does the Lila system of regional buses. (French)
Bus companies Ouibus, Flixbus, Isilines, Eurolines and Alsa offer service to Nantes from many cities. The tickets of these companies can be purchased on
Sobus
.
By boat
Contact +33 (0) 2 40 37 04 62 for detailed information about the cruises.
River Ferries (Navibus) Information & schedule +0810 444 444 (TAN ticket valid for crossings.)
Get around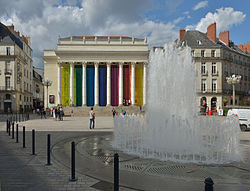 Public transport
There are very good public transportation services provided by the TAN (Transports de l'Agglomération Nantaise). It consists of 3 tram lines, a BusWay (like a tram line and numbered as such but with buses rather than trams), many bus lines, and several Navibus (public boats) lines. A one-way ticket costs €1.50. Once on the bus, tram, or navibus you must validate the ticket in one of the green ticket validation machines. The ticket is then active for one hour with unlimited transfers. Tickets are cheaper if you buy them in bulk (a "carnet" of 10 tickets costs €12.70) and there are also 24-hour (€4.20 for one person, or €6.70 for 4 people). The trams start early and run till after midnight, later on Saturdays, however there are also several night bus lines.
By taxi
Nantes's taxi number is +33 02 40 69 22 22. There are designated taxi waiting spots near Place du Commerce and the train station, but taxi service is infrequent.
By bike
Nantes is a very
bike-friendly
city. There are bicycle lanes alongside most major roads, demarcated by green arrows, and many small streets and trails that are only accessible to pedestrians and cyclists.
Bikes
can be rented
from
Nantes Métropole
at one of eight parking lots in the city. You may rent a bike for €1 for 2 hours, €4 for a day, €10 for a week, or €25 for a month. Additionally, there is a 50% discount for holders of an SNCF or a TAN pass.
Bicloo
, Nantes self-service bicycle network at 79 locations, offering 700 bicycles. Registration starts at €1 for a day (with a €150 deposit in case of damage to the bike), the first 30 minutes are free of charge, 30 minutes to 1 hour €0.50, 1 hour to 1½ hr €1.50, and each additional 30 minutes (up to 24 hr) €2. There are 89 Bicloo stations allover Nantes but no Bicloo stations outside of the Nantes area.
See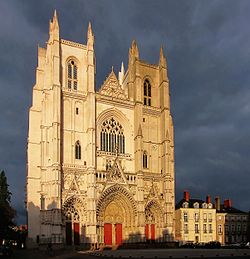 Château des ducs de BretagneNantes History Museum - Expositions.

Cathédrale Saint PierreIn its two crypts where the treasures and the history of the cathedral are displayed. Next to the Château des ducs de Bretagne.

address: Rue Clémenceau 10

A beautiful building with an excellent art collection and temporary exhibitions.
La Chapelle de l'Oratoire. Rue Henri IV. Near to both the Castle and the Cathedral.
Place Maréchal-Foch. Contains one of the few exisitng statures of Louis XVI, the beheaded king, left in France
l'Ile de Versailles, a peaceful island in the Erdre with a Japanese garden.
Le Cours Cambronne. A few steps from la place Graslin containing imperial buildings.
La Place Mellinet. Contains some of the restored architecture in Nantes and consists of eight perfectly symmetric houses built around an octagon. 200 meters from Port and from Maillé-Brézé.
Place du Bouffay. A pedestrian area between the Castle of the Dukes of Brittany, Saint Pierre Cathedral et la Place du Commerce; ancient medieval quarter of Nantesvieux known for its Breton culture and for the pubs and restaurants.
Ile Feydeau, magnificent architecture of the 18th century. Shipowners' houses in the sculptured mascarons and the balconies of wrought iron illustrate the wealth accumulated at the time of the triangular trade.
The Jules Verne Museum, on the Butte Sainte Anne, which has just been completely restored. Has a very good collection of memorabilia and objects associated with Jules Verne. There is also a very nice view of the port of Nantes.
The new Palais de Justice on the Île de Nantes, designed by Jean Nouvel and built in 2000.
La Tour LU (The LU Tower) - a picturesque tower guarding the entrance of a former Lefevre-Utile biscuit factory.
The lieu unique, centre of atypical art shelters a restaurant, a bar, a shop, theaters, etc.
Musée Thomas Dobrée.
Le Jardin des Plantes (Garden of Plants), situated just outside the main train station (North exit).
Le Marché Talensac, the main town market, full of high quality local produce.
The Machines de l'Ile (Machines of the Isle of Nantes), an exhibition of fantastic mechanical animals including the Great Elephant on which you can take a ride. Take tramway line 1 to Chantiers Naval, then walk across the bridge. Price is around €6.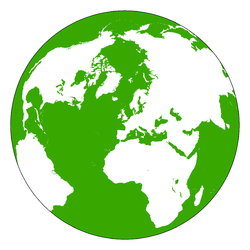 Land HemisphereAccording to one measurement, the Earth's land hemisphere, i.e. the hemisphere of the Earth containing the largest possible area of land, is centered on Nantes.

Passage PommerayeA shopping mall built in the 19th century.

phone: +33 9 79 18 33 51

address: Quai de la fosse BP 68721

A warship which has been moored in Nantes for many years which is open to visitors
Around Nantes
The beach, especially the resort town of
La Baule
, is only a short drive away or can be easily reached by train. There are often
cheaper deals if you take the local trains such as the TER or Corail (as opposed to the TGV). You can also travel to the beach at
Pornic
, a
very beautiful town and much less of a beach resort than La Baule. The salt swamps at
Guerande
, where Breton sea salt is harvested, are worth a visit, as well, and feature an exhibit on the salt-harvesting process.
Do
Watch football (soccer) at Stade de la Beaujoire. The home team FC Nantes play in Ligue 1, the top tier of French football, and often qualify for European tournaments. The stadium, capacity 37,473, is 5 km northeast of the city centre, off the bypass N844.
Learn
There are around 50 000 students in Nantes Metropole among which 32 000 students in the University of Nantes, the third multi-disciplinary university in France.
The city supports the research in the excellent domains of the town with 2 200 researchers and 200 research laboratories.
And 15 Elite Schools.
Work

The "Maison de l'Emploi" of the Nantes metropolis was created on October 17, 2005. This initiative allows to make employment more accessible and also to act against the discriminations in the districts where the unemployment rate is the highest.

Buy
La Friendande, 12 rue Paul Bellamy, from caramels, candies, jams to home-made chocolates.
Les Rigolettes nantaises, 18 rue de Verdun et rue Franklin, Nantes candies, chocolates and other regional specialities.
Bookshop of the Castle of the dukes of Brittany, place Marc Elder , artworks, objects, postcards and collections.
Lieu Unique Boutique, quai Ferdinand Favre, LU collections and artists' creations.
Tourist Office Boutique, 3 cours Olivier de Clisson et 2 place St Pierre, books, guides, postcards, regional specialties, etc.
Eat
Nantes has many restaurants! For its famous and finest wine and seafood. Also, this region of France is famous as the birthplace of crêpes. For a more savory variant, try the
galettes de sarrasin
(buckwheat crêpes).
Budget
Some cafés and crêperies offer affordable prix-fixe menus for lunch.
Mid-range
Cafe Molière, located in the Place Graslin next to the Theatre Graslin, offers excellent lunch fare, including sandwiches, croques-monsieur (open-faced sandwiches with ham and melted cheese; a delicious variant is the croque-anana, which also features a pineapple slice), steak-frites (steak and French fries), and salads. Coffee and dessert are also available, and the restaurant becomes a bar at night. Get a table outside if Nantes is experiencing rare sunny weather.
Splurge
La Cigale, situated in the Place Graslin, has been called "the most beautiful brasserie in France" for its turn-of-the-century decor. Seafood is a particular specialty (as in all of Nantes), and the chef can be seen preparing seafood in front of the restaurant, where there is outdoor seating during warmer months. Fixed price menus are available for 15 and €25. A cheaper way to experience this delightful place is to go in the afternoon for dessert and coffee.
Drink
Nantes's nightlife is concentrated in the Bouffay area, although there are also many bars and nightclubs near the Place du Commerce and the Théâtre Graslin.
Le Bar du Coin located next to the Église Saint-Croix, with an old-fashioned interior occasionally offering an in house DJ.
Les Fées Maison bar decorated in a fairy-tale theme, offering many unique cocktails and local beers, located near Place du Commerce, close to the tram stop.
La Maison bar decorated in the style of an old house from the 70's. You can have a drink sitting in a bathtub in the "bathroom" of the house. Located on the rue Lebrun, a small alleyway off the rue du Maréchal Joffre near the Place Foch with great indoor and an enclosed outdoor area.
John McByrne (21 rue des Petites Ecuries, +33 2 40 89 64 46) is a popular traditional Irish Pub in the quartier Bouffay that opened in 1998. With great pints of Guinness served by friendly staff from the Emerald Isle and elsewhere around the globe, this is the place to go to enjoy an authentic Irish atmosphere. Gaelic sports are shown live on TV along with English and Scottish Football and the occasional International Rugby match, all commentated in English.
Délirium Café (19 Allée Baco, +33 2 40 08 90 77) is a great bar with a good student atmosphere. Offers a lively environment with tables and the bar, as well as an enclosed outside area offering a nice change from the inside scattered with tables. A little bit pricier for the students, but the environment is well worth it. Hosts English themed nights every Wednesday while the local university is in session.
Flemming's (22 rue des Carmes, +33 02 40 47 32 86) is a freshly opened Irish pub with a newer, book lined walls, classier interior than the others located around town. Anglophones are typically the only bartenders working, unless the owner is there who is French. As a result if you're looking for the familiarity of the English language or you'd like to improve your English, this is the place to go. Has tables upstairs and down stairs as well as tables outside if the weather is nice enough. Open from 10am to 2pm everyday. Also show's rugby and soccer matches throughout the weekend by way of a screen and projector they have located downstairs.
Le Shaft (14 Rue Petites Ecuries, +33 02 40 47 78 56) is a small bar on a corner with a terrace and a friendly, crowded interior. If you're looking for a cheap drink, they offer 3€ pints and Giraffes for cheap.
Bier Garten (11 rue de la Juiverie) is located in Bouffay and is perfect for groups of people. Although it looks small, inside it offers 4 rather large back rooms which are more than accommodating for groups. Offers salsa, bands, and various themed nights throughout the week as well.
Try Breton cider, similar to beer, which comes in either a brut or doux (sweet) variety. A variation is a kir Breton, which is cider mixed with a fruit liquor (usually black currant, blackberry, or peach). The Nantes area is also known for its Muscadet wine, inexpensive but surprisingly delicious, which goes well with seafood dishes.
Live Music
Music venues
Music Festivals
Soy Festival
Hellfest
Les nuits de l'Erdre
Sleep
Budget
Youth Hostel, 2 place de la Manu, tram station "Manufacture" (line 1).
Camping du Petit Port, camping ground which can be reached by tram from the centre of the town.
When they are not full, sometimes the university residences will rent out rooms for a reasonable price. Contact the director of the desired residence to be sure. Visit CROUS Nantes for more information. (link in French)
Mid-range
phone: +33 2-51820000

3 rue de Valmy. Near the Convention Centre and the train station, close to the castle and the Cathedral.

phone: +33 2-40353030

50/51 Quai Malakoff. A 3
* hotel located in city centre, near Nantes' main train station. Ideal for meetings and conventions.
Hôtel Kyriad Nantes Centre, 8, allée du commandant Charcot, 44000 Nantes, 02 40 74 14 54 (Fax : 02 40 74 77 68), inexpensive hotel with a good location in central Nantes; Canal Satellite TV, Wifi.

phone: +33 2 40 20 21 20

address: 3 Allée Baco

Between the Château des Ducs de Bretagne and the Place du Commerce.

phone: +33 2 40 35 39 00

address: 19 rue Jean Jaures

Covered parking and a bar and restaurant, l'hôtel Ibis is close to the Tour de Bretagne.

address: 2, rue Boileau

A hotel located next to the Passage Pommeraye(shopping), free Wifi (and PC to use) in the lobby.
Splurge
WestotelSwimming pool and free internet. Can sometimes get a good deal.
Connect
The first part of the WIFI network covers the city center, lieu unique, SNCF train station, Ile de Nantes district. From the Nantes WIFI portal site, the access is free and directs towards some sites of practical information in Nantes Métropole (in English and French).
Hotel bookings
Cultural and tourist activities
Restaurants
Traffic information
Many bars and cafés also offer free Wifi to those with a laptop computer. Look for the WiFi logo in the windows.
Stay safe

Despite a surge in insecurity in recent years, Nantes is a very safe city in comparison to most major European cities. Police presence is reasonably visible and the trams are patrolled by TAN officials at night. Be prudent and exercise caution after dark. The European emergency number 112 is accessible in Nantes.

Cope
There is a very strong international presence in Nantes because of the many international students attracted by the large and well-known Université de Nantes. Every Wednesday evening international students meet at Buck Mulligan's bar to meet new people and socialise in a variety of languages. In addition, there are several Irish bars in Nantes in which the bartenders speak fluent English. Most Nantais are fairly friendly and will do their best to help you get by, although obviously they will be happier if you make an effort to communicate in French.
Consulates
Algeria

phone: +33 2 40 74 38 19

address: 57, rue du Général Buat

Belgium

phone: +33 2 40 75 89 49

address: 3, Place Pierre Desfossé

Honorary Consulate

Germany

phone: +33 2 40 44 20 16

address: 18 quai Ernest Renaud

Honorary Consulate

Greece

phone: +33 6 86 08 20 92

address: 47-49 rue Leon Jost

Honorary Consulate

phone: +33 9 71 27 66 57

address: Quartier Monselet, 6 Place Sarradin

Honorary Consulate

phone: +33 2 40 75 73 87

address: 20 Quai François Mitterand
Go next
Guérande, a fortified city surrounded by Medieval walls. Guérande is also famous for its sea salt production.
Clisson, a small town with a ruined castle and an annual open-air heavy metal festival, Hellfest, in June.
Le Croisic, a small fishing town, also a short walk from the scenic Côte Sauvage.