Nantou County
Nantou County
(南投縣) is in the
Central Region
of
Taiwan
. It is famous for its mountain scenery and is the only county in Taiwan without a coastline.
Regions
Nantou Region
Contains the major city in the County and is the most lively of the regions.
Puli Region
The region is well-known for its hot springs, hiking, cycling, and coffee.
Jhushan Region
This region is known for its bamboo forrests and its tea.
Shueili Region
A popular destination for its hot springs, its suckling pork, and millet wine.
Cities
– Location of the Taiwan Times Village and the Nan Tun Old Street.
– A small scenic town.
– More than half the area is comprised of "Experimental Forest", a government initiative where universities conduct research into environmental issues.
– a town located at the geographic center of the island and often gateway to Sun Moon Lake
– An area with a nice environment and sporting a number of European-style B&Bs.
– an alternative to Puli due to its closer distance to Sun Moon Lake, with a scenic and historic train from down the valley in Ershui
– The highest peak in Taiwan is located here.
– The location of the Sun Moon Lake. The area is also the home of the Thao aboriginal community.
Other destinations
– The largest lake in Taiwan, famous for its clear, sparkling blue water set against a picturesque mountain backdrop. It has also been a center of aboriginal life for thousands of years.
– The highest mountain of Taiwan and also the name of the related National Park that lies partly in Nantou County, Hualien County and Kaohsiung County.
Get in
Many people come in through Puli from
Taichung
by bus or car, especially for Sun Moon Lake. However, also consider taking the scenic and historic train from Ershui to Shuili (worth a visit) or vice-verse when heading out again.
Get around
By bus
Many bus services run in the region. Try Google Maps, which has many connections available, but is a little bad on the timing.

By thumb
Due to the remote nature of the region and fewer urbanisation, it is easy to hitch-hike here. You can easily hitch-hike from Sun Moon Lake into Taroko Gorge, or vice-versa.

See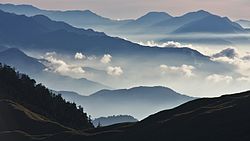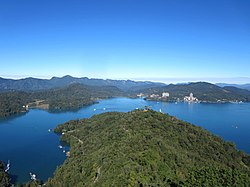 phone: +886 4-9280-2172

address: No. 170, Renhe Road, Ren'ai Township

This place seems particularly popular with locals. It has a 1 km long scenic bridge/walkway, a grassland with sheep and great views of the surrounding mountains and valleys. If you go by car or scooter, it is worth stopping here.
Do
Hehuan MountainThis mountain actually has 7 peaks, which you can climb. There are short tracks and longer ones, even connected to each other. The bus ride here is a great and funny scenic drive – sit on the right side of the bus. In case you want to do more than just going up and down the peak, consult OpenStreetMap, which many mobile Apps like OsmAnd, MAPS.ME, etc. use. It has comprehensive and reliable tracks around Hehuan Mountain. Locals say one should go up the mountain in the morning, but it more depends on your luck and the season to have a clear view. Accommodation-wise you have two nearby choices, the Song Syue Lodge (see below) and the Kuan Yun Youth Activity Center 10 km towards Taroko Gorge. Even the latter one is in hiking distance, depending on you level of fitness. But you will have it easy finding a hitch in this region.
Main PeakIt should take no more than 45 min to go up to the top and down again from the road. An alternative to just walking back is the trail that continues northeast towards the same road but further north – the place there is called , it is where many tourist make a stop and where also you can find the Song Syue Lodge. This alternative trail leads 300 m through an army area at the end (see OpenStreetMap), but it should be fine to walk out through here – just say "you leave now" if you get stopped, this worked before. The other direction, coming from Song Xue Lou, however is probably not recommended.

East PeakThis should likewise not take longer than 45 min. The track either start at the Wuling Bus Stop, directly in Song Xue Lou at the main road or just behind the Song Syue Lodge. Getting down, choose one of these three routes.

North PeakThis peak is the more difficult one. It takes at least 2 hr to go up to the north peak and down again from the road. In spring and fall take something warm for the head, long pants and a wind-breaker jacket, and maybe a pair of gloves. You can continue further after the peak. The trail eventually lead to the road leading to Lishan.
Jiujiufeng Forest TrailCheckout this hiking trail. The small road north of it dives into this picturesque and interestingly looking mountain rage, which bends up and is round at the top, a little like stalactites. Also, the river valley nearby and the mountains across reveal the geological movements in this area, or a are simply great for a picture.
Ershui-Shuili TrainThis historic train is a tranquil and picturesque way of getting in and seeing Nantou County. It also stops at several stations along the way.
Drink

There are many good teas coming from the Nantou area. Donding Oolong (凍頂烏龍) is famous worldwide.

Sleep
phone: +886 4 25229696, +886 4 92802980

address: Hehuanshan

At an altitude of 3158 m, one of the highest accommodations in Taiwan. Great for a stopover when coming from Taroko Gorge or Hehuan Mountain.
Also, near Hehuanshan but in Hualien County the more affordable Kuan Yun Youth Activity Center can be found.