Naoshima
Naoshima
(直島) is an island in the
Seto Inland Sea
of
Japan
. Although the island is much closer to the main Japanese island of
Honshu
, administratively it belongs to
Kagawa
Prefecture in
Shikoku
.
Understand
Naoshima is famous for its contemporary art museums as well as outdoor contemporary art installations throughout the island. It has a population of approximately 3,000 people.
Avoid visiting the island on Mondays, as most of the museums will be closed.

History
The first settlement on the island was at the now-diminuitive fishing port of Tsumuura on the southeastern tip of the island. The most prominent settlement on the island was Honmura which was established as a coastal castle town during the warring states period (1467-1568). The main industry is a smelter and refinery operated by Mitsubishi Materials.

Get in
By boat
To reach Naoshima from the main Japanese island of
Honshu
, take a train to
Okayama
, transfer to a local train to
Uno Station
in
Tamano
, walk across the street to the boat terminal, and then transfer to a boat to Naoshima. Boats are also available from cities on other islands:
Takamatsu
(
Shikoku
) and
Inujima
.
Naoshima has 2 passenger ports:
Get around
Detailed bilingual maps are available at the
Marine Station Naoshima
in the front of the Miyanoura ferry quay. The maps list guesthouses, restaurants, and major exhibits on the island.
By foot
The island is quite hilly but pleasant enough along the coasts for biking and walking, except for the road from Miyanoura to Chichu Art Museum, which is a climb.
Since the island is quite small, you can easily reach any place on foot in 30 to 60 minutes : the two villages, the ports and the museums.
Miyanoura port to Chichu Art Museum: about 30 minutes on southwest course (anti-clockwise).
Miyanoura port to Honmura (Art House Project): about 30 minutes.
Honmura to Benesse House: about 30 minutes. Try the high route that passes by the dam to see a surprising art exhibit near Benesse House . Start from the west side of Honmura, the first left after the Haisha art house.
Benesse House to Chichu Art Museum: about 20 minutes.
By bicycle
Information on bicycle rental in Naoshima is available
online
. There are 6 shops on the island that offer bicycle rental. Fees are ¥300-500/day for a push bike or ¥1,000/day for an electric bicycle.
By bus
Town Bus circumnavigates the island and costs ¥100. Press the button to indicate that you want to get off at the next stop. Corresponds to the ferry schedule. Check the schedule since this bus is not frequent.
Benesse House free shuttle bus operates approximately every 30 minutes between the major sights on the southern portion of the island.
Benesse Hotes guests bus goes around the major spots from Miyanoura Port to Chichu Art Museum via Honmura and Benesse House hotels.
See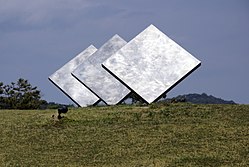 Naoshima is famous for its contemporary art museums and its outdoor contemporary art installations throughout the island. Be sure to take photos of the giant red gourd near Miyanoura port and the giant yellow gourd on a pier at the southern edge of the island.
Museums
Like in most contemporary Japanese art museums, photography and touching the exhibits are prohibited.
phone: +81 87-892-3755

address: 直島町3449-1

Designed by the architect Tadao Ando and entirely underground, this museum integrates art and architecture. The museum only has a few exhibits: 5 paintings by Claude Monet, a room with a giant sphere and 27 wooden sculptures designed by Walter de Maria, and 3 works by James Turrell, including one where you walk into a room with variable lighting that changes your perception. The James Turrell work is certainly best appreciated with as few people around as possible, so visit early in the day before the crowds arrive. Tickets must be purchased at the ticket center approximately 50 m down the road. Next to the entrance is a garden modeled after the scenery that inspired Claude Monet. A special night program on Friday and Saturday is offered to view Turrell's 'Open Sky' work at sunset for additional fee of ¥500. Advance online reservations are required.

phone: +81 87-892-2030

The first contemporary art museum on the island remains one of the best. A superb fusion of nature, art and architecture that display the works of Andy Warhol, Richard Long, Bruce Nauman, and others. The Museum building, now one of 4 buildings in the complex, was designed by world famous Japanese architect Tadao Ando. There are also numerous outdoor exhibits nearby.

Lee Ufan MuseumAlso designed by Tadao Ando, this museum displays only the works of Lee Ufan 李禹煥.

phone: +81 87 892 3754

A small museum featuring the works of architect Tadao Ando, designer of most of the museums on Naoshima Island. Ando was born in 1941 in Osaka. Ando has received many international awards.

007 The Man with the Red Tattoo MuseumA small showroom erected as a museum to feature Raymond Benson's Bond novel The Man with the Red Tattoo. An important part of the story takes place in Benesse House during a G8 summit. The 007 Museum aims to present Naoshima as a Bond location on a national scale, introduce visitors to the story of "The Man with the Red Tattoo" with a short animated documentary, art work imagined from the novel and exhibits material and memorabilia related to the Bond novels and films. Very little English is available and it's attached to a rather shabby gift shop and cafe.

CLOSED.
Art House Projects
phone: +81 87-892-3223

address: Honmura

The Art House Project began in 1998 with Tatsuo Miyajima's Kadoya, and comprises 7 vacant houses, which were converted into works of art, weaving in the history and memories of the period when the houses were homes.
Minamidera"Backside of the Moon" by James Turrell. Architecture by Tadao Ando. Walk into a building in complete darkness and feel the sensation after the lights are eventually slowly turned on.

Kadoya"Sea of Time '98", "Naoshima's Counter Window", "Changing Landscape" by Tatsuo Miyajima. Watch a "sea" of LED numbers counting up and down.

Go'o Shrine"Appropriate Proportion" by Hiroshi Sugimoto. You can get into the shrine by taking the little path to the right, i.e. the seaside. It's quite simply incredible so don't miss it.

Ishibashi"The Falls" and "The Garden of Kū" by Hiroshi Senju. The former large expansive home of the Ishibashi family, a successful salt producer during the Meiji Period.

Haisha"Dreaming Tongue/Bokkon-Nozoki" by Shinro Ohtake. Haisha means "dentist" and this was once the house of a dentist.

Gokaisho"Gokaisho" by Yoshihiro Suda. Gokaisho means "place to play go" and this was a gathering place for people to play the game of Go

Kinza"Being Given" by Rei Naito. Reservations must be made in advance online.
Naoshima architecture
All public institution buildings on Naoshima are designed by Kazuhiro Ishii, an architect born in Tokyo 1944. These buildings are called "Naoshima architecture". Since they are public facilities, anyone can enter, tour, and use the facilities.
Naoshima Elementary school (1970)
Naoshima Kindergarten (elder class)(1974)
Town gymnasium (1976) Gymnasium belongs to Naoshima Junior High school
Naoshima Junior High School (1979)
Naoshima Town Hall (1982) Called "Naoshima Hiunkaku" because it was designed after Honganji Temple which is famous for the Hiunkaku tower and resembles a castle.
Naoshima Kindergarten (younger class) (1983)
Tsutsuji-so (1991) municipal cottage
Naoshima General Welfare Centre (1995)
Mitsubishi Materials factory
Mitsubishi Materials Smelter and RefineryMitsubishi Materials is the major employer on the island. Most of the north side of the island is taken up with material processing facilities. A tour of these facilities can be organized if reservations are made at least a week in advance. Tours must be booked in and are conducted in Japanese only. Security procedures are strict.
Do
phone: +81 87-892-2626

A fully functional art installation with Japanese traditional public bath. Designed by Shinro Ohtake collaborated with graf. Naming "I ♥ Yu" is a pun, word playing on you and yu means hot water in Japanese.

Gotanji Swimming BeachNo lifeguards.

Naoshima Slag Ceramic Art Experience Studio

phone: +81 87-892-2299

Make pottery and have it shipped to you when it dries!
Buy
There are several banks with ATMs and ATMs are also available in the convenience stores. The museums take credit cards but many shops do not.
Most shops close in the early evening and most of them are closed entirely on Sundays and Mondays. There is a convenience store, 7-11 in Miyanoura. There are also 2 small supermarkets called 'Co-op' in Miyanoura and Honmura.
Head shop at Washinomatsu, north of Miyanoura Port. Open M-Sa 10:00-19:30, Su 10:00-13:00.
Eat and drink
Almost all venues serve Japanese food only. Restaurants may have non-standard or irregular hours, such as being open only for lunch and so it is best to just walk around and find a place that is open. Restaurants accept last orders around 19:30-21:00 during the week and close even earlier on Sundays.
Budget
phone: +81 87-892-3830

Literally "Brown Rice Hearty Eatery". Vegetarian restaurant.

phone: +81 87-892-3048

Cafe with a couch and colorful stools.

address: Yubinbango 761-3110

phone: +81 87-892-3887

address: 2268-2

Tsutsuji-so CaféThe closest cafe to the sea on the island.

Iwata's confectionery shopJapanese style sweets & cakes, traditional food gifts.

Henkotsu-en

address: Miyanoura

Mix with the locals in this yakiniku house, where the order of the day is slabs of raw meat. Just slap them on the hot plate and chat away with friends. It's Japanese-style indoor barbeque at its most native.

ShimayaA stall set up obviously for domestic tourists that sells takoyaki (octopus pieces inside a fried dough ball)

Café OugiyaJapanese food railway-style, one of tenants in the ferry terminal. Standard udon, curry & rice, etc. Bicycle rental is available.

Fukushi CenterTable d'hote (set meal), has udon etc. There's a public pool and fitness center in this complex as well.

Fuji shokudoThe smallest Ramen shop you'll ever find. A party of 5 can be barely accommodated.

Rien 璃園Highly dubious cafe attached to an even more dubious souvenir shop. Serves pilaf, coffee

Takoyaki FuuchanA stall and 2 tables that serves takoyaki, fried chicken, and chow mein.

Café SayaThis charming place is attached to the rear of a house. Café Saya serves excellent green tea lattes and sweets. They also serve tsukune-don (a ground-chicken patty on top of rice), Saya men (beef on top of noodles), etc.

Kinosaki Udon Naoshima

phone: +81 80-8636-7903

address: 2071-4, Miyanoura

Self-service udon noodle restaurant.

Little PlumCafe and bar with a good local beer selection. Bicycle rental and accommodation are available.

phone: +81 87-892-2328

Serves coffee, parfait, pizza, curry & rice, Moroccan Tajine aka Riz a la sauce. French speakers are especially welcomed because the owner has lived in Morocco and France.

Guesthouse & Okonomiyaki Umikko

phone: +81 878922358

address: 4777-8

Okonomiyaki restaurant.

NyaoshimaCat cafe

MinoRice ball take-out, packed 3 rice balls, curry & rice, ice-cream cone

Ishii ShotenUdon, tempura. Capacity 20.

HiinaCafé

Wa Cafe GooCafé. Capacity 20.

BOOShaved ice for take out

Cafe restaurant "Garden"

MaimaiCafé. Naoshima burger, Locomoco etc.

Ishi-BarBar.

Naoshima Tsuri KoenSashimi of sea bream and a bowl of rice, curry and rice served on weekend, National holidays during May to September
Mid-range
phone: +81 87-892-3092

address: 2310-15 (Sonota)

The best quality seafood you'll get outside of Benesse House. Try the Tempura, and don't worry about language barriers just point and smile and you'll be treated royally. The chef has a cheat sheet of English translations of his dishes behind the counter.
Splurge
Sleep
It is recommended to book accommodation in advance, especially for weekend stays; however, many places do not have online booking or English-speaking staff. There are several dormitories and ryokan-style (sleep on a tatami mat) lodges on the island. Western-style accommodation is available across the sea, near the Uno Port in
Tamano
.
Budget
Mid-range
Cin.na.mon Curry Cafe & Guesthouse

phone: +81 87-840-8133

3 rooms. Reservation inquiries can be made via online form.

phone: +81 87-892-2328

A few rooms. French speakers are especially welcomed because the owner has lived in Morocco and France.

phone: +81 87-892-2269

address: 774 Honmura

Lodging in an old-fashioned wooden house.

phone: +81 80-2888-2431

Tatami mats or bunk beds. Reservations can be made online.

Shioya Ryokan

phone: +81 87 892-3050

Yukiko-san, the innkeeper, does not speak much English but has been managing the ryokan for over 50 years and prepares great fish-based home-cooked meals. Advance reservations only by phone in Japanese.

phone: +81 87 892-2838

Beach-side Mongolian yurts, caravans, and Japanese cottages. Cash only.
Splurge
phone: +81 87-892-2030

This is the place to stay in Naoshima, if you have the money. Every room has its own individual design and art work, with 49 guest rooms in 4 buildings: Museum, Annex, Park and Beach, all designed by renowned architect Tadao Ando. The beauty of staying at the House is that you can wander the galleries late into the night after all the riff-raff have departed. There's also a monorail up to the rooms at the Oval, which also has a spectacular bar where one can watch the sun set. Dinner at the Museum itself is also an experience not to be missed as all the good tables face out onto the bay. Don't forget to book your slot for Cai Guo-Qiang's 'Cultural Melting Bath'. It's a huge hot tub surrounded by volcanic rocks brought in from China in a private cove not far from Park Building; it can be exclusively hired for an hour (¥1,000) for relaxing, stargazing, sunbathing or love making - in a piece of art. Most rooms must be booked individually; they book up several months in advance, particularly on weekends in the spring and autumn, but are well worth the cost. Off-season booking is far easier, and also easier to extend your stay. The website has a 6-month reservation schedule and detailed room descriptions.
Cope
There is an extensive aged population on the island. Please be considerate and greet them warmly as you pass them.
The Miyanoura Port offers 56 lockers of various sizes for luggage storage.

Connect
Some accommodation options and cafes offer WiFi, while many do not. Free internet access at 2 computers is available at the Miyanoura port terminal ("Marine Station Naoshima") from 08:30 to 18:00. Free WiFi is available at the port terminal as well.

Go next