Naperville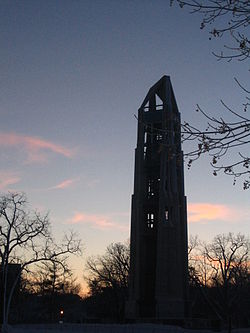 Naperville
is a bedroom community in the
Chicagoland
area. In 2008 Money magazine ranked Naperville third on its list of the 100 best places to live in the United States.
Get in
Get around

If you plan on bringing your rental car downtown, be prepared to park it in the large public parking structures, because finding a space in the downtown area can be tortuously slow work. There is often a spot in the three-story by the Barnes and Noble near the corner of Washington and Chicago Avenue. The second and third floor are accessible via Jefferson Avenue, which is a block down Washington.

See
phone: +1 630-637-8000

address: 301 N Washington St

This colorful building is full of activities to keep kids (and the kid in you) occupied: a giant Lite-Brite, bubble games, a building workshop, a wind tunnel and more.
In Downtown Naperville you'll find new high-end chain stores, specialty shops and restaurants inhabiting quaint old buildings which are still a reminder of when Naperville was a sleepy burg.
The Riverwalk is a 3.5-mile brick path that runs along the shore of the DuPage river and was originally inspired by the more famous Riverwalk in San Antonio, Texas. It passes the 160 foot . With 72 bronze-cast bells, the Millennium Carillon is one of only four grand carillons in the world.
Public Art can be found throughout downtown and the Riverwalk. They include "River of Life," a four-part ceramic mural just off West Jefferson; "Man's Search For Knowledge Through The Ages," a bas-relief in front of Nichols Library; and near the Riverwalk, among others. To see more follow the "Century Walk" public arts walk.

The Naper SettlementA reconstruction of the town as it looked in the 1800s when it was founded by trader Joe Naper. It's much like the Joseph Smith Homestead in Nauvoo.

Art Galleries abound in Naperville. Check out Art & Frame Naperville, the Naperville Art League, the Anamart Gallery, Hozhoni Native American Art, North Central College and the Naperville Cultural Center.

SS. Peter and Paul ChurchAn enormous Catholic institution with a beautiful interior.
Do
The Comedy ShrineIn the Naperville Promenade is indeed funny and not too expensive.

Centennial BeachAn old rock quarry transformed into a sandy beach along the Riverwalk. They also rent paddleboats.

Ribfest is Naperville's biggest yearly event. The four-day festival takes place in Knoch Park and usually features 15-20 rib vendors from around the country as well as bands like REO Speedwagon and Heart.
Naper Days, held annually at the Naper Settlement, is a much more manageable event with games, bands and the Taste of Naperville.
Haunted Naperville Tours are a unique way to see the city. The stories are hit-or-miss, but the fact that they're all based on first-hand encounters makes Naperville at least a little bit creepier.
Buy
Stop by the bustling downtown area to do some serious power shopping. There's nothing that can't be found anywhere else other than foods indigenous to the area, such as Chicago pizza, Italian beef sandwiches, etc.
address: 10 W. Jefferson Ave

Come to this old-fashioned candy shop in the heart of downtown Naperville for thousands of candies, freshly made popcorn, and chocolates. Also visit the store to learn more about Operation: Caramel Popcorn, a project to ship popcorn to the military overseas.
Eat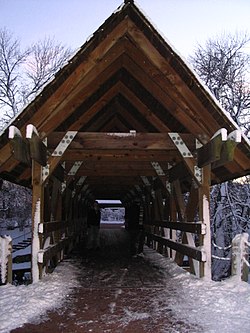 Lou Malnati's PizzeriaThis Chicago pizza restaurant do their pies well (and have arguably the best crust in the state) and is housed in what until the 1980s was the city's firehouse. The fire pole still resides in a corner of the bar area. No, they won't let you slide down it.

And you really should go to either El Centro or El Famous (both on Ogden Avenue) to wolf down a giant burrito.
If you want some really fresh, delicious seafood during lunchtime, head over to Succulent Seafood at Gartner Plaza (corner of Gartner Road and Washington Street) and order a pasta dish or a fish sandwich with any of a number of freshly prepared sauces as you wait.

phone: +1 630-369-4833

address: 22 Chicago Ave

A fantastic dessert replacement to the more commercial Cold Stone. Order a scoop of ice cream and then a scoop of egg-free cookie dough to go on top.

phone: +1 630-983-3000

address: 1025 Aurora Ave

Serves Spanish tapas and a lovely brunch. Although it's expensive, it also extremely tasty.
Drink
Several of the more well known and long lasting bars are in downtown Naperville. For those of you seeking a less glamorous but just as interesting (if not more so) time in the company of hardworking blue-collar types, head to on Ogden avenue or near the Naperville train station.
Learn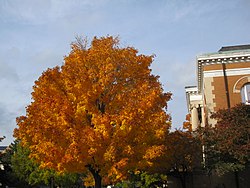 North Central College
is a private, 4-year college nestled nicely into the surrounding historical district. It has very strong business and education programs, award-winning track coach Al Carius and an impressive array of study abroad options for a small college. The school is very integrated with the community at large as well: non-students are welcome to watch a musical performance at the impressive new Wentz Concert Hall, see a play at Pfeiffer Hall, check out the upstairs gallery at Oesterle Library and grab a coffee at the Boilerhouse Cafe.
Sleep
There are all manner of hotels available, none of them truly exceptional but all more than passable. If it's good location you are more interested in, try the mammoth on Diehl road just off the I-88 tollway exit.
Stay safe
Parents of little ones need to beware that portions of the River Walk are not protected by any guard rails; kids can fall in the DuPage River if not careful.

Go next
There is, of course, plenty to do in the city of
Chicago
. Nearby
Aurora
has the Hollywood Casino for gambling and the Westfield Fox Valley Mall for shopping. There are plenty of local parks available, perhaps the best of which is Herrick Lake in
Warrenville
to the north. There's also the Morton Arboretum one town over in
Lisle
, a sprawling complex full of all manner of flora.