Naples (Florida)
Naples
is a city in
Collier County
in
southwest
Florida
.
Get in
By plane
Southwest Florida International Airport
(
RSW
), often known as Regional Southwest Florida International, is located 42 miles to the north of Naples in Fort Myers, FL. Several commercial and charter airlines operate out of RSW, including United Airlines, Air Canada, American Airlines, United Express, Spirit Airlines, Jet Blue, Frontier, Delta, Southwest, and AirTran Airways. From there, you can rent rent a car and drive to Naples, which takes approximately 45-60 minutes via I-75 South. There is an airport in Naples, however there are no commercial flights scheduled there, focusing on private and general aviation instead.
Private car service - An alternative to taxis, car services are useful for getting to the airport from the outer boroughs where taxis are harder to find, or if you prefer to have transportation reserved in advance. Typically $70+ between RSW and Naples
Private Aviation
There are two smaller airports available within 15 miles of Naples, and residents of Southwest Florida's affluent communities often use charter planes to fly directly to/from Naples, Marco Island, and other areas of the Gulf Coast. Marco Island Executive Airport (), known simply as Marco Island Airport, is located 15 miles south of Naples, and just southwest of the Tamiami Trail.
Air charter and jet rental companies including Naples Air Inc. and Naples Jet Charter offer access to a variety of planes based across SW Florida, with aircraft ranging from small single and twin-engine planes to luxury business jets.

Get around

The best way to get around Naples is to rent a car. Alternatively, you can rent a bike, and there are bike lanes on many of the major roads (though they are seldom used). If you stay in "Old Naples" (the historic district), then it is very easy to get to shopping centers, the pier, and the beach.

See
'Tin City'On the river in 'Downtown Naples': A Naples tradition. Originally a fisherman's wharf (it is still used as such) it is now a large collection of shops (all indoor and air-conditioned) offering a huge array of trinkets, clothing, art, and miscellaneous.

Naples City PierOne of the most popular Naples Florida attractions! No fishing license is required to cast a line from the Pier! The city of Naples picks up the 'annual tab' for the cost! Watch the dolphins, take amazing photos of the sunsets over the Gulf of Mexico! Lots to see and do at the Pier!
Do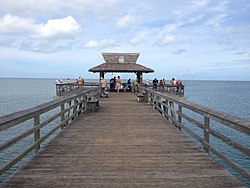 Naples Zoo at Caribbean Gardens

phone: +1 239 262-5409

address: 1590 Goodlette Rd

Rediscover natural fun in the heart of Naples. Explore this nationally accredited zoo with animals from alligators to zebras blended into a historic botanical garden - two attractions in one! See Tiger Forest, Panther Glade, and African Oasis. Enjoy exciting wildlife presentations all day and a cruise past islands of monkeys.
Everglades Tours There are many companies that offer all varieties of excursions to the everglades. This is a great day trip.
Fishing
* Naples has many experienced guides to help you catch that trophy. But if you want to explore on your own, there also are plenty of marinas and tackle shops for boat rentals, tackle and advice. And, if you would prefer, there are places where you can fish without a boat. Some of the more popular spots are our rivers and the Naples Pier. Many people also fish the canals , especially where and when the tidal currents are relatively strong. The beaches can also be productive, especially at dawn and at dusk. Whether your preferred technique is fly, spin, plug or bait, you will enjoy fine fishing in a great environment.
Shopping the shops around 5th avenue would be considered exclusive by some, pretentious by others. Third Avenues is also a great place to shop the many art galleries and shops.Downtown Naples, Tin City, Fifth Avenue South, 3rd Street South, Mercato, Bayfront, Venetian Village, Coastland Mall, and the Waterside Shops are Naples Shopping venues not to be missed! Naples Florida has beautiful boutique style shopping! Very upscale, world-class shopping! Very enjoyable time to be had window shopping, dining at sidewalk bistros and browsing the many chic boutiques!
Ft Myers Beach Take a day trip to Fort Myers Beach pier, for slightly more kitschy shopping and sightseeing.
Dolphin and Manatee tours There are a wide variety of tours to take to go check out the dolphins and manatees. Check out the tourist information in Naples for different listing of these tours.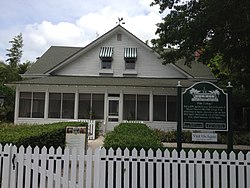 Historic Old Naples The oldest parts of Naples include many older houses, a museum, and shopping centers. It is near the Naples pier.

Vanderbilt Beach

phone: +1 239-597-6196

address: Starting in North Naples at Vanderbilt Drive on the South, to Delnor Wiggins State Park at the North

Facilities include: Freshwater Showers, lifeguards, grills, picnic tables, boat ramp, observation tower, restrooms, bath house. Additional Public Parking in lot next to the Ritz Carlton

phone: +1 239 252-4000

address: Seagate Drive & Crayton Road

Clam Pass boasts 35 acres of coastal habitat and preserves that habitat by providing beach access from a three-quarter-mile boardwalk to the sandy beach. The boardwalk runs through a mangrove forest of salt-tolerant red, white and black mangroves. It also has a tidal bay area that acts as a breeding ground and nusery for marine life, wildlife, specifically many species of birds. board-walk through the Mangrove trees for those who love a nature walk, or if you prefer to take the tram car that is also available. Upon arrival to the beach there is a full snack bar/ Lunch Restaurant and bar on a deck overlooking the beach.

phone: +1 239 594-9400

address: 9123 Strada Place, Suite 7125

Mercato in Naples Florida combines the best of city chic residential living with upscale shopping, dining and entertainment in one choice location that is literally just minutes to the pristine beaches of the Gulf of Mexico. UPTOWN - UPSCALE - UPBEAT

phone: +1 239 594-2040

address: 2620 Tiburon Drive Naples, FL 34109

With an exclusive North Naples location, Tiburón is just minutes from the area's best beaches, the charming boutiques of 5th Avenue, fine dining and a variety of cultural venues. Tiburón also offers convenient access to Interstate 75 and Southwest Florida International Airport. If your not a golfer and are just looking to see what a PGA Tour Golf Course looks like, just take a ride through the complex and view the course and beautiful homes.
Buy
5th Avenue South is a great shopping district in central Old Naples. This area include unique stores, sidewalk cafes, hotels, galleries, and fine dining along palm-lined streets just a few blocks from the water. Perhaps the only problem here is the lack of convenient parking.
Also nearby is Third Street South, an area of some 100 fine clothing stores, gift boutiques, restaurants and galleries.. All along 3rd Ave, parallel to the beach, and starting at the cross section of 8th Street is an area known as Old Naples. This is a cool area with beautiful artwork, sculptures and fountains everywhere you turn. Mainly there are galleries here, as well as some restaurants. An excellent visual treat so bring your camera and some walking shoes
phone: +1 239 948-3766

address: -75, Exit 123, Corkscrew Road / Miromar Outlets Blvd

Shop for essentials while soaking up the Florida Sun walking around the outside mall. Includes many big name outlet stores.

phone: +1 239-598-1605

address: 5415 Tamiami Trail N Naples, FL 34108

Waterside Shops is the Gulf Coast's most sumptuous shopping and dining destination where the finest names in luxury retail and fashionable lifestyle stores are set amid a lush landscape of 30,000 tropical plants and flowering shrubs, a 550-foot-long, hand-laid rock wall punctuated by cascading water, and dramatic lightning features. Its more than 60 shops and restaurants, as well as Saks Fifth Avenue and Nordstrom, let you indulge in the extraordinary while you delight in the everyday sunlight.
Eat
address: 851 Gulf Shore Blvd

Naples' only beachfront restaurant, HB's On the Gulf serves fresh regional seafood and creative daily specials for lunch and dinner, indoors or out. Located on the Gulf of Mexico at The Naples Beach Hotel & Golf Club. 239-261-2222
Joe's Diner, located on US40. For a great breakfast.

phone: +1 239 403-7170

address: 699 5th Avenue South

Authentic Irish pub featuring great food, lively music and an one-of-a-kind ambiance in Naples.

Truluck's Seafood, Steak, and Crab House

address: 698 4th Ave. South

Semi-casual restaurant that offers the area's freshest, top-quality Stone Crab claws.
Take a ride out to Marco Island and eat at the Snooks Inn. It is right on the water and the lunch menu is very reasonable.

phone: +1 239-430-4999

address: 5111 Tamiami Trail North

Experience the best beef money can buy, Shula's Cut, at America's Steak House. Shula's Steak House is an upscale steak house honoring the 1972 Miami Dolphins Perfect Season. Open for breakfast, lunch or dinner. Located off the lobby of the Hilton Naples.

phone: +1 239-213-3384

address: 494 Fifth Avenue

Experience serious food and voguish designs are served up in equal measure. From the Chagall-inspired ceiling mural in the cafe to the Italian silk pillows and leather banquettes in the bar, Lurcat is an urban hang out that is modern, cool and loungey for Naples. The food is excellent. In the bar you can order small plates for $7-$15. The cafe menu is a la carte and a little pricier but you will leave happy.

address: 1220 3rd Street

Eclectic with a tropical twist, Tommy Bahama's Restaurant & Bar offers a relaxed, eegant Island ambience with truly inspired cuisine. Tommy's Famous Coconut Shrimp, San Juan Shrimp and Scallops, and mouthwatering Pin Colada cake tempt the palate while our cocktails slake your thirst. Live entertainment nightly

phone: +1 239 591-2299

address: 9114 Strada Place Suite 12110 Naples, Florida 34108

A Fresh Approach... McCormick's chefs works with local reputable seafood purveyors to obtain only the freshest seafood from local waters and beyond. Menus printed twice daily and private dining space available.
Don't Miss Brunch every Sunday from 11:30AM-3PM.
address: 3650 Tamiami Trail N Naples, FL 34103
Drink
phone: +1 239-261-2222

address: 851 Gulf Shore Blvd. N.

Catch a fantastic Naples sunset at one of the best places to do so, the Sunset Beach Bar. Recently awarded the title of Naples' "Best Beach Bar" by Travel Channel, live entertainment is available each evening. The Sunset Beach Bar is located at The Naples Beach Hotel & Golf Club.

Food and Thought

phone: +1 239 213-2222

address: Gateway Plaza

Southwest Florida's ONLY 100% Organic Market and Restaurant! Good service, nice people, great food! Breakfast, lunch and dinner.

phone: +1 239 591-2583

address: 9114 Strada Place Suite 12105 Naples, Florida 34108

Blue Martini features over 25 superior martinis guaranteed to excite the taste buds and elevate spirits. Listen or dance to the best in live entertainment while enjoying a tapas menu - the perfect complement to their fine wine and spirits selections.

The Turtle Club at Vanderbilt Beach / Restaurant and Bar

address: 9225 Gulf Shore Drive

Focusing on fresh seafood and fine steaks and chops served in a spectacular beachfront setting, the restaurant quickly became a favorite "secret spot" for local Neapolitans. No longer did exclusive national hotels or private clubs dominate fine waterfront dining. The secret has been out for some time now, and the restaurant has consistently been voted the area's top restaurant for waterfront dining. With a focus on casually elegant fine dining, hospitable and caring staff, outstanding food and wine, and excellent value, the Turtle Club continues to win rave reviews from both loyal locals and out-of-state newcomers. This is a GREAT PLACE!!
Sleep
address: 221 Ninth Street South

A four diamond luxury hotel featuring studio and three room suites with fully appointed kitchens, business meeting facilities, and onsite Zizi Restaurant.

Doubletree SuitesThis all-suites hotel is set on a peninsula overlooking the Cocohatchee River and Wildlife Preserve just two miles from Florida's Gulf beaches. Just 12 miles from Naples Municipal Airport (APF) and 25 miles from Fort Myers–South West Florida International Airport (RSW), this hotel features 101 suites, an outdoor heated pool, a 24-hour fitness center and an on-site restaurant which serves lunch and dinner.

phone: +1 239-430-4900

address: 5111 Tamiami Trail North, Naples FL 34103

Shula's Steak House is the hotel's signature dining facility.

address: 699 5th Avenue South

This resort-style hotel with 87 rooms is in the heart of the city. Has 7,879 square feet of meeting space, Wi-Fi, two restaurants: McCabe's Irish Pub & Grill and Truluck's Seafood, Steak, and Crab House.

phone: +1 239-597-8777

address: 800 Vanderbilt Beach Rd

Minutes from Southwest Florida International Airport. Ft. Myers, the Inn at Pelican Bay is part of the Florida Green Lodging Program, and is within walking distance to Gulf beaches, golfing, tennis, and boating. Enjoy our complimentary breakfast, business center, fitness center, heated swimming pool, and complimentary wireless Internet access.

phone: +1 239 593-1300

address: 3557 Pine Ridge Road

phone: +1 239-262-1414

address: 250 Ninth Street

Designed with the architectural influence of Old Florida and set against a backdrop of landscaped tropical foliage. Two blocks from Fifth Avenue South and eight blocks from the beach, features a heated swimming pool, courtyard garden, and 34 guest rooms. Complimentary lemonade and continental breakfast daily.

Marco Island Marriott Beach Resort, Golf Club & Spa

address: 400 South Collier Boulevard

Pristine beaches, superb dining, golf, and the spa.

address: 1500 5th Avenue South

Located in Old Naples, along Southwestern Florida's Gulf Coast, adjacent to the 5th Avenue District. Along with the resort Naples Bay has cottage accommodations and a private club. Both facilities also include a Euro-style spa, fitness center/aerobics studio, 6 tennis courts, 97-slip marina, yacht club, and kids club activities.

The Naples Beach Hotel & Golf Club

address: 851 Gulf Shore Blvd. North, Naples, FL 34102

318 rooms and suites, a spa and fitness center, championship golf course, six Har-Tru tennis courts, beach, variety of water sports and complimentary Beach Klub 4 Kids.

address: 600 Neapolitan Way

One and two bedroom suites with relaxing natural surroundings like lush gardens, waterways and serene, botanical walkways. Onsite restaurant and provides online reservations and special packages.

Quality Inn Naples, Gulf Coast Hotel

phone: +1 239 261-6046

address: 2555 9th Street North

phone: +1 239 598-3300

address: 280 Vanderbilt Beach Rd., Naples, FL 34108

Featuring good views of the Gulf of Mexico, three miles of pristine beaches on the Paradise Coast, good restaurants and good service.
Go next