Narita
Narita
() is a city in
Chiba
prefecture,
Japan
, some 70 kilometers to the northeast of
Tokyo
.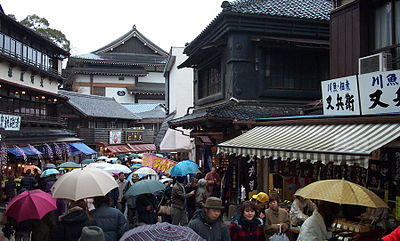 Understand
The vast majority of Narita's visitors come there for one reason only:
Narita Airport
, Tokyo's international gateway. But there are a few attractions in the vicinity if you have a short layover and don't want to waste 2-3 hours of it on the long hike to Tokyo. Firstly, Narita town itself is very charming with lots of quaint winding old streets lined with old wooden shops. The pace of life here is dramatically different to that of nearby Tokyo and is very relaxed. Naritasan is one of the most-visited temples in Japan. Its major annual festivals, with parades and traditional performances, give you a glimpse into a historical Japan. The city is a major congregation point for airline staff too so you can take it that most of the foreigners in town are Air Crew. This means there's a bit more to Narita's nightlife than may seem at first in this sleepy town.
Get in
By plane
The main airport for Narita is, of course,
Narita Airport
. The easiest way into Narita city from the airport is to take the
Keisei Line
service which leaves every 20 minutes. The fare is ¥250 and the ride takes about ten minutes. Local buses are available for use from the train station. Do not take train services from the airport labeled as "Narita Sky Access Line", as they do not go to Narita City. Also note that in order to access the Main Line platforms where trains to Narita depart from, you must go through a second ticket gate.
A direct taxi ride from the airport to Narita city costs approximately ¥3500; it will be cheaper if you go into town by train, and then take a taxi from there.
Local buses also run directly from the airport to some of the city's main attractions.
By train
The easiest way to travel between Tokyo and Narita City is via the private
Keisei Line
. Commuter trains depart from Keisei Ueno and Nippori stations every 20 minutes or so during most of the day, reaching Keisei Narita station in about 60 minutes at a cost of ¥810. Trains designated as
Sky Access
or
Access Route
are meant to more directly serve Narita Airport, and should not be used to go to Narita City.
A reserved-seat train, the
City Liner
, makes one round-trip per day between Ueno and Keisei Narita.
Morning Liner
and
Evening Liner
trains operate in peak direction during the morning and evening, respectively. All of these reserved-seat trains require an extra surcharge of ¥920 and ¥400 respectively.
Morning Liner
and
Evening Liner
tickets can only be purchased on the same day of travel at specific vending machines.
If you are travelling from Tokyo to Narita City via the
JR Line
, the hourly
Airport Narita
commuter train will take you from Tokyo Station to JR Narita station via the
Sobu Line
in 75 minutes at a cost of ¥1110. An alternate route is to take the
Joban Line
rapid service from Ueno via Abiko. Either trip is free with a
Japan Rail Pass
.
Narita is also served by peak-hour
Narita Express
trains that travel between Narita Airport and Tokyo, with four services stopping at Narita in the morning on the way to Tokyo, and four trains stopping in the evening coming from Tokyo. If you wish to travel from Narita to Tokyo in the morning, the Narita Express is a convenient option, not to mention it is also free with a Japan Rail Pass (but you will need to make a seat reservation in advance). Some of these trains stop at
Shinagawa
- a convenient transfer point for the Shinkansen to
Nagoya
,
Kyoto
and points further west - while others run to
Shinjuku
and
Yokohama
.
The peak-only
Ayame
also operates between Tokyo Station and Narita on the JR line, with all non-reserved seating.
Get around
Once you have arrived in the center of town, local buses are available for use. Some destinations, on the other hand (like the temple) are easily reached by walking.
Buses operated by
Narita Kuko Kotsu
are mainly useful for accessing the Aviation Museum and industrial areas around the airport. Fares for this line range from ¥150 to ¥420 depending on distance.
Take your passport with you for re-entry to the airport.
See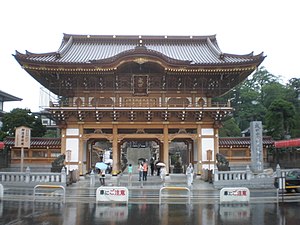 Buy
If you are going into Narita, make sure to get some Japanese yen (¥) as most places will not take foreign currency. The 7-Eleven outside of the west gate of JR Narita station takes foreign cards 24 hours a day (except Mastercard, Maestro and Cirrus), and there is also a post office with ATM a few blocks down the street from the am/pm store. For those with UnionPay or Discover cards, the Mitsubishi-UFJ ATMs located on the second floor of terminal 2 or the departure area of terminal 1 of the airport will probably be more convenient (you MUST push the "English" button to start; the machine will NOT recognize any non-Japanese cards in Japanese language mode). Also allow a bit of time for exchanging back leftover currency on departure as this is not something you can do at an ATM! There IS a Mizuho Bank dedicated cash exchange machine in the airport, however, it only exchanges in "money packs" and rates are unfavorable.
address: 24 Wing-Tsuchiya

A very large shopping mall within spitting distance of Narita Airport. Over 150 stores can be found here, including anchor Jusco Aeon Narita and foreign outlets like Starbucks and Sports Authority. Popular with foreigners due to its proximity to the airport.
Besides the AEON mall, there are souvenir stores on the road leading to the temple, as well as a reasonably interesting "100 yen" store which actually sells items for ¥108 including consumption tax -- along the way.
Eat
Fishing on tarmac
Narita has no coastline, but officially it's still Japan's
eighth-busiest fish port
due to the vast quantities of frozen tuna and other premium sushi fish imported by air.
Many shops on the main street sell
unagi
(うなぎ) broiled eel in a sweet sauce. It can be expensive for a standard plate (
unaju
(うな重), layered on rice, is ¥1500) but it is quite tasty. Look for the guys cleaning and chopping the eels right by the street-side.
Another great option is
takoyaki
(たこ焼き), or fried octopus balls. These are popular on the go treats, going for ¥360 for ten small takoyaki. Order
zenbu
(全部) to get all the toppings. There is a stand right by the Keisei line station main exit (left as you are leaving). Look for the little cartoon octopus pulling a cart of fried balls.
Don't forget to get a hot and sweet
dorayaki
(どら焼き), or sweet red bean pancake from a little shop across the main street.
Papas is one good place to eat in Narita. It's a wee place not far from the main 'Sando' street, which only holds about 16 people. But the food is great (Japanese-style 'izakaya' type food, or 'Sets' at ¥1500 for drink, starter and choice of main meal) and the service from Mama-san and Papa-san is first-rate. He speaks great English too!
Cafe Le Bon, (or The Spiral Staircase) (Cafe Le Bon has moved as of July 2015 - it is now on the opposite side of the Keisei Narita station). Now opens at 5:00 pm with drinks starting at 4:30 pm. It consists of one small upper room with a semi circle of hot plates, on which your food is cooked in front of you and two small tables. The menu consists of one item: an all-you-can-eat meal including a huge drink, Japanese salad, gyoza, oriental chicken, wedges and ice cream, starting around ¥1680 depending on what you're drinking. Stuffy and hot, but extremely welcoming, friendly, quick, and the food is delicious.
Grill House Hero's, 845-8 Hanasaki-Cho (walk down the little street to the right of JR Narita station), +81 476 22-9002. Open daily 5PM-0AM. One of the best places to eat Okonomi-yaki style food. Menu is available in English. Food prices range from ¥580 (cheese omelette) to ¥1900 (Steak), Drinks are ¥320 (softdrinks) and ¥550 (Beer).
Lion's Den Across the street from the Barge. Old airline crew hang out. Local mom and pop restaurant with cheap dining selections.

Hitsujiya Narita

address: In Ometo-sando

Food is just great. Possibly a strong Korean influence. Only has 4-5 tables. Service is good, family run. Menu is only in Japanese, but owners have fair grasp of English. Locals also eat here.

Shin ShinNice, quiet restaurant with good Japanese food. Kaiseki and other sets and a short selection of good sake and shochu. Menu is only in Japanese, but just select any set based on your budget.

Ramen Bayashi

address: 533-9 Komeyabiru

A good Ramen restaurant with menu in Japanese and English (and pictures). ¥1000 gets you ramen with beef or chicken, ¥500 a medium draft beer. The gyoza are particularly good. Popular with airline crew, look for the many stickers above the door and the books of crew comments by the door. Friendly staff, nice atmosphere.
Drink
Barge-InnOmote-sandō (the road leading to the temple), Great pub serving western-style food, plus local & international beers. Every Saturday there's live music and/or dancing.

The JetLag ClubAbout 50yds round the corner from the Barge, there's another watering hole run by a Belgian guy named Vince. The beer's great, and the atmosphere is really friendly. Free popcorn is provided, as well as a delivery service from 'Papas'.

The Cage Out of the JR train station, straight through the plaza, right at the AM/PM, down about 100 yards, across the street, 2nd floor. Karaoke bar.
Sleep
Narita has a large number of hotels in the vicinity and they are often cheaper than hotels in central Tokyo thus it may be worthwhile staying out at the airport on your first/last night. If you want to get a cheap rate, however, do book in advance as rates and availability for walk up customers are highly variable.
Budget
phone: +81 476 240700

address: 668-2, Kamicho

A small, well equipped ryokan with two dorm rooms, shared toilets and kitchen. All brand new and well taken care of. Situated in a small street right behind the Omotesando main street. Run by a very nice couple with sufficient English skills. Please bring cash in Yen to pay on arrival.
Mid-range
Go next
If you have more than 8 hours to spare, you should seriously consider making the effort to visit
Tokyo
itself, although with limited time it really is best if you plan where you will go in advance of arriving at the airport.