Narragansett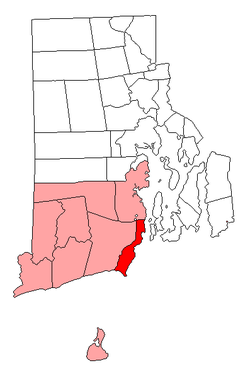 Narragansett
is in
South County
,
Rhode Island
. It includes the beach villages of Galilee, Scarborough, Point Judith, and Bonnet Shores. Families and students enjoy Narragansett especially in the summer because beaches are so close. The area has a high concentration of college students from the University of Rhode Island within its neighborhoods, restaurants, and bars.
Understand
History
Narragansett history in a nutshell - the bay and town took the name of the Indian nation that lived in Rhode Island, the name means "people of a small, narrow place." Point Judith and Galilee were inhabited primarily by farmers and people in the fishing industry. Today Narragansett is home to shops, beaches, restaurants and marinas. The town is scarcely 20 miles long and less than 2 miles wide.

Climate

Weather is definitely a big attraction of Narragansett. The conditions here are truly diverse the whole year long, with a true four-season experience The beauty and warmth of spring followed by the scorching heat of summer, the cool temperatures and scenic colors of autumn, as well as the frosty snow storms of winter.
While Narragansett in the summertime is great for shorts, tank tops or t-shirts, and bathing suits, you are going to want to pack warmer clothing for the winter weather - pants, sweaters, sweatshirts, and jackets are all necessities, and since the area is so close to the water the wind can be bitter, so gloves, hats, and scarves are recommended for those chilly days.
Be aware that a lot of establishments close down or have limited hours in the winter.

Get in
By plane
TF Green International Airport

phone: +1 401-737-4000 ext 283

Easy to get to from all points, both north and south. Airport parking from $11 and rental cars are available on site.

Westerly Airport

phone: +1 401-596-2357

address: 56 Airport Rd

Small, regional airport.
By car
From New York/Connecticut:
I-95 to Exit 92 in Connecticut. At the light, make a right onto RT 2. You will be on RT 2 for 1.5 miles when you will see a sign for 78 west on the right. Take 78 west for approx. 4 miles. Look for signs for US RT 1 north, make left at intersection. You will be on Rt 1 for 20 miles, make right off Narragansett exit. Follow signs to RT 108.
From Boston and all points North:
I-95 to Exit 9 in RI. Exit in left lane off highway onto RT 4. Follow RT 4 to RT 1 South for 8 miles to the Narragansett exit. Turn left at light and go under overpass. At this rotary bear left and follow signs for Narragansett.
By train
address: Railroad Ave, West Kingston

Service Amtrak Regional Trains to -Boston -New York -Washington -Newport News –Richmond. Kingston Station is open daily 6AM to 10:45PM.
By boat
Coming in at Point Judith in Galilee is the only main way to enter into Narragansett. One will enter by Great Island and will be able to continue down until Wakefield, RI.
Marinas
Longwoods Marina

phone: +1 401 789-9451

CH. 65

Long Cove Marina

phone: +1 401 783-4902

Point Judith Marina

phone: +1 401 789-7189

CH. 9. Offers better for docking and facilities other than fuel.

Ram Point Marina

phone: +1 401 783-4535

CH. 9

Snug Harbor Marina

phone: +1 401 783-7766

CH. 7, 66. Offers better for docking and facilities other than fuel.

Stone Cove Marina

phone: +1 401 783-8900

CH. 71
Boating access
Galilee, Corner of Galilee Rd and Great Island Rd. Southeast side of Great Island Bridge. Linked concrete planks
Monahan's Dock, East side of Ocean Rd. at South Pier Rd. Concrete steep drop, good for putting in jet skis and kayaks.
Get around
The easiest way to access the charm of Narragansett is by foot or bike. To get the complete seasonal experience that Narragansett has to offer, you are invited to explore the picturesque beauty by walking along our wonderful beaches, or riding along our scenic waterfront roads. To help get around one might consider renting a moped/scooter or car to be able to get around from the Narragansett Pier area to Scarborough and Point Judith. You are also very welcome to visit our interesting historic sites. Whether you prefer historic lighthouses, beautiful marinas, or our striking works of art, the choice is up to you. If staying for a long visit in Narragansett, you may want to consider a beach pass for access to alternate parking because the beautiful beaches attract many people which leaves parking hard to find and expensive. Having a beach pass would guarantee parking in reserved parking lots.
Southern Rhode Island TrolleyThe Trolley runs from 8AM leaving from the Holiday Inn on Rt 1 and traveling south to the South County Commons/Hampton Inn and through Wakefield starting with the Wakefield Mall down through lower Main Street. It then loops through Narragansett stopping at Mariner Square, Durkin Cottage Park and Galilee and heading North on Ocean Road to the Sea Wall and the Pier Marketplace, (check out Nana's Ice Cream) then back up through Northern Narragansett to the Holiday Inn.

Enterprise Rent-A-Car

phone: +1 401 792-0185

address: 1036 Main St

Eagle Cab
See
Bass Rock

address: 52 Bass Rock Rd.

This is a large group of rocks over-looking the Narragansett Bay. This spot is used for fishing and hikes. It has one rock that is flat at a 67 degree which is perfect to wall runs. Also is a nice romantic spot during the sunset because it right on the water.

Black Point

address: Ocean Rd.

A scenic spot popular with fishermen, hikers, and bird watchers located just down the road from Scarborough State Beach, Black Point is the perfect place to go for a walk on the nice day. The area consists of a wooded dirt path that extends toward the Bay. Open from dawn to dusk and free year round, it offers a great view of the coastline, and the tide pools in the area also help to make the location interesting. Visitors should be careful since the rocks can become very slippery, however, and swimming is not recommended as the water is quite deep and very rough. On-site parking is available

Indian HeadOne of the most famous landmarks in Narragansett is a HUGE wooden sculpture of a Narragansett Indian head. This sculpture is located right next to the playground and is lit up at night.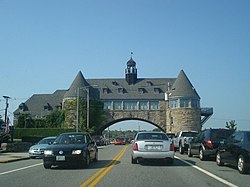 phone: +1 401 782-2597

address: 35 Ocean Rd

Spanning Ocean Road and overlooking the town beach, the Narragansett Towers are all that remain of the Narragansett Pier Casino. The casino was constructed between 1883 and 1886, and was Narragansett's biggest attraction at the turn of the century. However, after two fires and a few hurricanes, the Towers are all that remain. Today they host a wide variety of events, and are an extremely popular venue for weddings.

Narrow RiverWhile taking a stroll down Narragansett Beach, past the Dunes Club, you'll see the Narrow River, which runs all along through Narragansett and feeds into the bay. This is a great little area to have a picnic, just take a walk, take a little swim, kayak, or even canoe!

Newton RocksTake Ocean Rd. to Newton Avenue. This giant rock cliff, located right down the road from Narragansett beach, is a great place to hang out and have a picnic. This picturesque spot looks over the bay and coastline of Narragansett and you can even see a great view of Block Island.

Point Judith Lighthouse

address: 1470 Ocean Rd

Located on Point Judith, follow RT 108 South to Coast Guard Station. This picturesque lighthouse marks the west side of the entrance to Narragansett Bay and is a popular destination among locals and visitors. First lit in 1857, the lighthouse remains an active aid to navigation. The lighthouse and surrounding buildings are closed to the public, but the grounds are open during daylight hours and feature a number of benches and lawns to enjoy the scenery from.

Port of GalileeThe Port of Galilee is a beautiful and authentic New England fishing village within Narragansett that is home to the Block Island Ferry. With ferries leaving daily, Galilee offers options for day trips to Block Island during a vacation. Galilee obtained it's biblical title in 1902 from a Nova Scotia native fishermen Thomas Mann in spite of its prospering fishing economy. Ever since, Galilee has been a thriving fishing port that transports 16+ million pounds of fish/shellfish each year up and down the East Coast. It wasn't until the 1930s that the State of Rhode Island dredged the basin and built wharves providing a harbor and refuge for now what is the Port of Galilee and Point Judith Harbor of Refuge.

phone: +1 401-783-5400

address: 115 Strathmore St

Established in 1933, the South County Museum is devoted to the history and culture of southern Rhode Island. Visitors can experience a living history farm and six buildings devoted to blacksmithing, carpentry, printing and textiles.
Do
Beaches
When traveling to Southern Rhode Island on a summer day there are several beaches you can spend the day at depending on what kind of experience you are looking for. Seasonal passes are available during the summer months for in-state and out of state patrons. The passes are valid from Memorial Day weekend (May) to Labor Day weekend (September). The passes give you access into ALL state beaches including those found below:
address: 77 Boston Neck Rd

A family oriented beach that allows you to either buy a parking and beach pass, or pay daily fee of $7/a day to walk on to the beach $15/day for parking. Dog friendly beach. Most likely the best beach in Narragansett but can become extremely crowded.

Scarborough State Beach

address: 870 Ocean Rd

One of the more popular beaches in Narragansett. With an enormous boardwalk to navigate, pavilion, large bathhouse, concessions and camper area Scarborough has it all. An observation tower allows you to view the entire beach from overhead. Again another RI beach popular amongst young adults.The beach is divided into North and South. Grilling and ball playing is permitted on the grassy area in the front of the beach parking lot. Hiking trails at the end of the beach along the ocean banks provide a quick escape for those wanting to get off the hot sand. This beach can get crowded and noisy, a beach meant for "fun", if you are looking for a calm and peaceful day at the beach this is not the beach for you. Waves can be pretty rough, parents: keep a close eye on your children. Also offers season passes as well as daily parking passes, however if you can find a parking spot nearby, it is free to walk on to the beach. Big waves when there is a storm. Has plenty of fields for outdoor activities such as soccer or football if it is a nice day.

Roger Wheeler State Beach

address: 100 Sand Hill Cove Rd

Similar to Scarborough, being a state beach it is free to walk on, but you have to pay for parking (weather seasonal or daily). Protected by the Point Judith Breakwater, this beach has calm waters and is excellent for that afternoon swim. The park is popular with families with small children because the break wall offers minimal waves. There is a large and accommodating bathhouse and a concession stand for snacks. Picnic tables make it a perfect spot for lunch with friends. But beware of the seagulls! They are comfortable around people but they will take your food, do NOT feed them! It is the only state beach equipped with a playground for children to enjoy. Has a view of boat going in and out of Galilee. Within walking distance to many restaurants and shops.

address: 254 Great Island Rd

This great beach is adjacent to the breachway in Galilee and features a sandy, clean, pretty beach with gentle surf, breakwater shelter, no undertow, and a gradual drop. Near the fishing port. Restrooms are available. It is a short walk through the sand from Roger Wheeler State Beach. The calm water and clean sand makes it a great environment for families and your kids. This beach is a popular spot of the local elderly crowd. It is also a wonderful spot to watch the ships come and go as they pass through the Breachway. Parking is limited so get there early.
If you are looking to potentially join a beach club there are two beautiful ones in town. Both offer certain amenities such as pool, restaurants, and private events for members only.
address: 175 Bonnet Point Rd

address: 137 Boston Neck Rd
Outdoor Recreation
Various basketball courts are located around Narragansett. Any day of the week in the summer time you can find a pick up game of basketball going on. Feel free to join in a game or shoot hoops on your own! A very popular court is located on Boon Street, close to the Narragansett sea wall.
phone: +1 401 782-4444

address: 922 Boston Neck Rd

This store has been in business for years with its friendly and dedicated employees. If your looking for an afternoon for a nice bike ride, Narragansett Bikes has it all, rentals and equipment available.

Narrow River Kayaks

phone: +1 401 789-0334

address: 94 Middle bridge Rd

They have the necessities to enjoy a day of kayaking or canoeing down the Narrow River. Offers tours, lessons, and rentals.
Fishing
Fishing areas
BreachwayLocated at the center of Galilee this fishing area is the best spot to watch boats in port pass in and out of the port. You can enjoy a hot coffee during a cold morning or choose to have a luncheon in or outside.

Point Judith Lighthouse

Camp CroninFollow the dirt road off Pt Judith Light brings you to wall of Harbor of Refuge. Calm fishing spot to relax and take-in the beautiful rock scenery. Bring a camera!

Bluff Hill Cove MarshOff of the Escape Road next to Fisherman's Memorial State Park. Fishing are is a tidal inlet that is part of Point Judith Pond. During low tide site is popular for clamming. Across the road the recently restored Galilee Bird Sanctuary is an interesting pit stop.
Fishing charters
Full and Half day whale watching and fishing tours available to those interested. Coastal Rhode Island is encompassed in beautiful scenery as well as a view of Newport.
phone: +1 401-359-1785

Light tackle charter fishing for stripers, flounder, totaug sailing from Jim's Dock in Jerusalem. U.S. Coast Guard Licensed and Insured.

C-Devil II

phone: +1 401-364-9774

Great Sportfishing out of Galilee with two boats to choose from. Galilee Grocery will even cater your fishing daytrip, breakfast or lunch.

phone: +1 401 783-4988

address: 33 State St

Patty-J

phone: +1 401 451-5654

Great chance to fish waters you may have not been out on yet around Block Island and Southern, RI. Crew is experienced and part of the Rhode Island Party and Charter Boat Association drug testing consortium.

phone: +1 508-450-1112

address: 4 State St

Rhode Island sport and deep sea fishing aboard a custom 35 foot boat. Charters of 4,6,8 and open boat are available all year round.

Rhode Island Charter Sportfishing Inc.

phone: +1 401 783-8487

address: 7 Jean St

Seven B's

phone: +1 401 789-9250

address: 11 Riptide Rd

80 Ft. Custom Lydia fishing yacht that can accommodate parties up to 120 people. Member of RICPB Association Coast Guard Inspected. Summer Location May thru October at Port of Galilee. Various trips offered.
Other Activities
A and J Jet Ski Rental LLC

phone: +1 401 284-1990

address: 145 Boon St

Fisherman's Memorial State Park

phone: +1 401 789-8374

address: 1011 Point Judith Rd

Fishermen's Memorial State Park offers a "seaside village" environment, as well as a campground and other facilities. Note that the campground is an awesome camping ground great for a quick stop through the area, NOT to spend your vacation at. The park is cool because you are literally walking through a WWII Army Base. There are nice horseshoe pits, tennis courts, basketball courts and other recreational opportunities to keep you occupied as well as "lookout" hills used in the War that are now used for sightseeing and hiking. The park includes sites for 147 trailers and 35 tents; reservations are required.

The Blessing of the FleetEvery summer in Narragansett there is a 10-mile road race all around Narragansett. There are activities and tons of local vendors at the finish line. The festivities are located on the green right next to The Towers.

phone: +1 401 783-2954

address: State Pier #3, Port of Galilee

The Southland Riverboat gives ferry tours all around the coast of Narragansett featuring the Point Judith Lighthouse, the Harbor of Refuge, South County beaches, the Galilee fishing fleet, Snug Harbor, and the eleven islands of Point Judith Pond.

Narragansett Ocean Club Roller Skating Rink

address: 360 S Pier Rd

Offers public roller skating, skating lessons and birthday party planning. Perfect for a rainy summer day in South County.

Adventure Land

phone: +1 401 789-0030

Spend an entire afternoon testing your skills in their batting cages, racing your friends and family on their state-of-the-art go-karts, soaking and squirting your "enemies" on their bumper boats, or relax on their 18 hole nautical themed mini-golf course. There is also a carousel room where you can play arcade games, ride on the carousel, or enjoy treats such as ice cream, popcorn and cotton candy. The go-kart clubhouse now sells Del's Frozen Lemonade for those who are looking for something light, sweet and refreshing. Prices: Go-Karts:1 Ride- $6.00, 6 rides- $30.00. Mini-Golf: $7.00 (kids under 6- $6.00). Bumper Boats: $5.00. Batting Cages: $2.00/15 Pitches, $5.00/60 Pitches. One carousel ride: $2.00, 10 carousel rides: $18.00. For a taste of everything Adventure Land has to offer, try buying a bracelet. For $19.00 the bracelet allows one go-kart ride, one bumper boat ride, one mini golf game, and 15 pitches in the batting cages.

Pier Cinemas

phone: +1 401-782-2077

address: 3 Beach St

Be aware that there are very limited show times and the cinema runs on winter hours so call ahead.

The Towers Dancing

phone: +1 401 782-2597

address: 35 Ocean Rd

All summer long there are dances and dance classes held right in the Towers.

address: 14 Woodruff Avenue, Suite 10

phone: +1 789 3730

address: 130 Pearls Way

For those who seek another form of fun, Peace Dale Shooting Preserve is the place. They offer a wide variety of shooting ranges including sporting clays ($20 1st rd., $18 2nd rd.), Mini-Shoots, Clock Shot ($20 1st rd., $18 2nd rd.), and 5-Stand ($7 each rd.). Lessons are available for those beginning or people who just want to get better. Learn from some of the best in the area.

Narragansett Theater

phone: +1 401 782-2077

address: 3 Beach St

Catch a movie if the weather is rainy or just not so hot.

The Pool

phone: +1 401 782-0658

address: 170 Clark Rd

This is a camp pool also open to the public on a daily basis, with the exception of Sundays. Summer memberships are $20.00, and swim lessons are $25.00 per session.

Children's Fishing DerbyUsually takes place every May at Sprague Pond. Children between the ages of 6 and 12 can participate for just $5.00 per participant.
Golf
Point Judith Country Club

phone: +1 401 792-9770

address: 150 Windermere Rd

Point Judith was founded in 1894 and was recognized by the USGA as one of the "First 100 Clubs in America". It is a private, 18-hole golf course with beautiful, tree-lined fairways and an extensive amount of water hazards on the front nine. With paths made of sea shells, the course has a very island-like feel. Complete with multiple tennis courts, and expansive practice facilities, Point Judith is a great club to golf at while spending a relaxing afternoon with friends.
Buy
Clam Shell Gift Shop

phone: +1 401 782-8710

The Clam Shell is a great shop for all of those beachy souvenir items. Whether it's a collection of beautiful Rhode Island shells, magnets, calendars, glass art, or house decorations, the Clam Shell is a good one-stop shop for anything you might want to take home with you.

phone: +1 401-789-9040

address: 26 Kingstown Rd.

Warm Winds surf shop opened its doors in 1973 and is now one of the largest and oldest surf shops on the East Coast. Warm Winds provides products and expertise for all of your surfing, skating, and snowboarding needs. The shop hosts a variety of events year around from movie premiers to surf and snowboarding contests. Group and private surf lessons paddle out daily and run well through the summer. Call in, or visit the website provided for more information.

phone: +1 401 782-4945

address: 30 Pier Market Pl

# A. Located in the Pier Marketplace in Narragansett. This shop features tees, sandals, sweat shirts, jewelry, screen printing and custom embroidery.

The Shell Boutique

phone: +1 401 788-8046

address: 32 Pier Market Pl

A small shop with loads of beautiful shells and jewelry and souvenirs of Narragansett.

My Little Town Collectables

phone: +1 401-783-9303

Creates porcelain lighted, hand painted replicas of famous New England buildings. Various light houses as well as the famous Narragansett Coast Guard house can be found here.

phone: +1 401 789-7890

address: 74 Narragansett Rd

Surf shop offering everything from surf apparel and footwear, to surf lessons. Lessons instructed by some of New England's best surfers, including Hall of Famer Ted Pan. Hours vary from season to season, call the store or visit the website to get specific info on hours. Price for surf lessons: $60 for single, $50 for double, $45 for three, call for more info on group pricing.

Cigar Box Ltd.

phone: +1 401 792-9307

address: 855 Point Judith Rd

For those who are looking for that fine cigar, Cigar Box Ltd. is the place for you. They offer a wide selection of some of the best cigars. The staff is friendly and knowledgeable, always willing to answer any questions you have or share their favorite cigars.

phone: +1 401-822-2660

address: 1475 Main St

Very small grocery with a nice deli.

Tees by the SeaTees by the Sea is a tee shirt and sweatshirt shop where you can either purchase pre-designed items or create your own custom design to be printed! Located right on Great Island Road, Tees is easy to get to and a fun place to stop while you're in Galilee.
Eat
Budget
Brickley's Ice Cream & Cakes

phone: +1 401 789-1784

address: 921 Boston Neck Rd

Tantalizing ice cream specialties are the focus at this eatery

Calvitto's Pizza & Bakery

address: 91 Point Judith Rd

Calvitto's is a favorite for locals and tourists alike. Calvittos offers everything from "bakery pizza", to regular thick crust pizza, to traditional Italian desserts such as cannolis, to pre-made Italian classics such as fettuccini alfredo.

Coffee ConnectionA family owned and operated business, Coffee Connection is loved by the locals and known as the cheapest, most delicious coffee in 'Gansett, with equally cheap and delicious breakfast sandwiches. For non-coffee drinkers, Coffee Connection also has teas, hot chocolate, and various other drinks, as well as many food options.

Fat Jacks Pizza Shack

phone: +1 401 783-9200

address: 12 Sand Hill Cove Rd

A small local Carry Out & Take Out. If you want something quick this is the place. Calzones are one of the best items on the menu. Also if you want to satisfy that late night craving they are open till 2AM

phone: +1 401 782-4442

address: 120 Knowlesway Ext

Serves Italian cuisine, including pizza, calzones, snack crusts, and full dinners. Also has salads and appetizers. Has a casual and family atmosphere. Offers take out and delivery.

Moo-Moo's Ice Cream

address: 106 Point Judith Rd

Right across from Salt Pond Plaza, with several flavors of soft as well as hard ice cream. With a lighting seating area for night time, this is a great place to beat the heat.

Nana's Ice Cream & Gelato Café

phone: +1 401 782-2705

address: 28A Pier Market Pl

Established in 1985. Walk across the street from the Narragansett Town Beach for ice cream. They carry 30 flavors of ice cream and frozen yogurt. The also have 16 different flavors of Italian gelato. A great spot for a mid-day snack or and after dinner treat. Nana's is slightly pricey and is known for its out-the-door lines in the summer months. The ice cream shop is not fully operational during the winter months, but does have some winter hours.

Pier Pizza

phone: +1 401-792-9393

address: 13 Pier Marketplace

Located directly across from Narragansett Beach, this location has become a favorite of many vacationers. Surfers, beach goers and families can be found in and around the Narragansett store in the summer. Their pizza is made by hand with the freshest ingredients. Their thin crispy crust and large slices are attention grabbers. They also have grinders and calzones.

The Sweet Spot

phone: +1 401 782-1646

address: 256 Great Island Rd

Delicious homemade ice cream and desserts. The mud pie ice cream is fantastic.

Sweet Twist

phone: +1 401-782-1006

address: 12A Pier Market Pl

Perfect shop that will satisfy your sweet spot.

Ye Olde Lighthouse Diner

phone: +1 401-284-3883

address: 120 Knowles Way

Ye Old Lighthouse Diner is a B.Y.O.B restaurant. With low priced and good food, a great staff, and a friendly atmosphere it is a good place for breakfast or lunch.
Mid-range
phone: +1 401 789-3230

address: 140 Point Judith Rd

Contemporary Italian appetizers, entrees, pasta dishes, sandwiches, wood-grilled pizzas and more. They also have a cigar friendly lounge.

Bamboo Garden

phone: +1 401 788-8085

address: 944 Boston Neck Rd

This small Chinese food restaurant is very simple but has very tasty food. Perfect spot for a simple night out or a night in with their speedy take-out.

Cap'n Jacks

address: 706 Succotash Rd

This casual dining seafood restaurant is located just before East Matunuck Beach. Cap'n Jacks is a kid friendly restaurant that still offersyou the elegance of waterfront dining. Delicious seafood and reasonable prices. Also, Cap'n Jacks is known for their desserts and has a bakery in the restaurant with unique sweets.

phone: +1 401-783-3152

address: 256 Great Island Rd

Known for their great lobster and clambake. Seafood cuisine. Has a casual, family atmosphere. Offers take-out, and outdoor dining on either the patio or deck, and has a view of the ocean. They offer fresh seafood all year round. Their winter hours, however, are limited, closing as early as 4PM. This is an extremely popular choice when it comes to seafood, with a line that can last up to an hour. Most tables are open to the outside, so they get cold in winter.

Cheeky Monkey

phone: +1 401-788-3111

address: 21 Pier Marketplace

Asian, European and contemporary American cuisine served in a dining room featuring fashionable, monkey-inspired interior decoration. They can accommodate up to 60 people for holiday or company parties.

phone: +1 401 783-1810

address: 144 Boone St

Crazy Burger is a local gem with a great indoor atmosphere, and outdoor during the summer, and an extensive burger menu (vegetarian, vegan, and gluten free options). Crazy Burger is also known for its home-made ketchup (mixed with applesauce) and smoothies with a wide range of possible flavors. Breakfast is served until 4PM. It is also BYOB, bring your own booze, they do check IDs.

The Drunken Clam

address: 1200 Ocean Rd

A bar and restaurant where you can fill up on tasty Italian cuisine and refreshing beverages. They feature daily specials everyday of the week so you can enjoy great food and drinks for less.

IGGY'S Doughboys & Chowder House

phone: +1 401 783-5608

address: 1157 Point Judith Rd

One of the most popular places to get seafood in Narragansett, Iggy's is a local favorite, and the line for ordering can stretch around the corner during summer. Along with seafood favorites such as fish and chips, chowder, clam cakes, and stuffies (stuffed quahogs), Iggy's also serves classic American food such as hamburgers and hotdogs, and the doughboys are a delicious dessert. Iggy's has an ordering window where you can place your order, but there is limited indoor seating, as it is a primarily beach restaurant, but customers can choose to take their food to go, eat inside, or eat outside on the provided picnic tables. Prices for the seafood vary according to the market. If you are interested in trying some New England Clam Chowder, Iggy's is a good option.

Island Deli

phone: +1 401 284-0636

address: 855 Pt. Judith Rd

"Fill Y'er Belly" with delicious super sandwiches, soups, fresh salads, premium meats and cheese, and breakfast sandwiches. Perfect if you are looking to pack a lunch and have a picnic on the beach!

Matunuck Oyster Bar

address: 629 Succotash Rd

With the Oyster Bar's small exterior, you may drive right by the place. With a raving reputation for delicious locally raised shellfish and a breathtaking view this waterside shack may be South County's best kept secret.

phone: +1 401 782-2524

address: 190 Ocean Rd

Located right down the road from the Narragansett Town Beach and the Towers, and with beautiful views of the water, Monaghan's offers seafood that rivals local favorite Iggy's, with delicious stuffies (stuffed quahogs) and clam cakes, as well as American classics such as hamburgers and hotdogs. Food is available for takeout, or you can eat outside on one of the provided picnic tables. Open daily during the summer, usually until around 4PM, but check the website for seasonal hours. $4-$23

New Dragon

phone: +1 401 783-1110

address: 80 Pt. Judith Rd

Casual dining, serves great Chinese dishes.

Picnic Basket

phone: +1 401 782-2284

address: 20 Kingstown Rd

The Picnic Basket is a popular local spot with a large sandwich menu, not to be compared to Subway or Quiznos. It is small and not typically a sit-down restaurant, though there are tables and chairs inside. Huge variety of original sandwich creations. Always a long line which demonstrates their popularity and value. Call ahead from the beach and pick up your sandwiches for a quicker visit.

phone: +1 401 789-3200

address: 135 Boon St

Narragansett, Offers Mediterranean Cuisine served in a Pub atmosphere. Take out orders available.

phone: +1 401 792-3200

address: 91 Point Judith Rd

A casual restaurant, serving traditional American food. Family friendly atmosphere and has both indoor and outdoor seating.

phone: +1 401 792-4333

address: 15 Kingstown Rd

The menu reflects authentic New England seafood offerings with South County influences and ingredients, as well as steaks and chops and house-made pastas inspired by the Mediterranean. Inside dining is traditional and open-air dining can be enjoyed on their patio against the backdrop of Narragansett Bay, just steps from the beach. Can accommodate groups with up to 40 guests. Parking may be difficult during the day if the beach is open.

West Bay Gourmet

phone: +1 401 789-9229

address: 889 Boston Neck Rd

Serving fresh, creative & artfully prepared food in South County. They have expanded from a small café and gourmet shop serving breakfast and lunch to a full-scale event planner and caterer serving the entire state of Rhode Island
Splurge
Aunt Carrie's Seafood Restaurant

phone: +1 401 783-7930

address: 1240 Ocean Rd

One of the oldest seafood restaurants in Narragansett. They are very well known for their clam cakes and chowder. They offer three different types of chowder, all made fresh. Aunt Carrie's is very affordable and provides a great atmosphere. You can place your order to stay or to go: there is an indoor dining area as well as screened in picnic tables. If you choose to go, walk down the path to the beach and enjoy the ocean view.

Basil's Restaurant

phone: +1 401 789-3743

address: 22 Kingstown Rd

European and French cuisine. Offers a casual, fine dining atmosphere, and can be formal and romantic. Offers a full service bar and accepts AmEX, MasterCard, and Visa.

phone: +1 401 782-0700

address: 40 Ocean Rd

This restaurant is located on the Seawall of Narragansett Beach and serves steak and seafood. Indoor and outdoor bars as well as a deck overlooking the Atlantic Ocean in addition to its seafood-based menu makes for a true fine dining experience. This restaurant features live music as well as lunch, brunch and dinner menus. It is a popular hangout frequented by college students during the school year. During summer/early fall they have dancing on an outside 2nd floor deck. Provides great view of the ocean. Not child friendly.

phone: +1 401 783-2306

address: 250 Sand Hill Cove Rd

"Award Winning Seafood since 1948!" A family seafood restaurant that doubles as a bar at night located right on the beach. Wide selection of fresh local seafood, a sushi menu, lobster specials, as well as slow roasted prime rib. Sometimes offers live entertainment. Sit upstairs, downstairs, or outside to enjoy the ocean views. While the food is fresh, the service can be unpredictable when the restaurant is full.

phone: +1 401 284-3282

address: 140 Point Judith Rd

Portions are good and the price is right. Casually upscale restaurant featuring steaks and fresh seafood.

phone: +1 401 783-9770

address: 1144 Ocean Rd

This upscale restaurant features Spanish Mediterranean, Portuguese and American food. Romantic atmosphere including soft music and candles, right on the ocean in Point Judith Region. The menu offers varieties of chicken, beef, seafood, and vegetarian options, as well as a large selection of wines.

phone: +1 401 792-8683

address: 113 Ocean Rd

Turtle Soup is literally right across the street from Narragansett Beach's Seawall offering a beautiful view indoors or outdoor seating on the front lawn. This restaurant offers a wide variety of food including seafood, pasta, burgers, salads and soups. Not child-friendly.

phone: +1 401 284-0246

address: 294 Great Island Rd

The Wheel House Tavern offers live entertainment and great dining. The restaurant is located directly on the water near the Block Island Ferry, which provides an excellent atmosphere. The menu offers many fresh seafood selections along with a large choice of American dishes.
Drink
There are many places to grab a pint of beer, a relaxing cup of tea, or a stimulating cup of coffee. Mainly there are more bars than coffee houses in this area. These bars offer "happy hour" specials in which drinks can be two for one or dramatically cheaper than they normally are. Happy hour usually runs at the end of a typical workday being 4-6, or 5-7. During winter these bars may be crowded on late nights by college students in the area.
Bars
Bon Vue Inn

phone: +1 401 789-0696

address: 1230 Ocean Rd

Bon Vue is a great place to hear live music and cheap drinks. Bon Vue has three floors all over looking the ocean, and open to porches in the summer months. Also popular hangout for college students looking to have a fun night filled with dancing and drinking during the school year. This three story bar serves food only Fridays-Sundays. You can enjoy the classic bar and grilled style foods.

Charlie O's Tavern on the Point

phone: +1 401 782-2002

address: 2 Sand Hill Cove Rd

Offers a wide variety of choices on the menu, featuring seafood and American styled dishes. Perfect if you want to grab a bite to eat and watch the game or play some pool. Has drink specials daily. Entrees-$10-$20. If you are looking for a great place to meet people or go with your friends, Charlie-O's is the place. Thursday nights are free pool nights. Sunday is $5 pitchers of Sangria. Who can forget about Happy Hr. going on during the week from 4-6PM TVs line the walls so you don't miss a beat of your favorite team in action. The great staff is always at your service.

Pancho O'Malley's

phone: +1 401 782-2299

address: 140 Point Judith Rd

"Irish Pub with Mexican Grub". They provide a large and interesting variety of food and drinks. Serving everynight until 1AM!

Perry's Bar & Grill

phone: +1 401 284-1546

address: 140 Point Judith Rd Ste 2 - 7

Do you like that genuine blues sound? Are you a performer of the blues, or simply one who really enjoys listening to it? If so, head over to Perry's on Wednesday nights, bring a few friends who can play a guitar and your other standard instruments, and talk to someone working that night; you'll be on the que for the stage in no time. Or, simply come and mingle with those bar-hoppers who, like you, enjoy this classic genre of music.

Port O Call

phone: +1 401 783-2900

address: 2 State St

On Fridays has $5 pitchers, $2 mixed drinks, $2 Bud and Bud light bottles.

Simon's

address: 2 Sand Hill Cove Rd

Located above Charlie O's, new bar featuring speciality martinis. Simon's is a relaxed atmosphere where you can play darts or shuffle board, or comfortably sit around on couches while drinking and talking to friends.

phone: +1 401 789-8153

address: 865 Boston Neck Rd

Family oriented tavern restaurant. The wait is never longer than half an hour.
Coffee
Coffee N' Bagel Connection

phone: +1 401 782-9920

address: 1175 Boston Neck Rd

Local coffee shop in Bonnet Shores that serves Allie's Donuts and freshly bakes their bagels and pastries every morning. They also have a wide variety of flavored coffees. They are the perfect little spot to stop and grab breakfast on the way to the beach of take a quick trip though their drive threw. Excellent customer service and reasonable prices.

Cool Beans Cafe

phone: +1 401 789-9500

address: 18 Kingstown Rd.

This cafe is located directly in Narragansett Pier next to Picnic Basket and across from Trio Restaurant. They are known for there abundant coffee selection, iced/hot espresso drinks, paninis and other affordable deli style sandwiches. This modernized indoor/ outdoor cafe is equipped with Wi-Fi and plenty of seating. If you sit down and enjoy your coffee their, they offer free refills. Open 7 days a week, Cool Beans Cafe is always an option.

Podhead Café

phone: +1 401 789-7993

address: 18 Kingstown Rd

Upside: Hot and iced coffee, espresso, and Italian gelato. Very quaint and relaxing spot to get a cup-o-joe. Downside: A little pricy.
Sleep
Inns/B&Bs/Motels
Blueberry Cove Inn

phone: +1 401 792-9865

La Cappella Bed and Breakfast

phone: +1 401 789-8871

address: 796 Point Judith Rd

This B and B is more for a couple looking for a romantic get-away. This B and B has a great location right on the east side of route 108, however it does not have enough room for large families, nor does the atmosphere provide for it.

The Richards Bed and Breakfast

phone: +1 401 789-7746

address: 144 Gibson Ave

Historic stone home located on a quiet street 1.5 miles from Narragansett Town Beach. Full gourmet breakfast, Wi-fi, koi pond and gardens, air conditioning.

phone: +1 401 789-9341

address: 307 Great Island Rd

Two story with 100 Poolside and Harborside rooms. The hotel offers special packages and amenities such as contenental breakfast, pool, spa, and sauna.

The Village Inn Hotel and Conference Center

phone: +1 401 783-6767

address: 1 Beach St

Offers 62 guest rooms featuring a gourmet restaurant, spa, and pool along with wifi.

phone: +1 401 783-4704

address: 113 Ocean Rd

A romantic upscale Victorian Inn overlooking Narragansett Bay that has its own restaurant with panoramic views of the ocean serving Italian and seafood cuisine. The rooms are styled Victorian as well as contemporary.

phone: +1 401 742-5903

address: 172 Boon St

Bed and breakfast with a patio, private garden, and ocean views.

phone: +1 401 782-6985

address: 8 River View Rd

B&B that offers a romantic getaway package for couples.

phone: +1 401 783-2063

address: 901 Ocean Rd

The motel is located in a quiet residential neighborhood directly across the street from Scarborough State Beach. They offer clean, comfortable rooms with 1, 2, or 3 double beds and efficiencies. All rooms have private baths with stall showers and Cable TV, Telephone, individual Heat / AC unit and most room with Microwave/Refrigerator.

phone: +1 401-783-6400

address: 85 Ocean Rd
Cottage Rentals
Narragansett is located not far from the University of Rhode Island where college students live during the school year. These students rent out houses usually for a nine month period. When summer approaches all these houses are available and look for people who need a place to stay to enjoy all of what Narragansett has to offer. Staying for a weekend, a week, a month, or even the whole summer, getting a cottage rental is well worth it!
phone: +1 401-789-6659

address: 815 Point Judith Rd

Family owned realty business in Narragansett that helps you find winter, summer, or yearly rentals. Popular amongst college students to find Winter Rentals starting in September–May. Summer rentals are based weekly, ranging in price according to bedroom, location and distance from water. Here you can find beachfront properties, water view properties, and residential properties. Not only does Durkin accommodate rentals, but also sales in the Southern tip of Narragansett. Open 7 days a week until 7PM. Call and set up an appointment to view any of the houses, or visit their in depth website and view interior and exterior photos of each property managed.

phone: +1 401-789-6666

address: 41 Ocean Rd

Offers year-round rentals, vacation rentals, beach houses, student rentals and summer rentals in Narragansett. Their wide spectrum of homes include cottage rentals by the ocean or beach, Victorian oceanfront estates, beach homes with docks on ocean access salt ponds, beach houses, river front homes and more.
Connect
Maury Loontjens Memorial Library

phone: +1 401-789-9507

address: 35 Kingstown Rd

They aim to serve the informational, educational, and recreational needs of the Narragansett community. They have a large variety of books, movies, magazines and the have a public computer lab and free wireless access for laptop users.
Stay safe
Narragansett Police Department, 40 Caswell St., +1 401-789-1091.
Go next