Narrow Road to the Deep North
The Narrow Road to the Deep North
(奥の細道
Oku no Hosomichi
) is the title of famed haiku poet
Matsuo Basho'
s most famous work, a poem-filled travelogue through
Japan
's remote northeastern region of
Tohoku
.
==Understand==
One of the most famous travelogues ever, the Narrow Road continues to inspire Japanese art and visitors to
Tohoku
, and each of the places Basho visited continues to revere his poems and observations.
In Basho's day, the land of
Oku
(奥), literally "Within", was the back of beyond in Japan, where farmers eked out a meager living and bandits and hermits roamed in the mountains. Well aware of the dangers awaiting him, Basho fully expected to never return, selling his house and preparing a will.
When reading Basho's work, it is important to note that he takes more than a few poetic liberties with the exact route chosen and the sights seen. Fortunately, he traveled for most of the way with fellow poet Sora, whose more factual diary has allowed the reconstruction of the route.
==Prepare==
予もいづれの年よりか、片雲の風にさそはれて、漂泊の思ひやまず、海浜にさすらへ
There came a day when the clouds drifting along with the wind aroused a wanderlust in me, and I set off on a journey to roam along the seashores...
Back in 1689 Basho walked the entire distance, starting in late spring and taking over five months (156 days, to be precise) for the entire journey.
Even with the assistance of modern transportation and perfect scheduling (public transport is sparse in this neck of the woods), it would take a month for a whirlwind tour of all visited sights.
Due to Basho's predilection for mountain climbing, a faithful copy of the itinerary can only be done in summer, after the heavy snows of the Sea of Japan coast have melted and the mountains are accessible.
==Get in==
The starting point of the trip is
Tokyo
, the capital of Japan. As the first stretch of the trip has been largely absorbed into urban sprawl, many choose to head straight for
Sendai
(Stage 18) and start their trip there (with a possible detour to Nikko).
==Go==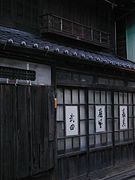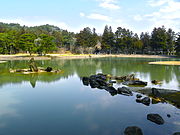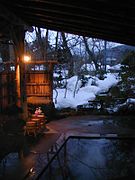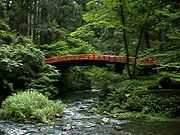 Basho's original itinerary is as follows, with modern place names or major nearby cities in parentheses where applicable.
Basho starts off from the heart of downtown (
shitamachi
) Tokyo, bidding farewell to
Ueno
and
Yanaka
— both well worth a visit.
Intriguingly, Basho does not even mention Nikko's largest tourist draw, the extravagant Tokugawa mausoleums. Instead, he climbs Mt. Nikko and visits Futarasan Shrine, dedicated to the mountains' guardian spirits.
In Sendai, Basho met with a famous artist, Kaemon, whom he admired. Kaemon showed him some of his favorite places, such as Miyagino (no longer in existence), Mutsu Kokubunji's Yakushido, and Tsutsujigaoka Tenmangu Shrine.
Matsuo's chosen route of boarding a boat here for Matsushima remains very popular today.
The craggy pine tree islands here are considered one of
Japan's Top 3
scenic spots.
Once a capital that rivaled in
Kyoto
in splendor, today's Hiraizumi has little left except two famous temples — and some famous haiku lamenting the loss penned here by Basho.
At this point Basho abandoned the original plan to head all the way north to
Aomori
and instead decided to head across the mountains. Naruko is now a popular hot spring resort.
The temple of Ryushakuji is quite literally carved out of the mountainside: hence the common name
Yamadera
, "Mountain Temple".
The three holy mountains of Dewa Sanzan are the center of worship for the Shinto-Buddhist Shugendo sect and its mountain-climbing
yamabushi
ascetic monks. Note that Basho only visited Hagurosan and Gassan. He never made it to the third, Yudonosan.
The province of Echigo is now
Niigata
prefecture.
In Komatsu, Basho visited
Natadera
, a famous temple still visited by many Japanese (but few foreign tourists).
Kehi Shrine
and stayed at
Kanegasaki
to observe the full moon. He wrote one of his haiku at Konzenji Temple at the foot of Kanegasaki about the temple's famous bell.
Stay safe
The roaming bands of Ainu bandits that Basho feared (but did not encounter) are long since gone. Now the riskiest parts of the trip are inclement weather and the mountain ascents.
==Go next==
The ending point is
Ogaki
, which is 30 minutes by rail from
Nagoya
, a
Tokaido Shinkansen
stop. Nagoya is home to the
Chubu Centrair International Airport
. Ogaki is also not so far from Kansai, and it is only a few hours back to Tokyo.
You might also wish to detour to
Iga
where Basho was born or
Otsu
on the shores of
Lake Biwa
, where Basho died in 1694. He is buried in that city at the small temple of Gichu-ji.