Nashik
Nashik
(
Marathi
: नाशिक) is a city in the state of
Maharashtra
in Western
India
. This is an ancient holy city. Some archaeological sites state early human settling evidence from at least five years. It is a city of pilgrimage for many Hindus.The place is important for Hindu rituals for the afterlife offerings. It is also one of the four locations of the Kumbha Mela festival.
Understand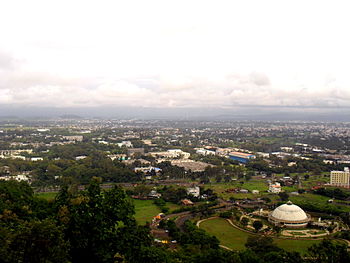 Nashik is one of the world's holiest Hindu cities. Kumbhmela is held here once in 12 years along with four other cities in India. Lord Rama along with Lakshmana and Sita spent 14 years of his exile at Tapovan near Nashik. The city came under the rule of Mughal in 16th century and was renamed Gulshanabad. Then it comes under Peshwa of Maratha Empire in 1818. City is also noted for its participation in freedom struggle. Freedom fighters like Veer Savarkar and Anant Laxman Kanhere were born in Nashik.
For a long time, the name of the city has changed according to different rulers. Some believe the name "Nashik" was derived after the incident in Ramayana when Lakshman (Sri Ram's brother) chopped off the nose of Surpanakha (Ravan's sister). Another school of thought states that Nashik is a combination of nava shikha - nine summits. It was also named as Gulshnabad by Muslim rulers which was immediately disputed by the residents. It was spelled incorrectly by the British administration, as Nasik but eventually changed to the current Nashik.
Cultural and social
Nashik is well known in
India
as a gateway city to travel to
Shirdi
and
Trambakeshwar
which hosts one of the twelve Jyotirlingas of Lord Shiva.
It is believed that in antiquity, during transport, the drops of
Amrit
fell into the Brahma-Kund at Trambakeshwar. This makes it one of the most popular religious travel destinations of India.
Nashik is also known as a transit station for devotees going to
Shirdi
, the residence of Sai Baba (90 km from Nashik).
Living
Nashik is fairly cosmopolitan city. Marathi is the official language of the city. This is the most common language spoken on the streets, most people may partial understand Hindi and English.
Attitudes in Nashik are liberal. The city used to be very traditional and conservative, but now is an open-minded culture and is gradually developing city.
Art and literature
Nashik is known for it's art and literature contribution. Nashik has one of the biggest public libraries.
Movie
Shri Dadasaheb Phalke - the founder of the Indian Film industry comes from Nashik. He started movie making in India with the on mythological character "Raja Harishchandra" in 1913. This was the first movie in India. He made 95 movies and 26 short films in the span of 19 years, till 1932 in Nashik.
Music
Pt. Vishnu Digambar Paluskar was from Nashik, wrote books on classical Indian music. He reinvented notation system suitable to Indian classical music. He also composed notations for the national song of India, Vande Mataram.
Literature
Bahinabai Chaudhary was a poetess who made poems in spoken Marathi. It was a flawless creation in ample. Once her son realised the value of her poems he started writing it down. Her poems is an invaluable treasure of Marathi literature. The poems reflect real day-to-day life in a rural setting describing the beautiful effects of nature on her life. She also state the philosophy of life in simple humble words.
V V Shirwadkar alias "Kusumagraj" in a career spanning five decades starting in pre-independence era, he wrote 16 volumes of poems, three novels, eight volumes of short stories, seven volumes of essays, 18 plays and six one-act plays.
Vasant Kanetkar was a stage drama writer in Marathi language. He wrote 40 three-act plays, all of which were performed on the professional stage. Many of his plays became commercial successes. He has been credited with rejuvenating the Marathi theatre when it was in decline, the age of Sangeet Natak stage musicals—having had come to an end.
Vinayak Damodar Savarkar re-wrote Indian history from a patriotic point of view. His works are in Marathi language, Saha Soneri Pane (Six golden pages in the History of Hindu Nation) - explaining six Indian empires and their extent. He wrote two books in English named "Hindutwa" and "Hindupadapadshahi" on the history of Marathas. Two of his poems famous are Sagara Pran Talamalala and Jayostute sung by Lata Mangeshkar.
Climate
The climate of Nashik is very pleasant. Nashik has three distinct seasons: summer, monsoon and winter. Summers are typically hot with maximum temperatures ranging from 35 to 42°C. The warmest month in Nashik is generally April as compared to the rest of the Deccan Plateau where it is May. November is normally a very pleasant month.
Nashik does not get very hot. Even during the peak of summer, the air is cool and standing under a tree can give respite form the heat. However, as sunlight can be intense leading to skin tan and sun-burn, be sure to carry and use sunscreens (above SPF-30).
The nights in Nashik are significantly cooler than most other parts in this region owing to its high altitude.
The average rainfall is approx 550mm. The city often receives local and heavy thunder showers with heavy downpours in June, which brings down the temperature. The rainy season can sometimes be gloomy, with cloud cover for days together.
Winters are generally dry and day temperatures can be as low as 24 - 28°C and temperatures at night as low as 5 - 8°C.
Get in
By bus
Nashik is 180 Kilometres from
Mumbai
(Bombay). There are frequent buses to Nashik from
Dadar
in Mumbai. It takes 4 to 5 hours by road. If you are not around Dadar, you can still take buses from Borivali (a key place on Western Railway Line) OR
Thane
(a key place on Central Railway Line). Also, a suburban railway (CR) to Kasara can be taken from few suburban railway stations beyond Dadar (like Kurla, Thane or even beyond). Once at Kasara, there are loads of connecting buses to Nashik and many other places, along with ample number of share-taxis (₹50-₹60 per adult passenger, but with cramped sitting). (Kindly note there is no taxi service available in the late night. You can get held up after reaching Kasara Railway Station till the next morning)
By train
Trains called 'Panchavati Express' and 'Godavari Express' also ply daily between Mumbai and Nashik. Word of caution, Nashik is on Central Railway line and Dadar Station is a sort of junction place for Central Railway and Western Railway, so make sure that you are at right side of the station (that is, East-side for Central Railway). There is also a daily train service between Pune and Nashik. It may be noted that the Railway Station (called
Nasik Road
) is about 10 Kilometres away from the main city. However, there are sufficiently frequent services of buses, auto-rickshaws, shared-taxis etc are available at fairly low fares.
You can also go by local from kasara.
By car
You can reach Nashik by road through
Mumbai-Nashik Expressway (NH 3)
, 167 km approx.
Get around

A rented car is the best option to move around the city. There is also a Nashik Darshan bus every day which shows you around the important tourist attractions in Nashik otherwise regional public transport service is also quite nice. Get the ticket for Nashik Darshan bus a day in advance to avoid inconvenience. Alternately you can take cheap and good auto rikshaws.

See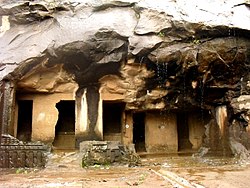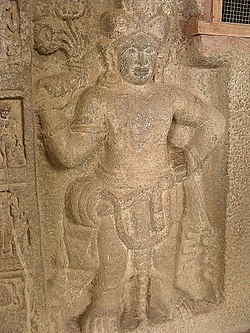 Anjaneri ParvatLocated near Trambakeshwar, it is well known for waterfalls during monsoon season.

Bhaktidhama temple. located on Peth Naka

Chambhar LeniTemple of Bhagwan Mahavir on a hillock inside a cave.

College Roadhappening place in Nasik. Malls, Restaurants, Shopping, Multiplex, Bliss Juice Bar, McDonald's, Cafe Coffee Day.

Deolali Camp Cantonment BoardArtillery centre - Deolali camp's, Lahawit market is for shopping, Deolali South has Khandoba temple hill, golf course, sun rise & set point as well.

The Someshwar Fall

Ganga GhatRamkunda, Panchavati

Goda GhatA popular place to visit.

The Gangapur Damalways crowded with youngsters.

Jain Mandirhas a 12 ton Panchdhatu idol of Bhagwan Mahavir. located at Vilholi on Nashik- Mumbai highway.

Kalaram TempleAn important temple and landmark in panchavati area.

phone: +91 98906 55592

address: MIDC, Malegaon, Sinnar

very precious different types of stones you can see here

Muktidhambig temple, picnic spot located at Nashik Road

Nandur-MadhmeshwarA Bird Sanctuary near Niphad. It is a mesmerizing place for nature and bird lovers alike.

PanchavatiThe most sacred place on Earth.The place where five sacred Banyan trees are still present. All important temples are located in this area.

Pandavlena CavesBuddhist Caves dating back to 2nd Century BCE. Located on Nashik- Mumbai highway near Pathardi phata, it is on top of a hill. The view of the surrounding countryside including the city of Nashik is worth climbing up for.

Phalke SmaarakExcellent views, landscape, musical fountain, video songs, Buddha smaarak, water park. located on foot of Pandav Caves hill. A reliable place where most of the people in nasik spend their weekend evenings.

Ramshej FortLocated near ashewadi village on Peath Road. 7 km from Nashik. Good for a small trekking experience. The fort provides a good view of the whole city from the mountaintop.

Shree Navashya Ganpati Mandir

address: Peshwe Colony, Anandwalli

A temple situated on banks of Godavari River, very scenic views

Sita GufaaCaves where Lord Ram and Sita worshipped Lord Shiva during their exile. The shivlinga is still present at that same spot. It is believed that Ravana kidnapped Sita from this place. It is always visited by devotees and tourists.

Someshwartemples, picnic spot, boating , waterfall. located on Gangapur road.

Sundarnarayan Temple

TapovanTapobhumi, Shurpanakha's nose fell here, Tasty Guavas, try them out. Once upon a time, it was a part of the sacred Dandakaranya forest. Tapovan is a picturesque place, also contains a close connection with the epic Ramayana.

TaranganThis planetarium is named after late shri Yashwantrao Chavan and was recently inaugurated by President Mrs Pratibha Patil. Daily 3 shows are conducted 13.30 in English, 15.30 in Hindi and 17.30 in Marathi.

Trambakeshwar(One of the 12 Jyotirlingas), straight ahead on Trimbak road. This is one of the 12 Jyotirlingas in India and is the most sacred place in Nashik. Near by is also Brahma giri where lord Shiva performed tandav dance.

Veda Mandirlocated on Trimbak road.
Do
Trek in the hills near to Nashik.
Visit a Stone Age Site - several km from Gangapur village.

MFL's Zonkers Adventure Park

phone: +91 98905 54880

address: Opposite Beyond Resort by Sula, Gangapur-Savargaon Rd

Features go karting, artificial rock climbing, rope activities, archery and various other activities.
Buy
Nashik is famous for its silverware craftsmanship.
The old shopping centre of the city lies in the heart of the city at
Main Road
. Here you can get everything you need. A lot of upscale shops have mushroomed all over the city in recent years.
Saraf Bazar
is place for silverware and ornaments.
Canada corner
is always crowded with college going youngsters.
Mahatma Gandhi Marg
is the hot shopping destination.
You'll get brands like Lee Cooper, RBK, Adidas, Woodlands, Van Heusen, Proline, Pepe Jeans, D&G, Levis, Provogue, Biba, Fabindia, Spyker and many more .
Malls
phone: +91 253 661 0900

address: College Road

Crosswords , Untwadi
Nashik Central , Trimbak Naka

phone: +91 253 231 9787

address: Banyan Square, Untwadi

Pantaloons , Untwadi
Pinnacle Mall , Golf Club
Reliance Footprints , Untwadi
Reliance Living Home , Untwadi
Reliance Trends , Untwadi
Westside , Untwadi
And chain stores like Reliance Fresh, Spencer's, Spinach, Subhiksha, more are present all over the city .
Jewellers
Adgaonkar Saraf, Saraf Bazar, Nashik
A K Gems - Agni, Nashik Road
Bafna Jewellers, Tilakwadi, Nashik
Chnaya Jewellers Prop. Jitendra Mutha, Mob. 9850046531, Old agra road, pimpalgaon baswant.
Diamond Galaxy - Tanishq, Canada Corner, Nashik
Govind Dande & Sons, Nashik Road
Maind Saraf, Saraf Bajar Nashik.
Mayur Alankar, Saraf Bazar , Gangapur Road , Nashik.
Mirajkar Jwellers, Saraf Bazar, Trimurti Chowk, Madhli holi Nashik.
Parekh Jewels, College Road, Nashik
P.R. Vaishampayan & Sons working under the brand name Sonchafa.
Rajmal Lakhichand Jewllers, Nashik
Significant Moments, Nashik
Surana Jewellers, Canada Corner, Nashik.
Takle Bandhu, Saraf Bazar, Nashik
Tanishq Showroom, Samarth Nagar, Nashik.
Waman Vishnu Throat, Saraf Bazar, Nashik.
Multiplexes
Cinemax, City Centre Mall
PVR Cinemas, College Road
Cinemax Regimental, Nashik Road
Big Cinemas, New Nashik (Cidco)
INOX, Nashik Road
SRS Cinemas, Nashik Road
Eat
There are good restaurants all over the city.
Coffee Shops/Cafes on College Road:
Bliss Juice Bar
,
Cafe Bollywood
,
12 to 12
,
Friendship
,
Cafe Coffee Day
.
12 to 12
is good restaurant for western cuisines.
The most amazing dining experiences at Nashik are at Emerald Park Hotel. Jharoka serves some amazing Indian food comparable to the best in the country, Dhruva is the roof top barbecue and grill and also has a 24 hour cafe.

Agrawal Bros K Mithaiwala

phone: +91 253 250 0603

address: 63, Shalimar, Next to IMA

Hot snacks, Sweets, Cold Drinks, Ice-cream. Check out Our Special Samosa
Bhagvati's Chat: A famous chat joint near Kulkarni Garden on Sharanpur Road

Brothers roll

Budha Halwai

phone: +91 95277 88999

"Keep Calm and eat Jelebi!" is their motto.
Bikaneri Bhujiawalla on College Road.
Bon Appétit Restaurant - Pathardi Phata, Nashik

phone: +91 253 234 4150

address: 6, Rushiraj Tower, Gangapur Road

Serves 80 types of coffee and tea, and sandwiches, wraps, pizzas, burgers and desserts.

Cafe xpress

phone: +91 9960790272

address: College Road

There is another branch on Nashik Road.

Carnival

address: D'souza Colony

at College Road serves very good quality Chinese & Indian food.

phone: +91 253 234 1114

address: Opp. Dominos, Model Colony, Collage Road

Loosely translated as "tea shack", Chai Tapri is one of the typical establishments in the area where you can sip tapri tea with locals.

Chetana dining hall

phone: +91 253 231 9783, +91 997 515 1555

address: Old Agra Rd

Vega restaurant / Traditional Thali meals

phone: +91 253 231 5833

address: College Road, Survey No. 712/2A, 2D/118

Tasty Pizza

Farmaish Teh Resto Bar

phone: +91 253 231 0335

address: 118, College Road, D Souza Colony

phone: +91 93708 90999

address: College Road

Indian-style burgers. Other outlets at Sharanpur Road and Indira Nagar (OPP. Raj Sarthi Society.)

Hotel Hello Family Restaurant & Bar

phone: +91 253 257 1748

address: Sharanpur Link Road

phone: +91 253 257 7211

address: Old Agra Rd

24 Hour restaurant serving Gujrathi Thali and pure veg Indian dishes

Jalaram Sweets

phone: +91 253 230 7150

address: College Road

Serves amazing chaats along with a range of sweets. One should not miss their Kachori, Samosa and Khajur/Imli Chutney.

Kokni Darbar Restaurant

address: Doodh Bazar

If you want to eat something really tasty visit Kokni Darbar for mughlai and North Indian food. The service is good.
Kondaji Chivda very famous from Nashik.

Little Italy

address: Sula Road

Italian food at prices lowers than their other branches across the country.

Maharashtra Bhandar

phone: +91 253 2311010

address: Patil Lane No. 3, College Road, Nashik - 422005

On College Road is a "Khau Ghar" offering all types of delicious, home-made snacks and sweetmeats, like Laddus, Chivda, Karanji, Shev, Chakli, Farsaan, pickles and sweets.

Mamaj Pavbhaji

address: College Road, D'souza Colony

Mama's serves piping hot pav bhaaji and all kinds of chaat items.

phone: +91 253 325 5976

address: on College Road

serves good burgers and is popular in the evenings.

Mehfil

phone: +91 253 324 7555, +91 988 1181636

address: Yashica Plaza, Govind Nagar, Mumbai Agra road

Fine ingredients, fresh meats, produce, herbs, delicate spices, an outstanding variety of traditional Indian dishes. Dishes are individually prepared mild, medium, spicy or hot.
Modern Cafe (formerly named as Parth) has good Marathi fare.

Nandan sPani Puri and other chat on college road.

Nesta Coffee Shop

address: Mumbai - Agra Road, Nashik

phone: +91 253 257 2291

address: 430, MG Road, Chandak Vadi, Panchavati

Inside the hotel Panchavati Yatri. Traditional Thali dishes. Very popular with the locals too. Another popular vegetarian restaurant in this hotel is Sukh Sagar open 24 hours

Rim-zim Ice Gola

Rolls & Keema

Rolls Club

Sachin Foods, near Raviwar Karanja, famous for samosa and chat.

address: on College Road and Gangapur Road

is famous for sweets, namkeens, packaged food products, chat.
Salim's Tea at the corner of BYK Commerce College is a favourite hang-out of college students.

Sayantarain Bhadrakali area, behind the fruit market. Famous for soft, tasty Sabudana vada.

Shoukin bhel

address: at Nehru garden

yummy tasty bhel!

Smokin Joe

Subway

address: college road

Tadka Pure Veg. Family Restaurant

phone: +91 96899 72713

address: Jail Road, Dream Mini Market

Talk of the Town

phone: +91 253 2571961

address: Trimbak Road

Good place where you can get yummy Punjabi food.

Three Sixty Degrees Coffee Shop

address: Talegaon, Nashik

Thunder Point Juice World

phone: +91 253 231 3338

address: Gangapur Road, Thatte Nagar

Fast food.

Tulsa Snacks

address: Ravivar karanja chowk

Delicious Maharashtrian snacks pohe, upama and sabudana khichadi.

Viju sDabeli and sandwich
Other
Chinese : Seble Hotel , Trimbak road, Carnival College Road, 21st century, Sharanpur Road
One Should not miss the famous Krushnai Vada Pav ( an Indian burger served with chillies) at the Circle Cinema, The Shop located at Ashok Stumbh
Other Family Dining: Patang, and Purohit.
Missal: Vihar at Gangapur naka, A tapri near Raviwar Karanja (next to Pethe High School),Tushar on college road, Ambika near Panchvati Karanja, Sham-sundar Satpur MIDC (see below)
Other Thali Hotels: Purohit, Rajdhani
Traditional Marathi Cuisine: Saheba, Mumbai Naka
Famous Missal Joints
Missal is a hot and tasty curry dish from Maharashtra. Missal literally means 'Mix'. It is served with Pav (Indian name for baked bread). There are lots of variations to the cooking and the way it is served. It is mostly hot in taste.
Sadhana Restaurant - Chulivarachi Misal, Survey No 71, Gangapur-Satpur Link Road, Bardan Phata, Nashik,

Ambica Missal

address: Panchavati

a distinct taste of Black garam Masala made in a very traditional way.
Hotel Bhagwati, Panchawati Karanja
Hotel Shamsunder, B Road, Satpur MIDC
Hotel Sheetal, Old taxi Stand, CBS
Hotel Sudarshan, Makhamalabad, Nashik.
Hotel Tuljai, Opp college, College Road.
Hotel Tushar, Malaria Stop, College Road.
Hotel Vihar, Near K.V.N.Naik College, Gangapur Naka.
Maharashtra Hotel, Bytco Point, Nashik Road.
Nehru Garden, Near Sarda School.
Om Tea House, Near Bhadrakali Karanja, Bhadrakali.
Raswanti Missal, Panchavati Karanja
Shelke Missal, Ravivar Karanja, opp Chandi Ganpati Mandir.
Pravin missal Panchvati Nashik.
Ice Cream Parlours
Cream Zone, College Road

Dairy Don

phone: +91 253 230 6843, +91 253 230 6844

address: 1/3, College Road, Patil Colony, Canada Corner

Dinshaw's Ice Cream Shop

address: College Road, D'souza Colony

Eskimozs Pot Ice Cream, Canada corner
Pastongi, MG Road
Razzmatazz, College Road
S K Ice cream Parlour, nashik road
Drink
21st Century Restaurand & Bar

address: Sharanpur Road, New Pandit Colony

Small pub serving tandoor menu. Alcohol is priced

Banjara

address: Mahatma Nagar, Parijat Nagar

Restaurant Bar inside Hotel President Inn. Good service

Samarth Juice Centre and Cafe

phone: +91 253 250 6067

address: Raviwar Karanja, Panchavati

phone: +91 99700 90010

address: Gat 36/2, Govardhan Village

Tiger hills

address: Nashik-Mumbai highway

Wine tasting & factory outlet.

York Winery Tasting Room

phone: +91 96577 28070, +91 253-2230700

address: Gangavarhe Village, Gangapur-Savargaon Road, Gate No. 15/2

York Winery A New Emerging Winery. Best but costly.
Sleep
Budget
(Inspect the room before you book)
phone: +91 253 250 4080, +91 982 204 0200

address: GPO Rd

Cheap hotel in a bad, very noisy neighbourhood.

Hotel Saffron

phone: +91 253 695 6390, +91 253 259 4004

address: Plant No.291, Beside Wadala Naka, Renuka Nagar Corner, Nashik-422001

A budget hotel in the heart of the city. Attached bathrooms. Lift available.

Wasan's Inn

phone: +91 253 257 7881

address: Old Agra Rd

Reasonable prices for decent rooms. This hotel has 3 restaurants. Good but somewhat pricey food.
Mid-range
phone: +91 253 258 2888, +91 95451 69777

address: Old Mumbai - Agra Road
Splurge
Go next
Anjaneri - the birth place of Lord Hanuman. located on Trimbak road, 25 km from Nashik.
Bhagur - Small village, important as the birthplace of Veer Savarkar, one of the famous freedom fighters, about 12 km from Nashik Road.
Igatpuri - On Nashik - Mumbai Highway. Located about 30 km from Nashik. There are multiple resorts available for a weekend get-away.
Nanduri - Saptashringi Goddess - located 75 km from Nashik.According to Hindu tradition, the goddess Saptashrungi Nivasini dwells within the seven mountain peaks. (Sapta means seven and shrung means peaks.) It is located in Nanduri, Tal:-Kalwan a small village near Nashik in India
Sangamner - About 65 km from Nashik, along the Nashik-Pune highway. Has an engineering college, a medical college, well developed market, historical places to see.
Shirdi - Famous the world over for Sai Baba, but you have to have patience, as the queues can be infinitely long. About 90 km from Nashik. Frequent Volvo and ST buses are available.
Sinnar - About 30 km from Nashik on the Nashik-Pune highway (NO 50). The Yadav period (11 A.D.) Gondeshwar Shiva temple has interesting architecture and stone carvings.
Trambakeshwar - one of the 12 Jyotirlingas of Lord Shiva, 30 km from Nashik via Trimbak road.
Yeola: 65 km from Nashik, between Nashik and Aurangabad. Famous for hand woven Patina saris (traditional sari), Yeola is a major handloom weaving centre and the silk saris, shalus and Paithanis woven here find a prominent place in Indian and foreign market. It is also famous for gold and silver wire. Places of interest include the Muralidhar Temple and the Parshva nath Temple.