Nashville

Nashville
is the capital of the
American
state of
Tennessee
. With 680,000 citizens, it is the state's largest city. Nashville is sometimes called the "Country Music Capital of the World" or more often "Music City, USA"; however, Nashville has done much to escape its country music image and become a regional center of culture and commerce. In fact, Dell, Nissan, and Saturn have all moved some operations to or near the city. The music is various; major rap artists and rock bands (Young Buck, Haystak, Kings of Leon, Paramore, and Ben Folds) claim Nashville as their hometown, and the city is also the epicenter of the contemporary Christian music industry. Nashville has been the home of the world-famous
Grand Ole Opry
since 1925. Nashville also has a great bar scene. If you like to drink, you can go "Honky-tonking," also known as "bar-hopping."
Understand
History
Nashville was founded in 1779 and it grew rapidly because of its excellent location on the Cumberland River. It was incorporated in 1806 and became the county seat of Davidson County. Nashville was named the capital of Tennessee in 1843.
Like many
Southern
cities, Nashville was not immune to the economic woes of the post-Civil War South but it quickly rebounded. It only took a few years for the city to reclaim its important shipping and trading position and to develop a solid manufacturing base. The post-Civil War years of the late 19th century brought a new-found prosperity to Nashville. These healthy economic times left the city with a legacy of grand classical-style buildings, which can still be seen around the downtown area.
Since the 1970s, the city has experienced tremendous growth, particularly during the economic boom of the 1990s under the leadership of Mayor (former Tennessee Governor) Phil Bredesen, who made urban renewal a priority, and fostered the construction or renovation of several city landmarks, including the Country Music Hall of Fame, the Nashville Public Library downtown, Bridgestone Arena, and Nissan Stadium.
Tourism office
Climate
Nashville sits in the middle of a geographic region known as the Nashville Basin. It is surrounded by the Cumberland Highlands and is bordered by the Cumberland Plateau to the east. The Nashville Basin is characterized by rich, fertile farm country and high natural wildlife diversity.
Nashville has cool, relatively short winters and hot, humid summers, with long spells of spring and autumn in between. Winter temperatures commonly hover slightly above freezing, and a fair amount of light snow generally falls throughout the months of December to February, though large storms of 6-plus inches in a day do occur every few years. Nashville can be prone to severe thunderstorms and tornadoes during the spring and fall months. Summers are hot, but no more than the rest of the southeastern U.S. with temperatures around 90°F (32°C) during the day.
Get in
By plane
Nashville International Airport

phone: +1 615 275-1675

The most inexpensive way to travel to and from the Nashville International Airport and downtown Nashville is to ride the Nashville MTA's Route 18 Airport/Elm Hill bus, which serves the airport and downtown on an hourly basis, from about 7AM to about 10PM, seven days a week. Schedules are located at the Welcome Center located on the baggage claim level of the airport. BNA was the first major US airport to authorize ridesharing services with dedicated pickup and drop off areas. Passengers utilizing these services may wait in a specially designated area located on Level 1 outside of the main terminal. BNA is a hub for Southwest Airlines and serves numerous domestic destinations, as well as international service to Toronto Canada, Calgary, Cancún, Punta Cana, Freeport Bahamas, Montego Bay Jamaica, Cozumel, London-Heathrow and Frankfurt.

phone: +1 615 350-5000

address: 110 Tune Airport Dr

General aviation airport just eight miles from downtown Nashville.

Smyrna/Rutherford County Airport

phone: +1 615 459-2651

address: 278 Doug Warpoole Rd, Smyrna

A reliever airport for BNA, located 12 nautical miles (22 km) south of it.
By car
Nashville is a nexus of several interstate highways, including
I-65
(north-south),
I-40
(east-west), and
I-24
(northwest-southeast). The various highways sometimes merge and split without the typical exit-offramp design, so travellers should consult maps before attempting to navigate the area. There is easy access to/from
Chattanooga
,
Knoxville
,
Memphis
and
Louisville
, among others.
By bus
By shuttle
Get around
By bus
phone: +1 615 862-5969

Operates routes throughout downtown and the surrounding area. $2 for an adult local fare, with no transfers allowed. An all-day pass for an adult is $4. Nashville's bus system is designed around a central station. The schedule accommodates a 9AM-5PM schedule with limited late night service. Route maps and schedules are subject to change but are available from the Nashville MTA website.
By train
phone: +1 615 862-8833

Commuter train runs Monday - Friday. The train runs from Lebanon to Downtown's . One-Way tickets purchased at the platform are $5 each. There are two shuttle services that transport people for no extra charge, passengers use their Music City Star ticket to board. Shuttle 93 goes up Broadway, West End, and around the Vanderbilt area. Shuttle 94 loops through Downtown. If you wish to go to any other place in the city, you can catch the Downtown Shuttle at the Riverfront Station and exit at the downtown bus mall then catch the bus that is going to your destination.
By car
Car is always your best bet. The average speed on highways ranges from 55-70 mph, while city streets are generally 35 mph unless otherwise posted.
I-40, I-65, and I-24 are the major interstate highways that run through Nashville.
All major national car rental agencies operate in Nashville.
Taxis are also very prevalent in Nashville, especially Downtown. Taxi companies that operate in Nashville are:
Allied Cab, +1 615 885-1499.
Music City Taxi, +1 615 262-0451.
Checker Cab, +1 615 256-7000.
Metro Cab, +1 615 365-3434.
Transportation network companies Uber and Lyft operate in Nashville.
For executive transportation, sedan or limousine services are available; these often work like black cars in
New York City
, and offer executive sedans, SUVs, or even full limo transports to and from downtown or the airport.
Parking
If you are looking to park Downtown in a lot or garage, be sure to have a good idea of where to park. The
Metro Owned Facilities
managed by the
Nashville Downtown Partnership
(branded as
ParkIt Downtown
) seem to be the best deal. For example, the
Metro Courthouse/Public Square Garage
is $3 after 5PM and on weekends. This is much cheaper than nearby private lots.
By foot
The center of Nashville is not too big for an able-bodied person to traverse on foot in decent weather, and walking downtown can be quite pleasant.
See
Nashville is a very historic town and as such, many of its attractions are restorations or museums.
General
AT&T BuildingAn instantly recognizable downtown Nashville landmark, the AT&T Building, built in 1994 at 333 Commerce Street, is the tallest building in the state of Tennessee and can be seen from quite some distance if the hills aren't in your way. Its two tall spires on the building have earned it the nickname, "The Batman Building."

Midtown NashvilleLocated in the Vanderbilt University/West End area, midtown Nashville is replete with restaurants, art galleries, and landmark buildings such as the Parthenon in Centennial Park.

Shelby Street Pedestrian BridgeBuilt between 1907 and 1909, the bridge was used for automobile traffic between East Nashville and Downtown. The bridge has been converted to a pedestrian bridge, and offers a spectacular view of the riverfront and downtown skyline. It is a very popular and convenient route to the Titans' football stadium.

Nashville's Second AvenueProvides entertainment for many different styles of people. The street includes bars such as Hooters and the famous Wildhorse Saloon, dining destinations including the Old Spaghetti Factory, the Melting Pot and B.B. King's Restaurant and Blues Club, and locations for family-friendly fun such as Laser Quest.
Country music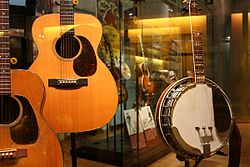 Country Music Hall of Fame and Museum

address: 222 Fifth Ave S

Regularly changing exhibits and live performances make this Nashville landmark someplace to visit often. The Hall of Fame moved here in 2000. Ticket packages for guided or audio tours also available, and can be combined with a tour with the RCA Studio B and the Ryman Auditorium.

MusicaRevealed in 2003, Musica is a tall sculpture featuring 9 nude dancing figures created by Alan Lequire and is in a roundabout in the heart of Music Row.
History and government
phone: +1 615 741-2692

address: 505 Deadrick St

With over 70,000 square feet (6500 m²) of exhibit space, this is one of the nation's largest state museums. Its permanent exhibits are split into several categories, including: Prehistoric, Frontier, Age of Jackson, Antebellum, Civil War, and Reconstruction.

phone: +1 615 322-7311

address: 2201 West End Ave.

Some ways from downtown, Vanderbilt is a historically important institution that's well-respected in the region and beyond. It is also one of the more beautiful campuses in the country, and well worth visiting just to look at the 19th-century buildings and soak up the atmosphere.

phone: +1 615 742-7445

address: 702 Murfreesboro Pike

150 cars and motorcycles from the 1920s all the way up to modern day.
Do
General
Music
phone: +1 615 889-9490

address: 2812 Opryland Dr

The Grand Ole Opry is a weekly country music radio program and concert broadcast live on WSM radio in Nashville every Friday and Saturday night, and Tuesdays from March through December. It is the oldest continuous radio program in the United States, having been broadcast on WSM since 5 October 1925. The Opry has been located in the Grand Ole Opry House in eastern Nashville since 1974. From 1974 to 1997 the Opry House was part of a theme park called Opryland USA, which closed due to low attendance and was subsequently torn down and replaced with a mega-shopping mall called Opry Mills. Rumors that the Opry is haunted persist as more than 35 people closely associated with the Opry have been met with untimely deaths. These country stars have been burned to death, beaten, robbed, and shot, have been victims of car and plane crashes and have perished from alcohol and drugs.
phone: +1 615 889-3060

address: 116 5th Ave N

Completed in 1892 as the Union Gospel Tabernacle as commissioned by riverboat Captain Thomas Green Ryman, a newly converted southern evangelist. The Ryman has earned its mark in history by hosting the Grand Ole Opry from 1943 to 1974 and is now a fantastically intimate setting for concerts of all genres. It was named Pollstar's "America's Theatre of the Year" for two years in a row, and one of CitySearch's top ten "Best Places to Hear Live Music."

phone: +1 615 383-1461

address: 4104 Hillsboro Pike

With its unlikely location in a strip mall in Green Hills, has long been the destination of choice for local and national songwriters, fans of songwriters, and label scouts. Expect schmoozing, sets in-the-round, and lines around the block. Keep in mind, though, that quiet is requested at all times during a performance. This is where Taylor Swift first performed and got discovered by Scott Borchetta and Big Machine Records.

phone: +1 615 687-6500

address: One Symphony Pl

The Nashville Symphony is in the and offers a variety of concerts throughout the year. For those on a budget be sure to visit the Free Day of Music offered by the center in early October.
Outdoors
Parks and RecreationNashville offers 113 different park properties on over , and seven municipal golf courses. These parks offer something for everyone, including both passive and active recreation. Activities include: senior programs, special population programs, cultural arts classes, dog parks, a variety of trails, nature programs, sports leagues, and art galleries.
Some of the highlights of Nashville Parks and Recreation:
address: West End Ave at 25th Ave

Features a nice duck pond, where you can get up close with the ducks and feed them, as well as a real steam engine train, dating to the 1800s and a fighter jet on a large, metal stand, to give the appearance of flight.
:*
address: Centennial Park
Originally created for Tennessee's Centennial Exposition, this monument was such a well-received attraction that a permanent form was constructed. It maintains the dimensions of the original Athens Parthenon to within a quarter of an inch (at 2/3 the scale), though constructed mainly of concrete as opposed to marble. Inside stands a replica of the statue of the goddess Athena thought to have existed in the original Parthenon.
Nashville GolfMetro Parks offers seven golf courses. All courses are open seven days a week through Labor Day: 7AM-dark on week ends, and 8AM-dark on week days. After Labor Day new hours will go into effect. Check courses for details. The seven golf courses are:
:*
phone: +1 615 862-8493
address: 2424 Old Hickory Blvd
:*
phone: +1 615 862-8491
address: 46th & Murphy Rd
:*
phone: +1 615 352-9958
address: Forrest Park Dr
:*
phone: +1 615 862-8474
address: 20th & Fatherland
:*
phone: +1 615 862-8463
address: 1901 Ed Temple Blvd
:*
phone: +1 615 889-2675
address: Two Rivers Pkwy
:*
VinnyLinks
phone: +1 615 880-1720
address: 2009 Sevier St
phone: +1 615 373-3467

address: Otter Creek Rd

Often called "Nashville's Walden," Radnor Lake was formed when the railroad companies dammed up a small stream to provide a reliable water source for their railroad yards. Although it is in the heart of a residential suburb south of town, hikers on the miles of trails around the pond feel like they are in the heart of the wilderness.
Sports
phone: +1 615 862-8480

address: 222 25th Ave N

Located in Centennial Park. Featuring two indoor ice skating rinks, two pools, indoor and outdoor tennis courts, and a fitness room. Call or check online for the schedules, as they vary from month to month. The Sportsplex is also a practice location for the Nashville Predators professional hockey team.

Nashville PredatorsThe local NHL hockey team plays their home games at (previously Gaylord Entertainment Center and Sommet Center), which is on Broadway in the heart of downtown.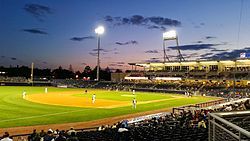 phone: +1 615 690-4487

address: 19 Junior Gilliam Way

The local Triple-A Pacific Coast League minor league baseball team plays at .

Tennessee TitansThe local NFL football team plays their home games at (formerly Adelphia Coliseum and LP Field), which is located across the river from downtown (it's big). Once the Houston Oilers, the team was relocated as the Tennessee Titans in 1999.

phone: +1 615 457-8200

address: 650 Rundle Ave. (offices)

The local soccer team plays in the second-level USL Championship, sharing First Tennessee Park with the Sounds. The 2019 season is the last for the current version of Nashville SC—the name will be assumed by a new Major League Soccer team that will start play in 2020 at Nissan Stadium. NSC will then move to its own new stadium at the former Tennessee state fairgrounds near downtown in 2022.

Vanderbilt CommodoresThe Vanderbilt Commodores represent Vanderbilt University, one of Nashville's larger sports attractions. As members of the Southeastern Conference (SEC), they compete against many colleges and universities throughout the southeastern United States. Vanderbilt is the SEC's only private school and the conference's smallest school by enrollment. The best-known Vanderbilt sports venues are , home to the football team, and , home to the men's and women's basketball teams and one of the most unique settings in the sport. The men's baseball team has had recent success and won the College World Series in 2014 and 2019.

Nashville boasts three other NCAA Division I programs, although not at the profile of Vanderbilt:
Belmont BruinsThe Bruins, representing Belmont University, are one of several less expensive alternatives to Vanderbilt for those wanting a college sports experience. The Bruins compete mostly in the Ohio Valley Conference, but do not have a football program. The most popular sport by far is men's basketball, which has become a frequent NCAA tournament participant. Their rivalry with Lipscomb (below) is one of the most intense (and under-the-radar) rivalries in the ranks of the so-called "mid-majors".

Lipscomb BisonsLipscomb University is a private school that competes in the Atlantic Sun Conference.

Tennessee State TigersThose interested in African American culture may also be drawn to the Tigers (and Lady Tigers), representing Tennessee State University, the city's largest historically black school. They are members of the OVC alongside Belmont, but unlike the Bruins play football in the second-level Division I FCS. Most venues are on campus, but the football team plays at Nissan Stadium.
The Visual and Performing Arts
Learn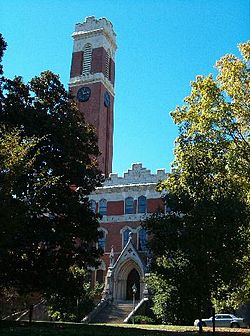 Tennessee Foreign Language Institute

phone: +1 615 741-7579

address: 220 French Landing Drive

State-supported language institute offering classes on site and in the workplace in up to 141 languages, including ESL, and interpretation and translation services to government, business and the community at large.
Buy
Popular tourist souvenirs include cowboy paraphernalia (boots, hats, etc.) as well as any and all music themed items. Expect to find many local shops selling these items. Some downtown shops offer "buy 1, get 2 free" deals. Be sure to shop around.
Major shopping malls include:
Mall at Green HillsThis mall contains several high-end vendors. Dillards and Macy's are the anchor department stores. Other stores include Betsy Johnson, Apple, Gap, Burberry, Sephora, BCBG Max Azria, bebe, Pottery Barn, Restoration Hardware, Tiffany, Benetton, and Swarovski.

Opry MillsFormer location of the Opryland USA Theme Park, includes mostly outlet stores, specialized clothes shops like Brooks Brother, Coach, Michael Kors, Vera Bradley and Forever 21, and a Regal Cinemas and IMAX.

100 Oaks MallFormerly a mall, 100 Oaks's shopping options are the street level vendors. The building now houses new clinic facilities for Vanderbilt Medical Center, but shops remain open, too.
For a more local shopping experience:
12 South DistrictSeveral fun (though pricey) vintage stores, including Katy K's Ranch Dressing (awesome country-western outfits), Savant, and Local Honey (on a side street, also has clothing by local designers). Also home to the Art House gallery.

East Nashville/5 PointsHead to Hip Zipper for vintage clothing, The Turnip Truck for health food, or Art and Invention Gallery for fine art and handmade jewelry.

Hillsboro VillageShort section of 21st Ave. just south of Vanderbilt. Home of A Thousand Faces (jewelry and local art), Pangaea (quirky gifts), and a well-stocked kitchen goods and coffee store.

Peabody Shoe Repair

phone: +1 615-292-5214

address: 718 Thompson Ln, #105

Located in quaint Hillsboro Village, this shoe repair shop offers great deals on secondhand cowboy boots. Great place to find a bargain.

phone: +1 615-254-4801

address: 1604 8th Ave., South Nashville

The best independent record store in town. Cramped, but has a good selection of vinyl, while its sister store Grimey's Too, at 1702 8th Ave., features "pre-loved" music, books, and even a small coffee shop. Hosts free in-store performances by both local and nationally-known bands, usually in the afternoon or early evening.
Eat
Budget
The ArcadeAn open-air 2-level arcade that runs between 4th Avenue North and 5th Avenue North. The Arcade primarily caters to the local downtown workers during the work week, but many great lunch restaurants can be found here, including Manny's House of Pizza, Phillip's Deli, and others. There are also several hairstylists, jewelers, florists, and other businesses. Be sure to visit the historic Peanut Shop.

Bobbie's Dairy Dip

phone: +1 615-292-2112

address: 5301 Charlotte Ave

An endearingly dingy 50s ice cream stand on Charlotte Ave., that has been revived into a popular summer mainstay that's popular with every demographic. Their hamburgers, hot dogs, and fries are some of Nashville's favorites, and the strawberry shortcake's great.

phone: +1 615 256-6142

address: 2615 Nolensville Pike

Established in 1993, La Hacienda Taqueria has continually been making statements and catching the notoriety as Nashville's finest authentic Mexican restaurant.

Hermitage Cafe

phone: +1 615 254-8871

address: 71 Hermitage Ave

This diner-coffeeshop is divey, friendly, cheap, greasy, and as southern as white gravy on fried chicken. Perfect if you're drunk or a night owl, which most of the other customers here are (except at breakfast, which draws a mix of polite older couples and hungover kids). An ancient cigarette machine and a well-stocked jukebox.

Monell's

phone: +1 615 248-4747

address: 1235 6th Ave N

Located in historic Germantown, Monell's is a Nashville tradition. They serve different meals every day and the good ol' home cookin' is sure not to disappoint! Seating and serving are done family style, 13-14 per table. More than likely you will sit with people you don't know. It is expected that you enjoy the company and meet new friends. First come, first serve. No reservations and no cell phones allowed.

Las Palmas Mexican RestauranteA pretty good local chain of Mexican restaurants. You can get a nice filling meal here for under ten bucks. There are five Nashville locations, listed below, and several more in the suburbs:
Las Palmas - Charlotte Pike

phone: +1 615 352-0313

address: 5821 Charlotte Pike

Las Palmas - Franklin Pike

phone: +1 615 292-1902

address: 2617 Franklin Pike, Ste 111

Las Palmas - Hayes Street

phone: +1 615 322-9588

address: 1905 Hayes St.

Las Palmas - Highway 100

phone: +1 615 673-1213

address: 8167 Hwy 100

Las Palmas - Nippers Corner

phone: +1 615 831-0432

address: 15560 Old Hickory Blvd
Las Paletas

phone: +1 615 386-2101

address: 2907 12th Ave S

Save room after your Mexican meal for Las Paletas' homemade popsicles in exotic flavors! The Paz sisters ate them often when growing up in Mexico and have now brought us their own take on the treats. Hibiscus, basil, chocolate jalapeno, and rose petal are all delicious; so are the tamer versions, like mango, raspberry, chai tea, chocolate chip cookie, and Mexican caramel.
phone: +1 615 329-2757 (21st Ave) and +1 615 646-7877 (Bellevue)

Fabulous pizza, quite simply. Nashville isn't much of a town for pizza, but this place more than makes up for it. The plain slices are great, but even the fancier ones (like the Fantasy) don't gild the lily. Free live jazz Thursday nights at the 21st Ave. location (between Vandy and Hillsboro Village).
phone: +1 615 327-9892

address: 2413 Elliston Pl

An old, friendly neighborhood joint whose hamburger and milkshake are consistently voted the best in Nashville. Get the grilled version of the cheeseburger basically a grilled cheese with a hamburger in it.
Swagruha

phone: +1 615 736-7001

address: 900 Rosa L Parks Ave

They have a basic menu that would satisfy almost any Indian food craving and at $7.50 for a plate full of food, you won't go wrong.
phone: +1 615-646-9700

address: 8400 TN-100

Known for its Southern cooking: biscuits, fruit preserves, country ham, and red-eye gravy.
Prince's Hot Chicken Shack

phone: +1 615 226-9442

address: 123 Ewing Dr

Home of the original "hot chicken", a Nashville classic that adds cayenne pepper to fried chicken.
Mid-range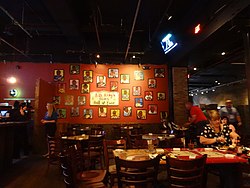 BB King's Blues Club - Nashville

phone: +1 615-256-2727

address: 152 2nd Ave N

live music

phone: +1 615 463-0133

address: 4427 Murphy Rd

Another well-liked Italian restaurant, this intimate neighborhood place keeps its menu small and its dishes impeccably prepared. With the fresh ingredients and simple preparation, you might as easily be in some Tuscan hill town. Located in Sylvan Park.

phone: +1 615 256-4655

address: 300 Commerce St

Located in Downtown Nashville, this steakhouse is named the best in Nashville by Reader's Choice. A 6-ounce with any side or a bowl of a special spaghetti is around $10, and 10 & under meals are around $4. Drinks $1.80. Comes with unlimited bread refills. No special dress code.

phone: +1 615 254-5715

address: 415 Broadway

Don't miss this authentic Tennessee barbecue joint right beside the Ryman Auditorium. Located on Lower Broadway -- just look for the neon sign featuring flying pigs! Also at 334 West Trinity Lane, +1 615 228-9888.

phone: +1 615 514-0270

address: 3106 West End Ave

A busy Italian restaurant, serving Southern Italian meals, most famously in "family style", portions that are more than large enough to share. Reservations recommended for parties of any size. Open for lunch and dinner, seven days.

phone: +1 615 383-9333

address: 1796 21st Ave S

A Nashville landmark and basically the best place in town for breakfast, anytime before 3PM. The frosted haired waitresses will call you "honey," and the pancakes will be better than you'd ever realized pancakes could be. Don't be daunted by the line snaking around the block on weekends; it moves quickly, and you get free coffee while you wait.

Rosepepper Grille and Cantina

phone: +1 615 227-4777

address: 1907 Eastland Ave

A neighborhood favorite for several years now, this popular and upbeat nouveau Mexican place is in East Nashville, a bit off the tourist's beaten path.

San Antonio Taco Company

phone: +1 615 327-4322

address: 416 21st Ave S

This place is always a favorite with Vandy kids, offering reliably so-so Tex-Mex food (very little meat on the tacos, and the guacamole has tons of pepper) and cheap buckets of beer. Right off the Vanderbilt campus. Stop by Ben & Jerry's next door for dessert. Caveat: towing in this area can be ruthless. Check the signs wherever you park. If you go, get the queso and chips for around $3. It's the best thing on the menu and is enough for 2.

Sole Mio

phone: +1 615 256-4013

address: 311 3rd Ave S

Long considered one of Nashville's best Italian restaurants, this place excels even in its new, viewless location on 3rd Ave - and, impressively, manages to keep its prices low. Subtle variations on traditional dishes keep things interesting, and the service is great. Seafood dishes and homemade ravioli are great.

phone: +1 615-915-0888

address: 101 Broadway

food and live music
Splurge
address: 1711 Division Street

32 seats surround a U-shaped kitchen, where chefs Josh Habiger and Erik Anderson prepare a multi-course tasting menu ($100 per person) with drink pairings ($20, $40, or $75 per person). Discussions with the chefs are encouraged as part of the experience. Reservations required, available one month in advance on the restaurant's website.

phone: +1 615 227-4668

address: 1017 Woodland Street

This quirky local restaurant at Five Points in East Nashville is considered by many to be Nashville best local chef-owned restaurant. It features a seasonal menu that is changed daily. Don't miss the seasonal hot chocolate topped with a homemade marshmallow for an after-dinner treat.
Drink
Coffee and tea
phone: +1 615-824-3855

address: 15 Hermitage Ave

Popular coffee shop about a mile south of downtown. Known for its hand-crafted coffee creations and their selection of baked goods. Wifi friendly.

phone: +1 615-385-JAVA and +1 615-777-EAST

address: 2007 Belmont Blvd and 107 S 11th St

The first and most relaxed in a very successful local mini-chain of quirky coffeehouses, Bongo Java is a meeting place for the young, the arty, and the students at Belmont University just across the street. Linger for hours on the huge porch over several cups of their incredibly strong, flavorful coffee, and take advantage of the free computer, Wi-Fi, and chess set use.

phone: +1 615-777-FIDO

address: 1812 21st Avenue South

A sister-cafe to Bongo Java, Fido offers the same brew as the other Bongo Java locations while also offering an array of breakfast/brunch options. You may even be able to snag discounted day-old bagels to pair with your espresso.

phone: +1 615-915-0675

address: 1886 Eastland Ave

A locally-owned coffee house residing in historic East Nashville, Ugly Mugs brews the local roast Drew's Brews and displays artwork by local artists as well as live music on Saturday nights. Known for serving coffee in a vast collection of quirky and non-cosmetic coffee mugs. Toys available for children. Wifi friendly.

phone: +1 615-712-9766

address: 519 Gallatin Ave

The first in a chain of serious-minded coffee shops, the original is based in East Nashville, Barista Parlor is already a staple for local coffee lovers and has attained a reputation of style and quality.

Roast, Inc.

phone: +1 615 730-8074

address: 2108 8th Ave S

Service is very courteous, coffee is delicious, and baristas are very knowledgeable.
Alcohol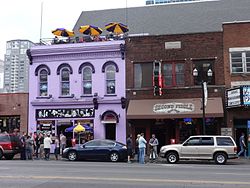 phone: +1 615 242-9131

address: 701 Broadway # B20

Decent piano bar, but can be very rowdy at times.

phone: +1 615-262-3345

address: 1024 Woodland St

Located in the Five Points area of East Nashville is the linchpin in a cluster of bars all within a stone's throw of one another: Red Door Saloon, which also has an outpost in midtown; The 5 Spot, a pleasant nonsmoking spot that often books local bands; Beyond the Edge, a large sports bar; the Alley Cat, a popular neighborhood hangout with good food selection; and more.

phone: +1 615-259-9891

address: 818 3rd Avenue South

3rd and Lindsley offers loud country- and blues-rock from local and touring performers.

Cafe Coco

phone: +1 615-321-2626

address: 210 Louise Ave

Isn't a bar, per se, but it does serve beer and remains open 24 hours every day. Expect to find studious Vandy kids, scene-making hipsters, and drunk everybody at night. Located just off Elliston behind the Exit/In.

phone: +1 615-298-1688

address: 2106 8th Avenue South

Another major venue for songwriters hoping to be discovered as well as established songwriters revisiting their old haunts. Open mic nights every week.

phone: +1 615-321-3340

address: 2208 Elliston Pl

A standby for mid-level touring bands of all varieties for decades. Check out the names of past performers over the bar.

Flying Saucer Draught Emporium

phone: +1 615-259-7468

address: 1010 Demonbreun St

Huge assortment of beers available here.

phone: +1 615-226-6343

address: 1400 Woodland St

Opened as a lesbian bar, the lipstick lounge now considers itself "a bar for humans."

phone: +1 615-251-3020

address: 1 Cannery Row # 100

Its many red pool tables, large deck, friendly vibe, and live band karaoke nights add to its charm. Often hosts nationally-known indie bands.

phone: +1 615-320-0345

address: 115 27th Avenue North

Located next to Centennial Park, this is one of Nashville's most reliable dive bars and often hosts underground and noisy local and touring bands. Once a speakeasy, later a hangout for Jimmy Hoffa, now host to a strange mix of local drunks, slumming Vandy kids, and musicians. Pool table, arcade games, good jukebox, good booker, a cheap beer-only bar, and a large screened-in cement block porch. Don't miss its regular Working Stiffs Jamboree.

phone: +1 615-255-3307

address: 402 12th Avenue South

A bit of a time warp, especially located in the middle of the now trendy Gulch area of 12th Ave. Its excellent bluegrass and old-time Americana shows have drawn loyal patrons for decades.

phone: +1 615-254-8006

address: 1604 8th Avenue South

Intimate (read: cramped); owner and man-around-town Mike Grimes books everything from country singer-songwriters to young noise bands. Above the venue is Grimey's, his record store that consistently is voted best independent record store in Nashville. A non-smoking, 21+ club.

The End

phone: +1 615-321-4457

address: 2219 Elliston Pl

Located just across from Exit/In, it regularly books reliable indie rock bands, both local and nationally known.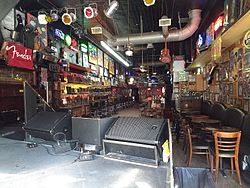 phone: +1 615 726-0504

address: 412 Broadway

Good music nightly on the stage at this spacious two-floor honky tonk in the center of downtown Nashville.

phone: +1 615-726-0463

address: 422 Broadway

Tootsie's is one of the few denizens of lower Broad that looks like it's been there for half a century - and it has. An old honkytonk where many major country stars got their starts.

phone: +1 615-902-8200

address: 120 2nd Avenue North

Located downtown, it offers line-dancing lessons during the day. It is conveniently located near quite a few other bars and clubs aimed at country music fans and tourists downtown, most of which tend to be bustling on weekends.
Sleep
Hostels
Budget
Mid-range
Splurge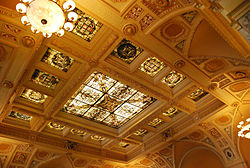 Stay safe
Avoid walking in North Nashville, especially the Bordeaux and MetroCenter districts, and use caution when driving through the district at night.
Use caution when walking around Downtown Nashville at night, especially along the avenues south of Broadway. Use designated parking and avoid leaving valuables in your vehicle.
Panhandlers
do exist around these areas as well.
Connect
By phone
Most telephone numbers in Nashville consist of +1 615 plus a seven-digit number, but the region is now served by an overlay complex of two area codes, with +1 629 being the second. A local or in-state telephone call now requires all 10 digits of the local number be dialed (omitting just the leading +1 from a local landline call).
Signage on many established businesses may still display the original seven-digit numbers; dial 615 before these if no area code is indicated.

Cope
Unlike the more conservative suburbs surrounding it, the city of Nashville is more accepting of alternative sexualities and lifestyles.
In Nashville there is a growing gay entertainment district featuring a number of gay clubs, dance halls, lounges, restaurants and sex clubs on Church Street between 12th and 22nd Avenues with very chic spots offering lively, classy entertainment. LGBT individuals are mostly accepted in the areas of Downtown, West Nashville, Hillsboro, and East Nashville, with South Nashville and North Nashville being less friendly.
Newspapers
The Tennessean. The main daily newspaper.
Nashville Scene. Nashville's oldest and largest weekly, now run by the Village Voice. Excellent entertainment news and reliable features, plus useful special issues (Annual Manual, Dining Guide, You're So Nashville If..., College Guide, Best of Nashville, etc.)
Consulates
Go next