Nassau County
Nassau County
is in
New York state
,
USA
.
Regions
North Shore. Often called the "Gold Coast" for its proliferation of early twentieth-century mansions, the North Shore is known for its hilly roads and rocky beaches.
Nassau Hub. This region near the center of the county is a busy shopping district with multiple points of interest. It occupies the site of two historic former airfields: Roosevelt Field and Mitchel Field.
South Shore. The South Shore of the County is flat and is known for its sandy ocean beaches.
Long Island Sound separates the North Shore of Nassau County from Connecticut, while the South Shore borders the Atlantic Ocean
Cities and towns
Nassau County is divided into three towns and two cities:
North Hempstead, on the western portion of the North Shore, contains the "West Egg" and "East Egg" of Great Gatsby fame. Being that it borders Queens, it has a fair amount of development as well. It also includes the village of Mineola
Glen Cove, a small city in the middle of Nassau County's North Shore, contains a lively downtown as well as several historic mansions.
Oyster Bay is the easternmost portion of Nassau County. Its northern portion is centered around the hamlet of Oyster Bay on its eponymous harbor, and is again the site of many historic buildings. South Oyster Bay is more densely developed, but has many shopping districts and points of interest. It also includes the village of Farmingdale and the hamlets of Bayville, Bethpage, Massapequa and Plainview.
Long Beach, Nassau County's other city, is prime beach territory right on the Atlantic Ocean.
Hempstead is the nation's most populous civil township, and the second most populous municipality in New York. It is the site of Freeport's Nautical Mile, the "original suburb" of Levittown, and the famous Jones Beach. The Garden City area is known as the "Nassau Hub" due to its central location and concentration of shopping, athletic, and cultural activities. It also include the hamlet of Merrick and the village of Rockville Centre
Understand
Nassau County is the second largest county by square mile on Long Island (Suffolk being the largest by far). It is sandwiched between Suffolk County and Queens County. The County Seat is in Mineola. Nassau County also has several beaches, including Jones Beach and Long Beach.
You can also visit the downtown areas of each village. There are typically many shops and sometimes even restaurants in those areas.

Talk
English is the main language. Hempstead, Uniondale, New Cassel, Westbury and Freeport have large Spanish-speaking populations.

Get in
Take the
Long Island Rail Road
, Nassau Inter County Express (formerly Long Island Bus) , or drive in via the Long Island Expressway, Northern State Parkway, Southern State Parkway, or Sunrise Highway.
Get around
Getting around is very easy by car, especially with the presence of the Long Island Expressway (commonly referred to as the LIE in the area) and several other parkways.

See
Do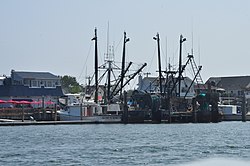 Eat
All American Burger, Massapequa, New York- Old School fast food known for burgers, fries, and shakes at very affordable prices

Stay safe
Nassau County is in general a safe place to visit. As anywhere, just use basic common sense; this is the average suburban county. Crimes, if any, usually occur in Hempstead, Freeport, Roosevelt, Uniondale, New Cassel/Westbury and Elmont. The Island Trees/Plainedge area of Levittown has seen an increase in crime lately, as well as the western part of Hicksville south of Cantiague Park. Gang violence is rampant in New Cassel, Hempstead, Uniondale, Roosevelt and Freeport. The only safe areas of Hempstead are west of Cathedral Ave, north of Hempstead Tpke and east of Westbury Rd, north of Hempstead Tpke. Uniondale and Roosevelt are safe in the daylight, but be extra careful at night. New Cassel is relatively safe during the day but very dangerous at night. Freeport south of Sunrise Hwy is very safe.

Go next