Natchez Trace Parkway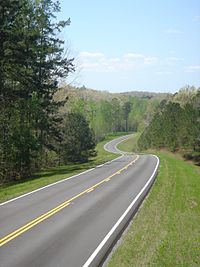 The
Natchez Trace
is a 444-mile-long (715 km)
national parkway
that runs from
Nashville
in
Central Tennessee
to the town of
Natchez
in
Mississippi
. The route has been in use from pre-Colonial times and includes exceptional scenery, Indian burial mounds, overlooks, hiking trails, nature exhibits, and sites of historic interest. There are no commercial vehicles allowed on the road, making the route a laid-back journey through the Southeast. Although its length is impressive, the park averages only 800 feet (about 240 m) in width.
Understand
History
The parkway follows the old Natchez trace from Natchez to Nashville. The trace originated as a footpath used by Native Americans and early explorers to travel across the region. In the late 1700s, the route was heavily used by Ohio Valley farmers, who floated their goods down the Mississippi, sold their flatboats for lumber, and then returned home on foot. These "Kaintucks" often walked the trace's approximately 500-mile (800-km) distance in just 30 days. By 1820, over 20 "stands" (inns) were located along the route to cater to the increasing traffic.
Landscape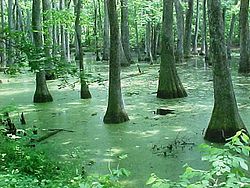 The Natchez Trace Parkway is a haven of biodiversity because it traverses a variety of ecosystems that possess an amazing array of natural features. The southern portion of the park features bayous and swamps situated in the floodplains of meandering rivers. Man-made impoundments of flowing watercourses have created small ponds and massive lakes with miles of shoreline. As the park rises in elevation, outcrops of limestone become apparent, some of which contain caves and fossils. Limestone is also the parent material underlying the park's remnant prairies. The natural features most readily visible, however, are the vast tracts of eastern deciduous forest lining the parkway motor road.
Flora and fauna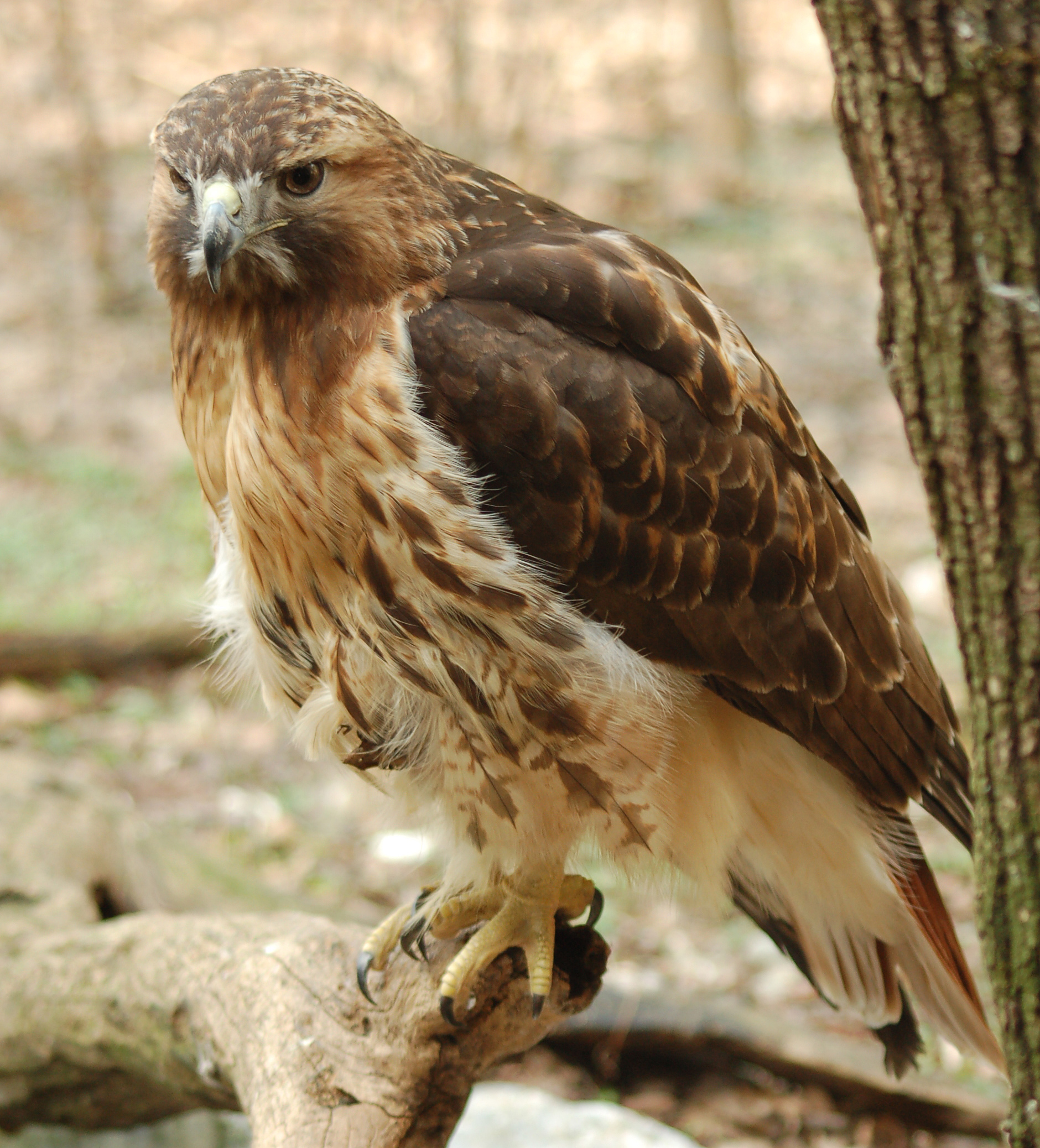 As a 444-mile-long National Parkway, the Natchez Trace Parkway provides a safe corridor for wildlife to move between neighboring national forests, state parks, and other public lands. While traveling on the parkway, visitors may see mammals on the move, especially around dawn and dusk. Deer are quite common, but a lucky traveler may have a chance to see a coyote, fox, or armadillo. While black bear have been confirmed on the parkway, a bear sighting is extremely rare.
Several of the parkway's pull-offs are noted for their quality birding opportunities. Wading birds such as great blue herons, great egrets and double-crested cormorants can be seen from the Ross Barnett Reservoir, Ten-Tom Waterway, or Colbert Ferry. Songbirds such as buntings, cardinals, cedar wakings and scarlet tanagers are commonly seen from the Rocky Springs, Jeff Busby, Witch Dance, Donivan Slough, and Meriwether Lewis nature trails. Raptors such as bald eagles, red-tailed hawks, Mississippi kites, and kestrels have been seen in the skies at Chickasaw Village, Pharr Mounds, Water Valley Overlook and Birdsong Hollow. The parkway's grasslands are home to killdeer, whip-poor-wills, and the Northern bobwhite. Hundreds of people visit Rock Spring every fall to witness the ruby-throated hummingbirds feasting on jewelweed nectar. Featured on the North Alabama Birding Trail, both Rock Spring and Colbert Ferry provide excellent birding opportunities throughout the year. In addition, turkey, Canada geese, vultures, and hawks are often visible while driving.
Fifteen species of frogs, from big bullfrogs to stealthy leopard frogs, are known to live within the woods and wetlands preserved along the parkway. Newts and salamanders are plentiful within the park as well. Note that the park's amphibians are very vulnerable to traffic, particularly south of Interstate 20 in Mississippi, and frequently try to cross the parkway between December and March in an attempt to reach their breeding pools; please obey posted speed limits to protect them.
The parkway is home to over 40 different species of reptiles, including alligators, turtles and snakes. While reptiles may not be as easy to spot as many of the mammal species of the parkway, there are opportunities to see alligators at Cypress Swamp, or turtles along the numerous creeks and streams along the Natchez Trace Parkway. There are 25 species of snakes that live along the parkway, with only three of them being venomous (Southern copperhead, Western cottonmouth, and Canebrake rattlesnake). While the chance of seeing a venomous snake is rare, visitors are encouraged to use caution when hiking and picnicking along the Parkway.
The Natchez Trace Parkway contains a huge and diverse array of plant species by virtue of it being a 444-mile-long park oriented in a generally north-south direction. This enables it to contain representative habitat from four ecosystem provinces: the eastern broadleaf forest at the northern end of the park is dominated by hickory and oak species, while the lower Mississippi riverine forest at the opposite terminus features beech and oak species adapted to warmer conditions. In between the two extremes lie the outer coastal plain mixed forest and the southeastern mixed forest, both of which contain more of a pine and hardwood mix. Add to this diverse array of ecoregions the fact that the parkway traverses eight major watersheds, and it is not surprising that nearly 2,200 plant species have been documented in the park. More will surely follow as additional studies are completed. But while this diversity of species is impressive, more readily apparent is the ever-changing beauty of the park's vegetation, whether it be the flowers of spring, the lush greenery of summer, or the magnificent fall colors of autumn.
Climate
In the summer, expect hot and humid weather throughout the length of the parkway, high temperatures typically in the 90s (F, i.e. above 32°C). In the winter, because the parkway spans 444 miles north and south, conditions vary greatly. Expect very mild winters near Natchez with only occasional freezing. In Tennessee, snow and icy bridges are common. Spring and fall are very pleasant.
Fees and permits

There are no fees for entering the parkway, nor for any of the visitor centers, exhibits, or campgrounds along the route.

Prepare

There is no food or gas located on the parkway itself, but over its 444 mile length there are numerous options to exit the parkway and make use of services in the many towns located within a short drive of the parkway.

Get in

The combination of low speed limits and no commercial traffic makes for a very relaxing and enjoyable drive - popular with bicyclists, motorcyclists, and motorists. The route is fairly unique in that a motorist can travel the 444-mile length without seeing commercial buildings, traffic lights, or many other signs of the modern world. Rangers enforce the 50 mph speed limit, so the journey is at a slower pace than on most modern roads.

Drive
The parkway mileposts start at Natchez (milepost 0) and end near Nashville at milepost 444.
Intersection with Tennessee 100.
Completed in 1994, this double-arched bridge received the Presidential Award for Design Excellence in 1995.
Named for a nearby 1801-02 Army post. The area is a trailhead for horseback riders and hikers.
The U.S. Army cleared this section in 1801-02 and continued southward with consent of the Chickasaw Nation.
When Tennessee joined the Union in 1796 this was the boundary between the United States to the north and the Chickasaw Nation to the south.
From 1801 until traffic on the trace declined, the Gordons ran a ferry across Duck River here. The house was built about 1818.
Named for Andrew Jackson, the falls are on the intermittent Jackson Branch that empties into Duck River.
Take a pleasant walk on a 2000-foot section of the original trace.
Exhibits explain tobacco growing. A two-mile drive along the old trace begins here. The road is not accessible for travel trailers or low-clearance vehicles.
A stand (inn) stood here. The Widow Cranfield operated this inn with her second husband, an Indian who spoke little English. According to legend, the inn was named by the husband's habit of answering all traveler's questions by pointing to his wife and saying "She boss".
Here the trace marked the boundary of Chickasaw lands ceded to the United States in 1805 and 1816.
Not accessible for RVs.
This stop offers a short walk to a waterfall.
A short hike leads to an old phosphate mine.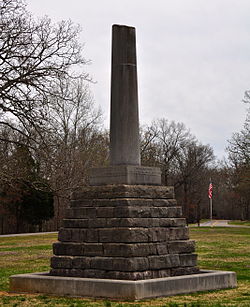 The co-leader of the Lewis & Clark expedition is buried here, having died unexpectedly on his way to Washington. Campground, picnic area, ranger station.
Travelers crossed the Buffalo River here; the remnants of an ironworks and McLish's stand are nearby.
Miners worked this open pit mine in the 1800s.
Picnic area and restrooms.
A 2.5 mile long road follows the original trace route. Not for travel trailers.
The often impassable mudhole provided an obstacle for early travelers and lies a mile south of this location.
Picnic area, restrooms.
A 20-minute self-guiding trail follows this fast-flowing stream; seasonal wildflowers.
Village bears the name of the stand that stood nearby.
Three sections of the original road show how the route was relocated to avoid mudholes.
Picnic area.
Picnic area.
A walk on this trail along Colbert Creek takes about twenty minutes. In the fall this is an excellent place to see ruby-throated hummingbirds feasting on jewelweed nectar.
Picnic area.
This span crosses Pickwick Lake, which was formed by Pickwick Landing Dam on the Tennessee River.
Chickasaw George Colbert operated a stand and ferry in the early 1800s and reportedly charged Andrew Jackson $75,000 to ferry his army across the river. Information (seasonal), fishing, boat launch, bike-only primitive campground, restrooms.
Chickasaw Levi Colbert owned a stand nearby. Exhibits. A short trail leads to Buzzard Roost spring.
A steep, quarter-mile trail leads to Alabama's highest point on the parkway, 800 feet above sea level.
Picnic area.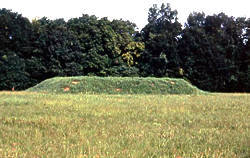 This ceremonial structure was built between 1200 and 1400.
A natural cave that was probably used by American Indians.
The park is named for a Chickasaw medicine man. Camping, picnicking, swimming, canoeing and fishing.
Lake and dam access.
The waterway makes 459 miles navigable between the Gulf of Mexico and the Tennessee River. The U.S. Army Corps of Engineers administers the waterway and nearby visitor center.
This 90-acre complex of eight burial mounds is between 1800 and 2000 years old. Restrooms.
Self-guiding trail. Allow twenty minutes to walk through an area where occasional flooding influences plant varieties.
This area along the stream typifies the landscape of the old trace. Not for travel trailers.
Self-guiding trail that winds through dogwood trees for fifteen minutes.
A short walk leads to the graves of thirteen unknown Confederate soldiers.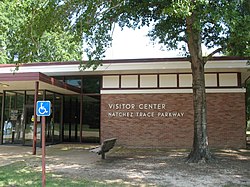 A self-guiding trail goes through forest regrowth; allow about twenty minutes. Exhibits, information, orientation program, restrooms. You can reach Brices Cross Roads National Battlefield Site from here via Miss. 145 north to Miss. 370 west.
Views of Old Town Creek and its floodplain.
Exhibits portray daily life and history at the Chickasaw village that stood here. A self-guiding trail features plants used by the Chickasaw.
The 1864 battle took place one mile east on Miss. 6.
This once-vast prairie has rich, black soil.
Pontatok, the capital of the Chickasaw Nation in the 1820s, was located here. Picnic area.
John McIntosh settled here in 1770. After the Natchez Trace was declared a national Post Road in 1800 the stand became the midway point where post riders from Natchez and Nashville met up, exchanged mailbags, and returned.
Chickasaw learned trades at the mission. Picnic area.
The Spanish explorer spent the 1540-41 winter near here.
Access point to U.S. Forest Service picnicking and summer camping area.
Agency for the Chickasaw was located here from 1801 to 1825.
Horse trail access, bike-only primitive campground, picnicking, restrooms.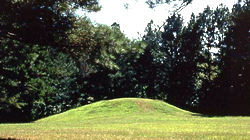 Prehistoric people built these mounds between 2100 and 1800 years ago. Exhibits.
See part of the original trace.
Ranger station.
Boundary between lands of the Chickasaw and Choctaw tribes.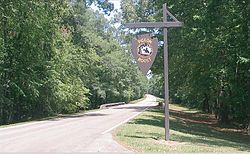 Nathaniel and David Folsom ran Folsom's stand and trading post near here. Millions of passenger pigeons, now extinct, roosted here.
. Picnic area.
Part of the original roadway leads into the woods.
Picnic area, campground, restrooms. Allow twenty minutes to hike a self-guiding trail or drive to one of Mississippi's highest points, 603 feet above sea level.
Louis LeFleur established a stand here in 1812. It opened as a school in 1822, which is still in operation. Sorghum syrup is made here in the fall.
One of thirteen Choctaw missions; it was one-half mile to the northwest. Picnic area.
Short, self-guiding trail through a water tupelo/bald cypress swamp.
A short, self-guiding walk identifies plants found in different soil conditions.
Kosciusko chamber of commerce volunteers provide travel information for the parkway and local area.
Ranger station.
Picnic area, restrooms.
Self-guiding trail. Take ten minutes to learn about the beavers here.
Named for a Choctaw chief, the road was opened in 1834.
Dating from 1821 this road connected Jackson and Columbus, Miss. Picnic area.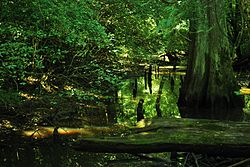 Quiet rest stop.
Self-guiding trail. Allow ten minutes to walk in an area that features southern pines. A row of trees marks this dividing line.
Picnic area, restrooms.
Twenty minute self-guiding trail through a water tupelo/bald cypress swamp.
This old boundary ran from Yazoo and Mississippi rivers' confluence east to the Chattahoochee River.
These burial mounds were built from 900 to 1200 years ago.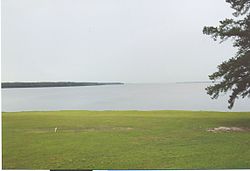 Ross Barnett Reservoir on the Pearl River parallels the parkway for eight miles.
The stand was advertised in 1806 as "a house of entertainment in the wilderness". Part of the original trace is nearby.
(seasonal) Information, exhibits, restrooms. Allow twenty minutes to an hour to explore the trail.
From 1807 until after 1820 a brick structure here housed an agent who served as a liaison between the U.S. government and the Choctaw Nation.
Noble Osburn opened a stand here in 1811. By the early 1820s, when the city of Jackson was founded, traffic shifted away from this part of the old trace.
Much of the Mississippi's history can be traced throguh the life of Cowles Mead, a stand owner along the old trace and acting territorial governor (1806).
This 1863 Civil War battle of the Vicksburg campaign was fought nearby.
This site served travelers in the 1820s and 1830s. Nearby is the site of Dillon's Plantation, May 1863 Vicksburg campaign headquarters for US generals Grant and Sherman of the Civil War.
This line divided - north and south - lands taken by new settlers of the Mississippi country from lands of the Choctaw Nation.
A short trail from the upper parking area leads to the old townsite. Camping, picnicking, ranger station, restrooms, phone and part of the old trace.
Picnicking, hiking.
Northbound travelers considered themselves in wild country once they crossed the ford on Bayou Pierre. Artifacts tell of prehistoric people who lived in the area.
Self-guiding trail. Allow five minutes to walk through a deeply eroded section of the original trace.
Ranger station.
A fifteen minute, self-guiding trail goes through a hardwood-pine forest.
Picnic area, restrooms.
Interpretive programs available February through November at this restored historic stand, one of the first in Mississippi. Exhibits, ranger station, restroom.
Deposits of topsoil (loess) were blown here during the ice ages.
Picnic area.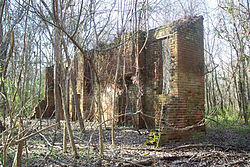 Natchez ancestors built this ceremonial mound between 1200 and 1730. It is nearly eight acres and second largest in the US behind Monks Mound in Cahokia. A trail leads to the top.
See the old trace.
Founded in 1818, this was the first school for women chartered by the state of Mississippi.
Sleep
There are no hotels located on the parkway itself, but numerous lodging options can be found in the many towns that are along the route. The largest of these towns include
Tupelo
and
Jackson
, each of which offers dozens of hotels.
Three campgrounds are located on the parkway. These campgrounds are free and available on a first come, first served basis. While restrooms with running water are available, they do not offer electricity, showers, or dump stations. Campgrounds are typically busiest during the spring and fall, especially during holiday weekends. Camping is limited to fourteen consecutive days at a single site or thirty days park-wide during a calendar year. In addition to the sites listed below, there are also a handful of campgrounds that are available only to bikers and hikers.
Rocky Springs22 campsites, picnic tables, restrooms, horseback riding, and self-guiding trails.
Jeff Busby18 campsites, picnic tables, trails, exhibits, restrooms and an overlook.
Meriwether Lewis32 campsites, pioneer cemetery, picnic tables, ranger station, exhibits, restrooms and trails.
Stay safe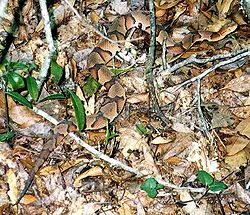 The parkway speed limit is 50 miles per hour in most areas, and this is enforced by park rangers. In some areas lowered speed limits are put in place to protect both motorists and local wildlife - for example, the area between mileposts 85 and 87 is home to a wide variety of salamanders and frogs, and lowered speed limits may be in place during times of the year when they are likely to be crossing the roadways. Please obey posted limits, both for your own safety and for the safety of wildlife that makes the area its home.
Dangers from wildlife are minimal and exercising common sense should prevent any unwanted encounters. There are three species of venomous snake in the area (Southern copperhead, Western cottonmouth, and Canebrake rattlesnake), which, while rarely seen, can be avoided by paying close attention to where hands and feet are placed. Note that all wildlife, including venomous snakes, is protected along the Natchez Trace Parkway.
Go next
- The parkway's northern terminus is located in America's country music capital.
- Elvis Presley's birthplace is located just off of the parkway near milepost 260.
- The parkway passes through Mississippi's capital city between mileposts 90 and 100.
- Site of a major Civil War battlefield and home to the Vicksburg National Military park, this town is located about fifteen miles from the parkway near milepost 60.
- The parkway's southern terminus is home to an impressive and historic cemetery as well as many Antebellum homes.