Natural Bridges National Monument
Natural Bridges National Monument
is a
United States National Monument
in the
Canyon Country
of southeastern
Utah
, showcasing three natural stone bridges within its boundaries. Natural Bridges became the first International Dark Sky Park in 2007.
Understand
History
Repeatedly occupied and abandoned during prehistoric times, the area was first used during the Archaic period, from 7000 BC to AD 500. Only the rock art and stone tools left by hunter-gatherer groups reveal that humans lived here then. Around AD 700, ancestors of modern Puebloan people moved onto the mesa tops to dry farm and later left as the natural environment changed. Around AD 1100, new migrants from across the San Juan River moved into small, single-family houses near the deepest, best-watered soils throughout this area. In the 1200s, farmers from Mesa Verde migrated here, but by the 1300s the ancestral Puebloans migrated south. Navajos and Paiutes lived in the area during later times, and Navajo oral tradition holds that their ancestors lived among the early Puebloans.
In 1883, prospector Cass Hite wandered up White Canyon from his base camp along the Colorado River in search of gold. What he found instead were three magnificent bridges water had sculpted from stone. In 1904, National Geographic Magazine publicized the bridges, and in 1908 President Theodore Roosevelt established Natural Bridges National Monument, creating Utah's first National Park Service area.
Landscape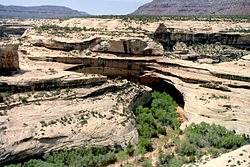 While arches stand on the skyline, natural bridges form in the bottoms of deep canyons. This difference is due to how each is formed: seeping moisture and frost shape arches, but running water carves natural bridges. As the curving meanders of streams carved down into the sandstone at Natural Bridges they undercut the canyon walls and bent back upon themselves until only a thin fin of stone separated them. Flash floods periodically pounded against weak spots formed by the soft siltstone layers in the sandstone. Eventually, the water cut through the narrow neck of the meander, forming a natural bridge. At first each bridge is thick and massive, as is Kachina Bridge, but as erosion attacks them on all sides, the bridges become more delicate (as with Owachomo Bridge) and eventually collapse.
Geologically speaking, the bridges themselves are relatively recent and short-lived occurrences. Since sandstone erodes at different rates (more weathering occurs when the climate is wet than during times of aridity), the exact age of the bridges is difficult to determine. We do know that ten million years ago the Colorado Plateau was flat and featureless. When the last glacial period ended 18,000 years ago, glacial melt and increased rainfall speeded the erosion of canyon country. A wet climate between 900 and 4,000 years ago probably began the erosion of most spans; the largest spans are believed to be over 5,000 years old.
Flora and fauna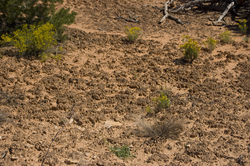 Birds, desert cottontails, kangaroo rats and lizards are common and may be seen by a majority of visitors. Many desert animals are either inactive during daylight hours or wary of humans, so sightings can be special events. The area's hot climate and lack of water seems to favor small mammals. Because of their size, these animals have an easier time finding shelter and require less food and water to live. Rodents are numerous, with nine species of mice and rats alone. Large mammals like mule deer and mountain lions must roam vast territories in order to find food and water, and sometimes migrate to nearby mountains during summer.
The desert climate also favors reptiles like lizards and snakes. Natural Bridges has several known rattlesnake dens. The midget faded rattlesnake, a subspecies of the widely distributed western rattlesnake, is the most common. During spring, these dens may contain several dozen snakes. Though small (usually around 24 inches long), the midget faded rattlesnake has a very toxic venom.
Amphibians may be the last thing people think of when they visit Natural Bridges. However, the area is home to a variety of frogs and toads, as well as one species of salamander. These animals take advantage of intermittent springs and pools when they are available and remain dormant during drier periods. Witnessing a chorus of toads in White Canyon may be one of the most memorable experiences canyon country has to offer.
Plants in the park fall into three basic categories: drought escapers, drought resistors and drought evaders.
Drought escapers are plants that make use of favorable growing conditions when they exist. These plants are usually annuals that grow only when enough water is available. Seeds may lie dormant for years if conditions are not favorable. Spring annual wildflowers are escapers. They sprout following winter and early spring rains, and sometimes again after late summer rains.
Drought resistors are typically perennials. Many have small, spiny leaves that reduce the impact of solar radiation, and some may drop their leaves if water is unavailable. Spines and hairy leaves act to reduce exposure to air currents and solar radiation, limiting the amount of water lost to evaporation. Cacti, yuccas and mosses are examples of drought resistors. Yuccas have extensive taproots that are able to find water beyond the reach of other plants. Moss, a plant not commonly associated with deserts, thrives because it can tolerate complete dehydration: when rains finally return, mosses green up immediately.
Drought evaders, the final group, survive in riparian areas where water is plentiful. Monkey flower, columbine and maidenhair fern are found in well-shaded alcoves near seeps or dripping springs. Cottonwoods and willows require a lot of water, and only grow along river corridors and intermittent streams where their roots can reach the water table easily.
Climate
Southeast Utah is part of the Colorado Plateau, a "high desert" region that experiences wide temperature fluctuations, sometimes over 40 degrees in a single day. The temperate (and most popular) seasons are spring (April through May) and fall (mid-September through October), when daytime highs average 60 to 80 °F and lows average 30 to 50 °F. Summer temperatures often exceed 100 °F, making strenuous exercise difficult. Late summer monsoon season brings violent storm cells which often cause flash floods. Winters are cold, with highs averaging 30 to 50 °F, and lows averaging 0 to 20 °F. Though large snowfalls are uncommon (except in nearby mountains), even small amounts of snow or ice can make local trails and roads impassable.
Get in
The entrance to Natural Bridges is at the end of Highway 275, which is roughly 35 miles west of
Blanding
, Utah on Highway 95. Driving time from Blanding is roughly 45 minutes. Nearly all visitors drive to Natural Bridges, although bicycling is a popular alternative. No bus or commercial transportation is available to Natural Bridges.
From Moab, take U.S. 191 south past
Monticello
and
Blanding
. Turn right on Highway 95, then watch for signage directing you to Highway 275 and Natural Bridges.
From
Mexican Hat
: Adventurous travelers resistant to vertigo may head north on Utah State Route 261. Ascend the Moki Dugway, then continue north to the Highway 95 intersection just east of Natural Bridges.
From
Bluff
, travel north on U.S. 191 to its intersection with Highway 95. Turn west on Highway 95 and watch for signage directing you to Highway 275 and Natural Bridges.
From
Hanksville
, travel south on Utah State Route 95.
Fees and permits
Get around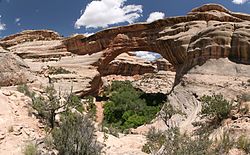 See
The monument showcases three natural bridges, Sipapu, Kachina, and Owachomo. Each bridge is visible from overlooks not far from parking areas. These three bridges were first named "President," "Senator" and "Congressman" by Cass Hite, and were renamed "Augusta," "Caroline" and "Edwin" by later explorer groups. As the park was expanded to protect nearby Puebloan structures, the General Land Office assigned the Hopi names "Sipapu," "Kachina" and "Owachomo" in 1909.
Sipapu BridgeSipapu means "the place of emergence," an entryway by which the Hopi believe their ancestors came into this world. It is the second largest natural bridge in the world.

Kachina BridgeThis bridge is named for rock art on the bridge that resembles symbols commonly used on kachina dolls.

Owachomo BridgeOwachomo means "rock mound," a feature atop the bridge's east abutment.

Horsecollar RuinNatural Bridges also protects Horsecollar Ruin, an ancestral Puebloan cliff dwelling visible from an overlook.
Do
A nine-mile loop road provides access to overlooks for each bridge. Connect yourself to the land by hiking the trails to the base of each natural bridge, or take the Loop Trail to view all three bridges.
As the first International Dark Sky Park, Natural Bridges provides extraordinary opportunities for astronomy.

Buy
The visitor center and its bookstore are open 8AM to 5PM each day (except Thanksgiving Day, December 25th, and January 1st).

Eat
No concessionaire operates within Natural Bridges National Monument. Although packaged snack food may be available at the bookstore in the visitors' center, food for meals should be purchased in Blanding or Mexican Hat before your visit.

Drink
Remember, Natural Bridges National Monument is in a remote desert environment. While limited water may be available at the visitors' center, visitors should provide their own water.

Sleep
Lodging
There is no lodging available in the park - the nearest hotels are in
Mexican Hat
,
Blanding
, or
Monticello
.
Camping
Overflow camping is available outside Natural Bridges.
Park campgroundThe park has a 13-site campground is open year-round on a first-come, first-served basis. Sites will accommodate up to eight people and one vehicle. There is a 26-foot length limit for vehicles. Each site has a fire grill, picnic table and tent pad. Gathering firewood is prohibited. There are two vault toilets in the campground and no water is available, but flush toilets and potable water are available 24 hours a day at the visitor center (0.25 miles away).
Backcountry
Stay safe
As with any desert locale, take water, stay hydrated. Should you venture onto the trails, protect yourself from the sun.

Go next