Nauvoo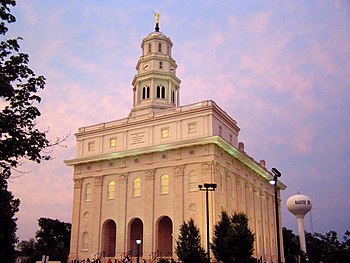 Nauvoo
is a small town in
Western Illinois
.
Understand
Nauvoo is most famous for having been founded in 1840 by Joseph Smith, Jr., as one of the first centers of The Church of Jesus Christ Latter-day Saints, following their exodus from
Missouri
in the wake of the Mormon War. In 1844, owing to hostility between the Mormons and their neighbors, as well as worries over a perceived theocracy in Nauvoo, the Illinois Legislature stripped the town of its legal status, leaving Nauvoo as a large (~12,000 residents) unincorporated community de facto ruled by the LDS Church. By 1846 hostilities (including vigilante violence and the assassination of Joseph Smith, Jr.) had grown severe enough that Brigham Young (accepted by most of Smith's followers as his successor) and his supporters left in what is known as the Mormon Exodus, along the
Mormon Trail
.
The temple, which was the second the Mormons built after the original (which in turn was destroyed in the Mormon War) in Missouri, was burnt down by arsonists shortly following the Mormon Exodus. But in 1999 the temple was built and completed in 2002. The exterior is a faithful reconstruction, but the interior (which is off-limits to non-Mormons) follows the architectural plan of a modern LDS temple.
Following the Mormon Exodus, the original settlement was purchased by the Icarians, a French utopian society, with the intent of using Nauvoo as a main settlement with satellite communities elsewhere in the Midwest. Ultimately, the settlement folded in 1860 following internal conflicts.
Get in
Nauvoo is on Illinois state road 96, part of the
Great River Road
following the
Mississippi River
. Driving to Nauvoo from
St. Louis
or
Chicago
takes about 3 hours, depending on traffic. St. Louis and Chicago are the nearest cities with full air service;
Peoria
and the
Quad Cities
are closer and are reached by some but not all commercial airlines.
Quincy
is closer still, and has been served by commuter airlines at various times, but the service is intermittent.
Get around
Drive, bike or walk; the town is too small to pose difficult transportation problems.

See
Go next