Negev
The
Negev
is a large desert that covers the entire southern half of
Israel
.
Cities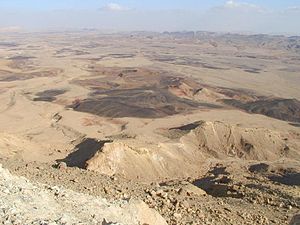 Be'er ShevaThe Biblical city of Abraham and de facto capital of the Negev.

AradA modern town on the edge of the Negev and convenient starting point for trips to the Judaean Desert and the Dead Sea.

DimonaThe third largest city in the Negev.

EilatThe southern-most Israeli city, on the Red Sea coast, a major center for domestic and international tourism.

Mitzpe RamonA small town overlooking the Makhtesh Ramon, the largest erosional crater on earth, with various hikes around the area.

NetivotA small city, home (and now gravesite) of the Baba Sali, a famous rabbi.

OfakimA regional center for the rural communities in the area.

RahatThe largest Bedouin settlement in Israel, and the only one to have the status of city.

SderotA small city, known for its contribution to the Israeli music scene, and for the rockets that hit it from nearby Gaza.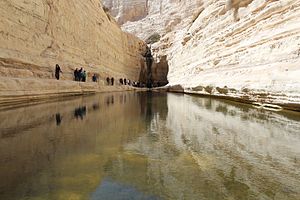 In addition, cities like
Ashdod
and
Ashkelon
are considered by most Israelis to be part of the Negev, but they are included in the
Israeli Coastal Plain
region on Wikivoyage.
Other destinations
– a large Kibbutz north of Mitzpe Ramon on Route 40, starting point for many surrounding trips to places like Avdat and Ein Avdat (see below). Includes the "Field School of the Negev" hostel and a tourist information center, which advises on trails and tours in the area
– small town located near the Large Crater

Samar (Israel)A kibbutz in the Arava.
Understand
The least populated area in
Israel
, the Negev is a home to (among others) the nomadic desert people known as the Bedouin. It offers some truly breathtaking scenery and is home to some fascinating sites and places.
The Negev is the southern region of Israel, covering 55 % of the state's territory and inhabited by some 379,000 Jews and 175,000 Bedouins (nomadic desert Arabs). Contrary to the usual view of a "desert", most of the Negev is not covered with sand. Rather, it is a melange of brown, rocky, dusty mountains interrupted by
wadis
(dry riverbeds that bloom briefly after rain) and deep craters. The area was once the floor of a primordial sea, and a sprinkling of marine snail shells still can be found here. Aside from the natural wonders, the Negev plays host to a great number of ancient sites, displaying the rich history of this crossroads of trade between Asia, Africa, and Europe.
Get in
By plane
Eilat airport closed in March 2019, and all its flights were transferred to Ramon.
Ovda Airport closed in April 2019 and all its commercial flights transferred to Ramon; Ovda remains in use as a military airfield.
Ramon International Airport EilatThis airport opened in Jan 2019 and handles all flights to Eilat, with domestic flights from Ben Gurion Airport and Haifa in addition to (mostly winter only) international flights to Europe on both legacy and low cost carriers. See Eilat for ground transport and facilities.
By train
Israel Railways
connects
Tel Aviv
,
Haifa
and
Ben Gurion airport
to
Be'er Sheva
, with an extension to
Dimona
, but no further. A longer train line from Tel Aviv to Eilat is in the planning stages.
By bus
Be'er Sheva is served by bus from Tel Aviv or
Jerusalem
. Buses to
Eilat
travel from Tel Aviv, Jerusalem and Haifa. Towns and villages throughout the Negev are connected by bus to Be'er Sheva, but service could be infrequent.
If you're flying into Ben Gurion Airport and want to head straight to Eilat, you would better get on a short train ride to Tel Aviv Hagana station and board a bus to Eilat from nearby Tel Aviv central bus station. Advance reservation is available on buses to and from Eilat, and there are also night buses.
There are no laws concerning the number of people allowed on buses, so drivers will often pack the bus as full as possible, and you may end up with a young soldier sitting on the floor next to you, with his large semi-automatic poking you in the leg. It is recommended that you call and book your seat in advance in order to avoid standing for your whole ride. Booking on
Egged
is also available by internet.
You better avoid the busiest travel times, in particular Sunday mornings and Thursday afternoons (when soldiers travel to and from weekend vacation).
Get around
By car
Three main highways cross the Negev from north to south:
The central route (Route ), through Be'er Sheva and Mitzpe Ramon, merging with the eastern route near Yotvata.
The western route (Route ), running along the Egyptian border from Gaza Strip to Eilat, built primarily for military purposes and not accessible for private vehicles.
The two-lane highways are generally in good shape. The distance across the Negev from
Tel Aviv
to
Eilat
is around 360 km, covered by Egged express bus in 5 hours.
By bicycle
Riding down from the Dead Sea to Eilat (Route ) is a pleasant (though uphill) desert experience for most of the way.
Israel has been renovating this route from Arava junction (where 25 meets 90 at the southern terminus of the Dead Sea) since 2007 (a 170-km stretch). The stated goal is to widen the road to 4-lanes and to install rest stops every 45 km. As of 2019, they've only completed 40 km of this from Eilat to Yotvata. This 40-km "improved" stretch is actually far worse than the area north of it. The widened road has zero shoulder, with a curb at the edge of the lane providing no escape route. The safest approach to this 4-lane road is to take the right lane. Most vehicles will use the passing lane to pass you, but some congestion (or cars trying to pass cars while they're trying to pass you) may make for dangerous riding.
The longest stretch on this route is ~70 km without water. And many of the gas stations on this route (your only source of water) have signs up telling you not to drink their tap water. It was unclear why they don't want you to drink their water, but it was clear that at least some of the gas stations were filtering it and mixing it into their products for customers (e.g. slushies).
By thumb
Hitchhiking in the Negev is relatively safe. North of Mitzpe Ramon, and particularly around Be'er Sheva, there is a large Bedouin population. Think twice before riding in a Bedouin car, due to their generally extremely unsafe driving culture and possible questions about their car's legal status. It could be a unique experience though.
From Be'er Sheva – A good spot for hitchhiking in Be'er Sheva would be the junction in the very south end of Derech Eilat (hwy 406).
From Mitzpe Ramon – Exit of Mitzpe Ramon is a popular and fast spot towards Eilat.
Highway 90 – If need to hitchhike your way on the fast 90 highway (Arava Highway) it would be smart enter to one of the small villages or Kibbutz and try to hitchhike from the village's gate. Cars usually drive very fast on the 90 highway and don't notice hitchhikers.
See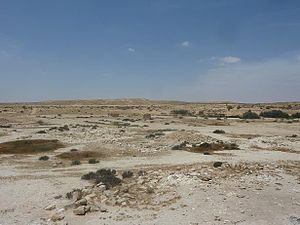 Besides the sites in and around the above mentioned cities, the following are worth mentioning:
Ancient historical sites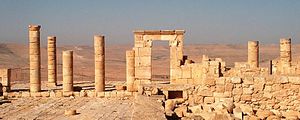 AvdatThe largest ancient Nabataean city in the Negev, now a national park.

MamshitA ruined Nabatean city, more accessible and well ordained then Avdat, and also a National Park. Mamshit is close to Dimona and easily accessible by car, but the closest bus stop is 3 km to the east at Rotem junction.

HalutzaAnother Nabatean city, but in a much worse state of preservation.

Maon SynagogueRuins of a Byzantine-period synagogue with a beautiful mosaic floor.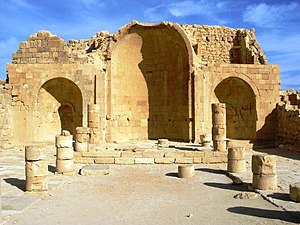 Shivta (National Park)An archaeological site with impressive Byzantine remains of a city in the heart of the desert, where usually there are no natural water sources around – astonishing churches, homes and streets. Many interesting details about the site can be found on the park official website. The location is quite remote – a long drive, and the closest bus stop is 5 km away.

Horvat PatishRuins of the Byzantine city Futis (Φώτις).
Natural sites
Ein AvdatA spectacular and beautiful desert oasis in a canyon, accessed by trails, and preserved as a national park.

Small CraterUnlike the Ramon Crater and Large Crater, this one can actually be seen by the bare eye at once and might even fit onto a photo frame. Best to be seen from the on the western rim. Noticeable are the upwards bended rims of the crater, due to the push from underneath. At the south eastern side, a great opening is visible which was either created from out-floating lava or during time from the rain washing aside this barrier.

Yotvata Hai-Bar Nature Reserve

phone: +972 8 637-3057, +972 8-637-6018

A drive-through to see Asian wild ass, African wild ass, Arabian oryx, gazelles, addax, ostrich, and raptors in cages. Includes a camp ground.

Timna Park (National Park)

phone: +972 8 6316756

An archaeological site with antique cooper mines, bizarre sand stone formations, a rebuilt tabernacle, Egyptian engravings and the Solomon Pillars. Has some great spots, sights and hikes.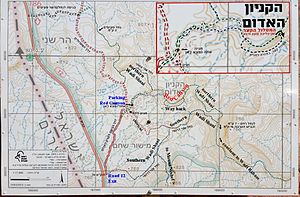 Red CanyonA canyon that illuminates colourfully during the day and looks like a smaller version of the entrance Siq to Petra, just without the concreted path. It is particularly popular during sunset. Great for hiking close to Eilat, with close-by Mount Neshef, a camp ground and a car park.

Oldest surface on earthThe oldest known remaining land surface on earth, dating to 1.8 million years old, is located approximately here. It was discovered by scientists in 2009. You cannot normally enter the area, as it is a closed military zone.
Other sites
Kibbutz RevivimOne of the first kibbutzim in the Negev, founded in 1938. In 1947 an international commission visited, and they were so impressed by what they saw that they decided to grant the Negev to Israel in order to "make the desert bloom". Thus, in the 1947 partition plan, the mostly uninhabited Negev was included in the planned borders of the Jewish state. Mitzpeh Revivim, a lookout point with the original kibbutz building, is now a museum worth visiting.

Midreshet Ben GurionA large midrasha (educational center) with Institute for Solar Energy Studies, the Ben Gurion Heritage Institute, the tomb of Ben Gurion, Institute for Desert Research, High School for Environmental Education and a pre military Mechinat Hanegev (preparatory program).

Camel herds, owned by the local Bedouins, can be spotted along the main road before and after the .
Do
Hike
The Negev is full of hiking trails open for the public. Very good and detailed hiking trails maps (in Hebrew) are available in every hiking store in the big cities and in some gas stations (₪90-110). Some areas are defined as
national parks
and the there is an entrance fee of ₪20-35, these areas have all the information needed including maps and guides. Going for an independent hike is free, safe, and sometimes the view is more impressive than in the national parks.
(

orange )

– Distance: 13 km, 4-5 hr. Altitude range: 204 m. Total climb: 244 m. Total descent: 299 m. Grade: easy-medium. Starting on the (12.3 km south of Mitzpe Ramon along route #40), hike towards the . From the camp follow the gravel road north for about 100 m until you reach the trail that leads east/right towards the . Going south from the oasis, just follow the marked trail left around the horse shoe until you have circled it and are back at the oasis. On the way you will see "cave" right underneath a huge rock half way and the ruins just before the oasis. Afterwards going south again , a marked trail lead right/west up to the ridge of . Down from here you will reach the Gevanim Night Camp again (where you might want to stay) and later, along the same gravel road you came in, the highway #40. Start such that you will finish the trail at the Golden Hour, having a marvellous view from the ridge of Mt. Saharonim into the Ramon Crater. Download track: KMZ, GeoJSON, for GPX see GPSies.
(

green )

– Distance: 17.7 km, 4-5 hr. Altitude range: 697 m. Total climb: 111 m. Total descent: 762 m. Grade: medium. Starting from the Small Crater Campground (see below), you follow the Israel National Trail east down into the crater. Right before the opening of the crater, where the Israel National Trail leads north up the crater again, you follow the marked trail south-east out of the crater. Afterwards follow the marked trail straight and do not follow the step right turn along the rim of the crater. From now on the marked trail will lead you down towards the long way to the highway, inside/besides the river bed. Once the trail will split to lead cars a different way, due to a steep canyon riff. Otherwise always follow the 4WD track and you will The other way around is possible as well, but much more exhausting and you will need more water – 5 l are suggested by the park authorities. The hike is good if you are able to get dropped off along the road near the campground (there is a sign indicating the Small Crater), and you are planning to start hiking down the next morning. This road that goes by near the campground is a small one and hitch-hiking it can be disappointing. Best to try from highway #90, so if you fail, you are not stuck in the middle of nowhere. Also, the drive up the mountain (namely ) is very scenic. Download track: KMZ, GeoJSON, for GPX see GPSies.
Being in a nature reserve like the Ramon Crater after dark (except for marked campground) can cost you a
fine of ₪700
.
The society for the protection of the nature (SPNI)
runs cheap hostels, information centers and nature schools around the country and in a few place around the Negev Desert. You can call them during office hours to get information about trails, military areas, weather and recommendation about hiking activities. Usually the staff is nice, patient and helpful.
phone: +972 8 6588615

Comfortable, inexpensive inn rooms. The school also provides tourist information and can conduct guided tours (must be ordered in advance).

phone: +972 8-6581546, +972 8-6581546

SPNI Eilat

phone: +972 8-6372021

phone: +972 8 6532016
Bike
phone: +972 8-6553350

address: Midreshet Ben Gurion

Desert Cycling Center- Specializing in Negev Bike tours. Guided mountain biking and cross country cycling tours in the Negev region, plus cycle shop, repairs and advice. They arrange tours lasting up to a week which can include all food and accommodation, led by a certified mountain biking guide, Asaf Amichai.
Other
Bedouin hospitalityThe Bedouin are Arab nomads who live in the deserts of Israel (and surrounding countries). Until the last few decades they lived a fully nomadic lifestyle, but recently they have mostly settled into towns in the northern Negev region. Visit them to experience their hospitality, cooking, rug weaving, and other aspects of their traditional lifestyle.

Ride a camelForeigners often joke about Israelis riding camels everywhere. In fact, not only is Israel a modern country where people use motor vehicles, but camels are not found in much of Israel! However, in rural parts of the Negev, a camel ride can be a fun diversion. You can find camel riding in Sde Boker, Arad, Mamshit (near Dimona), Shaharut, and elsewhere.

SandboardingSurf down the edge of a Negev sand dune. Located near Shivta national park.

Golda ParkA park with a lake in the middle of the desert, good for picnics. Named after Golda Meir.

Neve Midbar BathsA modern desert spa facility. Hanging water pipes dump hot spring water on your back with such intensity, it's like shiatsu without the masseuse! Opens till late. ₪45 entrance.

Atachlit Ethiopian heritage village

address: HeHalutz 18, Kiryat Gat

A recreated village where you can experience the heritage of Ethiopian Jewry. Reservations needed.
Eat and drink
Most of the bigger cities and villages have various drink and eat options.
Yotvetah

address: Kibbutz Yotvata

Out-of-this-world ice cream.

Neot SmadarA kibbutz in the south, famous for its winery.
Sleep
Campgrounds
The Negev features many free campgrounds, particularly along major hiking routes. Consult a map like
OpenStreetMap
(which is used by mobile apps like
OsmAnd
and
MAPS.ME
) to find them. Many campgrounds are also listed under
Mitzpe Ramon
.
Red Canyon Campground

Borot Lots CampgroundGreat and quiet place for free camping. Includes a BBQ, star gazing during the night. It even features places with roof, even though not many, so arrive early if you prefer them.

Small Crater CampgroundGreat location for a start next day down the crater or for finishing the hike up from the highway/along the Israel National Trail and through the crater. There is an army camp nearby (400 m), where you can get water in urgent cases.

Gvanim Stream campsiteIdentified by a sign and accessible to any car.
Managed sites
See
Sde Boker
,
Mitzpe Ramon
,
Eilat
and
Arad
for various other accommodation options.
Most of the kibbutzim on Highway 90 have guest houses and offer charming rooms, and meals in their common dining rooms.
phone: +972 8 6535087

address: Midreshet Ben Gurion

Family guesthouse in Midreshet Ben Gurion, famous for its canyon and exquisite views. Spacious lounge incl. kitchen, bedroom, large bathroom. Close to Ein Avdat, Ein Ekev.
Stay safe
Nearly all of the Negev is an extremely arid desert that sees rainfall at most a few times a year. While winters can be pleasant, with temperatures hovering around 20°C, summers can be fierce with temperatures commonly over 40°C, but in the afternoon and at night there is a comfortable temperature drop. The climate in the Negev is dry without hardly any humidity. Bring a large amount of water and register your plans at the nearest police station before going offroad for your own safety, as flash floods are likely to happen if rain does fall, and some parts of the Negev serve as the IDF's main training area.
In northern parts of the Negev, car theft is a major problem.
When hiking in the Negev, dehydration can be a major concern, even in winter. Bring at least 1L of water per person per hour of hiking, and drink even if you don't feel thirsty. Wear sunscreen - the sun is very bright, and even if you wear a hat it may reflect off the light-colored rocks and onto your face. Furthermore, the following rules should be followed:
Military zones Some areas (marked in red on the map) are used as military areas and closed to the public most of the time. However, these areas are sometimes open for hikers during Saturdays and national holidays.
Winter floods When hiking during the winter (October–April), it is mandatory to check the weather before going on a trail. The winter floods phenomenon during the winter in the Negev and Juda Desert is extremely beautiful but deadly at the same time. It is recommended to call every day to the closet SPNI office and ask for the current floods chances.
Water and sun - The most common death reason among hikers in the desert is dehydration. Make sure you have at least 3-4.5 liters of water per person per day. It is not likely to find drinkable water during the trail. If travelling in the summer, try to avoid walking too much in the sun without a rest in the shade (and shade is rare in the desert). It is recommended to have at least 10 minutes shadow-rest every one hour. During the winter, the sun is not that dangerous and the temperatures are more comfortable. Many of the sparse gas stations in the desert (particularly along route 90 south of the Dead Sea) have signs up stating not to drink their water. It is unclear why the water is unsafe to drink, but they were filtering it and serving it in products for customers (ie: slushies). Therefore, the water is probably not contaminated with heavy metals.
Camping and sleeping Generally it is allowed to camp anywhere in Israel. If you are hiking in a nature reserve (marked in green in the map) it is allowed to light fire and camp only in certain campsites. Lighting a fire or camping in a restricted area could lead to an expensive fine.
Go next