Negotino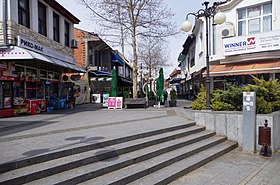 Negotino
(Macedonian: Неготино) is a town in the
Povardarie
region of
North Macedonia
. Along with neighboring
Kavadarci
and
Demir Kapija
, it is part of the country's foremost wine-growing region.
Negotino Municipality consists of the town and 18 surrounding villages. This area is home to the largest military base of the Macedonian army, Krivolak.
See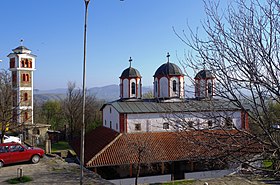 Museum of the City of Negotino

address: Маршал Тито street, #119

Founded in 1978, this museum showcases historical and cultural artifacts from Negotino and the surrounding region. It is divided into four section: archaeological, ethnological, fine arts, and historical. The archaeological collection has exhibited over 1,000 pieces, the historical collection contains 800 pieces, and the ethnological collection features 300 objects. The museum also maintains a wine gallery at the Monastery of St George.

Monastery of St GeorgeOn a hill above the right bank of the Vardar, this monastery was built in 1860 when construction was going on for the Skopje-Thessaloniki railway. It was first established by a Polish engineer for lodging for the railway workers and then later had a church added. The architecture of the dormitories has been preserved and their balconies look out to the church and the Vardar valley and forests beyond. The church itself is large and features three cupolas. A bell tower stands in the courtyard. During World War II, 20 partisan soldiers were detained by the Germans in this monastery. A local grandmother, Baba Mitra, freed them. When the Germans discovered this, they set fire to the monastery with Baba Mitra inside it. A memorial plaque on the grounds memorializes her courage and a song exists in her honor. The monastery celebrates St George's Day and the Day of the Nativity of the Virgin Mary and offers free lodging on these nights.

Church of St Athanasius the GreatThe main church for the city, St Athanasius was built in 1837 near the city-centre by the quay of the Negotino River. During Bulgarian occupation in World War II, its original frescoes were covered and repainted by in a lower quality. The church is large and features a dominating bell tower.

Clock TowerNegotino's clock tower was built in 1810 by Haci Tair-aga Sinan who also designed the city's bezisten (covered market), which burned down in 1913. The hexagonal tower stands in a partially destroyed state.
Neighboring villages
Dolni Disan Mosque

address: village of Dolni Disan

Dolni Disan is a large village that used to have a significant Turkish minority which has mostly left since the end of Ottoman rule. A minaret stands in the village in rough shape alongside the mosque building that is in ruins, a remnant of the former Muslim community here.

Church of St Nicholas

address: village of Gorni Disan

Unlike Dolni ("lower") Disan, Gorni ("upper") Disan is largely depopulated. It features one of the more historic village churches of the Negotino area, St Nicholas, which sits below the village in a valley. The 19th-century church features a long covered porch.