Negros Occidental
Negros Occidental
is a province occupying the north-western part of
Negros
. It is the fourth most populated province in the Philippines, known for its
Chicken Inasal
and its booming sugar industry, nicknamed as
The Sugar Bowl of the Philippines
and home to one of the Philippines' active volcanoes, the majestic Mt. Kanlaon (also named Canlaon or Kanla-on).
Regions
Northern Negros Occidental |
Home to the Philippines' second museum city which is home to over 30 colonial houses; Silay City. It is also known for Cadiz's fishing industry. |
Central Negros Occidental |
The Central region is where the capital is located; Bacolod. |
Southern Negros Occidental |
Down under is where the untouched beaches of Sipalay is located. |
Cities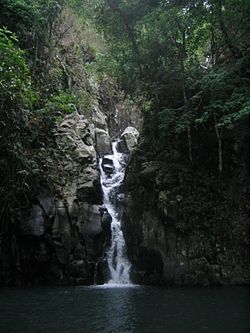 — provincial capital of Negros Occidental, known for its MassKara Festival which is one of the most colorful and lively festivals in the Philippines
— a big town on the way from Bacolod to Dumaguete
— renowned for its colonial houses, of which there are about 30, and is one of the museum cities in the Philippines along with Vigan; Spanish and American architecture is so common here that it has been declared the center of Arts in Western Visayas
— Dubbed The Jewel of the Sugar Island, this city is home to beautiful white beaches, clear aquamarine waters and beautiful corals which are relatively unknown to the rest of the world
Understand
History
Fighting for freedom
Prior to Hispanic rule, Negros was known as
Buglas
and when the Spanish arrived in 1565 they named the island
Negros
as the people who settled there before were Negritos. The first settlements were founded in Ilog and Binalbagan. Ilog then was declared as capital but then transferred to Himamaylan and finally transferred to Bacolod in 1849. By 1890 the island was divided into two:
Negros Occidental
and
Negros Oriental
. The Spanish rule had angered the people and they started wanting freedom from the Spanish. A rebellion led by Juan Araneta and Aniceto Lacson started on November 1898 which led to the defeat of the Spanish and was called the
Negros Revolution
, they then formed the
Republic of Negros
which then included the province of Negros Oriental which had their own administration.
Turning Japanese
Just like the rest of the Philippines, Negros Occidental was under American rule while resisting Japanese occupation. American rule gave benefit to the importation of sugar even though it was hard times which made the economy grow. In 1942 the Japanese occupied the province and asked the Negrosanon forces to surrender but they refused. Under Gov. Alfredo Montelibano Sr. a free government and guerrilla movement was formed. The Negrosanons joined the Americans against the Japanese until the end of
World War II
.
Sugar's sweet and bitter times
The province became the leading supplier of sugar in the whole Philippines with an account of 60% of all sugar production and most of the people depended on the sugar industry. The 1970s showed the bitter times of sugar when sugar prices remained low as well as the worst sugar prices. The following decade it was hit by two destructive typhoons after a serious drought.
Rays of hope today
Negros del Norte was formed but then dismissed. Sunshine again shined down as the economy had shown signs of upturns it was then followed by the growth of investment. Today the province remains as one of the fastest growing and largely developed provinces in the Philippines due to large income from the sugar industry.
People
Common demonym for people from Negros is
Negrosanon
or sometimes
Negrense
. They are reputed to be funny and fun loving people with their sweet accents and love for sweet food as the province is a major supplier of sugar. However when offended they may turn as fierce as a bull.
Religion
Christianity is prominent in the whole Philippines, and this includes Negros Occidental. Most of the people are Catholics, while minorities such as Baptists and Iglesia ni Cristo are also found. The Islamic faith has been growing since the province's connection with South Cotabato where many Muslim Illongos/Hiligaynons live. Taoism is also practiced in the province with the Filipino-Chinese being the largest minority.
Talk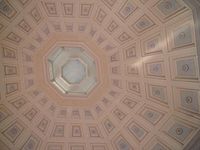 Negros Occidental predominantly uses the language
Hiligaynon
. Towns and cities facing the Tanon Strait near Cebu speak
Cebuano
. English is understood by many, as is Tagalog.
Get in
By air
The only major airport in Negros Occidental is Bacolod-Silay International Airport (Tagalog/Filipino:
Paliparang Pandaigdig ng Bacolod-Lungsod ng Silay
) in Silay. It has daily flights to and from
Manila
,
Cebu
and
Davao
on
Philippine Airlines
and
Cebu Pacific
. It has no international flights.
Alternately, one might fly to
Iloilo
, which does have a few international flights, then take a ferry to Bacolod. Or one might reach
Dumaguete
by plane or ferry, then take a bus into Negros Occidental.
Sipalay
now has a small airport with once-a-week flights from Iloilo and Cebu.
By sea
There is a major seaport in Bacolod that operates journeys from Manila, Iloilo City and
Cagayan de Oro
.
Fast Cat
and
Weesam Express
and
Oceanjet
have daily schedules to and from
Bacolod
. While
2GO Travel
serves routes to and from Manila and Cagayan de Oro.
Get around
By bus

The province of Negros Occidental is mostly accessible through bus. Bus companies like Ceres Liner provide services to and from destinations within the province.

By car
Cities like Bacolod have many taxis.

By jeepney

The fastest and cheapest mode of transport in the Philippines, jeepneys have designated routes to follow. It is the best mode of transport to explore the province, Jeepneys were jeeps of the U.S. Army which were just refurbished and made longer to occupy more passengers. Flagdown rates start at per and additional for an additional . Ask for a discount if you're a senior citizen or a student.

By rickshaws

Used for short distances, pedicabs and tricycles are available and are locally called Rickshaws. However these rickshaws are meant for smaller people, and if you do not physically fit don't even try to ride on it, as you'd just give the pedicab driver a headache. Pedicabs are manually driven by the use of a bicycle pedal system, while a tricycle driven by a motor.

See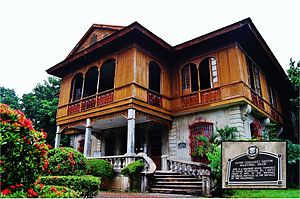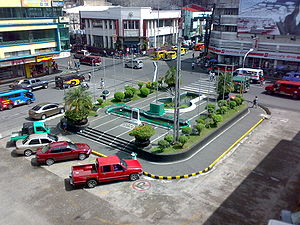 Religious sites
Church of the Angry Christ
in Victorias City is one of the famous landmarks of Negros Occidental, it gets its name from the huge mural in the altar which is a mural of Jesus Christ who looks like he is angry, this is one of the unique murals in the Philippines as it depicts Christ as a Filipino. There is another mural inside the church which is incredibly made out of soda cans and which also depicts Christ as a Filipino being baptized which had caused controversy among some.
San Sebastian Cathedral
in Bacolod and
Church of Our Lady of Peace and Voyage
are made out of corals along binded together with egg yolks interestingly.
San Diego Pro-Cathedral
in Silay somehow resembles the dome in St. Peter's Basilica in
Rome
.
Historical landmarks
Silay
has been known for its Spanish-American colonial structures which still survive today and number around 30, among its most famous attractions are
Cinco de Noviembre Street
and
Balay Negrense
.
Fountain of Justice
in
Bacolod
is where the Spanish surrendered to the Filipinos. See Kabankalan for its sugar mills. Cities such as Talisay and Silay have many ancestral homes which stretches back to the colonial times.
Nature and wildlife
See
Danjugan Island Marine Sanctuary
which is a home to the endangered White Breasted Eagle. The island is known for its diverse marine life and beautiful saltwater lagoons.
Mt. Kanlaon National Park
is an ideal destination for hikers, while the nearby
Rafael Salas Park and Nature Center
serves as the gateway to the National Park.
Lakawon Island Resort
is a white beach resort with clear blue waters, and is not as crowded and known as the world famous Boracay.
Campomanes Bay
,
Sugar Beach
and
Punta Ballo Beach
are just 10 minutes apart from each other. Aside from swimming and strolling its sands; kayaking and diving is also possible.
Sipaway Island
has beautiful white sands which are enjoyed by both local and foreign tourists.
Carbin Reef
,
Hulao-Hulao Reef
,
Panal Reef
and
Macahulom Reef
are all suitable for snorkeling and diving. Mangrove forests are still found in
Molocaboc Island
. E.B. Magalona, Cadiz City and San Carlos have breath-taking rice terraces, while Sipalay has many caves. Many of the cities and towns of Negros Occidental are lucky to be blessed with waterfalls.
Do
Events
Masskara FestivalA big annual Mardi Gras like event celebrated every 3rd week of October in Bacolod. Each of the city's barangays (districts) joins the competition for the fiercely competitive best costumed group. Lots of food and handicraft stalls, street dancing and beer at the Bacolod city plaza area. "Masskara" means "Mask" in Hiligaynon and Tagalog. The use of colorful masks with large smiles represent the nickname for the city, "City of Smiles". The masks are usually the icons for the festival and sometimes for Bacolod.

Panaad sa Negros
Leisure
Dive - Sipalay has the best dive sites in Negros Occidental, from wrecks to coral reefs.