Nelson (British Columbia)
Nelson
is a city of over 10,000 people (2011) in
British Columbia
. The 1987 film
Roxanne
starring Steve Martin was filmed in this town.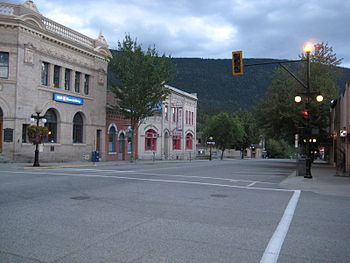 Understand
The West Kootenay region is part of the traditional territories of the Sinixt (or Lakes) and Ktunaxa (Kutenai) peoples.
Known as "The Queen City", it is acknowledged for its impressive collection of restored heritage buildings from its glory days in a regional silver rush.
In 2012 Nelson and Rossland, a small city south-west of Nelson, were jointly voted best ski locales in North America by readers of California-based
Powder Magazine
.
History
Gold and silver were found in the area in 1867. Following the discovery of silver at nearby Toad Mountain in 1886, the town boomed quickly, leading to incorporation in 1897. Two railways were built to pass through Nelson. Due to its location near transportation corridors, Nelson grew to supply the local mining activity and soon became a transportation and distribution centre for the region.
The town soon matured from a false-fronted boom town to a sophisticated city. Francis Rattenbury, an architect most noted in British Columbia for the Parliament Buildings in Victoria, the Vancouver Provincial Courthouse, and the second Hotel Vancouver, designed chateau-style civic buildings made of granite, which stand today. By the 1900s, Nelson had several fine hotels, a Hudson's Bay Company store, and an electric streetcar system. The local forestry and mining industries were well established.
The town built its own hydroelectric generating system. English immigrants planted lakeside orchards, and Doukhobors from Russia, sponsored by Leo Tolstoy and the Quakers, tilled the valley benchlands. The Doukhobor Museum is nearby, close to the neighbouring town of Castlegar.
During the Vietnam War, many American draft dodgers settled in Nelson and the surrounding area. This influx of liberal, mostly educated young people had a significant impact on the area's cultural and political demographics.
Nelson's mountainous geography kept growth confined to the narrow valley bottom, except for certain hillside structures such as the local High School and the former Notre Dame University College (NDU) campus. Throughout the 1960s and 1970s, when more prosperous cities were tearing down and rebuilding their downtowns to the design of the time, Nelson merchants 'modernized' their buildings with covers of aluminum siding.
Baker Street
In the early 1980s, Nelson suffered a devastating economic downturn when the local sawmill was closed. To save downtown and Baker Street from blight, Nelson remodelled its downtown by stripping aluminum facades and restoring the buildings to their original brilliance. By 1985, Baker Street was completely transformed. Affirmation of the street's success came in 1986 when Steve Martin chose to produce his feature film
Roxanne
largely in Nelson, using the local fire hall as a primary set and many historic locations for others. More broadly, the transformation marked the beginning of Nelson's ongoing transition from a resource-based town to an arts and tourism town. A walk down Baker Street through the Historic District is now one of Nelson's promoted visitor activities.
Climate
Winters are cold and snowy while summers are warm and drier with cool temperatures during the night.
Get in
Nelson is on Hwy 3A, about (a 9-hour drive) from Vancouver and from Calgary. It is also from Spokane, Washington, from Banff and from Kamloops.
Air Canada has daily flights from Vancouver and Calgary to Castlegar Regional Airport (40 km away), with shuttle service to Nelson provided by Queen City Limo. It is recommended to book a shuttle in advance. Budget and National car rentals are also available in the Castlegar Regional Airport.
phone: +1 250-352-8228

address: 91 Lakeside Dr

Offers a 3,100m x 75m asphalt runway for private aircraft only. No commercial flights land here.
Get around
The downtown core of Nelson is very compact and walkable. The main streets stretch a few blocks up the hillside away from the lake, and along the contours of the hillside. You don't need a car to get between downtown businesses, but you might need one to get to housing away from the centre. It's a ten-minute uphill walk from the airport to the heart of downtown, though the Canadian Pacific Railway track just inland of the airport is a slight obstacle.
Budget car rentals are a block west of the Prestige Lakeside Inn on Lakeside Dr.
Rent-a-wreck is near Nelson Municipal Airport.

West Kootenay Transit SystemBC Transit offers bus routes serving Nelson and connecting to nearby communities in the West Kootenay region.
See
Touchstones Nelson Museum of Art and History

phone: +1 250-352-9813

address: 502 Vernon St

Displaying the culture and history of Nelson and District in its museum, archives and art gallery.

phone: +1 250-352-5242

address: 215 Hall St

Features thousands of rock, gem, fossil and mine core specimens from the West Kootenays and British Columbia. An extensive collection of books, mining publications and maps, both new and old, are available for public use. The facility is open year-round – check for daily and seasonal hours.

phone: +1 250-352-7672

address: Lakeside Park

Restored streetcar #23 that used to run down Baker Street now runs along the waterfront from Lakeside Park to Chahko Mika Mall. The line is long.
The Arts: Nelson is highlighted as the "Number One Small Town Arts Community in Canada" by the publisher of The 100 Best Small Arts Towns in America, and is home to a large and diverse artisan community. The annual Artwalk, a display of artwork at various venues around town features local talent. In July, August and September,there are exhibitions throughout the downtown core in variety of galleries and local businesses. Each month has a separate grand opening, (usually the first Friday evening of the month), which includes refreshments, musicians, pan-handlers and artwork for locals and visitors to enjoy as they stroll through downtown Nelson.
Do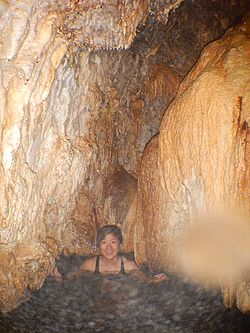 Nelson is a great base to explore the lakes, mountains and rivers of the surrounding area. The west arm of the Kootenay Lake flows past Nelson with several dams just below Nelson. The big orange bridge (known locally as BOB) is a local icon connecting the north shore to Nelson. Lakeside Park is a mix of grass and shade trees and sandy beach.
Spa/RetreatAinsworth Hot Springs has many Spa services, treatments and packages.

Yoga There are several yoga studios in Nelson, perhaps the biggest is Trinity Yoga, who run yoga teacher training courses across Canada, as well as Yoga classes in Nelson. Shanti Yoga are also worth noting and they run Yoga classes in town.

phone: +1 250-352-2821

address: 606 Victoria St.

Study fine craft production in clay, metal, jewelry and small object design or fibre. Community classes as well as two year Diploma programmes.

Kokanee Glacier Provincial Parkcan be accessed from the north shore (about 20 km from Nelson towards Balfour and the Kootenay Lake Ferry). Getting to the main trailhead into the park requires a steep 13 km drive to Gibson Lake.

phone: +1 250-354-4944

address: Whitewater Rd.

20 km from Nelson, it has 20 km of cross country trails, groomed and track set for all abilities. 3 lifts give access to 80 runs in 396 vertical metres of beginner to advanced terrain. Hundreds of kilometres of off-piste skiing and back country touring. Average snowfall is 45 feet. Rentals and cafeteria available. Hitch-hiking from Nelson is a popular method to get there without a car.
The Nelson area is home to over 20 cat-skiing, heli-skiing and ski-touring operators.
Mountain biking: Nelson offers a wide variety of MTB-oriented trails for all levels of experience. Excellent trail maps are available at local bike shops.
Rock climbing is also a popular summer activity. Kootenay Crag, Hall Siding, Grohman Narrows and CIC Bluffs are popular city crags. Slocan Bluffs and Kinnaird are in nearby Slocan City and Castlegar.
Bouldering: extensive bouldering areas in Grohman Narrows and nearby Robson.
Mountaineers and alpine rock climbers head to the Valhalla Provincial Park in the Selkirk Mountains for long alpine routes on unique textured granite. The Mulvey Basin, Cougar Creek and Nemo Creek areas have routes ranging in grade from 5.4 to 5.12.
Hiking: Two local hiking trails are popular:
The Nelson-Salmo Great Northern Trail is a very gently sloped rail trail which runs across Nelson and allows biking.
The Pulpit Rock Trail offers a short but somewhat challenging hike that ends in a beautiful view of the city. After Pulpit Rock the trail continues up the spine of Elephant Mountain (as the locals call it) to more postcard views, and eventually to the radio towers which are visible from everywhere in the city. Hikers venturing beyond Pulpit Rock should have basic wilderness gear and exercise common sense.
Buy
Nelson Markets: Nelson features several regular outdoor markets where artisans and farmers can be found selling everything from local produce, poultry and farm-fresh eggs to handcrafted jewellery, pottery and clothes.
The Cottonwood Community Market, at Cottonwood Falls Park, takes place every Saturday from May through October.
The Downtown Local Market happens on Baker Street every Wednesday from June through September.
Marketfest, a lively night-time street market in the heart of Nelson's downtown, happens on the last Friday of the month in June, July, and August. The markets all offer regional farm produce, delicious foods, and a stunning variety of locally hand-crafted products.
Eat
Budget
Kootenay Bakery Cafe Cooperative

phone: +1 250-352-2274

address: 377 Baker St

Classic bakery fare of sourdough breads, bagels, pies, cakes and cookies; offers products that are gluten-free, dairy-free, egg-free and wheat-free.
Mid-range
Splurge
phone: +1 250-352-0101

address: 620 Heritage Lane

Where the locals go for a special dinner. Great wine list.
Drink
Sleep
Budget
Mid-range
Splurge
phone: +1 250-352-7222

address: 701 Lakeside Dr

Waterfront location located within walking distance of downtown. 101 guestrooms with a variety of room types. On-site dining options include West Coast Grill, Vault Sports Lounge, and Le Petit Cafe and Creperie. The resort also features an indoor swimming pool, fitness centre, spa, and can accommodate meetings and events for up to 425 people.
Connect
There are many locations where the traveler can access wireless Internet, including the following: Safeway, Nelson Public Library, Chako Mika Mall, Best Western Baker St Inn, and many restaurants in town.
Most of the downtown area has Shaw public WiFi, although you will need a Shaw account to use it.

Go next
address: 3609 Highway 31

This resort is open for day visits (adult $13, age 13-17 and 60+ $12, age 3-16 $10, towel or suit rental $3), and has rooms ($150 to $250, depending on season) and a restaurant.