Nenetsia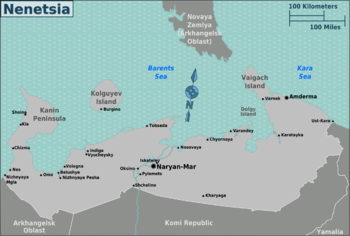 Nenetsia
is a far flung region in
Northwestern Russia
on the Barents Sea, which borders
Arkhangelsk Oblast
to the southwest,
Komi Republic
to the south, and
Yamalia
to the east. The region includes the relatively large Arctic island archipelago Novaya Zemlya.
Regions
Nenetsia (or the Nenets Autonomous Region as it is officially called) is administratively part of the Arkhangelsk Oblast.

Cities
— the capital and main sea port/airport/river port for the region
— a tiny settlement on the coast of the Kara Sea (in the even more far-flung northeast of the region) home to a military airport with a few civilian flights; its name means "Walrus Rookery" in Nenets
Other destinations
— the last major land mass on earth to be explored, the archipelago is very rarely visited and a good place to spot polar bears. It is also the location where the most powerful nuclear bomb ever built was detonated. There is at least one cruise line that will take you to these vast islands on a Russian icebreaker.
Understand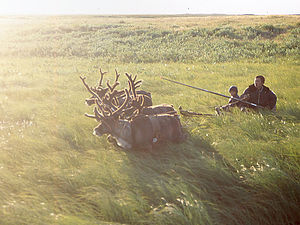 Nenetsia is named for its native Nenets people, who lived off the land in the tundra and forests of the region until most were forced into Soviet collectivization programs, resulting in a significant loss of native traditions. Today, the region is vast, very sparsely populated, an important center of Russian gas and oil exploration and extraction, and, yes, cold. Nearly the entire region lies to the north of the Arctic Circle. The principal riverway of the region is the northwards flowing Pechorin River, which leads into the region from the
Komi Republic
and leads to the capital, Naryan-Mar, before terminating in the Barents Sea.
In addition to its sheer novelty, visitors will likely be most interested in Nenetsia's stark Arctic coastline, its reindeer herders, and its spectacular, otherworldly, lake-ridden tundra landscapes.
Talk
Some knowledge of
Russian
is pretty much requisite here, unless you have a guide. The Nenets Language shares official status with Russian within Nenetsia, and may be useful only if staying in a small, remote Nenets village. And if you do find yourself in such a village, chances are good you do speak Nenets!
Get in
Get around

Getting around in Nenetsia is particularly difficult because there are very few roads, none of them navigable during the snowy months by anything other than a snowmobile. The principal means of transport is by boat on the Pechorin River and on the seas to the north, but ship traffic is closed most of the year, only running from mid-July to mid-October. If you are traveling on an icebreaker, you may be able to navigate the Pechorin River as late as mid-November. For most of the year, the principal means of transport is by air—travel around the region may be possible via helicopter.
Nenetsia is also a good place to live out your Santa fantasies by traveling around on a reindeer-driven sleigh.