Nerja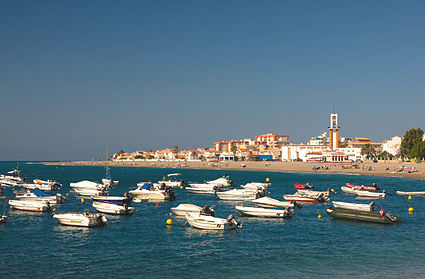 Nerja
(pronounced like: N'air'-ca) is a seaside resort on the
Costa del Sol
, in the region of
Andalucia
of
Spain
. It is one of the few resort towns on Costa del Sol that isn't dominated by large ugly concrete hotels. It's in the attractive foothills of the Sierra Almijara mountains.
Understand

Don't be misled by the tourist brochure descriptions of Nerja as a fishing village. Tourism is this town's main industry and the few fishermen with their boats still to be seen along the beach provide a picturesque scene for visitors and a slim livelihood for local families. Until the last decade the town retained a strong Spanish identity, but the influx of northern European visitors and residents has eroded significantly the genuine charm of a truly Spanish working town.
Compared to many other Costa Del Sol destinations, especially to the west of Malaga, Nerja is not a very "touristy" town. It is a quiet town with a central historical area that still feels like a village, and the tourist mix is not exclusively northern European as many Spanish people use this resort for holidays, together with French and Italians. Unsurprisingly, the relative peacefulness of the town along with the absence of high rise developments along the coast or noisy nightclubs means many British people have retired here.
The town is built on a hillside with a not too steep gradient and the sprawling centre consists of an older part with white streets partly pedestrianized mainly to the east of the Balcon de Europa, the natural focus of the town and the venue for fiestas, but beyond the 17th-century church and the Plaza Cavana more modern development takes over and it is in these areas that the town seems like any other recently developed Spanish Costa resort.

Get in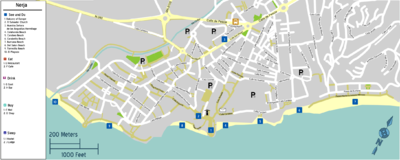 There is no plane, boat or train service to Nerja - the nearest city you can access with these modes of transport is
Malaga
to the west. The train station in Malaga is across the street from the bus station, where you catch a bus to Nerja. The port in Malaga serves cruise ships from North Africa (alternatively, there is a seaport in
Almeria
to the east).
From Malaga Airport, which is served by flights from across Europe and America, you can drive along the A-7 E-15 motorway in the direction of
Almeria
and
Motril
, hire a taxi to Nerja (which will cost €78-100, or you can book a taxi with
Nerja Taxis
for around €69), or book your Malaga Airport transfers with
Malaga Cabbie
for €65, or you can take a bus to the Malaga bus station and transfer to a Nerja-bound bus there.
By bus
The bus stop in Nerja is on Avenida de Pescia, between a large roundabout and a bridge with blue railings. There's no facilities - it's just a ticket booth with benches, with taxis occasionally parking across the street. The stop is about a 10-minute walk inland from the Balcony of Europe and serves buses along the coast and to the major Andalusian cities. From Malaga there is non-stop service available and a trip will cost less than €5. There is also another bus stop a few miles outside Nerja proper serving the Nerja caves.
Nerja
has buses to many other places in southern Spain, but some as few as one bus a day.
By car
The A-7 E-15 motorway runs parallel to the coast, with Nerja about a 10-minute drive from the clearly marked freeway exit. Be aware that the long Torrox tunnel you will drive through has cameras at both ends to calculate your speed and fines for speeding are harsh.
Even in the winter months, street parking can be very difficult in the town's narrow and sometimes one-way streets, so use one of the two large central carparks instead - One is off Calle La Cruz, in the middle of town, which charges a reasonable rate per hour. The other is a larger car park off Prol Carabeo, a 5-minute walk from the town centre and the one most often used by locals but very expensive for visitors.
The town has a number of roundabouts. The Spanish are taught to drive around the outside of a roundabout, even when going all the way around, and have the right-of-way when they do so. This leads to them cutting across the path of tourists on the inside who think they have the right-of-way. Also many people tend to step out onto crossings without looking so always be prepared to stop at a crossing.
Distances to Nerja: Madrid 550 km, Almeria 170 km, Granada 105 km, Malaga 50 km.
Get around

Walking is the easiest way. The centre of Nerja is small enough to be able to walk around on foot though you will find yourself walking up or down a sometimes gradual, sometimes steep hill much of the time. As the town has no specific center, shops, banks, bars and eateries are scattered throughout the town.
There is a bus from the beach near the Monica hotel which takes you uphill as far as the Sol supermarket. Next stop is about a mile out of town, before returning on the same route. Another bus from the same stop takes you uphill then along the N340 and past where the Tuesday and Sunday market is held (it stops there on the way there and back so gets very crowded on market days). Do not get them mixed up.

See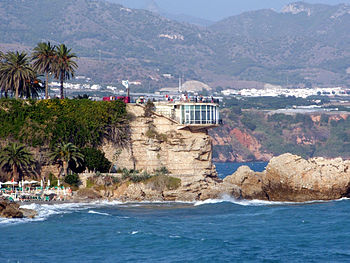 The Balcony of Europe (Balcón de Europa) is a reconstructed promenade built out onto a natural headland in the centre of town with spectacular views along the coast. It was constructed around 1487 in the place of a 9th-century castle. The balcony today is the main focus for the town, with a tree-lined paseo surrounded by cafes and ice cream shops and frequented by street performers and the occasional concert. Granted, for all the attention tourist guides give to this place there's not much to do except look up and down the coast, but the views are spectacular. Beneath the overlook, a glass-walled restaurant offers the chance to eat in a sit-down setting while taking in the scenery, but you can expect a high price tag for the privilege.

El Salvador ChurchNear the Balcony of Europe, facing the plaza just around the corner from the Balcony, is this attractive 17th-century church constructed in baroque-mudejar style.

Nuestra Señora de las Angustias HermitageA 16th-century church with paintings by the Alonso Cano.

Caves of NerjaThe caves are not a suitable place if you have any walking difficulties as there are many stairs to go up and down. There are no ramps. Flash photography is not allowed in most of the caves. Price is €8.50. Parking is €1. There is a gift shop.

El puente de AguilaA 19th-century aqueduct, similar to the ones built by the Romans. It was designed to bring water to the nearby village of Maro, one of the oldest settlements around the area. Visible on the way to the caves.

The Rio Chillar WaterfallA beautiful waterfall along the old river, near the Sunday Market.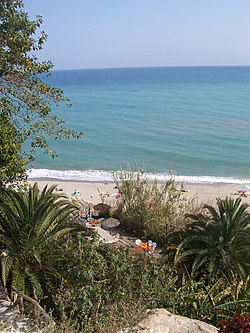 Beaches. There are thirteen kilometers of beaches in Nerja.
Calahonda BeachA pebbly beach in the cliffs below the Balcony of Europe, with lots of little crags and crannies.

Carabeo BeachAnother pebbly beach perched in a scenic alcove accessed by a steep stairway.

Carabeillo BeachA sandier beach tucked under a cliff that marks the western end of the Burriana Beach.

Burriana BeachNerja's most renowned beach, awarded by the Blue Flag of the European Union. The sand of the Burriana beach is coarser than the other beaches, and some small areas are fenced off with recliners, where people pay to sit here.

Del Salon BeachThe sandiest (and thus most crowded) beach in Nerja.

Torrecilla BeachA wide, sandy beach that's fairly popular, framed by the resort hotels facing the beach. A promenade runs the length of the beach, with many benches offering a chance to sit down and look over the beach or the small coves nearby.

El PlayazoThe most secluded beach in Nerja proper, this is the largest beach in town, at the west end of Nerja, offering plenty of wide-open space and views of the mountains over the adjacent agriculture fields.
Do
phone: +34 677 894 002

address: Life Aventure SL, Calle Antonio Ferrandiz, no39 2-2

A great way of exploring the Sierra Almijara discovering the flora and fauna and natural habitat.
Painting course and workshops, Painting course in Spain, Nerja which will be held from November up to February. The course will be given by Guus van Lingen. This is the way to become a better painter. See painting-course-spain.com/
There is a shop amongst the shops facing the Burriana beach which has diving gear and tanks for hire and does courses on PADI diving.
There are a number of internet cafes around town, some of which will print off pages, including etickets if using Ryanair. Prices range from €1 (with a ticket allowing 10 or more hours over your stay) to €3.50 an hour, with most charging about €1.80. A fair number of bars, hotels and hostels (hostals) have free wifi. Like elsewhere in Spain, some bars also have large screen TVs showing football matches.
There is a carnival each year in February or March. The parade starts in the evening near the Hotel Jimasol and makes its way uphill then downhill by a different route. The local tourist office has full details.
There is also a local Feria celebration in October which goes on for about a week, day and night, well into the early hours of the morning. If you are staying anywhere near the celebrations, don't expect to get to sleep till the noise finally stops.
Walks
Nerja is set in the attractive foothills of the Sierra de Almijarra, and has plenty of good walking routes for all abilities nearby. However increasingly around town there is
dog muck
on the pavements from lazy dog owners who are legally obliged to pick it up in bags and dispose of it. This is despite an army of street cleaners out each morning who work to keep the streets tidy.
Pick up the free Nerja walks guide book in the Tourist Information office near the Balcon de Europa. The book details a wide variety of walks in the area, with maps and directions for where to walk, and interesting facts about the places you pass.

Senderismo de NerjaFor walking enthusiasts to explore the area in great company.
Water parks
There are two water parks that are a reasonable journey from Nerja by car, public-bus or complimentary-bus
Parque Acuático Aquatropic - Almuñécar
Aquavelis - Torre del Mar
Learn
Centro de Idiomas QuorumCentre offering Spanish language courses to help you appreciate coming to Spain. The centre if accredited by the Cervantes Institute (a major accreditation for Spanish schools). The staff are very friendly and helpful and they know how to have a good time.
Buy
The maximum you can draw out from all of the town's ATMs on a non-Spanish credit or debit card per calendar week is €500.
There are
markets
on Sundays (Boot Market near the Almijara 11 area and Flaming Urbanisations) a good distance from the centre of town and Tuesdays at Chaparil. There is a Thursday fleamarket at the Boatyard.
As well as a wide assortment of small shops around town selling all sorts of items (do shop around), there are several Chinese bazaars which sell a huge selection of items fairly cheaply.
phone: +34 952 52 3102

address: La Galeria, 10 Calle Almirante Ferrándiz

The wryly named Smiffs Bookstore, hidden away down a small arcade near the Post Office or Correos, stocks a wide range of new English language bestsellers, local books, maps and guides, including many walking routes for the area. Secondhand books can be bought and exchanged at the Nerja Bookshop at number 32 on Calle Granada. Foreign newspapers, including the British press are sold in many places around town.
There are also foreign exchange bureaus around the lower part of town which give better rates than in Britain, with no commission. They change British pounds, Scandinavian currencies and American and Canadian dollars. Sometimes other currencies.
Eat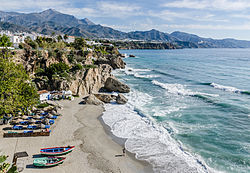 If staying at one of the many apartments in Nerja, there are a number of supermarkets: Mercadona, Sol, Mas, etc as well as mini-marts around town. Also a Lidl a little way along the Frigiliana road out of town. Supermarket hours are normally M-Sa 09:15 to 21:15. Although superficially there appear to be many foreign owned tourist restaurants, there are a significant number of Spanish-owned places since the town has a large Spanish population.
phone: +34 95522988

address: Pintada, 7

One of the best places to eat in Nerja. Great modern menu based on first quality products from the area.

El Cietto Lindo

address: Calle El Barrio

Mexican food, including mixed fajitas which come on a large cast iron construction with hot plates for each ingredient. Intimidating food! Nice indoor garden and good selection of tequilas.Most people visit once and don't go back.

Coach and Horses

address: Calle Cristo

Where some British holidaymakers come to enjoy real fish and chips, John Smiths Bitter and Coronation street. This place is also sometimes still known by its Spanish name, The Bodegon.

address: Calle carabeo 23

Pizza and flamenco on Wednesdays. This puff-meister is gone bust. New pizza restaurant open now.

address: Dalle Almirante Ferrandiz, 44-49

Excellent Indian food and they now have a buffet version at Burriana Beach

address: Plaza la Marina

Located on a small square in the west of town, this informal seafood tapas bar has a few tables inside and a number more outside. The drinks are cheap, the language is Spanish and each drink comes with a tapa of seafood salad or a plate of gambas. It works, as you will be inevitably tempted to enjoy more fresh shellfish and seafood at a table outside. The service is a little rude and hectic in summer, but the prices are reasonable.

Merendero Ayo

address: Burriana Beach

Good restaurant owned by the discoverer of the Nerja caves, and featured on television. Serves Spanish cuisine.

Moreno

address: Burriana Beach

Good seafood and meat cooked on a BBQ.

El Nino

address: Calle Almirante Ferrandiz, 83

Spanish cuisine that is very popular with the locals.

Pata Negra

address: Plaza la Marina

Excellent Spanish cuisine, good tapas and a wine list from cheap and chearful, through good value to expensive tastes.

Posada Ibérica Restaurant

address: Calle Nueva

Offers some of the best and most inexpensive food in Nerja. Run by an Argentinean couple that has maintained the Spanish flavour, the place is one of the most traditional you can find in Nerja. They occasionally have live music during the weekend.

El Pulgilla

address: Calle Almirante Fernandez, 26

Amidst the bustle of shops and restaurants is a typical Spanish marisqueria (fish and shellfish tapas/restaurant), that is perhaps the one place that best sums up Nerja. The clientèle is usually at least 90% Spanish with the occasional adventurous holidaymaker. the drinks are cheap, the tapas are free and the seafood is excellent. There is a large open air terrace open during the summer.

Restaurant 34

address: Calle Hernando de Carabeo, 34

International cuisine. Upmarket, and prices reflect this!

address: Calle Cristo 53

The Chef, Juan Quintanilla, used to own a 1-star Michelin restaurant in Marbella. Great food and excellent wine.

El Sotano Viejo

address: Calle Lose Heurtos

Run by local businessman Pepe Mesa, this is one of the finest affordable restaurants in town. Food served covers a variety of tastes, and many Spanish dishes are on the menu. The decor is of fine wood, and there are always plenty of wines and drinks on offer. Gambas Pil Pil is a speciality.

Scarletta's

phone: +34 952 520 011

address: Calle Christo, 38

International and American style cuisine of excellent quality at reasonable prices. Very pleasant open air roof terraces (advance reservations advised) and good service.

Restaurante Califonia

phone: +34 952 521 890

address: Calle Christo, 32

International style cuisine, with a touch of English home made cooking. Very nice and pleasant roof terrace. Food is excellent and staff very friendly. Worthwhile making a reservation.

Cibeles

address: Calle Carabeo

Excellent cafe/restaurant with good value Spanish food. Open all day and evening with very friendly, longstanding staff and clientele.

Meson Jose y Victoria

phone: +34 952 520 678

address: C/ Malaga S/N

Excellent, fresh home cooked to order Spanish cuisine. Cooked by Jose & served by Victoria. Reasonably priced, great tasting food. Try the Caldo de pescado as it is excellent.
Drink
Calle del Almirante Tons of bars, restaurants, souvenirs for anyone who can not speak Spanish. Most establishments are owned by UK ex-pats. A great place to catch a football match with a pint of Guinness or Newcastle.
Tutti Fruti square is the main area where to spend the evenings (if you are under 35!) There are more than 10 bars, pubs, restaurants, etc., and are open everyday. Most bars get busy around 01:00, so don´t expect much action before that. Closing times vary from 04:00 in the winter to 07:00 during the summer.
El Molino Bar is one of the most typical flamenco bars in Nerja. It is believed to be the oldest bar running in Nerja, and the building has been used for over 350 years (first as an olive oil mill, therefore the name). Live music played every night.
Sleep
There is a large choice of hotels, apartments and hostels. Long rentals are advertised at many agencies around town, which take advantage of the very mild but sometimes a bit wet winters in Nerja. Some have satellite TV with British channels, but others are just Spanish TV. Some accommodation has free Wi-Fi.
phone: +34 952 52 66 70

address: Calle Cartama N 1 Urbanizacion Nerja Golf

phone: +34 902 14 15 15

address: Calle Mérida, 7

phone: +34 952 525 888

address: Calle Chaparil, 16

phone: +34 952 52 13 22

address: Calle Cártama, 2

phone: +34 952 52 41 38

address: Calle Huertos, 33

phone: +34 952 52 74 74

address: Paseo Balcón de Europa s/n 29780,Málaga Nerja

phone: +34 606 966 896

address: Calle San Pedro 16

Apartments with two terraces with sea view terrace with sea view. The sun terrace has a small pool. Perfect equipped for short or long vacation. Bright and large apartments.

phone: +34 606 966 896

address: C. San Pedro,16,29780 Nerja

Apartments with free internet, air conditiong, king size beds located in the historical center between hotel Parador and Bar Dolores El Chispa. The parterre apartment is accessible for wheelchair users. Exclusively for non-smokers and pets are not allowed. On the sun terrace there is a grill and a winter solarium with sea- and mountainview.

phone: +34 951 562 088

address: N340 km286.1

New luxury apartments with direct sea view. Frontline beach high quality holiday apartments with 1, 2 or 3 bedrooms. Units have dishwashers, washing machines, dryers, Wi-Fi, etc.

phone: +34 952 520 426

address: Avda. de Pescia No 1, Nerja

This is a friendly and comfortable hostel with 13 bedrooms all ensuite with TV, fridge, tea and coffee making facilities. The Balcon De Europe is a 10-minute walk away and the center of nightlife is within walking distance.

phone: +34 95 252 8776

address: Calle Bronce, 25 29780 Nerja

In the old section of Nerja, the hostel was built in 2004, but maintains the traditional Andalusian manor style. The Hostel has 7 rooms, TV, ensuite bathrooms, sun terrace, and Jacuzzi. It is only 5 minutes from the beach and a short 2 minute walk from parking.

phone: +34 95 25 21 52 3

address: Calle Almirante Ferrandiz 31 29780 Nerja

An attractive hostel in Nerja and a 5-min walk from a free carpark. Run by a very friendly and helpful British couple who serve breakfast for guests on the rooftop terrace with great views over Nerja towards the Sierra Almijara and also out to sea.

phone: +34 952 520 100

address: Avenida de Pescia S/N, 29780

Located in one of the quietest areas of Nerja, this hotel has 102 rooms, most with private terrace and all rooms with air conditioning, heating, bathroom, piped music, satellite TV, and telephone.

phone: +34 952 52 01 00

address: Ctra de Almeria , Km 2.92, Nerja

A nice 102-room hotel. All rooms with private terrace, air conditioning, heating, bathroom, piped music, satellite TV, and telephone.

phone: +34 952 522 300

address: Carretera N.340 Km 289,5

Nice 206-room, four-star beach & spa aparthotel on the Nerja beachfront.
Connect

There is only one post office in town and expect to wait in a long queue there. Spanish title is Correos and it is at the Balcon de Europa end of Calle Almirante Ferrándiz. Hours are M-F 08:30AM to 20:30PM, and Sa 09:30 to 13:00 Sat. There are a number of post boxes around town.

Go next