Nesvizh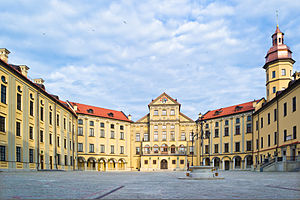 Nesvizh
(Niasviž) is a city in Minsk Province,
Belarus
.
Get in
By car
Nesvizh (the town is marked at road signs as "Niasvizh") is situated to the south-east of M1/E30 highway between
Minsk
and
Baranavichy
. Use the P-11 road through Haradzieja (direct and broad) or P-54 through Stoubtsy (narrow); both of them have intersections with M1/E30.
By bus
Buses to Nesvizh are departing from Minsk autostations "Central" and "Eastern". Usually Nesvizh is not the final destination, but
Pinsk
or another city. There are 4 or 5 buses a day from Minsk. They cost around 6 to 8 rubles and take about 90 minutes. The buses stop at .
By train
At Minsk Pasažyrski station, ordinary suburban trains (economy class ER-9 elektrichka) stop in Haradzieja/Gorodeya station (costs 2.1 rubles), but don't confuse these trains with business-class suburban trains EP R — they don't have a stop there. The bus from
Haradzieja
to Nesvizh is leaving soon after every suburban train from
Minsk
. It is departing from the stop right behind the railway station. It is the cheapest way to come to Nesvizh. It will take from 1.5 to 2 hours to travel from Minsk to Haradzeya and 25 minutes from Haradzieja to Nesvizh.
Get around

The town is easily navigable on foot.

See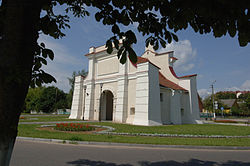 Nesvizh CastleUNESCO World Heritage Site, a residential castle of the Radziwiłł family since the 16th century.

Corpus Christi ChurchA magnificent building from 1584–1593, one of the first Baroque churches in the Polish-Lithuanian Commonwealth. Many members of the Radziwiłł family are buried here.

Slutsk GateAn old city gate constructed around 1700, which takes its name from the nearby city of Slutsk

City HallA building with Renaissance and Baroque features, one of not so many preserved city halls in Belarus

Niasviž District Local History Museum

phone: +375 1770 51834

address: Lieninskaja vulica 96
Do
The lake near the castle is very scenic and you can have a pleasant walk in the surrounding park.

Buy
There are plenty of souvenir shops near the castle.

Eat
Several restaurants in town. There is a restaurant in the Nesvizh Castle and several "fast service" restaurants along the street from the City Hall/Bus Terminal to the castle.

Sleep
One hotel is located in the very city center near the city hall.
Palace Hotel

phone: +375 44 778-66-04

Hotel in the Nesvizh Castle.
Go next
Mir, ly around 27 km away, is home to another UNESCO World Heritage site. It is possible to do both sites in one day, but would require a taxi connecting between Mir and Nesvizh
Pinsk is reachable by direct bus