Netanya
Netanya
(also , and mistakenly "Natanya") is a city in
Israel
. Many tourists come to visit its beach.
Get in
Netanya's train stationConnecting Netanya to Haifa and to Tel Aviv, with a car rental station nearby. It is not really in walking distance from the city center - there are buses and taxis though. (For the Poleg area in southern Netanya, the "Beit Yehoshua" train station will be more convenient than the Netanya station.)
Get around

The tourist-friendly area downtown is small and easily walkable. Bicycles and walking are common transportation along the beach. If you need to visit another neighborhood, a bus or taxi is the best bet.

See
Urban attractions
Herzl streetPedestrian zone and city square, at the western part of the street. Has many restaurants and attractions.

Netanya Market

Netanya Flower market
Museums
The Well House

phone: +972 9 832-9940

address: 17 Sokolov

A museum telling the early history of Netanya located in a farm established in 1928, and as such one of the earliest buildings in Netanya.

Yemenite Jewish Heritage Museum

address: 11 Independence Square

Netanya City Museum

address: McDonald 3

Shlomo Dror Art Institute

Gallery on the Cliff
Do
Beaches and nature
The beachThe city is located on a cliff overlooking the beaches which stretch along the shore. There are paths down to the beach, as well as an elevator (see below) in one place.

Netanya PromenadeA wonderful landscaped walkway on the cliff above the beach, with great views of the sea shore.

Elevator to the beachThere is an elevator down the cliff to the "Sironit" beach. The ride is free and you get a fascinating view of the sea.

"Irusim" natural reserve

Winter pond and park

address: Ben gurion steet
Buy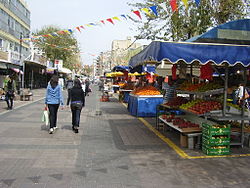 Beach products along marketplaces by Mediterranean Sea.

Hasharon Mall

address: 60 Herzl St

Hadarim Mall

address: 2 Hakadar street, 'old industrial zone'

Ir Yamim Mall

address: Ben gurion St
Drink
address: Atzmaut square

address: Hatsoran St
Sleep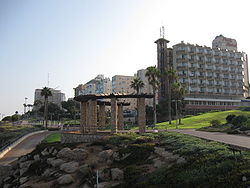 Nearly all hotels in Netanya are located on the cliff edge above the beach, or very close by.
Go next