Neumünster
Neumünster
is the fourth largest city in
Schleswig-Holstein
with a population of approx. 77.000. It is located in the center of Schleswig-Holstein, 40 km south of
Kiel
and 60 km north of
Hamburg
.
Understand

The name Neumünster is derived from the latin "novam monasterium" (new monastery). Founded in 1127 as a monastery the city grew rapidly in the second half of the 19th century as a centre of industry (iron works, leather and textile industry, rail service workshops). Today the city's economy is based on a modern mix of industries. Approximately 40 percent of the city were destroyed by allied bombings in World War II so there is no historic district today.
Since the 19th century Neumünster is an important hub for street and rail traffic in Schleswig-Holstein.

Get in
By car
Neumünster is connected via four exits to the Autobahn A7 (Hamburg-Flensburg) and via highways B430 and B205 as well by smaller roads to other cities in Schleswig-Holstein. For visiting events in "Holstenhalle" use the exit Neumünster-Nord to avoid driving through the city.
By train
ICE (high speed train) connections: to Hamburg, Kiel, Rendsburg, Schleswig and Flensburg (and further to Denmark)
EC/IC (EuroCity/InterCity) train connections to: to Hamburg, Kiel, Rendsburg, Schleswig and Flensburg (and further to Denmark)
Regional train (Deutsche Bahn AG) connections to Hamburg, Kiel, Rendsburg, Schleswig, Kiel, Flensburg
Regional train (Schleswig-Holstein-Bahn SHB) connections to: Heide (and further to Büsum/Northsea)
Regional train (Nordbahn) connections to: Bad Oldesloe (and further to Lübeck with Deutsche Bahn AG)
Regional train (AKN) to Kaltenkirchen and Hamburg
Lübeck is connected by train only via Bad Oldesloe by Nordbahn trains.
Caution
: Neumünster has three railway stations - Hauptbahnhof (central station), Südbahnhof (southern station) and Neumünster-Stadtwald. All train services serve Hauptbahnhof. AKN and Nordbahn are serving Südbahnhof, too. SHB serves Neumünster-Stadtwald, too. (For all AKN, SHB and Nordbahn trains Hauptbahnhof is the final destination.) When you have to change trains from AKN, Nordbahn or SHB to another train service make sure that you do not leave your train too early at Südbahnhof or Neumünster-Stadtwald!
By plane
Hamburg airport is the nearest public airport and is connected to Neumünster by a special motor coach (
Kielius
) operated hourly by Autokraft. There is a reduced price for return tickets. Tickets have to be bought by the driver. (
Caution
: they do not accept credit cards!)
By bus
Autokraft motor coach connections to Hamburg and Kiel
Motor coach connections to Plön and some other regional places
Get around

By bus within the city and to some suburbian villages. Bus services usually end at about 20:00 hrs. The city and the surrounding landscape is very flat and convenient for bicyclists. Taxi is good but expensive.

See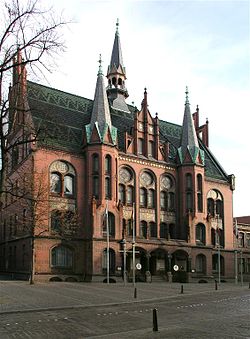 phone: +49 4321 559 58 0

address: Kleinflecken 1

Old town hallBuilt on 1900, neo-gothic style.
Do
A local monthly magazine (
Treffpunkt Neumünster
) is available in print and online.
Events



Recreation

Einfelder SeeLake borders on Neumünster in the north with some small beaches, barbecue sites and a sailing area.

parksTwo are located in the inner city as well as two woods in the north and the east.

Tierpark NeumünsterThe local zoo shows a lot of local animals as well as polar bears and brown bears and a special children's section.



Buy
Neumünster is an important shopping centre for the whole region. Besides a lot of shops in the inner city there is a shopping mall in the west (
Freesencenter
) and a
big factory outlet
centre in the south. Weekly markets on Tuesdays, Fridays and Saturdays at "Grossflecken" in the inner city.
Eat
A lot of restaurants of all styles and price levels are available.
Sleep
Go next