Neuwerk
Neuwerk
is an island in the North Sea off the coast of
Germany
.
Understand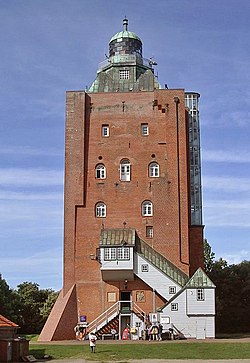 While Neuwerk is administratively part of
Hamburg
, this is of little importance to most visitors, as it is both closer to and more easily reachable from
Lower Saxony
.
A high dike surrounds the settled parts and is the highest point on the island (apart from buildings, that is)
Get in
By boat
There is regular
ferry service
to/from
Cuxhaven
(~1½ hours one way). Booking in advance is very advisable. Neuwerk also has a small harbor that can accommodate
small boats
, but you should be familiar with National Park regulations as some parts of the Wadden Sea are off limits even to boats.
On foot
As this island is close to the mainland and the seafloor is exposed during every low tide you can walk there to or from the mainland (~3 hours one way). This is only possible in guided hikes, due to safety and environmental concerns. There are no steep climbs (go figure), but the mud can slow you down and it can get quite windy. Outside of a few summer months fog is a major concern.
By horse drawn carriage
There are horse drawn carriages, called
Wattwagen
in German, that regularly make the trip to and from the island. This is the most scenic and probably also the most comfortable way of reaching the island. As cars are not allowed on the island and environmental protection laws are strict,
Wattwagen
are probably here to stay, even though they might remind you of a bygone "simpler" era.
Get around

As the island is small and (as common on German North Sea islands) has no cars, getting around is mostly done on foot. Unless you are mobility impaired this should be no problem as the island is small and relatively flat.

See
LighthouseDoubles as a small hotel. You can climb up to a small lookout atop the lighthouse, even if you don't stay there, and enjoy the view of the island and the sea around it. As it was built from 1300 to 1310, the lighthouse is actually the oldest building in Hamburg (because Neuwerk is administratively part of the city), as no older building remains in mainland Hamburg, due to a fire in the 19th century and the devastation of World War II.
Buy
Cash is the name of the game. Even some hotels don't accept credit or debit cards.

Eat
phone: +49 4721 29561

address: 27499 Hamburg-Insel Neuwerk

Inside Hotel Nige-Hus offering regional food.

phone: +49 4721 29561

address: 27499 Hamburg-Insel Neuwerk

In the Garden of Hotel Nige-Hus, focuses on fish smoked on site.

Turmschenke

phone: +49 172 4718596

address: Leuchtturm 1, 27499 Hamburg-Insel Neuwerk

Inside the lighthouse

phone: +49 4721 20360

address: 27499 Hamburg-Insel Neuwerk

Traditional food and cakes.

phone: +49 4721 29043

address: Neuwerk 4, 27499 Hamburg-Insel Neuwerk

Regional food
Drink
Water is usually potable and brought from the mainland (originally via tanker now through a pipeline)

Sleep
There is a special
tourism tax
that is levied on top of the going rate per person per night. The tax is €1 for every €50 the room costs. Below €10, no tax is levied and below €25 the tax is €0.50.
phone: +49 4721 29076

They also have an on-site restaurant

phone: +49 4721 29561