Nevsehir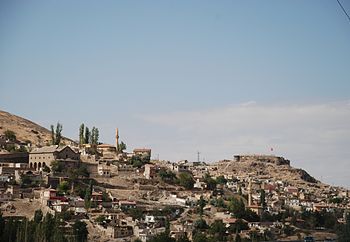 Nevsehir
is a city in
Cappadocia
.
Understand
Nevşehir is one of the major cities in Cappadoccia Region which displays a beautiful combination of nature and history.
Tourist Information office

phone: +90 384 2131137

address: Ataturk Bulvarı
Get in
By plane
Reaching the airport is possible via buses, shared taxis and commercial taxis.
Turkish airlines
has flights from
Istanbul
on Wed, Thu, Fri and Sun evening, and flights to Istanbul on Thu, Fri, Sat and Mon morning. Flight time 1 hr 15 min.
By train
The nearest railway station is located in
Kayseri
. The railway line runs from
Ankara
to Kayseri and then splits into a line towards
Sivas
in the east and towards
Nigde
,
Karaman
and
Adana
in the south. Express trains take about 7 hours from Ankara to Kayseri. The Erzurum Express (Erzurum Ekspresi) departs in the early afternoon from Ankara and comes in the evening to Kayseri, the Güney Express (Güney Ekspresi) leaves early in the morning from Ankara and comes in the afternoon to Kayseri. The Çukurova Mavi Tren and Dogu Ekspresi go in the evening from Ankara and come in the middle of the night to Kayseri.
By bus
There are direct connections to
Adana
,
Alanya
,
Antalya
,
Ankara
,
Kayseri
,
Konya
,
Mersin
,
Istanbul
,
Izmir
and
Pamukkale
.
Coach operator
Nevtur
has buses running every 2 hours from the main bus terminal Isletmesi Sehirlerarasi in
Ankara
to Nevsehir and vice versa. The trip takes 4 hours including a break of 30 minutes and costs 20 TL.
Nevsehir Seyahat
runs buses 6 times a day from
Ankara
to Nevsehir (departure from Ankara at 1:30, 9, 11, 13, 15 and 18:30, travel time: 4 hrs 30 min) and 2 buses per day from
Istanbul
to Nevsehir (departure from Istanbul at 20:00 and 20:30, journey time: 11 hrs 30 min).
All important places in Cappadocia (eg:
Avanos
,
Goreme
,
Urgup
) can be reached by dolmus, which start at Saatci Hoca Caddesi.
Nevsehir is 75 km (travel time: 1 hour) from
Aksaray
, 140 km (2 hr 15 min) from Aladaglar National Park, 17 km (20 min) from
Avanos
, 30 Km (40 min) from
Derinkuyu
, 10 km (15 min) from
Goreme
, 95 km (1 hr 45 min) from
Guzelyurt
. 110 km (2 hours) from Ihlara Valley, 20 km (25 min) from Kaymakli, 100 km (1 hour 30 minutes) from
Kayseri
, 90 km (1 hour 30 minutes) from
Kirsehir
, 75 km (1 hr 25 min) from
Nigde
, 8 km (10 min) from
Uchisar
and 23 km (25 min) from
Urgup
.
By car
Reaching to the province of Nevşehir via highway is possible from the entire country.
Get around
Nevsehir is quite small and can be explored on foot.
Tourist Information office and the Museum is located on Ataturk Bulvarı. Lale Caddesi crosses Atatürk Bulvarı. Following this line in a southern direction from the old town, Damat İbrahim Paşa Külliyesi and citadel can be found.

See
Ruins of the Ottoman citadelIt comes from Seljuk period and provides a good overview of the city.

Damat İbrahim Paşa complexIt was built in 1727 by the eponymous Grand Vizier. The complex constitutes library, 18th century Kursunlu mosque and hammam.

Nevsehir Museum

phone: +90 384 2131447

address: 1, Turbe Sok.

Depicts archeological, historic and ethnographic life of the region.
Do
Sauna - Try one of the affordable Hamams (turkish baths) of Nevsehir, for a real authentic non-tourist experience. There is one near the main intersection, next to the stop of the minibuses to Goreme. Prices 15 TL for Sauna, 25 TL for sauna + scrub and foam massage.
Sleep
phone: +90 (384) 213 99 61

address: Ragip Uner Cad. No:23

Hotel Şems

phone: +90 (384) 213 35 97

address: Atatürk Bulvarı. No:29
Go next
Goreme and Urgup are two lively tourist centers. There are cave dwellings, and rock cones in and around these cities.
Superb views of the Cappadocia valley can be seen from the castle located in Uchisar.
Also there are underground cities used by Christians hiding from enemies. There were rooms for grain storage, sleeping chambers, kitchens and ventilation shafts. Underground cities of Kaymakli and Derinkuyu are the two most important. There are also two others named Mazi and Ozkaynak.