New Athos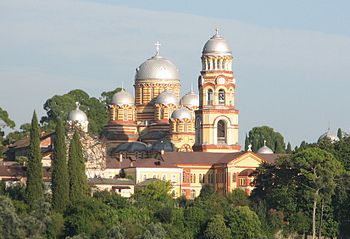 New Athos (or Novy Afon)
is a town on the Black Sea Coast of
Abkhazia
, northwest of
Sukhumi
.
Understand
Town exists since the 3rd century when it was a large ancient Greek port town of Anacopia. And its ruins still could be found in outskirts of New Athos.

Get in
By bus
By bus from
Sukhumi
(, , 45 min),
Gudauta
() and from the Russian border at Vesyoloye, near
Sochi
.
Bus stopAll buses are transiting through the town. They make a stop at this bus stop.
By train
See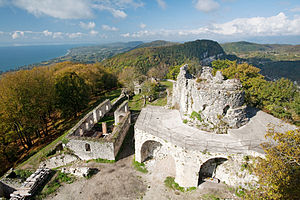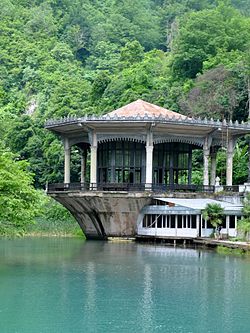 New Athos monasteryEstablished by Russian monks which came from Mt. Athos in Greece at the end of 19th century.

New Athos CavesThere are a number of karst caves, including Athos Cave opened in 1961. There is a small tourist train passing through caves.

Ruins of an ancient temple and Anakopia fortressRuins of the 8th century fortress of Anakopia (8th century capital of Abkhazia). There is a good paved road uphill, it takes about an hour to get to the top.
Temple of Theodor TironThe first church on top of the Anakopia mountain was built in 6th and 7th centuries and was dedicated to Virgin Mary. However, it was rebuilt in the 11th century and became being dedicated to the Holy Great Martyr Theodore of Tyrone. Which is evidenced by epigraphic monuments found in the citadel. Besides, temple still operates now and there is a copy of the Iberian Icon of Mother of God, while the original is kept in the Iberian monastery on Mount Athos, Greece.

Ruins of the XIX century chapel
Church of St. Simon the ZealotBuilt in the 10th century AD on the same spot where, according to the legend, St. Simon the Zealot was killed. 11th century frescoes were discovered under a layer of church plaster.
Grotto of St. Simon the Zealot
Ptsyrtskha railway stationOld Soviet railway station, heavily damaged now but still shows signs of its previous glory.
Park of New AthosFamous seaside park with a system of ponds, fed by the waters of the river Psyrtsha.
Stalin's summerhouse
WaterfallWaterfall and a power plant built in 1902.
Museums
Further afield
Old steam locomotiveIt was used by the monks of the New Athos monastery for transportation of timber in the late 19th century.
Do
Swim in the sea at local Akhali Atoni Beach
Buy
Bank "Sberbank"There is a currency exchange office inside.
Eat
Cafe "Tri Platana"Coffee, alcohol, some simple snacks.

Cafe "U Lebedya"Very simple cafe serving coffee.

Restaurant "Guada"Upscale Italian restaurant. Very nice interior, tasty food, but extremely pricey as for Abkhazia.

Restaurant "Abkhazski dvor"Proper restaurant of Abkhazian cuisine.
Drink
Local wine
Beer: Sukhumskoe Pivo
Sleep
Hotel "Abkhazia"

address: 20 Lakoba st.

In a park with exotic plants and a pond, 30 m from the sea. Operates May-Oct only.

phone: +7 (940) 7-1-26 - 726

On the cypress avenue in the heart of New Athos, on the banks of a mountain river Psyrtsha. It stands right at the foot of the mountain Apsarskoy leading to the New Athos monastery.

phone: +7 (940) 997-7-997

address: 4 Ashba st.

Comfortable guesthouse is to be commissioned in summer 2010 after overhaul. Located in a picturesque location at the foot of Mount Athos in 250 m from the sea.

phone: +7 940 772 54 45, +7 940 997 97 17

address: 21а Lakoba st.

Wooden housing complex cascade down the landscaped park area with shady cypress avenues. The resort complex is styled in a nautical style and looks like a fishing village.

Mini-hotel "Prime"New cozy mini-hotel is near the New Athos station, 50 meters from the sea.

phone: +7 940 995 78 73

address: 1, Kurortnaya st.

It also has restaurant attached.