New Bedford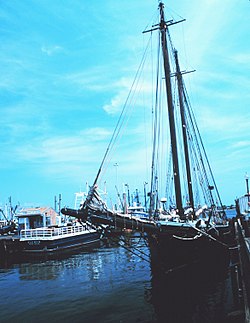 New Bedford
is in
Massachusetts
on the southern coast. New Bedford's excellent harbor made it a natural fishing and whaling center. It was the world's premier whaling port in the nineteenth and for a time "the richest city in the world" and "the city that lit the world" because of whale oil production.
Understand

New Bedford is a city of around 100,000 people, many of Portuguese (particularly Madeira) or Cape Verdean ancestry, still with a great many off the boat immigrants from both. The city has gone through strongly contrasting cycles of poverty and wealth, from its relatively late (by Southeast Massachusetts standards) settlement and foundation, to the peak of the whaling industry, its growth as a textile city in the 20th Century, and the subsequent crash brought on by rapid mill closure in the latter 20th Century. It's been known as one of the rougher, seedier locales of New England for a number of decades now, but it's strongly on the upswing since the historic center was declared a federally protected historic site in 1996. While you'll still find plenty of slums, projects, and tenements throughout the city, you'll also find the waterfront full of narrow cobblestone streets and alleyways, historic 18th and 19th Century buildings, and upscale restaurants and museums. It's also one of the only fortified cities in the US, featuring an impressive (and walkable) gated harbor wall that runs from the South End cove across the mouth of the Acushnet river to neighboring Fairhaven. Additionally, there are pockets of grandeur in most parts of the city, with a long stretch of Victorian mansions on County Street that features some truly jaw-dropping architecture, akin to Newport's humbler dwellings. Though the downtown is perfectly safe at night these days, many neighborhoods are still dangerous and walking through them is not advised.

Get in
By plane
By car
Interstate 195, Route 140 and Route 6 run through the city.
From Boston and points north:
Route 93 South (13 miles). The highway forks in
Braintree
; stay right. Sign reads: "93 South, Dedham-Providence." (3 miles). Take exit 4 onto Route 24 South.
This is a left lane exit
(24 miles). Take exit 12 off Route 24 onto Route 140 South (19 miles) until Exit 2E: Interstate 195 East (1.3 miles) to Exit 15: Downtown - Route 18 South (1.1 miles). TURN RIGHT at lights onto Elm Street. Public parking garage two blocks on right.
Route 6 West to Route 25 to Interstate 195 West, Exit 15: "Downtown - Route 18 South". TURN RIGHT at lights onto Elm Street. Public parking garage two blocks on right.
Interstate 95 North to Interstate 195 East, Exit 15: "Downtown - Route 18 South". TURN RIGHT at lights onto Elm Street. Public parking garage two blocks on right.
By bus
Peter Pan Bus Lines
has up to ten daily departures from
Providence
. Buses arrive at the SRTA Terminal in downtown.
Get around
See
New Bedford Whaling National Historic Park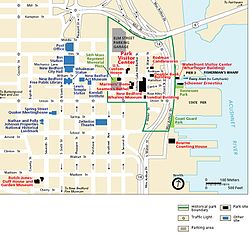 Do
Balloon Adventures of New Bedford, see Dartmouth.

Stephen Hetland Memorial Skating Rink

address: 310 Hathaway Blvd

Call for public skating hours.

Whaling City ExpeditionsHarbor tours, sunset cruises, private charters.

address: 328 Parker Street

Visit Martha's Vineyard or Nantucket by ferry.
Go to East or West beaches on Rodney French Blvd.
Eat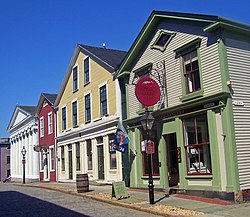 Isaiah's Restaurant, Union and Pleasant Streets, +1 508-999-6037. Su 8AM-1PM; M-W 7AM-3PM; Th 7AM-7PM, F 7AM-8PM, Sa 7AM-1PM. Great cheap eats. Breakfast, sandwiches, variety of entrees under $8. $5-$15 for dinner.

address: 41 William Street

Nice facility set in a classic old brick firehouse, with a large copper top bar and displayed artwork. Cozy atmosphere in the heart of historic downtown, good for families, couples, or friends. Award winning fish chowder. $12-$22.

Candleworks Restaurant

address: 72 North Water Street

Fine dining.

address: 36 Homers Wharf

Big, spacious family seafood restaurant with sushi bar, amid historic stone counting houses and customs buildings on the harbor with a nice view of New Bedford's fishing fleet docked. Excellent food, which you don't always find in a restaurant of its size. Arguably the best fried calamari in Massachusetts.

address: 90 Front Street

Chic tapas place and wine bar in one of the most stunning historic buildings in the city (which is really saying something in New Bedford). Dark, urban decor upstairs, exposed 18th Century stone walls in the basement, massive wooden support beams and other unique period details visible throughout. Excellent Spanish influenced food in surprisingly large portions, good wine list that offers "flights". The place to go if you're looking to impress your out of town guests, or be impressed yourself.

address: 42 North Water Street

Three rooms of cozy seating in endearingly mismatched furniture, in the heart of the cobblestone paved historic city center. Great selection of breads, pastries, sandwiches and even soups. The coffee selection's basic but quite good. Lots of antique nicknacks on display from Ireland as well as New Bedford's past. Perfect place to spend a rainy afternoon.

phone: +1 508 984-0489

address: 1339 Cove Rd, New Bedford, Massachusetts 02744

Authentic Portuguese food.
Sleep
address: 737 State Road

address: 500 Hathaway Rd

153 rooms.

New Bedford Fairfield Marriott

address: 185 Macarthur Dr

Recently built modern hotel with five floors of rooms and suites. About a one minute drive to the heart of downtown, right on Rodney French Boulevard, which is the scenic road that hugs the ocean looping around New Bedford's South End peninsula. Some spectacular ocean views from the upper floors, including the harbor wall.
Try nearby towns for other hotels and motels.
Bed and Breakfast
Cope
Consular services
phone: +1 508 997-6151

address: 628 Pleasant St Rm 204
Go next