New Bern
New Bern
is a city in the
coastal region
of the state of
North Carolina
.
Understand
New Bern was founded in 1710 by Swiss and German adventurers led by Baron Christoph von Graffenried from Bern, Switzerland. Royal Governor William Tryon made New Bern the colonial capital. His restored 18th-century capitol and residence, Tryon Palace, dominates a thirteen-acre garden complex that includes several historical landmarks in the heart of the city.
A major port and trading center in the 1800s, New Bern was captured and occupied by the Union Army after a fierce battle on March 14, 1862. New Bern has three historic districts with homes, stores, and churches dating as far back as the early 18th century. In 1898, the pharmacist Caleb Bradham invented Pepsi Cola in his pharmacy at the intersection Middle and Pollock Street. The building still exists.

Get in
Generally, those who come to New Bern come in from
Raleigh-Durham International Airport
(
RDU
) via rental car or through the local airport, Coastal Carolina Regional Airport (EWN), with flights on Delta and American Airlines. I-40 and I-95 are interstate highways that run relatively close to New Bern, which is located on US Highway 70, NC 17, and US Highway 17.
Bus service is provided by Greyhound. Buses stop at 4010 Martin Luther King Blvd, nowhere near downtown, so you'll have to figure out some way to get into town from the bus stop.

Get around
The downtown shopping district is walkable. Elsewhere in town a car is necessary. There is no public transportation and taxis are rare and expensive.

See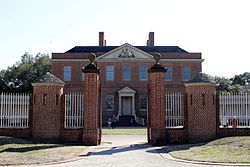 Do
Buy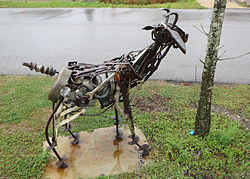 There are lots of quirky little shops in downtown New Bern. A thriving artist's community in town and the surrounding area support a variety of art galleries.
Bear City Fudge Company

phone: +1 252 636-1360

address: 236C Middle Steet

Fudge, chocolates and candy.

phone: +1 252 633-4369

address: 317 Pollack Street

Fine art and contemporary crafts

phone: +1 252 634-9002

address: 323 Pollack Street

Fine art gallery.

Fraser's Wine and Cheese Gourmet Shoppe

phone: +1 252 634-2580

address: 210 Middle Street

Wine, cheese and other gourmet foods.

Poor Charlie's Flea Market and Antiques

phone: +1 252 638-2798

address: 208 Hancock Street

Antiques, buy and sell.

Snapdragon Toy Store

phone: +1 252 514-6770

address: 214 Middle Street

Toy store.

phone: +1 252 633-4432

address: 224 Craven Street

Upscale consignment boutique with quality clothing.

phone: +1 252 514-2681

address: 602 Pollack Street

Supplies for knitting, weaving, cross-stitch, etc. Also has classes and individual instruction.
Eat
Drink
Harvey's MansionThis bar is located in the basement of the inn of the same name. Although the bar is small, it has a comfortable atmosphere. This is the bar where the locals like to go.

The HiltonHas two main bars. Both are good hangout places during the weekends. One bar features dance music and the other bar is a classic tavern. During the summer months, the Sheraton is famous for its "Deck Parties" on Fridays and Sundays from 6-10 pm. Friday deck parties usually feature rock, pop, and blues live music. Sunday's usually feature jazz.

Mickey Milligan's

address: Trent Road

A great place to play billiards. Milligan's features a large bar with several beverages on tap in addition to eight pool tables. Some nights, there is also live music.

Trent River Coffee CompanyA café with a classic coffee house atmosphere. It's located in downtown New Bern on Craven Street. Also, TRCC sometimes schedules gigs for live performances and movie screenings. Check the website for dates for movie screenings and live music. This coffee house also has free internet.
Sleep
phone: +1 252 637-2111

address: 200 Hotel Drive

One of the best values in town.

DoubleTree by Hilton Hotel New Bern Riverfront

phone: +1 252 638-3585

address: 100 Middle Street

Days Inn

phone: +1 252 672-0222

address: 925 Broad Street

Central location, conveniently located.

phone: +1 252 636-0022

address: 218 East Front Street

Located on one of the prime pieces of real estate in town.

phone: +1 252-634-1776

address: 212 Pollock St

An Antebellum Inn Built in 1847 as a private residence, renovated in 1900 and again in 1980 as the first B&B in New Bern. We offer 7 rooms with a full breakfast each morning. Off street parking behind the Inn. Park your car and walk to all the Historic downtown restaurants, shops, two riverfronts and the Tryon Palace & Gardens/NC History Center. Rooms: