New Brunswick (New Jersey)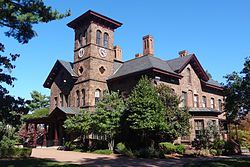 New Brunswick
is a city in
Middlesex County
,
New Jersey
. It's the home of Rutgers University.
Get in
By train
Amtrak serves New Brunswick station. It offers an express train that is slightly faster; however, the cost of a ticket (>$27) is greater than the cost of an NJ Transit train ($14.00) For those traveling from Baltimore and other points south, the Amtrak is a good option, and some travelers from as close as Philadelphia may also choose Amtrak in order to have a one-train trip and avoid having to change from the Philadelphia-area SEPTA trains to NJ Transit in Trenton.
New Jersey Transit - Northeast Corridor line, . Service between New Brunswick station and New York City's Penn Station can be between 30 and 70 minutes, depending on the time of day and whether the train is running on the local or express route (both run at different times throughout the day). Local service is available to other New Jersey Transit stations such as Newark Penn Station, Newark Airport, and Trenton (as such, New Brunswick is also an easy trip from Philadelphia via transfer from SEPTA). If you come in late at night, you might wind up having to walk through a few cars and disembark at the low platform. If the trains strike the occasional fool who mistakenly walks onto the tracks, trains can be delayed by several minutes. New Brunswick boasts two stations, one at the center of the city on Albany Street (Route 27) and one near the North Brunswick border along Jersey Avenue (Route 91).
By bus
New Jersey Transit buses have several stops in New Brunswick, one of which happens to be on Route 27. However, the major New Jersey Transit bus hub is centered upon the New Brunswick train station (at its northern end) and along George Street (which is essentially the centerpiece of New Brunswick's downtown area).
Suburban Transit stops in front of the train station, and comes from both Princeton and New York. The main Suburban Transit bus depot is also in New Brunswick, and is next to the New Brunswick White Castle restaurant. (Yes, Harold and Kumar fans, there is a White Castle in this town.) It is further down the bus route from New York City than the train station is, but only a couple of minutes further.
Megabus stops in downtown New Brunswick and comes from New York.
By car
New Brunswick can be accessed by Interstate 287 Exit 10 (Easton Ave, New Brunswick), Exit 9 off of NJ Turnpike/I-95, U.S. Route 1, NJ Route 18, Livingston Ave, and Route 27 by way of Highland Park, across the Raritan River.
By foot or bicycle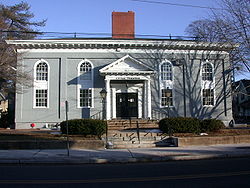 From Highland Park, several of the bridges across the Raritan River are open to pedestrians and cyclists. The river is rather broad but easily walkable for healthy individuals. One can also come in from the south by way of Millstone (New Jersey) from East Brunswick or up Ryders Lane in East Brunswick, or by walking down the sidewalks of Easton Avenue from the west. (Note: Approaches from the south and west can get pretty hilly.)
Get around

Buses (and bicycles) are the most effective means of traversing throughout New Brunswick. NJ Transit travels throughout the city. Rutgers University has buses that travel all around the campus, and you don't have to be a student to utilize them. Taxis are also prevalent (but relatively expensive), and the size of the town is such that walking is not out of the question.
Driving is also possible but parking is difficult to find in the downtown area and expensive. Most on-street parking in the downtown area is 2-hour only Monday-Friday, and parking garages tend to run about $1.50-$2 per hour. On-street regulations are suspended on the weekend but most spots are taken by residents. Some garages, such as the Lower Church Street garage, are free on Saturdays if you park before 5PM.
Traffic gets unbelievably stuck up after football games and Rutgersfest, with cars and buses often coming to a standstill on Route 18 and in neighboring Piscataway, as well as in downtown New Brunswick. So give yourself extra time on those occasions. Route 18 may also become jammed between the hours of 4 and 6PM, due to rush hour traffic.

See
phone: +1 848-445-4636

Located in northeast New Brunswick, Rutgers University is a major aspect of the city. The College Avenue Campus is home to several dorms and lecture halls, with frathouses nearby. The Zimmerli Art Museum, Geology Museum, the Rutgers Student Center, and Old Queens (as a historic centerpiece) are places of attraction. The College Avenue Gym is also the site of the first ever intercollegiate football game, in which Rutgers defeated Princeton by a score of six to four in 1869, commemorated by a plaque on the outside of the Gym and a statue outside Rutgers Stadium on the University's Busch Campus. In the spring, in recent years, there have been the colorful and dynamic Tent State University protests as well.
Downtown: Downtown New Brunswick is home to a plethora of restaurants and bars. For entertainment, there are clubs such as Club Platinum for dancing and The Stress Factory for comedy. New Brunswick's nightlife is excellent for a city its size. The Court Tavern is the best place to catch up and coming local bands, helping make famous such acts as the Smithereens, Ween and DefTime. Johnson and Johnson's, the makers of the Band-Aid and Johnson's Baby Shampoo, has their headquarters here.
George St/Monument Square: George St./Monument Square is home to the Performing Arts of New Brunswick (as well as an art gallery and urban planning school). The State Theater, where big name acts are constantly booked, is here. At the George St playhouse, right next to it, you can catch a variety of plays.
Bucceleuch Park: Located up College Avenue from the train station, past the college campus. A Revolutionary War mansion is the centerpiece of this park.
Chabad House, Hillel House, the old churches, the Theological Seminary, and Congregation Poile Zedek: New Brunswick's colorful religious institutions. Those are located both on College Ave. and downtown.

phone: +1 732 932-7237

address: 71 Hamilton Street

The Jane Vorhees Zimmerli Art Museum has become quite an attraction in this little city. Charging $6 for adults who are not members, $5 for citizens over 65, and children under 18/ Rutgers University students, faculty, and staff with a valid I.D. enjoy free admission. In addition, free admission is given for all visitors on the first Sunday of every month. This art museum continuously has new exhibitions coming in and out, which keeps things interesting.
Hospitals: While not exactly attractions, both Robert Wood Johnson University Hospital (located on French Little Albany Street) and St. Peter's Medical Center (located on Easton Avenue) are centered in New Brunswick, giving it the title of the Health Center of New Jersey.

phone: +1 732-932-8451

address: 130 Log Cabin Rd
Do
There are several pleasant parks within the city limits.
Concerts and theatrical performances take place at several venues including the
George Street Playhouse
in the center of town.
New Brunswick also has a thriving underground music scene with small DIY shows happening in basements, homes, galleries and other unexpected locations. These shows are often very secretive, and their locations aren't advertised, but instead spread via word of mouth.
There are also clubs, including:
Rutgers University has Division I NCAA teams in several sports, including football and basketball. Attend a match.
phone: +1 732-246-7469

address: 15 Livingston Ave

The State Theatre is a nonprofit venue that features performing artists from the national and international stage while also providing art education programs.

phone: +1 732-545-HAHA

address: 90 Church St
Buy
Antiques, five-and-dime stuff, clothing, old books, etc., can be found in the George St. district. Rutgers-branded merchandise is sold in many shops on Easton Ave.

Eat
New Brunswick is home to several 4-star restaurants and, typical of a college town, it has dozens of options for casual dining. Most of the upscale dining is clustered in the downtown section around George St, all within easy walking distance of the train station. Most of the college-oriented restaurants are focused on Easton Avenue, also within easy walking distance of the station (albeit uphill), although there are some downtown as well.
phone: +1 732 846-3216

address: 29 Dennis St

phone: +1 732 828-4444

address: 5 Livingston Ave

Located next to the George Street Playhouse and known for one of the best wine lists in the world.
Stuff Yer Face, a good stromboli restaurant and sports bar, Easton Ave. (Food Network fans should note that this is where Mario Batali got his earliest "professional" cooking experience.)

Thai Noodle

address: 174 Easton Ave

Thai cuisine.
Edo, Japanese restaurant, Easton Ave.
Evelyn's, Lebanese cuisine, Easton Ave.
Efes, Turkish restaurant, Easton Ave.
Hotoke, George St. Japanese restaurant.
Tumulty's Pub. American cuisine. George St.

Harvest Moon BreweryAmerican cuisine. and Microbrewery George St.

phone: +1 732 418-7900

address: 380 George St

Sub and deli sandwiches, wraps, soups, salads.
Chardas Hungarian Restaurant. Hungarian cuisine. 214 Somerset St.
Several lunch-oriented places are in the downtown district as well.

phone: +1 732-246-4648

address: 112 Church St

This colorful place is a little hole in the wall that usually has a ton of people standing outside. The Buffalo Chicken Wrap is good.

Cool Runnin's

phone: +1 732 246-2800

address: 25 Easton Ave

You walk in and there are only a few seats and tables, but that is because just about everyone takes it to go. The jerked chicken is well known as a famous dish, but the "spicy" chicken patty is also good.

Old Man Rafferty's

phone: +1 732 846-6153

address: 106 Albany St

In the heart of the city's corporate and theater districts, and the Rutgers University campus. Perfect for a casual lunch, intimate dinner, or even a corporate business function. Offers outdoor seating in a garden setting.
Drink
Since New Brunswick is a college town, you can't walk far without bumping into a few bars. There are two main bar areas in New Brunswick. Easton Ave. is mostly a college-age crowd, while George St. caters to young professionals and a somewhat older crowd. There are other bars scattered about New Brunswick that cater to a non-college clientele.
Sleep
address: 10 Livingston Ave

248 rooms with views of downtown New Brunswick and the surrounding area. The hotel is in the cultural heart of New Brunswick, just a half hour from Newark Liberty International Airport. Across the street from the aforementioned theaters and the Mason Gross art gallery, as well as the Bloustein School lecture hall.

address: Two Albany St

288 guest rooms. 6-story Hotel, 2 blocks from New Brunswick train station. Conveniently close to restaurants and shopping.
Stay safe
The Rutgers College campus is generally safe for visitors and students. The Rutgers University Police or RUPD is a very noticeable presence in the city. If you have trouble, approach one of the officers (made clear by their red uniforms) and they'll be more than happy to help you. However, like most college cities, New Brunswick has its share of social problems. Homeless beggars hang out on George Street and near Rutgers bus stops, and will ask for money. Accept it as a by-product of a college town, which attracts visitors and money. However, the homeless are not aggressive and will leave you alone if you say "no." The most common crime is theft. Keep your belongings close to you, especially wallets, phones, and iPods.
Also, keep in mind that while some areas of New Brunswick are safe during the day, certain neighborhoods are dodgy and unsafe at night. Don't wander around alone at night, especially beyond Samson Street and frat row. Certain streets near Rockoff Hall should also be avoided late at night. Muggings do occur, mostly after midnight, and both males and females should travel in a group to stay safe.
On Thursday, Friday, and Saturday nights, drunken behavior is rampant. If aggressively confronted in a bar or on the streets, simply walk away.

Connect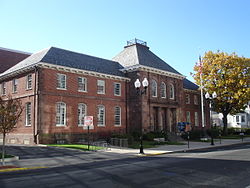 Go next
New York City is easily accessible by train. NJ Transit trains to New York Penn Station take 1 hour.
Philadelphia is also easily accessible by train. A train ride will take about an hour to an hour and a half.
Princeton is not very far away and is a very pleasant small college town, although truth be told, it's more likely that a Princetonian will be found in New Brunswick than the other way around.