New Hampshire
New Hampshire
is a state in
New England
in the north east of the
United States of America
. Noted for its terse and independent inhabitants and cold winters, New Hampshire has much natural beauty.
Regions
Cities
Some of the major cities are:
— The capital of the state and its third-largest city
— Home of Dartmouth College, this college town on the Appalachian Trail also makes a good base for exploring the nearby Quechee area of Vermont
— revitalized mill town that is New Hampshire's largest city
— revitalized mill town that is New Hampshire's second largest city
— seaside town known for beer and Strawberry Banke Museum
Other destinations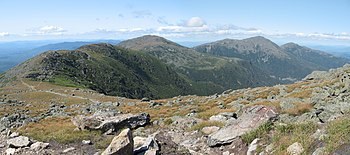 , Cornish — Former home and studios of noted sculptor Augustus Saint-Gaudens.
— a resort town in the White Mountains.
— home of many peaks in the Presidential Range
Understand
Residents of the state are proud of the nature around them, so careless actions that damage the local environment are not appreciated. If hiking in the White Mountains, make certain that your travel plans are sound, as volunteer rescue teams do not appreciate being called in the middle of the night to find lost tourists.
However, as tourism is the main industry in New Hampshire, tourists are certainly greatly appreciated.

Talk
The main language is English.
Because of the proximity to Quebec and immigration by French Canadians, some French speakers can be found in the northern part of the state, especially in the Berlin area.
The southern regions have a growing Spanish speaking population, especially Manchester and Nashua, but it is a small percentage when compared to larger U.S. cities such as
Los Angeles
or
Albuquerque
.
Get in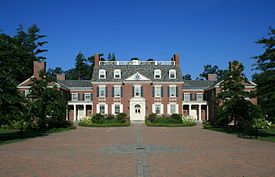 By plane
Manchester - Boston Regional Airport, Brown Av. Route 101 exit 2, Manchester, +1 603 624-6556. A convenient way to get to the city and much of southern New Hampshire. Sometimes used as a low-cost, low hassle alternative to Logan International Airport in Boston.
By bus
By train
There is limited access to New Hampshire by train, with no trains to the major cities. The two
Amtrak
routes that at least touch New Hampshire soil are:
Downeaster, serves the seacoast region, passing through from Boston North Station to Portland, Maine. Note that if coming from south of Boston on the NE Corridor, trains terminate at Boston South Station, and you must connect via the T or taxi to North Station. Alternatively, buses (see above) leave directly from South Station.
Vermonter primarily serves eastern Vermont, but also serves Claremont, although several other stops are across the Connecticut river from New Hampshire, including Bellows Falls (across from Walpole) and White River Junction (across from Hanover and Lebanon).
Get around
Concord Coach
,
Dartmouth Coach
, and
Boston Express
offer service to much of the state. However, the easiest way to get around is by car. Most areas are underserved by bus (and train), so there may be no other option.
See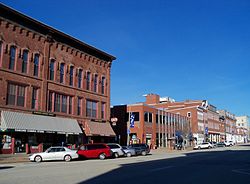 Manchester is a revitalized historical mill town.
The White Mountains is a beautiful region with good hiking and skiing.
Dartmouth College is an Ivy League school in Hanover with a beautiful campus. The Hopkins Center hosts an impressive number of highly regarded performers. Local interest in culture is low and therefore seats at the Hopkins Center can be obtained easily.
Visit a small town outside of the "Golden Triangle" (Area from Salem to Nashua to Manchester) and check out the atmosphere.
Mount Washington (6,288 feet) is the largest mountain in the Northeast, and the site of the highest recorded windspeed in the world (231 miles per hour). Mount Washington provides an excellent experience for a hiker, contains Tuckerman's Ravine, a popular and difficult skiing destination reached only on foot.
Lake Winnipesaukee
Portsmouth is a historic town on the sea

American Classic Arcade MuseumWeirs Beach in Laconia Located inside the Funspot Family Entertainment Center (or simply Funspot) the ACAM has been recognized as the "Largest Arcade in the World" by Guinness World Records. The museum hosts roughly 180 playable games on the floor and another 100 or more in storage. It has been called "the Louvre of the '8-bit' world."
Do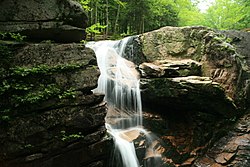 Skiing
Good terrain with great skiing.
Hiking
The White Mountains are a common destination for hiking, located in the middle part of the state.
Mt. Monadnock (3,165ft), the most prominent peak in southern New Hampshire and a designated National Natural Landmark, is said to be the world's second most frequently climbed mountain after Japan's Mt. Fuji.
Eat
New Hampshire offers up many great roadside diners, places that are a belt busting quick cheap eateries.

Drink
While the state is not known for its nightlife, there are some clubs to check out in
Manchester
.
There are many breweries throughout the state, including more than 20 microbreweries, more than 30 nanobreweries, and more than 20 brewpubs.
Some noteworthy breweries and brewpubs include:
Stay safe
New Hampshire is constantly ranked among the safest states in the country, irrespective of the fact that there are no state licensing requirements for the purchase of any rifle, shotgun or handgun. Crime is typically not a problem, but make sure to be careful while driving—especially if you're unfamiliar with winter driving. Moose occasionally wander onto the roads in the
White Mountains
region and northward and are a serious hazard. When hiking, bear encounters are possible and the weather can change rapidly at higher elevations, especially in the Presidential Range.
Respect

New Hampshire's LGBT community is relatively obscure when compared with the other New England states, although the census reports it has among the highest concentrations of gay and lesbian residents of any U.S. state. Gay venues do exist in the urbanized far south, but the heavily forested and backwoods north still retain some remarkably homophobic attitudes. The situation is less friendly than in neighboring states.

Go next
Maine - The state's northeastern neighbor is known for its seacoast fishing villages, wooded and remote interior, and stunning vistas such as that found in Acadia National Park.
Massachusetts - The birthplace of America's revolution, New Hampshire's southern neighbor is home to historical towns, the vacation hotspot of Cape Cod, and the always-interesting city of Boston.
Vermont - The fall foliage in New Hampshire's western neighbor is a site not-to-be missed, while during the rest of the year the state offers a rural charm unique in America.
Quebec - New Hampshire's northern neighbor, Québec's European feel, history, culture and warmth have made it a favourite tourist destination both nationally and internationally.