New Haven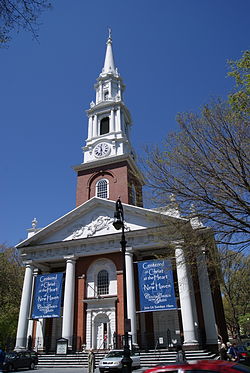 New Haven
is a city in
Connecticut
, and is perhaps best known as the home of
Yale University
.
Understand
With a downtown population density of 6,000 people per km 2 , downtown New Haven has a particularly residential character. As a result, numerous shops, cafes and top-rated restaurants have proliferated. Ethnic restaurants include Ethiopian, Vietnamese, Eritrean, Chinese, Japanese, Spanish, French, Mexican, Thai, Indian and Malaysian cuisines, among many others. According to the Hartford Courant, New Haven has more pedestrian activity than any place between New York City and Boston, and also has a burgeoning nightlife scene.
The area is a center for bicycling and hiking, with nearby East Rock Park, West Rock State Park, and Sleeping Giant State Park. Together, they provide many miles of hiking trails and summits with expansive views over hundreds of square miles. Bicyclists enjoy cruising along the beautiful shoreline, or along the Farmington Canal Trail, a former canal and railroad that has recently been converted for recreational use.

Get in
By car
New Haven is located at the junction of Interstates 91 and 95. Be careful to lock your doors, as the crime rate in New Haven has been known to elicit broken windows. Do not leave your GPS unit or its accessories (such as mounting units, suction cups, or suction cup marks on the window) in plain sight. Belongings are typically not taken in these incidents.
By plane
Tweed New Haven Regional Airport

phone: +1 203 466-8833

address: 155 Burr Street

Served by American Airlines.
Bradley International Airport (BDL) in Windsor Locks (near Hartford), from which I-91 leads straight to New Haven, is a much larger airport with flights to cities throughout the Eastern half of the United States and Canada and seasonal service to Mexico, as well as a daily summer Aer Lingus flight to and from Dublin. It is about an hour away by car.
LaGuardia Airport is another major airport in the area, in Queens. It has flights to cities throughout the Eastern United States and Canada and to a limited number of Caribbean destinations. It is about 1 1/2 hours away by car. Airport shuttle service to New Haven is available, or you can get to Grand Central Terminal in New York and then a train to New Haven.
John F. Kennedy International Airport, also in Queens, is a major international airport. Airport shuttle service to New Haven is available, or you can get to Grand Central Terminal in New York and then a train to New Haven.
Newark Liberty International Airport, in northern New Jersey, is a major international airport. Airport shuttle service to New Haven is available, or you can take Amtrak to New Haven or a train from Grand Central Terminal.
By train
Metro-North Railroad provides service between New Haven, New York City and intermediate points.
Amtrak provides direct service from Virginia to Boston and intermediate points (including all major cities on the Northeast Corridor). Amtrak also provides direct service between St. Albans, Vt. and New Haven and intermediate points (including to and from Springfield, Mass. and Hartford, Conn.)
Shore Line East provides service between New Haven and New London, Conn. and intermediate points. It also operates a small number of trains between New Haven and Stamford, Conn.
Hartford Line is a commuter rail service between New Haven, Connecticut, and Springfield, Massachusetts. This service features 17 trains a day between New Haven and Hartford (12 of which continue to Springfield). It also connects to New Haven Line service to New York City, Amtrak Northeast Corridor rail services, and Shore Line East service, as well as CTfastrak bus rapid transit service in the Hartford/New Britain area.
There are two stations, (
ZVE
) is located south of downtown at 50 Union Ave while is located just west of downtown at 259 State St. All trains stops at Union station while only local trains stops at State Street.

By bus
Greyhound also serves New Haven, but if you are coming from New York City, you may find Metro-North Railroad cheaper and more comfortable.
Get around
Downtown New Haven is compact enough to be traversed by foot.
The city is also served by an efficient public bus system.
CT Transit, Phone: +1 203-624-0151. Bus stops are marked with signs or a white stripe around utility poles in some cases. Busses all have bike racks.
Other transportation options include:
EcuaMex Taxi, Phone: +1 203 624-3333
Metro Taxi, Phone: +1 203 777-7777.

address: 151 Orange St

Provides low-cost daily or weekly bicycle rentals.
See
phone: +1 203 432-2300

address: 149 Elm St

Peabody Museum of Natural History at Yale University

phone: +1 203-432-5050

phone: +1 203 432-0600

Chapel at High St. Tu-Sa 10AM-5PM, Th until 8PM from Sep-Jun, Su 1PM-6PM. Free.

The GreenPublic park in the center of the city. It's over 350 years old and recognized as one of the best 100 public spaces in the United States. Frequent festivals are held here.

Sterling Memorial Library at Yale University

phone: +1 203-432-1775

address: 120 High St

Includes the Yale Babylonian Collection donated by JP Morgan in 1910, as well as many other world-renowned artifacts and collections.

phone: +1 203-865-0400

address: 1 State St

phone: +1 203 432-2800

address: 1080 Chapel Street

address: 2 Lighthouse Road

Lighthouse Point Park gives a scenic view of New Haven's shoreline and is perfect for those looking to leave the hustle and bustle of the downtown area. The park is home to Hawkfest, a celebration of the local wildlife, and the Carousel at Lighthouse Point. Visit their website for department phone numbers, park opening times, and parking information

address: 325 Lighthouse Road

Visit a landmark of colonial New Haven. Built in 1750 and burned down in 1779 during a British raid on New Haven Harbor, the Pardee Morris House offers a glimpse into New Haven's history. Classes, tours, and summer camps are held throughout the year. Visit the Pardee Morris House section of the New Haven Museums website for a schedule of events.

address: 50 Woodward Avenue

Get a spectacular view of the New Haven seaside as well as learn about the town's colonial history. See Black Rock Fort, replete with the Betsy Ross flag, and take in a recreation of battles from New Haven's past. Fish from its expansive pier or take the nature trail that leads from the park to the Pardee Seawall. The visitor center is open from Memorial Day to Labor Day from 10AM to 4PM. Visit their website for more information.

Beinecke Rare Book & Manuscript Library

phone: +1 203-432-2977

address: 121 Wall Street

The Beinecke holds Yale's rare books and manuscripts. The building is impressive from outside, but particularly beautiful inside due to the glow that the translucent veined marble walls have on a sunny day. Rotating exhibits and a Gutenberg Bible are always on display.

Leitner Family Observatory and Planetarium at Yale University

phone: +1 203 432-3000

address: 355 Prospect St

Shows in the planetarium theater on Tuesday nights, followed by viewing of the night sky through telescopes (weather permitting). Check website for current shows, as well as special events on other nights.
Do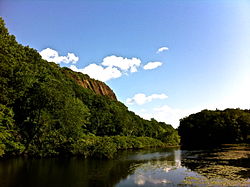 Free community bike rides leave various bookstores and cafes each day; check with the Devil's Gear Bike Shop to rent cycles or find out about community rides. Local beaches are also a short bike ride or drive from the city center, and provide additional recreational opportunities.
Dine at one of Wooster Street's popular Italian restaurants. New Haven is famous for its old-world style pizza.
Visit the Crypt, an ancient graveyard under the Center Church on the Green. It is open April-October, Th & Sa 11AM-1PM.
St. Patrick's Day Parade, one of the oldest in the United States.
Visit summit of East Rock Park and West Rock Park where you can see the Three Judges Cave and hike along miles of trails.
Tour Yale University.
See an avant-garde jazz concert at Firehouse12, a firehouse converted into a modern bar and cutting-edge concert venue and recording studio.
See a show at the famous Toad's Place, a must for any music lover.
Bicycle along Farmington Canal, or shoreline bike routes.

address: Connecticut Tennis Center at Yale, 45 Yale Avenue

Also known as the New Haven Open at Yale, This week-long event held in the summer showcases the talent of America's best tennis players. The tournament is held in late August.

phone: +1 203 787-4284

address: 222 Sargent Dr

Not only are some of the best plays in the North East performed right on this stage, the theater also gives back to the community by hosting classes and sessions for those interested in theater and want to get involved in the performing arts.
Buy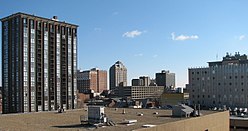 When visiting, pick up a copy of the Downtown Guide at a local shop or restaurant. It will provide you with up-to-date information on the hundreds of restaurants downtown, as well as shopping opportunities. New Haven abounds with hundreds of retailers, ranging from pricey local boutique to art galleries to national chains such as Ann Taylor.
address: 450 Sargent Drive

Located just off Long Wharf Drive, visit the only Ikea store in Connecticut and check out their selection of inexpensive furniture and their restaurant

Ann Taylor Store 001

address: 968 Chapel Street

The nation's first Ann Taylor. Small but focused on suiting for women.

J Press

address: 260 College Street

Fine men's suiting.
Eat
New Haven has many famous pizza parlors and is often credited with having introduced pizza to the United States, although New Havenites themselves often contend that New Haven-style
a
pizza is a separate food from pizza altogether. The pizza has a thin, bitter crust, offset by high quality ingredients, making for one of the world's best pizza experiences. The most famous apizza locations are Pepe's and Sally's, which are over 80 years old and usually have lines going around the block. Modern Apizza—a more recent arrival (1934), further from the city center—has nonetheless usurped these establishments as the local favorite. For a real New England New Haven experience, order the white clam bake pizza—the simple toppings of garlic, olive oil, and New England clams against the backdrop of the bitter, oven-scorched crust make for a delight to the senses.
While it is a bit sacrilegious to pass through New Haven without trying the pizza, the small city has an astonishing wealth of fine dining establishments—easily rivaling the dining scene of any of
New York's
outer boroughs. The blocks just south of Yale University along Chapel, Crown, and George Streets are home to the majority of the city's best restaurants. Often-cited top restaurants in town include the Union League Cafe, Ibiza, Heirloom, and Zinc, but there are fantastic options around every corner in this part of town to try.
Wooster Square
phone: +1 203 624-5271

address: 237 Wooster Street

Frank Pepe Pizzeria Napoletana

phone: +1 203 865-5762

address: 157 Wooster St

Libbys Italian Cookies and Pastries

address: 139 Wooster Street

Amazing cookies, cannoli, Italian pastries, Italian ice, and coffee
Downtown
phone: +1 203 562-5507

address: 261-263 Crown St

This tiny hamburger joint, located just a few blocks off the Green, claims to be the inventor of the hamburger. The burger served in Louis' traditional style: steamed in an antique table-top cast-iron gas broiler, served between two pieces of white-bread toast, optionally with cheese, tomato, and onion. Condiments like ketchup, mayonnaise, and mustard are not used or available, which is a point of pride for management who are adamant that such extras detract from the experience. Sides such as potato salad, chips, pies, and local Foxon Park soda are available. Do not expect McDonald's wait times for your burger!

Aladdin Crown Pizza

address: 260 Crown St.

Don't be fooled by the name; the best cuisine this place offers is not pizza; it's Middle Eastern. Be sure to try their falafel plate and baclava dessert. Authentic food with excellent service.

Bangkok Gardens

phone: +1 203 789-8684

address: 172 York St

If you are looking for a casual, but high quality restaurant within walking distance of the University, take your budding scholars here. The food is up to New York standards, prices are reasonable, and the location enviable.

phone: +1 203 562-3888

address: 1000 Chapel St

Vegan and vegetarian options, regularly-changing specials. Known for their Lithuanian coffee cake. Great bakery with gluten-free options. Kosher.

Pacifico

phone: +1 203 772-4002

address: 220 College St

Latin American seafood dishes with a upscale New York sensibility served at this LGBT-friendly restaurant.

Royal Palace Chinese Restaurant

phone: +1 203 776-6663

address: 32 Orange St

Very reasonably priced authentic Chinese cuisine plus friendly service equals a great find. Definitely do not pass up on the honey walnut shrimp.

Temple Grill

phone: +1 203 773-1111

address: 152 Temple Street

Known for design-your-own burgers and salads, and for leaving Swedish fish on the table with the check.

phone: +1 203 562-4299

address: 1032 Chapel Street

Upscale French cuisine. Make reservations.

York St. Noodle House

address: 166 York St.

If you're looking for an inexpensive, casual meal, York St. Noodle House is the place to go. Service is always friendly, and the menu always has irresistible options. Be sure to try their delicious boba fruit slushy. Try also coconut curry noodle soup and spicy wok basil noodle, noodlelicious !!!

address: 288 York St.

Family-owned diner with large menu and very reasonable prices. Dough and sauces are made fresh daily on the premises.

Zinc

phone: +1 203 624-0507

address: 964 Chapel Street

Modern American. Chef's table options focus on local food items. Make reservations.
East Rock
phone: +1 203 776-5306

address: 874 State St

This New Haven-style apizza place has really stirred up the waters of New Haven cuisine, dethroning the seemingly invincible Pepe's and Sally's as the city's (and quite possibly the world's) best pizza place. Modern Apizza has been voted "Best Pizza" in New Haven for twelve consecutive years in the New Haven Advocate's "Best of" Reader's Poll. Modern Apizza is a long walk, or a short drive, bike ride or trip on the "M" bus from Downtown New Haven.

address: 702 State Street

This is the perfect place not only for the connoisseur of Italian cuisine but for also a lover of movies. You can enjoy some of the finest Italian food New Haven has to offer while viewing movie classics on their ten flatscreen televisions

address: 201 Food Terminal Plaza

Drawing upon New Haven's large Italian-American population, only the best food made with the freshest ingredients is served. Who knows, maybe you'll be serenaded with traditional Italian music while you dine
Drink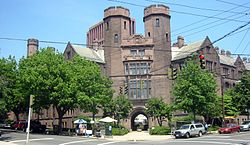 Crown and Chapel Streets run through downtown New Haven and are packed with hundreds of restaurants, cafés, wine bars, lounges and the like. New Haven is the primary entertainment destination for the 800,000 people who live in the immediate area. When driving, watch pedestrians since the crowds can be thick, especially on weekends.
Archie Moore's

address: 188 Willow Street

address: 254 Crown Street

The Playwright

address: 144 Temple Street

phone: +1 203 562-5589

address: 300 York Street

address: 266 college street

address: 172 Temple Street

16 taps of craft beer, accompanied by imaginative burgers

address: 201 Food Terminal Plaza

Italian-American foods made with the freshest ingredients, salads, desserts. Dining, bar and banquet room.

Willoughby's

address: Church & Grove; York & Chapel

Locally roasted coffee. The to-go tumblers are reusable and a great deal.
Sleep
Stay safe

As with New York City, New Haven's crime rate has gone down considerably since the early 1990s, and it is now considered to be a safe city, at least in the downtown area. Today, there is very little risk involved with traveling to New Haven's tourist attractions as streets bustle with crowds generated by hundreds of restaurants, cinemas, theaters, cafes and stores. Luxury apartments and million-dollar condominiums have proliferated, adding a large population base to formerly industrial or commercial zones. In such areas, the downtown area is generally safe at night, but like other cities, late night travel through certain city neighborhoods outside the downtown, without someone who knows the area, is not recommended. When visiting, exercise the same precautions you would use in any large city.
It is not recommended to venture outside the Metro North stop at Union Station at night. Taxis wait near the doorway, and it would be wise to take advantage of them if you must arrive in New Haven during the evening. The surrounding area is poorly lit and has seen a variety of violent and non-violent crime.

Connect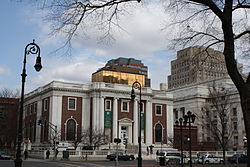 Go next