New Hope
New Hope
is in
Bucks County
,
Pennsylvania
.
Get in
The best way to get to New Hope is by car, although you can sometimes expect moderate to heavy traffic once you arrive.
From Philadelphia I-95 North to New Hope exit 51. Left at the stop sign, onto Taylorsville Road, 5 miles, 2 stop lights. At stop sign, left onto Route 32 (River Road), 4 miles down turns into Main Street.
From New York City NJ Turnpike south to Exit 14. I-78 West to I-287 South, to Route 202 South, to PA Toll Bridge. First right onto Route 32 South. 1 mile.
There is one road that takes you directly into New Hope - Main Street. Main Street in the main road that runs right through the center of New Hope. Main Street is a part of Route 32. Be aware that the speed limit is 25, and is strictly enforced by the local police, especially for those traveling slower than 25 as this causes major congestion. Parking is also strictly enforced, and it is recommended to use the parking lots at the American Legion and elsewhere.There are additional scenic roads running perpendicular to the town, such as Windy Bush and Aquetong roads. Bridges guide you across canals, rivers, and streams. A steam engine railroad also runs right through the heart of New Hope which is a beloved attraction but really only intended for scenic rides.

Get around
After parking, the most popular form of transportation is by feet; New Hope is a pedestrian place. The main street is about three blocks long, and home to most of the attractions the town has to offer. Anything else you'd like to experience is very close by. The walking distance is short but pleasant. It is quite easy to get to New Hope if you do not want to drive; options include limousine, taxi, or even train. The New Hope railroad, which has been in service since 1891, is a treat to travel on. It is a fascinating steam engine train, on which tourists can take a ride and enjoy the classic railroad experience.

See
Bowman's Hill Wildflower Preserve and Tower, on River Road (the main street). This is a tower that overlooks the beautiful landscapes Bucks County has to offer, and gives you a good view of Washington's Crossing. Beautiful wildflowers are scattered across 134 acres, and there are more than 1000 species of plants in the preserve. Spectacular views of meadows, woodlands, ponds, birds and wildlife. There are also educational programs in which home gardeners, landscapers, teachers, or anyone who wants to learn more about nature can learn about native plants and wildlife.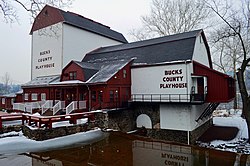 address: 70 S. Main Street

A national landmark for Broadway plays and rich in theater. Edward Everelt Horton opened it in 1939. You can find schedules online and purchase tickets. There is a main stage and a children's stage.

Grantz Gallery and Conservation Studio

Lachman Gallery - A non-profit company where the main focus is on contemporary arts around the region. There are also education programs and special events to help promote the awareness of art. There are also concerts and many sculptures that can be view within the gallery.
Washington's Crossing Park, about ten minutes south on River Road by car. The historic site where George Washington and the Continental army and militia crossed the Delaware River in 1776. Once they made it to New Jersey they won the battle in which they fought. For beer drinkers there are events which you can taste all types of beer or for food lovers they can watch cooking for our first president which is a reenactment. There are guided tours and war reenactments that are realistic in every aspect. Tu-Sa 9AM-5PM.
Parry Mansion, built by New Hope founder Benjamin Parry. Belonging now to the Historical Society it is restored with elegance and sophistication. Tours are on Saturdays and Sundays 1:30-3PM.
Do
There are many art galleries ranging from contemporary art to classic landscapes, and everything in between.
Check out the music scene in New Hope at night. New Hope is home to many local bands and performers who find venues in the small town.
Topeo Gallery - One of the most remarkable art galleries in Bucks County, featuring many different types of home accessories by American artists, especially quirky lighting objects. All of the items have a unique twist.
Coreyell's Ferry - Take a ferry over to Peddlers Village or just enjoy a scenic view of the water for a while. It is $5 for a 30-minute tour of the history of the Delaware River.
Bucks County Carriage offers rides through the town of new Hope for $10 for every 20 minutes. You can hitch a journey up to Peddlers Village for shopping.
New Hope & Ivyland Railroad: $8.50 for a scenic steam locomotive train ride. There is dinner and brunch on the train rides on some occasions. Built in the 1920s.
Ghost Tour founded and designed by the author of "Ghost in the Valley" Adi-Kent-Thomas Jeffery. Tours go weekly at Main Street and Ferry Street. $10 per person and no reservation is needed, Just wear your walking shoes and walk along the streets of New Hope with new and exiting ghost stories of its past. Private tours can be arranged with a reservation.
The Deleware River Joint Toll Bridge On a nice day there is a walkway across the bridge from New Hope to Lambertville. In Lambertville there are more shops, dining, and lodging. Walking over the bridge is a great opportunity to take pictures of the two lovely towns and the water surrounding it. You can walk, or ride bikes across it.

TearDrop Memories NorthFork Pet Antiques

address: 12 West Mechanic St.

Unusual antique shop filled with Victorian mourning funeral antiques and 19th-century bird cages.
New Hope Run Club, Casual running group that does beer and coffee runs. Tuesday Beer Runs are 5K or under in length; meet at Triumph Brewing at 7PM. Weekday morning coffee runs happen around 5:30 or 6AM, check the Facebook page for updates. Runners of all levels are welcome. Free.
Buy
This small town main street is famous for its shopping. They have specialty shops for everything imaginable: jewelry stores, clothing stores, costume stores, bookstores, swords and armor, and witchcraft.
Love Saves the Day, on 1 South Main Street. Love Saves The Day is a used, vintage clothing consignment store but its not your usual thrift shop. This store sells fabulous vintage clothes that you can't find anywhere else anymore. The store is known to even sell clothes that have tracks from the early 1900s. Love Saves The Day sells these impossible-to-find vintage clothes for men and women at reasonable prices. The store is becoming a more touristy site because of its strange atmosphere and decor.

New Hope Candle Shop

Mystickal Tymes, on 127 South Main Street. Mystickal Tymes is a witchcraft store in New Hope Pennsylvania. Mystickal Tymes offers all of your "Wiccan and Pagan" needs. The store is run by workers who also practice Wiccan or witchcraft. Mystickal Tymes sells witchcraft items such as books, potions, herbs, incense and many more intriguing items. Mystickal Tymes also offers a fortune teller who does tarot card readings, in the back of store whom you can make an appointment with. Store hours are 11AM to 6PM.
Beyond the Wall, located on 16 South Main Street, New Hope. Beyond The Wall is your shop for all your wall decor needs. The store sells every type of poster you could ask for. The store sells posters for music, movies, art, sports and more. Any size poster you want, Beyond The Wall has got it. The store also sells wall decor accessories such as tapestries, curtains, wall stickers and frames.
address: 13 w Mechanic st

Destination for New hope's only original punk rock shop for infants to adults, featuring cool clothes, costumes, collectibles, nightmare before christmas, utilikilts, Ween headquarters.
Rices Market", on 6326 Greenhill Road. A 30-acre outdoor market. Vendors come from all around, as they have for over 100 years, to sell their goods. Can bargain and get some great prices on Antiques, Jewelry, Fresh fruits and Vegetables, Meats, clothing, Handbags, DVDS, Collectibles. Great way to get sun, exercise, and shop! During the holiday especially, many vendors come to Rices Market to sell a wide variety of designer clothes such as True Religion Jeans, Juicy Couture, Victoria Secret, and Luck Brand. Even if your not looking for designer clothes, there are some beautiful handmade treasures at many of the vendor stands. The prices are outstanding! Rices Market closes after Christmas until March. The market is open on Tuesdays and Saturdays. P+1 215-297-5993.
Eat
For lunch or a quick dinner there are many delicious places to stop where you can sit outside and eat, or people watch through the windows by your table.
Esca Restaurant - A beautiful Italian restaurant with a historic ambiance just off of main street. There is waterfront seating where one can enjoy the beautiful scenery of an historic canal. The menu isn't too pricey, with the most expensive meal being $32, quite a bargain given the atmosphere. Tu-F 4:30PM-10PM, Sa Su noon-11PM.

Golden Pheasant InnNot quite in downtown New Hope, but still close by on River Road, overlooking the Delaware River. Cozy atmosphere in a tranquil setting. Also a bed and breakfast.

Lambertville Station RestaurantJust a short walk across the bridge to Lambertville, New Jersey, this restaurant has a picturesque view of the Delaware River. An appealing menu of entrees ranging from $15-45 created by professional chefs. The lamb is to die for with a taste that melts in your mouth. A cool fact is it used to be a railroad station, but now is fully restored into an amazing restaurant.

The Landing Restaurant

address: 22 N. Main Street

This riverside restaurant is hot spot in New Hope because of its delicious cuisine and very intimate setting. Su
Marcella Nord - A tiny quaint restaurant just off main street near the river. Very small, with perhaps no more than 20 tables or so, but what an experience. The garlic bread is signature and it is one of the best breads around town. From the ambiance to the food, all is wonderful, and the service is also exceptional. Definitely an unknown restaurant to many, but if there is one place to recommend it would be Marcella.

Marsha Brown, Refined Creole Kitchen & Lounge

address: 15 S. Main St

This upscale restaurant is built inside a 125-year-old stone church that sits in the middle of main street. They have valet parking. Marsha Brown specializes in prime meats and seafood. If you want a night of fine dining, you will not be disappointed here.
C'est La Vie, Outdoor seating, a great little French bakery and cafe. Open for breakfast and lunch featuring their own homemade breads, croissants, desserts, pastries. Open Tuesday through Sunday
Sunflowers, A little private restaurant by the little bridge in New Hope. A cobblestone pathway that is filled with bamboo, vines, and little benches for waiting. Indoor and outdoor seating. Lighting by candles and torches. Outside seats are right on a piece of the river. Great for a date and reasonable prices with a very broad menu.
Cafe LuLu, 110 Main Street. It has a big frog on the sign you can't miss it! Reviews say that some drive 45 minutes just to arrive here. Coffee shop and food is served. Indoor and outdoor seating available.
Drink
The modern bars are what make nightlife in New Hope a happening place to be:
address: 105 South Main Street

Great food, fun, and music. A restaurant, bar, and nightclub. The bar is popular and they have nine different beers on tap and a selection of tropical drinks. There are indoor and outdoor bars.

John & Peter's Place

address: 96 S. Main Street

90 Main, a lounge atmosphere with an outdoor patio with heated pillars when it gets a bit nippy out, so you can still enjoy the outside. On the weekends there are live bands and DJs, for a hip atmosphere while sipping on a cocktail.

Frans Pub

address: 116 S Main St

Indoor and outdoor seating. Food and bar.
Sleep
Logan Inn

address: 10 West Ferry St

This antique colonial inn was established in 1727, and is one of the five oldest inns in the country. This luxury inn has an old fashioned tavern and a well-known restaurant.
1870 Wedgewood Inn, A bed an breakfast voted Best of Philly in 2005 and 2006. there is a pool and tennis court and live music and entainment. a great place for a romantic getaway for the weekend
New Hope Riverfront Inn,Bridgetown House, 1525 River Road. The Inn was built in 1836. Its Bucks County's only bed and breakfast on the riverfront. A beautiful view of the Deleware River can be viewed from rooms. to Visit or book a weekend getaway visit their website www.bridgetownhouse.com
The Nevermore, 6426 York Road. +1 215-862-5221. A hip and young hotel for travelers. Gay friendly. A full-service hotel with flexiable offers for one-nighters visitors even day trip visitors. Including outdoor dining, pool, Cabana bar,private gardens,tennis, shops, piano bar,Dj dance parties, and indoor restaurant. Also you can host your own private events.
Go next
New Hope is surrounded by many historic and unique places.
Across the New Hope/Lambertville Bridge is another interesting small town to check out, the town of Lambertville. Lambertville is known for antique shops, go to Union Street and you'll find many.
Peddler's Village is in the heart of Bucks County, very close to New Hope. There are awesome restaurant spots, such as Earls Prime for those seeking upscale or Hart's Tavern for a more casual, laid-back experience. With over 70 upscale shops, including antiques and fine art. Around Christmas time, the trees are all beautifully lit.