New Lanark
New Lanark
is a complex of cotton mills and associated village in
Clydesdale
,
South West
Scotland, founded in 1786 to take advantage of water power from the fast-descending River Clyde. From 1800 to 1825 it was run by the social reformer Robert Owen, who made it a model community and planned town, influential in concepts of urban planning and welfare reform. It has a well-preserved architectural unity and is a
UNESCO World Heritage Site
.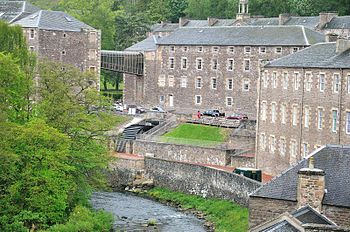 Understand
Until the 18th C, textile production was a domestic affair: a loom powered by hand or foot-treadle would take up a room, with the family living around it. This "cottage industry" couldn't compete with bigger mills powered by waterwheels - the cost of production per item fell dramatically, but such goods had to be mass-produced, and textile workers became hired labour who no longer "owned the means of production." The new owners were a wealthy minority or anonymous companies who could make the necessary capital investment; they saw little of and cared less for their workers, whose conditions were often squalid. A few reformers tried to buck the trend, one such being Robert Owen (1771-1858). He believed that welfare of his workers and their families was not just a religious and moral imperative, but sound business strategy. When he took over New Lanark he made it into a beacon of "utopian socialism", whose workers were (by the standards of the day) well-housed and well-fed, and their children well-schooled. And, for a time, it succeeded.
The waterwheel was the prime mover, powering every machine by a series of shafts, pulleys and drive belts, so everything had to cluster nearby. It couldn't power domestic work, which remained hard manual graft - so the reformist mind starts to think of communal solutions to tasks such as laundry, food preparation and heating. And Robert Owen was the intellectual prime mover, driving all the enterprises in the village while dreaming and scheming of the broader reform of society. New Lanark fostered political theories as efficiently as it turned out cotton shirts, with Bentham, Wilberforce, Marx and Engels coming to very different conclusions.
Owen managed the mill complex until 1825, then moved to
New Harmony
, Indiana USA, to continue his social project on a grander scale. That only lasted two years before collapsing in rancour and debt, and other similar experiments were failing. As steam replaced water power, mills and cities grew bigger, and couldn't get by just on community spirit. If families were to be housed and educated properly, the government needed to act, and not leave it to the benevolence of individual entrepreneurs. Thus, the 19th C vision evolved from model communities to welfare state.
New Lanark stayed in business after Owen but as a one-company village it was always vulnerable to the ups and downs of the cotton trade, and the mills closed in 1968. The village fell into disrepair and was at risk of being demolished, but it eventually passed to the New Lanark Trust, who restored it as a tourist attraction. Some 200 people live here nowadays.
Get in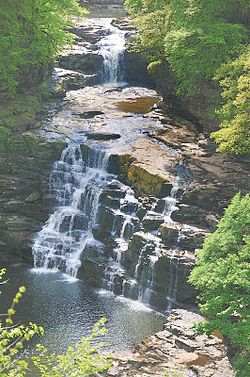 All transport routes are via , which has frequent trains and buses to Glasgow, and connecting services to Edinburgh.
New Lanark is two miles south of Lanark and is well-signposted; so you could walk from there, or up the Clyde Walkway which ends here.
Stuarts Coaches Bus 135 runs between Lanark and New Lanark Visitor Centre, M-Sat hourly and two per hour Sunday, a ten minute ride.
By car, approach along Braxfield Rd then hair-pin down New Lanark Rd (dead-end) and use the main car park next to the Visitor Centre at the top of the steep hill above the village. Blue-badge holders may park down in the village, but there are only 8 spaces: if feasible arrange to drop off / pick up in the village leaving the car in the main car park.
See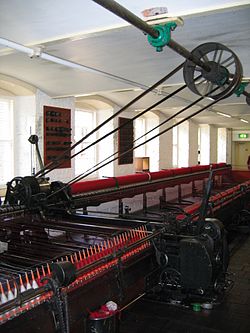 New Lanark Mills is a compact village of well-preserved 18th C mills and homes, presented as they were in the 1820s. Buy tickets at the , open daily April-Oct 10:00-17:00, Nov-March 10:00-16:00. "Passport" tickets cover all the attractions (below) and include two guided tours. Prices are adult £14, child £10, conc £11.50. "Passports" are valid for single entry within 12 months, but 3-4 hours is generally enough to get around the place.
- Annie Macleod Experience is a theme-park buggy ride where CGI-Annie describes working life in the mills.
- People, Cotton & Machinery displays cotton production, from hot plantation fields to the noisy mill. There's an original Spinning Mule at work, nowadays on wool.
- Millworkers' Houses are furnished as in the 1820s. Mill Manager Robert Owen's House (open from 11:00) is rather more spacious and comfortable.
- The Village Store aimed to give workers value for money in their daily supplies.
- The Classroom was the world's first infant school, and provided comprehensive education to all age groups.
- The Roof Garden continues the ethos of healthy environment, healthy minds and bodies, productive workforce.
- The waterwheel, prime mover of every heavy task in the village, is towards the upper end of main street.
Falls (or Linns) of ClydeThe Linns are a series of waterfalls along the steeply descending river. Three of them are just above the mill complex, and are easily reached by a short walk upstream. A hydroelectric power station nowadays abstracts much of the water, so the falls are at their best when this is offline. The valley is a Site of Special Scientific Interest, and is home to peregrine falcons, otters, kingfishers, pine marten, and brook lampreys.
Dundaff Linn is reached first, a drop of 10 ft. In the pool above is the take-off for the millrace, which is also fed by the Ponclair Burn.
Second is Corra Linn, the highest at 84 ft, with the ruins of Corra Castle and Bonnington Pavilion nearby.
Top of the sequence is Bonnington Linn, a 30 ft drop.

Bonnington PavilionRuins of a 1708 building looking onto Corra Linn, variously described as a summer house, camera obscura and hall of mirrors. When the door was thrown open, the mirrors showed the falls - it was considered much healthier for ladies to view nature thus at one remove than in its raw state. Sir Walter Scott, Samuel Taylor Coleridge, William Wordsworth and JMW Turner were later visitors.

Corra CastleRuined 16th-century castle overlooking Corra Linn. Nobody there now but some rare bats.
Do

Clyde Walkway and cycle track runs along the Clyde for 40 miles from Glasgow (Partick) via Cambuslang, Strathclyde Country Park, Cardies Bridge and Crossford to New Lanark. The final 7 mile section is the most scenic, passing Stonybyres HE Power Station and 21 m falls, Lanark, New Lanark Mills, Bonnington HE Station and the three upper Falls of Clyde, ending at Bonnington Linn.

Eat
The hotel restaurant is the only place open in the evening, see
Lanark
for other options.
Sleep
phone: +44 1555 667200

address: Mill No.1, New Lanark ML11 9DB

Mill 1 has been converted into s three-star hotel with 38 rooms, restaurant, bar & fitness club. The neighbouring water-houses offer self-catering accommodation.

phone: +44 1555 666710

address: Wee Row, Rosedale Street, New Lanark ML11 9DJ

3-star hostel run by the New Lanark Trust.
Go next
Follow A70 west towards Alloway near Ayr, birthplace of Robert Burns, or to Ardrossan the ferry port for the Isle of Arran.
East, head via Peebles into the Tweed valley and Scottish Borders, with fine ruined abbeys at Melrose and Jedburgh.