New Orleans/French Quarter
The
French Quarter
is the oldest and most famous and visited neighborhood of
New Orleans
. It was laid out in French and Spanish colonial times in the 18th century. While it has many hotels, restaurants, and businesses catering to visitors, it is best appreciated when you recall that it is still a functioning mixed-use residential/commercial neighborhood where locals live.
Understand
The French Quarter or "Vieux Carré" ("old square" in French) stretches along the
Mississippi River
from Canal Street to Esplanade Avenue (13 blocks long) and back from the Mississippi to Rampart Street (6 blocks wide).
"The Quarter" is compact. One can spend an enjoyable vacation here without leaving it for several days. If the French Quarter is your headquarters, consider leaving your car behind and not bothering to rent one if your health permits a few blocks walk. Parking is difficult, expensive, or both. Occasional trips to other parts of town can be made by streetcar or cab. The neighborhood is pedestrian friendly. Take care walking at night, particularly on dark or deserted streets. If you've been drinking, a cab is advisable.
The "Upper Quarter" (between Canal Street and Jackson Square) is the area most patronized by visitors, but the "Lower Quarter" (between Jackson Square and Esplanade Avenue) also has shops and restaurants sprinkled amongst the residences.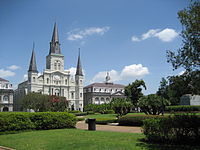 Get in, get around

Take the streetcar in if you're in Uptown or Mid City. Driving in on Interstate 10, take the Orleans Avenue or Vieux Carré exit. Once you're in the Quarter, it's best seen on foot. If you do drive within the Quarter, expect it to be slow, and watch for the pedestrians and bikes. The Quarter is very doable on a bike, but again be especially alert.
The Quarter is wider (from Canal to Esplanade) than it is deep (from the River to Rampart).
Bourbon and Royal Streets (see below) are the main avenues running through the width of the French Quarter; sections are often closed off to motor vehicles. Parallel Chartres Street is often a better option for pedestrians actually heading somewhere when Royal and Bourbon are jammed with visitors. The heart of the Quarter is Jackson Square, listed below.

See
Bourbon StreetSome 8 blocks of Bourbon from Canal Street down are given over to catering to the hard drinking tourists. If getting drunk with other tourists is the goal of your vacation, this is the place for you. Even otherwise, this notorious strip of tourist traps is worth at least a quick look for its gaudy sleaziness. Bourbon has not only countless bars but also many fine restaurants featuring delicious local cuisine for people who want to experience the local foods.

Royal StreetStrolling Royal Street by day is as essential a New Orleans experience as Bourbon Street by night. 1 block away in distance, a world in attitude. There are art galleries, upscale antique stores, landmark hotels and interesting specialty shops. Lots of temptations for those with money, but is also fun window shopping for those not spending a dime.

Jackson SquareThe old town square, often live music is going on here, as well as street corner painters and tarot readers. Around the square are:
phone: +1 504 568-6968

address: 701 Chartres St

Colonial city hall, now a museum; Louisiana Purchase agreements transferring the city from France to the USA were signed here.

phone: +1 504 568-6968

address: 751 Chartres St

Colonial church offices, now another museum, including a New Orleans Mardi Gras display.

phone: +1 504 525-9585

address: 615 Pere Antoine Alley

A symbol of New Orleans, this is the oldest Roman Catholic Cathedral in the United States and has a giant statue of the Virgin Mary with her arms extended gracing the middle of the courtyard.

Pontalba Buildings4-story brick apartment buildings have specialty shops, restaurants, and a tourist information office on the ground floors.
Moon WalkA brick walking path along the Mississippi River across Decatur Street from Jackson Square. The curious name comes from its dedication to former New Orleans mayor Moon Landrieu.
Chartres StreetParallels Bourbon and Royal Streets, one block closer to the river than Royal. While less famous with visitors, those who enjoy historic architecture will find the city's greatest concentration of preserved colonial era buildings along Chartres, along with early 19th century town-houses. Plus it passes through Jackson Square. A pleasant walk with local shops, cafes, restaurants, and bars scattered along the street.
phone: +1 504 522-2621

address: bound by Ursulines Ave, N Peters St, Barracks St, and French Market Pl

While souvenirs for visitors have taken over a good bit of the space at this more than 250-year-old market, there are still vendors selling fresh produce as in days of old. On weekends a much larger number of vendors set up here, with handicrafts and flea market type goods.
Lower Decatur StreetRight around the corner from the historic US Mint, and the French Market. A French Quarter neighborhood with shops, dining, and entertainment. Late at night the bars really hop with local color.
New Orleans Jazz Park Visitor's Center & Headquarters

phone: +1 504 589-4841

address: 916 N Peters St

Often has live music, lectures, and gives music history related walking tours. Many events are free; those that aren't are a bargain.
Jean Lafitte National Park and Preserve

address: 419 Decatur St

Headquarters for National Park that includes several historic sites in and near New Orleans. Has a small museum and visitor's center. Show up by 9AM to get a place on the informative free walking tour of the French Quarter.
Historic New Orleans Collection

phone: +1 504 523-4662

address: 533 Royal St

Museum with changing exhibits of local history. Also has a research center nearby on Chartres Street.
phone: +1 504 568-6968

address: 400 Esplanade Ave

Coins haven't been minted in New Orleans for decades, so the building is now a museum, with the minting process downstairs and the world's top exhibit on New Orleans jazz upstairs.
Old Ursuline Convent

phone: +1 504 529-3040

address: 1100 Chartres St

Completed in 1752, open for tours.
phone: +1 504 565-8027

address: 514 Chartres St

See and learn about medical practices of the mid 19th century. Calling ahead to verify hours is recommended.
Cigar Factory New Orleans & Museum

phone: +1 504 568-1003

address: 415 Decatur St

History and tradition of one of New Orleans' oldest traditions cigar rolling! Watch the masters at work daily in the only operating cigar factory since the 1950s.
phone: +1 504 525-2605

address: 917 Conti St

Experience more than 300 years of history, legend and scandal with the 154 life-size figures displayed in historically accurate settings.
House museums
Some elegant old homes are now museums:
Do
Stroll the streets, look at the architecture, shops, and people. Hear live music in the street, in restaurants, and music venues.
Carriage ridesMule-drawn carriages have driven tourists around the Quarter since the gasoline rationing of the 1940s. Carriage drivers are licensed tour guides and give tourists a full blown tour consisting of a mix of history, architecture, restaurants & stories, though some drivers have been known to spin stories that are more colorful than factual. Available to tourists is a 30-minute tour of the French Quarter, hour tour of the St. Louis No.1 Cemetery/French Quarter combo, hour and one half or two hour Garden District tour, or any combination thereof. Carriage drivers also do bar-hopping tours, shopping by carriage, Marigny tours & ghost tours. There are several options from group rates 6-8 people to private tours for 1-4 people. Things have changed quite a bit in the carriage industry in the past 7 years! Drivers are more customer service oriented & courteous.

Street entertainersPerforming for tips from tourists, varying greatly in talent. The still mime-ers are a sight to see, they stand still alone or with a partner and when you give them a tip they will move very slowly in tandem, like a robot. There are excellent musicians who enjoy keeping up their chops out of doors. There are also hacks with little talent other than scamming money. Beware of the Got-yo-shoes-ers; these are scammers who go up to tourists saying "I bet you I know whe' you got yo' shoes!". If they succeed in getting the tourist to take the bet, the answer is "You got yo' shoes on yo' feet!" They usually have a large and threatening-looking friend or someone who looks like they just smoked too much crack nearby to make sure bets are paid. You will almost always encounter one of these burnt out hustlers, when they do just politely reply: "They are on my feet" and they will know the jig is up.

Walking toursPlentiful but often pricey. Most cost $10-20 per person, but there are a couple of good, free walking tours. Or you can simply walk and see all of the landmarks since most are labeled and you can go in and read about it yourself. Park rangers from the Jean Lafitte National Park (see above) offer a free walking tour of the French Quarter that is very informative. Space is very limited, and spots on the tour are only given out on the day of the tour at 9AM. You should try to show up at least half an hour early to reserve a spot. You'll learn the real history of New Orleans, which is often as colorful as the tall stories.

address: 1 Canal St

The only aquarium in New Orleans. In the French Quarter. Features an IMAX theatre. 10AM-5PM daily.

address: 423 Canal St

In the historic Old Customs House Building. The Audubon Institute, which also runs the nearby Aquarium and the Zoo up in the Audubon District, opened the Insectarium in 2008. 10a-5p daily.
Live music
Bourbon Street. Upper Bourbon has been given over to catering to hard-drinking out-of-towners, and this part of the street has a number of music venues (not named here) whose owners make their money off them, with loud mediocre bands hired cheaply. Nonetheless, despite what some say, it is still possible to find New Orleans jazz on Bourbon Street.
phone: +1 504 561-0432

address: 733 Bourbon St

Good house bands in the evenings, and is often a venue for out-of-town and international musicians versed in the New Orleans style.

Irvin Mayfield's Jazz Playhouse

address: 300 Bourbon St

Maison Bourbon

phone: +1 504 522-8818

address: 641 Bourbon St

Sometimes has decent bands (though as often doesn't), as many good local Dixieland players lacking a better gig for the moment often wind up here. As the doors are open to the street, you can listen a bit from outside, judge for yourself whether they have a band you'd enjoy, and walk on by or go on in as appropriate.
Buy
Art or high-end antiques on Royal Street.
Tacky t-shirts and souvenirs on Bourbon Street.
There are several good used book stores on Chartres, Royal, Pirates' Alley, and elsewhere in the Quarter.

phone: +1 504 581-5820

address: 1025 Decatur St

If you're looking for Christmas decorations, this is the place. They have thousands of ornaments including New Orleans and Mardi Gras themed.
Eat
Budget
Breakfast & snacks
Mid-range
Splurge
Drink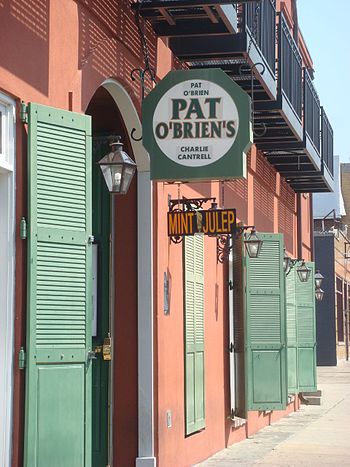 The French Quarter has a wide variety of bars for all sorts of tastes.
The legal drinking age is 21, sometimes though not always strictly enforced. If you are over 18 but under 21, you generally won't have much problem in New Orleans. Just play your cards right, act like an adult, drink responsibly and you'll have a good time. Don't argue with bartenders, liquor store owners or police officers unless you want to spend the night in OPP (Orleans Parish Prison) -- not pleasant. Rule of thumb for anyone wanting to party in Louisiana, regardless of age, don't drink and drive -- those staying in the Quarter will find bars within an easy walk, and others can take a cab.
Aunt Tiki's

address: 1207 Decatur

Punk version of a tiki bar on Lower Decatur

phone: +1 504 586-0972

address: 830 Conti St

High-end cocktails with a dress code.

phone: +1 504 522-8397

address: 901 Bourbon St

Claims to be the USA's oldest gay bar ("in exile" since the original Lafitte's (see below) went straight back in the Eisenhower Administration). Everyone welcome.

Carousel Bar

address: 214 Royal

Renowned for generations for the slowly rotating "Carousel" section; also has non-rotating seating.

phone: +1 504 522-0571

address: 527 Decatur St

Microbrewery, also serves food.

address: 734 Toulouse St

Two dark gothic bars (having split up some ten years ago) open at midnight. The "Original Dungeon" has a bit more cooler atmosphere, but fewer patrons, since it's a little harder to find--down an alley next to "Front of the Dungeon." The Front of the Dungeon's bathroom is a hoot, hidden behind a secret door in the bookcases, and with a toilet so bad as to be borderline unapproachable.

phone: +1 504 561-0432

address: 733 Bourbon St

Best known as a trad jazz venue, but also has a bar with good draft German beer even when there isn't live music.

Johnny White's Pub and Grill and Hole in the Wall

phone: +1 504 524-4909

address: 718-720 Bourbon St

Down home bar. This location has a restaurant upstairs in addition to the bar. Just around the corner on St Peter is Johnny White's Bar—which is a bar only.

phone: +1 504 286-5862

address: 331 Decatur St

phone: +1 504 593-9761

address: 941 Bourbon St

Piano bar towards the end of the touristy part of Bourbon Street, lit entirely by candlelight. Supposedly once the in-town headquarters of pirate & smuggler Jean Lafitte, many colorful stories are told about this location. They pour great Hurricanes.

Le Roundup

phone: +1 504 561-8340

address: 819 St Louis St

The ultimate dive bar, home to transsexuals, hookers, transsexual hookers, cowboys, and Quarter eccentrics.

phone: +1 504 525-5169

address: 1107 Decatur St

A great Irish/Quarterpunk bar, long a favorite of bohemian locals.

Molly's On Toulouse

phone: +1 504 568-1915

address: 732 Toulouse St

A local Irish pub with a pool table & the best juke box in the French Quarter. Irish Car Bombs are $5.50! Great selection of Irish Whiskeys.

phone: +1 504 524-9752

address: 500 Chartres St

The place to go if you like the thought of good drinks in a more than 200-year-old building whose owners are proud that the interior hasn't been repainted since World War I, with classical music playing over the sound system. Napoleon never made it here, as he died before the local plan to rescue him from exile and start his empire afresh in Louisiana could be carried out. Napoleon House also serves good sandwiches and a limited food menu, with service at a speed somewhere between leisurely and glacial-- don't stop here if you're in a hurry to be somewhere else.

phone: +1 504 593-9491

address: 800 Bourbon St

Loud hip gay disco.

phone: +1 504 529-2107

address: 801 Bourbon St

New Orleans' largest gay nightclub since 1974.

phone: +1 504 525-4823

address: 718 St Peter St

Famous for strong Hurricanes, Mint Juleps, TNTs, Purple People Eaters; popular tourist hangout for a reason. Has been trendy for generations. Has an impressive fire/water fountain and patio.

phone: +1 504 523-1927

address: 600 Bourbon St

Home of the Hand Grenade, "New Orleans's Most Powerful Drink", is a staple of Bourbon Street decadence. Definitely a must-try.
Sleep
Places within the French Quarter or just outside of it on Canal Street are the most centrally located, and also cost more than rooms in other parts of town. Those wishing a fuller immersion in the city may wish to go ahead and pay extra for a location from which they can find many days of things to do with no need of a car or transit.
Hostels
phone: +1 504 571-9854

address: 129 Burgundy St

Free wireless internet, 24 hour reception. 14 night maximum stay.

phone: +1 504 493-0310

address: 914 N Rampart St

Free wireless internet, free breakfast, 24 hour reception. Dorm rooms only open to students and foreign travelers, and there is a 7 night maximum stay.
Bed and Breakfasts
phone: +1 504 525-9949

address: 730 Dumaine St

Gay-friendly bed and breakfast in the center of the Quarter.

French Quarter Guest HousesIncludes the Inn on St. Peter, the Inn on St. Ann, the Inn on Urselines. Meticulously restored suites and rooms in different locations in the gay part of the Quarter. Gay-friendly accommodations and crowd.

phone: +1 504 324-4888

address: 727 Toulouse St

One of the most historic hotels in the Quarter, everyone from Tennessee Williams to Audobon has spent time there.
Connect
Cafes including CC's and Envie (listed above at eat) have free wi-fi for customers
Go next
Walk across Canal Street and you're in the
Central Business District
. Take the red Canal Streetcar line to the attractions of
Mid-City
, or the green St. Charles Streetcar line to
Uptown
and
Carrollton
. The ferry at the foot of Canal Street (free for pedestrians, $1 for cars) will take you across the Mississippi to the
Algiers neighborhood
, and give you a scenic budget mini-cruise of the River in the process.
Just "below" (down river) from the French Quarter is the
Faubourg Marigny
neighborhood, across Esplanade Avenue, with hip music joints and restaurants. A little further downriver and you are in the
Bywater
, a funky neighborhood with genuine corner bars, great restaurants and a friendly atmosphere.
Inland or "back" (away from the Mississippi River) from the Quarter is the
Tremé
neighborhood.